MISSOULA — He's the best hitter in the Pioneer League and it's not even close.
He's also one of the most enthusiastic players on the Missoula Osprey roster. It shows daily in batting practice, where he tries out his slick defensive tricks and dance moves in between impressive stints in the cage.
"He's got a lot of energy, so we just try to build off of that," O's bench coach Mike Benjamin said of 18-year-old shortstop Liover Peguero, who owns a league-best .371 batting average.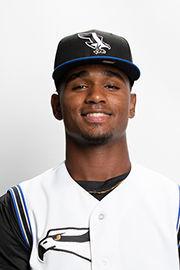 "Early on, to be honest, we were a little worried because he's so young. Watching him in extended spring, you could see the signs if immaturity. It was a concern but he's done everything we've asked him to here. Right now we just let him go."
Peguero, whose team dropped a 9-6 home decision to Ogden Tuesday, has made a big leap since last summer when he hit .197 in the Arizona League. He has found consistency at the plate and in the field, begging the question: Just how far can this Dominican go in the Arizona Diamondbacks organization?
Certainly Liover has the athleticism and confidence needed to make a run at the big leagues. Plus there's that X Factor: His joy of the game.
"You have to enjoy everything you do — fielding, hitting, just enjoying my infield practicing and trying to have fun," he said.
"This team is one of the best teams in the league and that's why I'm so good right now. I believe in my team and they help me a lot. The coaches and players talk to me a lot. It's like brothers. That's my family."
Over the course of the last three games against Pioneer League powerhouse Ogden, the O's have trailed in 26 of 27 innings. Missoula starter Tyler Poulin surrendered three runs in the first frame Tuesday, two coming on a home run by Sauryn Lao.
The Osprey answered with a run in the bottom half when Axel Andueza singled, moved up on a Tristen Carranza double and scored on a ground out. The score stayed at 3-1 until the fifth when the Raptors ripped Poulin for four runs, two coming home on a Brandon Lewis double.
Missoula refused to go away quietly. A solo home run by Carson Maxwell and an RBI double by Francis Martinez cut the O's deficit in the fifth. Missoula added two more in the sixth to pull within two, 7-5.
But the relentless Raptors struck again in the seventh off reliever Liu Fuenmayor. Lao laced a two-out RBI single and his team then executed a double steal, stretching its lead to 9-5.
Martinez ripped his fifth home run in six games in the seventh frame, shaving Missoula's deficit to 9-6. The O's threatened with runners on first and second with one out in the ninth before Jose Reyes grounded into a double play.
Ogden (24-6) set what is believed to be a franchise record with its ninth straight win. Raptor team records prior to 2005 are hard to find, according to a team source.
Poulin took the loss for Missoula, allowing seven runs on seven hits with four strikeouts in 4 1/3 innings. Martinez led the O's at the plate, going 3 for 4 with two RBIs.
The Osprey (15-15) trailed Pioneer League North frontrunner Idaho Falls by a game heading into Tuesday's action. They were in jeopardy of falling two games behind at press time, with the Chukars leading Orem, 8-4, in the ninth inning.
The O's will try to put an end to their four-game skid when they host Ogden Wednesday night at 7:05 p.m.