MISSOULA — The Missoula PaddleHeads introduced Michael Schlact as their manager for the 2021 season in a Tuesday press conference.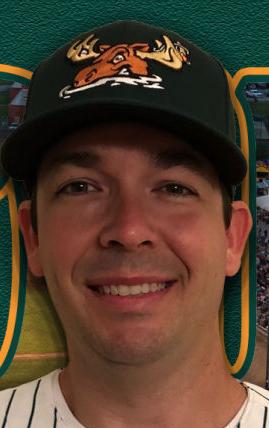 The team formerly known as the Osprey will enter a new era as a member of the first-year independent Pioneer League. Schlact, who has 16 years of experience in pro ball, will start immediately, working alongside the PaddleHeads' front office personnel to establish his field staff and begin the player acquisition process.
"This is the honor of a lifetime for me," said the new skipper, who reached the double-AA level as a pitcher. "I have heard nothing but incredible things about the town and baseball club and community. Just the family feel it all brings.
"That was apparent to me right away. I'm excited because I'm going to get the opportunity to bring players into Missoula and show them what it's like to be a part of a team that cares about you as a person."
From the standpoint of a fan, the upcoming season is intriguing because Missoula's pro team is no longer ruled by the Arizona Diamondbacks, who had a big say in, for example, how long a pitcher would pitch. Now the PaddleHeads will play to win every night and players will be chosen by Schlact and other front office personnel instead of being assigned to Missoula.
Schlact, who was originally drafted by the Texas Rangers organization in 2004, is excited about the prospects of landing a talented squad. 
"What it comes down to is contacts," he shared. "I've been able to build a network of people I trust. As you go on you begin to realize the people you played with become coaches and front office personnel and scouts. Then they know people.
"It's all about keeping your eyes open and staying in contact with people you trust."
Originally from Atlanta, Schlact played 10 seasons in the minors and in independent league baseball. He retired from action in 2014. He was a coach for the Fargo-Moorhead Redhawks for a number of years and most recently a pitching coach for the Rocky Mountain Vibes (Brewers affiliate) in 2019.
According to PaddleHeads co-owner Peter Davis, the team had 25 solid candidates to choose from.
"Michael is an impressive leader," said Matt Ellis, PaddleHeads executive vice president. "He's going to represent our culture and embrace our community in a way we're going to be proud of."
Schlact, who will bring a wife and two sons to Missoula, hinted at his ultimate goal for the PaddleHeads — a quality club with character that's capable of winning the big one.
"There won't be a handcuff on the roster," he said. "You're not sent players from an organization at one level. We can get more experienced players than Missoula has seen before. And also collegiate players.
"You're talking about a pure version of the game. I explain to players, 'You're going to be walking into a situation where it's about winning, having fans have an exciting night and about being who you are, not about what other people think you should be.' We get to go for that championship."
The PaddleHeads will make their debut on May 22 against the Great Falls Voyagers at Ogren-Allegiance Park.