BILLINGS — Hitting is Anthony Amicangelo's business, and he gets particular satisfaction out of one rudimentary aspect to his approach at the plate.
"I pride myself on being able to put bat to ball, that contact aspect," said Amicangelo, the Billings' Mustangs sweet-swinging left fielder. "I try to get on base for the guy behind me, instead of taking big swings or letting pitches go that I know I can handle."
Seems simple enough, but it's made a big difference for Amicangelo as he continues to put on a hitting clinic in 2021.
Amicangelo, a native of Bremerton, Washington, carried a modest eight-game hitting streak into Friday's Pioneer League game against Missoula at Dehler Park, but had gotten a hit in 22 of his previous 24 and had seven multi-hit games in that stretch, including a 5 for 5 showing on June 29 and a 4 for 5 effort Wednesday night.
Through 48 games, Amicangelo had a .378 batting average — sixth-best in the league. During the aforementioned 24-game span he hit .398 with 31 RBIs, including nine multi-RBI games and just 13 strikeouts in 98 at-bats.
His on-base percentage this season is .435. His slugging percentage is .530. The situation hasn't mattered; early in the count, two strikes, guys on base or not.
"That's just been a part of my game my whole life," Amicangelo said. "It's actually kind of funny. A few nights ago I struck out three times in a game for the first time in like five or six years. It was coming off a stretch where I didn't swing and miss for like two weeks, and then I swung and missed six times in that game.
"Even when you're hot baseball can humble you and remind you that you need to live game to game."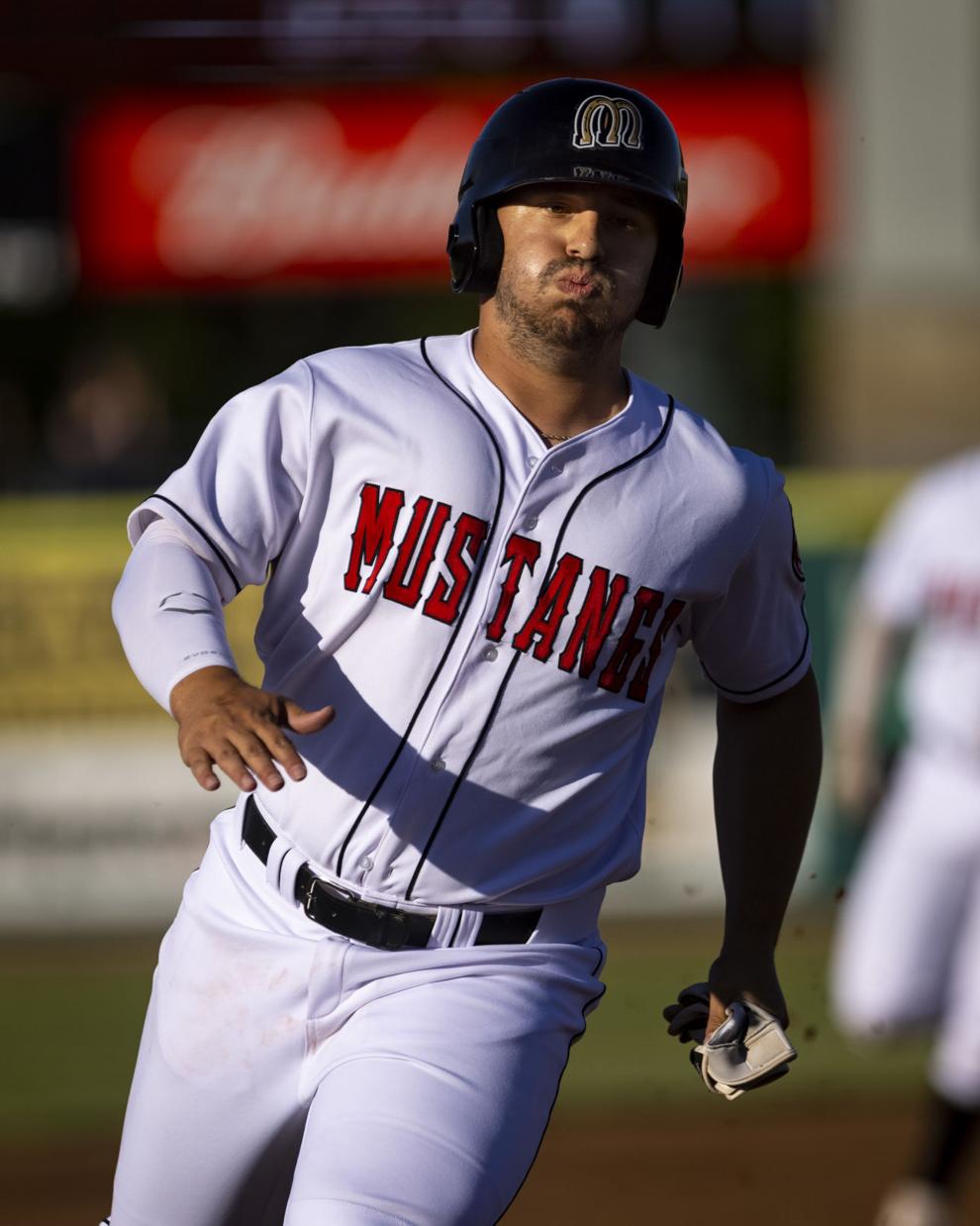 Some guys prefer homers. Amicangelo wants to hit safely any way he can.
"He's a very intelligent hitter that really understands the strike zone," Mustangs manager Joe Kruzel said. "He doesn't chase too many balls out of the zone. He uses the whole field. He's got some savvy to him as far as understanding the situation.
"He finds a way to get the barrel to the ball. If they're pitching him away he'll drive it into right field or up the middle, but he also has the ability to drive it in the gap or run into one and knock it over the fence. He's got a knack for driving in runs. He really does. Those kinds of things are valuable for your ball club."
A right-handed hitter, Amicangelo is in a groove and Billings has been winning. After a rocky first half in which they went 18-30, the Mustangs had won eight of 10 and 11 of 14 entering Friday, and were in first place in the Northern division's second half with a 13-4 record.
Individually, Amicangelo's rise is a result of him not giving up on his mission.
Following a 14-game stint at the University of South Carolina in the high-level Southeastern Conference in 2020 — the season was cut considerably short by COVID-19 — Amicangelo was ultimately told by his coaches that he'd be best suited transferring to another school. But he'd already done that before, having played at the junior college level in Washington and Kansas.
So Amicangelo decided to forego his remaining college eligibility and make an attempt at pro ball. On the heels of surgery to repair a right shoulder injury and a sports hernia, he initially signed with Evansville (Indiana) in the independent Frontier League for spring training. He eventually made his way to Billings on June 2.
"Baseball is an interesting game," said Amicangelo, who was a first-team junior college All-American at Johnson County CC in Kansas. "The best players don't always have success at every level or make it right away. Out of junior college I was getting scouted very heavily, but the draft came around in 2019 and I didn't hear my name called. It's just a part of it.
"I went to a baseball school like South Carolina, but with COVID it just kept snowballing. It's just the opportunity, and when it comes you have to be ready. You just have to keep playing and take care of your business."
In high school in Bremerton, Amicangelo was named a Top 500 player by the scouting service Perfect Game USA. His talent was never in question. Amicangelo simply had to find the right situation, and he's gotten everything he sought in Billings.
Said Kruzel: "The biggest thing he did is he bet on himself. He trusted and believed in himself to do what he's capable of doing. And it seems to me like it was a good decision. What ends up coming of it is still yet to be seen, but on a day-in and day-out basis he's really invested in himself."
For as much fun as he's having, Amicangelo is here for one purpose — to play his way into a contract with an affiliated minor league club.
Billings, which for decades was a part of the Cincinnati Reds' farm system, has so far sent four on to affiliated teams: infielders Jordan Hovey (Royals) and Liam Sabino (Mariners), and pitchers Taylor Bloye (Royals) and Malcolm Van Buren (Braves).
"Everybody's goal in this league is to make it to the next level. This is a good place to do so," Amicangelo said. "Good ballpark, good background with it (formerly) being an affiliated team. They were the first team that came calling and I jumped on a plane right away."
"He's just a really steady ballplayer, and he's putting together a pretty doggone good year," Kruzel said. "He's just got a way of going about his business that is fun to watch. It really is."