In 2018, my story on the book Counting Coup and its impact on the people involved (my 406 Fav for the year) reconnected author Larry Colton and subject Sharon LaForge for the first time in a quarter-century. A year later, they reunited for the first time at a diner in Crow Agency -- and they invited me to share in the moment. -- Jeff Welsch
---
CROW AGENCY — Larry Colton was backing out of a parking space at Little Bighorn College on Wednesday, thinking his 17-hour drive from Portland, Oregon, had been largely for nothing, when he heard the honk of a car horn and then the thud of fists pounding on the passenger-side window of his BMW sedan.
There, peering through the rain-streaked glass, was a face and smile Colton could never forget — not even after 25 years.
Sharon LaForge eased into the car and gave Colton a bear hug.
"You have no idea how happy I am to see you," she said, and he returned the sentiment.
Said Colton later: "That made me feel really good."
For two decades, LaForge and Colton had borne the twin psychological anvils of the controversial 2000 book "Counting Coup," in which they were the central figures.
Colton was the "outsider," the white guy writer who came from Oregon sight unseen to write about boys basketball and then instantly discovered "a better story" in LaForge. He became a trusted fixture in Big Horn County's dual cultures, was adopted into the Crow tribe, and ultimately inserted himself into the narrative after his publisher rejected a third-person first draft. LaForge was the vulnerable Crow teenager whose multi-layered life was unveiled in intimate detail as she navigated a turbulent senior basketball season on and off the court at Hardin High School in 1992.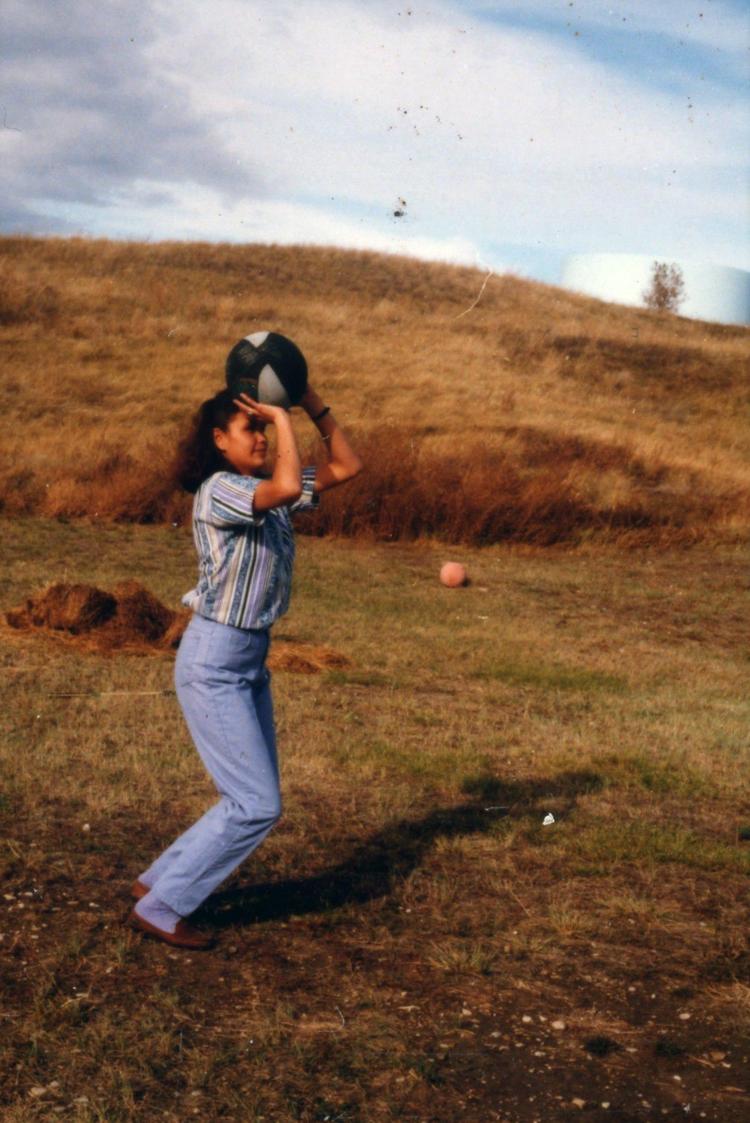 As the focal point of "Counting Coup", LaForge, 44, had felt the brunt of the resulting community ire over the book's pointed references to teen sex, teen pregnancy, domestic abuse, alcoholism, drugs and racism. Many Crow, who value humility, felt she violated a sacred tribal trust, while white folks seethed at portrayals of racism on the reservation's fringes.
As the author, Colton, a 77-year-old former baseball pitcher whose claim to fame is being the only big-league player with more trading cards (two) than games played (one), was steadfast in his commitment to truth yet struggled to reconcile the turmoil his book created for LaForge.
He learned of Big Horn County's fury early, when a book signing at Barnes & Noble in Billings was canceled due to death threats, and he thought it best to "lay low" all these years out of remorse for the impacts on a young woman whose photos still adorn his northeast Portland home.
After meeting in Columbia Falls in 1994 during Hardin's state championship run, two years after LaForge's graduation, Colton and LaForge never saw each other again; for a short time they didn't even speak. "I didn't know if she'd hang up on me," Colton said. As the years passed, a reunification of a kinship that transcended author/subject grew increasingly unimaginable.
Yet there they were Wednesday, laughing and crying and teasing and sharing memories of "Counting Coup" over Indian tacos and fry bread at the Custer Trading Post, as if the 25 years were a blip in time.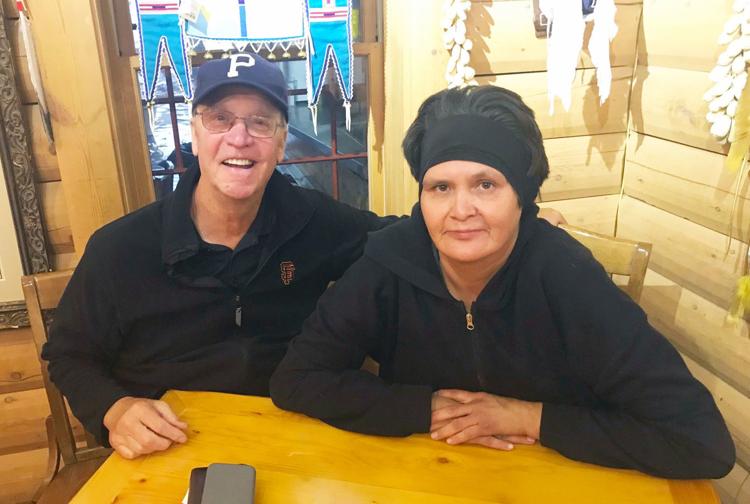 "Like sitting down with old friends," said Stacie (Greenwalt) Lopeman, a former Hardin teammate who drove from Billings for the mini-reunion.
Colton, tall and lanky and wearing a Portland baseball cap to complement a San Francisco Giants jacket, choked up and grew misty-eyed when he reflected on the quarter-century apart.
"It became such a barrier to my own personal life not being connected to her," he said as LaForge listened intently from across a table. "See, I don't want it to seem like she's a daughter to me, but she was. We spent so much time together and so every day for the seven years I worked on that (bleeping) book I had her in my head. There wasn't a day go by that I didn't think about her. She's not only a human being I was close to, she was at the center of my professional and artistic life, and I was trying to do it justice while being honest at the same time.
"To have this giant curtain come down between us because of the reaction to the book …"
As Colton's voice trailed off, LaForge nodded.
For her, the arrival of an old trusted friend couldn't have been more cathartic. In the years since "Counting Coup", LaForge has struggled with drug and alcohol issues, spending two months at a California rehabilitation center in 2017, and endured a steady stream of resentment in her backyard. Just as she's been piecing her life together while taking care of her 86-year-old grandfather, the youngest of her two sons, 20-year-old Michael Not Afraid — "my baby," she said — was among three prominent men killed in a July 4 car wreck on the reservation.
Michael's death has family and friends fearing another downward spiral for LaForge.
"This thing I'm going through right now," she said haltingly, adjusting a black ear warmer over jet-black hair cut short to honor Michael, "is the toughest thing I've ever had to go through."
Of Colton's timing, she added: "I just feel like it's good to see him and I'm able to connect and (have him) understand what I'm going through because it's so negative, especially with what I'm going through right now in my life. It's good to have that support. It is, it is."
The genesis of the reunion was a 406mtsports.com/Billings Gazette story in June 2018 on LaForge and her tumultuous post-"Counting Coup" life. When asked then their feelings toward the other, both expressed a strong desire to reconnect while wondering aloud about animosity.
They at last began communicating by phone — no easy task given that LaForge shares a land line with eight family members in a modest home below the Trading Post and has no interest in a cellphone, computers or social media. A '92 Hardin girls basketball reunion was briefly planned for the summer but never materialized.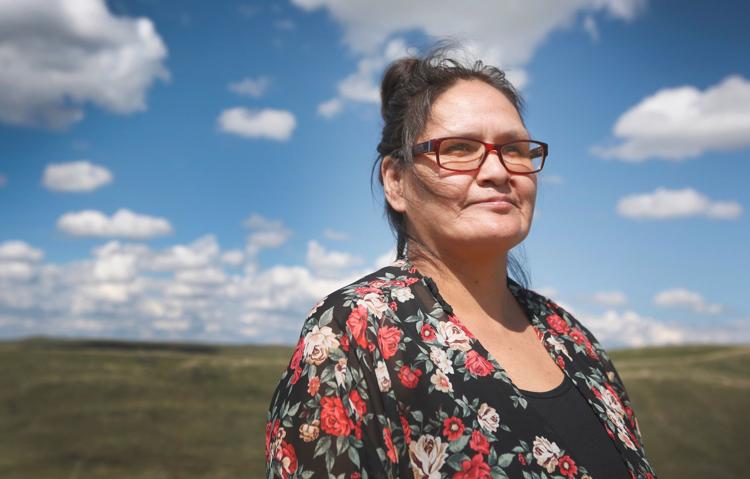 Enter Tim Bernardis, director of the Little Big Horn College library and a 36-year fixture at the school.
Bernardis, who'd befriended Colton during the author's time in Hardin but like so many in both communities found "Counting Coup" offensive and regularly lets the author know it, sent an email query asking whether Colton would consider donating his research to the college.
"I just asked, 'What will you do with all those papers and tapes? We'd be happy to have them,'" recalled Bernardis, who also joined the group at the Trading Post. "Years ago it was a different matter, but enough time has passed that this felt more comfortable."
On Tuesday, Colton was in his BMW pointed east with 11 full boxes in tow. He had just delivered the materials Wednesday when LaForge pounded on his car window; Colton returned to the college Thursday for a private oral history with a four-person panel that included Bernardis and Janine Pease, Big Horn College founder who appears in "Counting Coup" and is a strong advocate of the book.
Initially, a public presentation was proposed at the college, but Bernardis postponed to give LaForge more time to grieve Michael's death. They also considered Hardin High School, but backed off when informed some ill will remains among teachers with long memories.
"How come we still can't come out together and do that?" LaForge asked. "I went to school there!"
LaForge and Lopeman might've answered the question for themselves earlier in the conversation. They were asked what percentage of Big Horn County residents still resent "Counting Coup."
"Eighty percent," Lopeman, who grew up on a ranch outside of Hardin and played volleyball at the University of Utah, answered without hesitation as LaForge nodded in assent.
Would it have been as controversial if Colton had written about boys?
"If there was all that personal information in there, I bet it would," Bernardis said.
Colton, whose book earned a Pulitzer Prize nomination and was universally applauded outside of Big Horn County, listened in amazement. The accusation that he exploited the Crow Tribe and gave nothing in return still haunts him.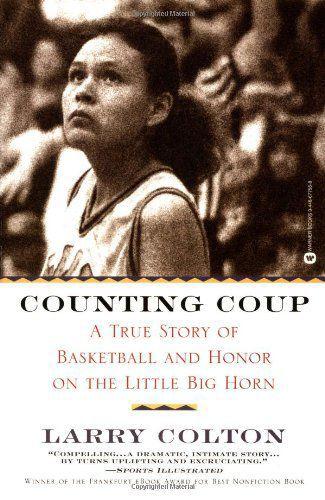 Colton describes being hoarse from yelling at games. He recalls violating a code — "no writer should do this," he said — by sending Sharon's basketball tapes to Sheridan College and, with the blessing of the tribe, escorting her on a recruiting visit to the school in a determined yet ultimately failed effort to push her toward college.
Even long after departing Big Horn County, Colton invited LaForge to Portland during a particularly rugged time of her life. He also paid rodeo entry fees for her sons Michael and Roddy, 24.
"Of course I don't want people to not like me, but people say he came here and he wrote his book and he left and he didn't care about the people … that couldn't be further from the truth," he said. "I was so invested in every one of those kids, not just Sharon. I cared deeply. Yes, I wrote stuff they maybe wish I hadn't, but look at those letters (in his materials) and see how much love for those kids shows in the writing. And so I stand by that. I know my heart."
Colton looked at LaForge and Lopeman.
"You were there," he said. "You know how much I cared."
They nodded. Then why the resentment?
"I guess you could say he embarrassed lots of people in the community by doing a tell-all approach," Bernardis said.
Lopeman put it more succinctly: "Because you told the truth."
Colton said he can live with the ongoing criticism. And the reunion gives him the chance to relay a message he's been carrying internally since the book's release.
In his boxes, he has letters from around the globe, nearly all praising LaForge for her courage amid the reservation's daily challenges. Colton said he'd sent similar packages over the years, but she says she never received them.
"I had reached out to her to show her the whole world doesn't hate you, Sharon," he said, adding while looking directly at her: "If anything, from the outside, everybody talks about what a hero you are. If you look at those letters, you're called an American hero multiple times. You are an American hero."
LaForge is beginning to see a perspective separate from her local experiences. In May, an educator from Vancouver, Washington, who teaches "Counting Coup," came to Crow Agency expressly to share letters her class had written to her.
"The first letter I read I just cried," she said.
They made her feel the way it felt to see Colton in that parking lot at Little Big Horn.
"He was here (in '92), and then there was the next part of my life I went through, and now it's like I can relate to someone that knows what I've gone through," she said, then added with a glance at Colton. "I know you probably feel like you abandoned me, but I didn't feel that way. I just had to go through it around here."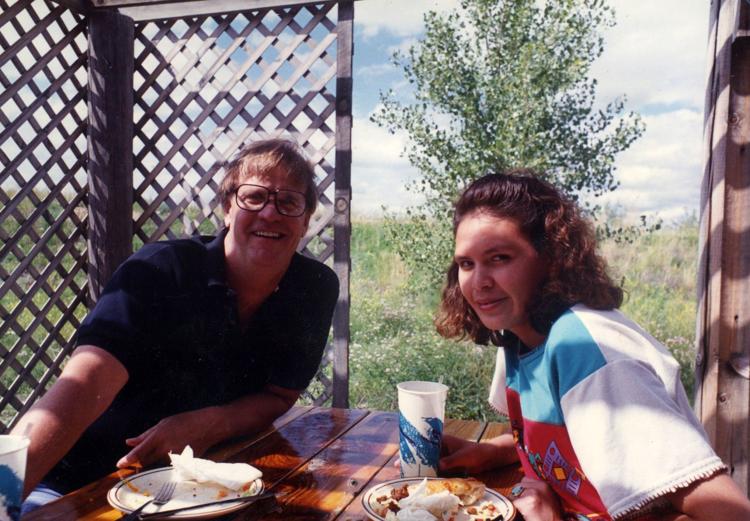 As the Indian tacos arrived, served by yet another former Hardin teammate, some at the table suggested jokingly Colton might need a taste tester.
"Ah, we wouldn't let them put a hit man on you," LaForge said with a laugh.
Added Colton with a chuckle: "This is why I sit with my back to the wall."
He said a similar notion briefly entered his mind when he heard the pounding on the passenger-side window of his BMW. Someone, he said half-jokingly, had discovered he had returned and wanted to send a message.
Instead, he saw a smile he could never forget and a chance to make up for 25 years of lost time.