MISSOULA — No reporters bothered to call Robin Pflugrad when Dave Dickenson was inducted into the College Football Hall of Fame last fall.
For three years he was Dickenson's quarterbacks coach and the play-caller for Montana head football coach Don Read. No one seems to remember his role in the 1995 national title run, side-stepping it sort of like 2011 when Pflugrad led Montana to its most recent appearance in the FCS playoff semifinal round.
That's OK. Stuff happens. Lots of stuff happened to Pflugrad after that 2011 season. He was fired and later his team had to vacate five of its 2011 wins as a result of an NCAA investigation.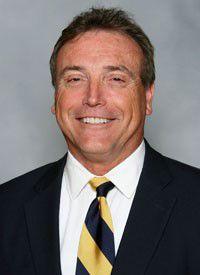 Regardless of your stance on Pflugrad's head coaching stint in Missoula, there's no arguing he paid a stiff professional price.
He's back on the rise now, elevated to assistant head coach/tight ends coach for Northern Arizona after landing a job as wide receivers coach last season. This columnist, for one, is happy for the man.
"I was kicked to the curb pretty hard and you kind of find out you still have to make a living," he told 406mtsports.com. "You learn something about handling adversity from the coaches you grew up with, the Don Reads of the world.
"I might have to coach until I'm 80 now, but I might be OK with that. I don't know if my wife will, but ..."
The hardest months were the ones immediately following his firing. 
First came a period of shock. Six months later, he had people in his ear suggesting he sue the University of Montana.
That's not his style. He's old school that way and he has never stopped loving the University of Montana.
"There were times when you felt you had a stigma about you, you might have been labeled," he offered. "That was difficult to handle. People weren't even considering me and you wonder, 'Why don't they do their research?'
"If I would have been able to gain employment soon after that, maybe it wouldn't have been so tough at times. But boy, you still have to pay the bills and you have no money coming in. I thought, 'Gee wiz, can I do anything else?' There was a little time there where I had to consider it. I don't know how to fly fish. I can't be a fishing guide."
Pflugrad knows what it's like to be a mentor at the highest college level. Prior to his head coaching stint with the Griz, he served as an assistant at Washington, Oregon and Arizona State, helping guide all three to the Rose Bowl. In his time in Tempe, he helped mentor arguably the most revered college football player this country has ever known, the late Pat Tillman.
Still, the Big Sky Conference is special to Pflugrad. He's relishing his new chapter, working with his son Aaron, who serves as offensive coordinator for the Lumberjacks.
"I really do feel there's still a lot of purity to this level," he offered. "There's a lot of things the players still have to do on a day-to-day basis. They're not coddled. They're not spoiled. There's not a huge training table where they have a choice of any type of food they want.
"As they come off the practice field, the facilities sometimes are a work in progress. You don't have an indoor (facility). I remember years ago in Missoula, under Coach Read, we were going to go down and play the Lumberjacks. We practiced inside a church in Flagstaff, practicing our quick passing game in the rec room of this church. Went up there with Dave Dickenson and that crew."
As primitive as that seemed, things were a lot more primitive for Pflugrad two years ago when he served as head coach at Phoenix College. We're talking 90 young men on a now-defunct team and only three shower heads to work with after practicing in the Valley of the Sun.
Ah well, no use crying over spilled sweat. No matter how terrible life treats you, it's best to wake up each morning and be grateful you still have one.
"I feel blessed to be working," Pflugrad said. "As coaches we preach how to handle adversity every day and then all of a sudden, man, you're faced with it. You're more than knee-deep in the quick sand.
"You just have to have faith in yourself."
Good luck, Pflu. You deserve a little.