BOZEMAN — The Montana State football team's two biggest wins of the season might've been losses if not for a pair of freshman specialists from Washington state.
Two field goals from kicker Blake Glessner were the difference in MSU's 13-7 win at then-No. 19 Weber State on Oct. 15, and he helped the Bobcats contain record-setting kick returner Rashid Shaheed.
On Saturday, punter Bryce Leighton pinned then-No. 5 Eastern Washington deep into its territory several times, one at a pivotal point in MSU's 23-20 win.
Both Glessner and Leighton, who is also MSU's holder, were named Big Sky special teams players of the week for those performances, and they've had other award-warranting showings this season. The Bobcats might not be 8-1 overall, 6-0 in conference or No. 3 in the Stats Perform FCS Top 25 without those two golden right legs.
Glessner was a four-star recruit, a Sailer Kicking fourth-team all-American and a two-time Associated Press all-state kicker during his time at Woodinville (Wash.) High.
Leighton was the third-ranked punter in the country for the Class of 2020, according to Kohl's Professional Camps. Both MSU and Washington State extended offers, and he went to Penn State on a recruiting visit, he said.
Both players signed with the Bobcats when Jeff Choate was still head coach and BJ Robertson was still special teams coordinator. Glessner was also a defensive back for the Woodinville football team and has played basketball and soccer.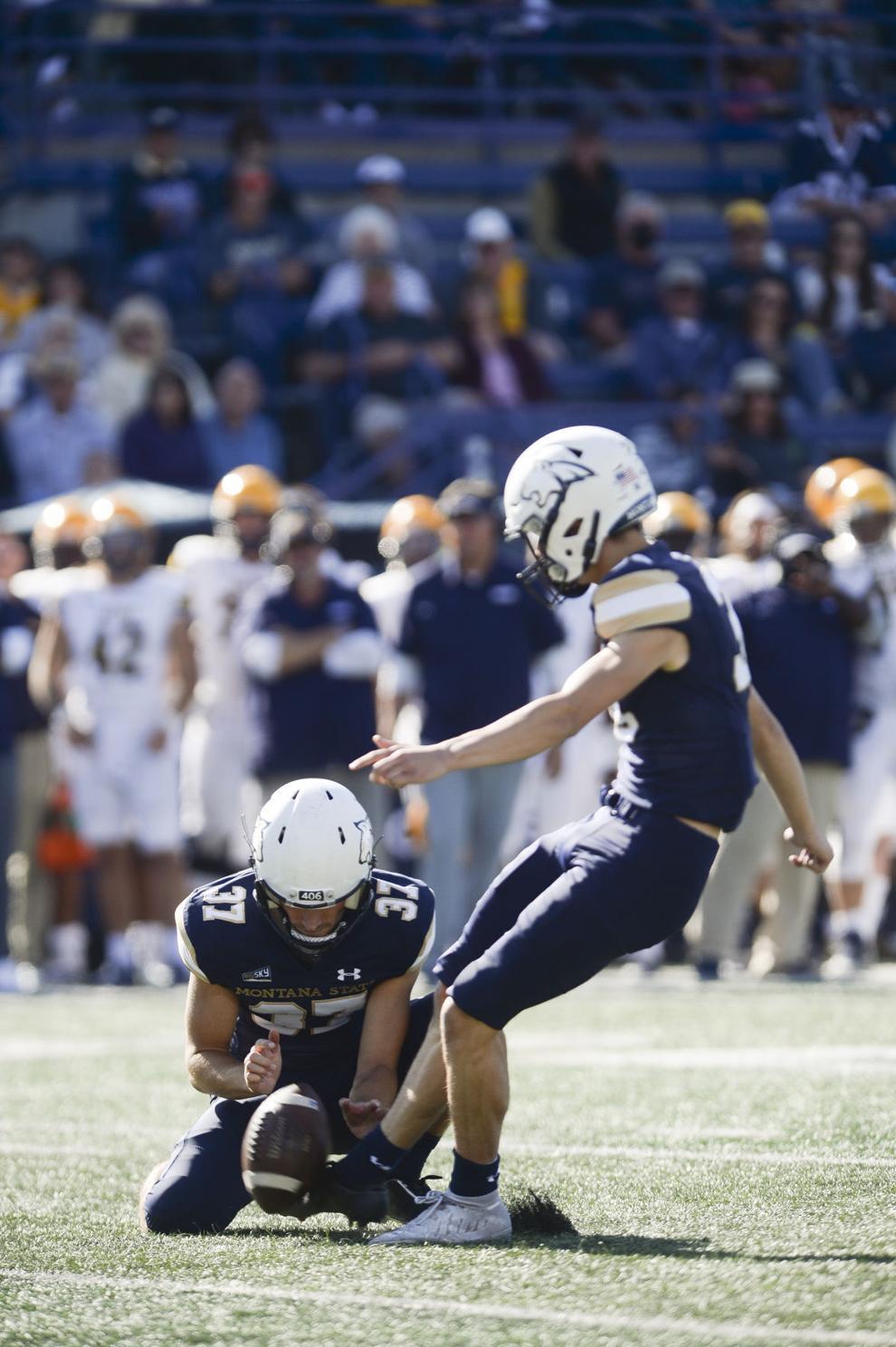 "One of the things that we identified when we were talking about the specialist positions is trying to get the best athlete we can get, because their misses are going to be smaller because their athletic ability is better," Choate, who's now at Texas, said in February 2020. "We're excited for him to come in and compete with Caleb Mancini for place kicking chores, and when you add Bryce Leighton, one of the more decorated young specialists in the country coming out of high school, we've addressed some immediate needs in the kicking game."
Mancini is no longer with the program, but Glessner still had to compete. In fact, he was behind Kent State transfer Luke Pawlak on the pre-fall camp depth chart. But Pawlak got hurt during camp, giving Glessner the starting job by default.
Glessner's first field goal attempt as a Bobcat was a 47-yarder in the season opener at Wyoming. It was blocked, largely because of a high snap from Tommy Sullivan. Glessner's next try was from 53 yards out early in the fourth quarter, and he drilled it to put MSU ahead 10-9 (Wyoming won 19-16).
Glessner missed a 27-yard field goal Saturday at EWU, a rare mistake in an otherwise pristine season. He's made 32 of 33 PATs and 15 of 19 field goal tries, including a 54-yarder on Oct. 23 at Idaho State that broke his own MSU freshman record.
Choate's successor, Brent Vigen, said Glessner "owns his mistakes" and is "far beyond his years."
"He's a competitor," Vigen said Oct. 18. "The opportunity I think wasn't too big for him, and that goes all the way back to that Wyoming game when he jumped in and made the go-ahead field goal in the fourth quarter."
Glessner's field goals at Weber State were from 46 and 32 yards out, both in the third quarter to turn a 7-7 tie into a decisive 13-7 lead.
"He's been very consistent as well, not only with his place kicks but also kicking the ball off," Vigen said. "His ball placement in that game, with their dangerous return game, was really important."
Robertson resigned in May and wasn't replaced. Vigen has served as the unofficial special teams coach, and Bobcats director of on-campus football recruiting Ryan Weese, a college kicker, has helped out. Glessner said former Washington State and NFL kicker Rian Lindell has essentially served as his kicking coach.
Last month, Glessner was added to the watch list for the Jerry Rice Award, given to the FCS' freshman of the year.
"It's all with practice. And Tommy and Bryce, shout out to them. They're the best I could ask for. I have so much trust going into each kick that it's going to be perfect," Glessner said Oct. 18. "I've kicked a lot of field goals so far. It's been fun to prove to the team and myself that I can do it."
On Oct. 15, Shaheed fair caught five of Leighton's eight punts. Leighton's only touchback of the season also happened in that game, and it was nearly kept out of the end zone by Tommy Mellott.
Leighton was even better on Saturday at EWU. Four of his five punts were downed inside the 20, including his final one. With 3:55 to go, he booted the ball 56 yards, and it went out of bounds at EWU's 3-yard line.
It was both Leighton's longest punt of the season and his best coffin corner, and it came at the perfect time: MSU was clinging to a 23-20 lead and facing a fearsome offense led by all-American quarterback Eric Barriere.
"You could argue that was the biggest play of the game," Vigen said Monday.
The Bobcats forced a three and out on the following drive, and they ran out the clock after that.
"The moment I kicked the ball, seeing it perfectly travel down there and take that nice bounce out of bounds and knowing they had to start from their own 3, that was pretty exciting," Leighton said Monday. "Just really excited to see it play out how I wanted to and knowing our defense was going to go out there and get the job done."
Glessner and Leighton limit their number of kicks in practice in order to keep their legs fresh, so they often observe or help their team in small ways, like holding the chains when MSU is doing 11-on-11 drills. It can feel a bit ostracizing, but they have each other, Pawlak and Sullivan, who has played impeccably since his high snap at Wyoming.
"It's really important that the four of us are really close," Leighton said. "We have great chemistry. We're all competing against each other, we're making each other better, but it's such a good atmosphere to be in. Seriously wouldn't want to have it any other way."