GRAND FORKS, N.D. — Twenty-eight years ago, Doug Borowicz was a 32-year-old head boys basketball coach at Central Valley High School — a small, northeast North Dakota Class B co-op along rural Highway 81 between Buxton and Reynolds.
Now, every week, Borowicz sits at his computer in his Roseau, Minnesota, home and watches Montana State football press conferences of Bobcats head coach Brent Vigen.
In those moments, Borowicz can still see the high school senior who helped Central Valley win its first and only state boys basketball championship in 1993.
"He's very calm and cool," Borowicz said. "You could tell his dad was a football coach. Randy did a great job at Central Valley, and Brent really followed suit. Brent was made to be a coach. He was a gym rat. His attention to detail was extraordinary."
Vigen, in his first season as head football coach at Montana State, has led the Bobcats to the FCS national championship game, where they'll play his alma mater North Dakota State on Jan. 8 in Frisco, Texas.
"You could tell he always wanted to be a coach," Central Valley teammate Ryan Wigestrand said. "He loved football at a young age. He was always with his dad at the field. Brent was one of the smartest. You knew he'd be good at anything."
Brent's dad, Randy, was a longtime head football coach and athletic director at Central Valley.
"He was statting a game when the rest of us barely knew how to grip a football," Central Valley teammate Jason Brend said. "I remember after games going for pizza. He'd go home after pizza and watch film. He learned how to break down film before most of us knew what film was."
After a college football career at NDSU, Vigen elevated in the ranks from NDSU graduate assistant to position coach to offensive coordinator to Wyoming offensive coordinator to Bozeman. But before Vigen was an accomplished college football coach, he was a promising young basketball player from Buxton.
"Brent was our leader on that team," Brend said. "We had really good players but he was the leader. One of the things they always say about him (in coaching) is he has that calming confidence about him. He showed that back in the day. He never seemed too high or too low. He maintained that composure you need to compete at that high level."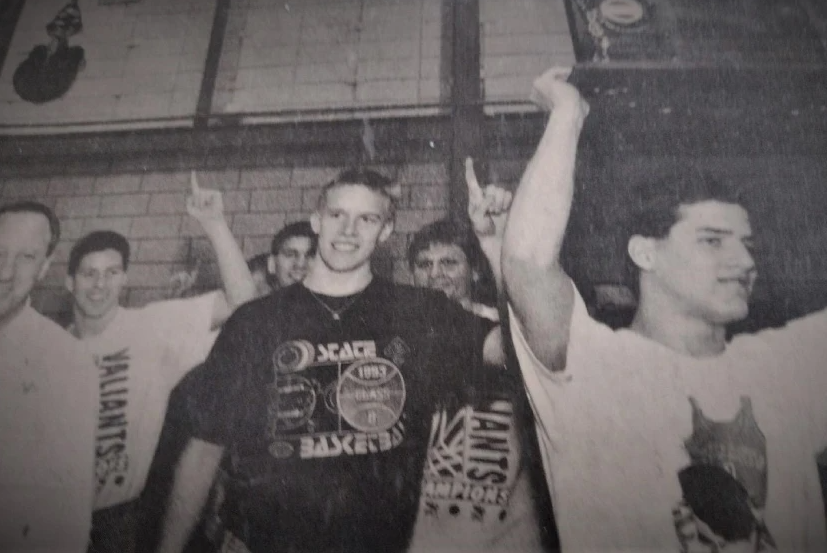 The senior core of the 1993 Central Valley team — Vigen, Wigestrand, Chris Hong and Kris Visness — started for the varsity as freshmen.
Borowicz remembers a losing record that season and a school board scratching its head over how a coach could possibly decide to play four freshmen.
After the rocky start as freshmen, the Valiants would go 66-12 the next three years.
Vigen was a Mr. Basketball finalist in 1993, a two-time all-state selection, a three-time all-conference pick, a Lions All-Star and a member of the 1993 state all-tournament team.
The Valiants were 26-2 in 1993, where Vigen finished with 1,498 career points.
The Central Valley seniors of 1993 estimate their graduating class was between 20 and 25 students.
"We all had the same wants and desires," said Central Valley teammate Chris Hong, who was also an all-state honoree in 1993. "The State B was the mecca in North Dakota in the 90s. That's what we wanted and none of us were selfish about it. We won at any cost."
Central Valley's small enrollment didn't deter the team's aspirations, players said.
"With Class B, I think you always think you have the chance if you have a good group," Wigestrand said. "That's the fun thing, especially back then, if you had a good group of dedicated guys with the same goal, you felt like you had a chance."
Early in the 1992-93 season, Central Valley showed its promise by beating Hillsboro (a program it now joins in a co-op) for the first time in 24 years.
The Valiants cruised through the region tournament, beating Cavalier 75-41, Grafton 55-32 and Fordville-Lankin 77-67. Vigen scored 29 in the region title game.
After that, Central Valley used Vigen's 29 points in the state quarterfinals to beat Gackle-Streeter 54-38 to set up a showdown with tournament favorite Bottineau.
Bottineau put extra attention on Vigen, who finished with 10 points. That opened the door for a career performance from role player Ross Nygaard, who scored 14 points to seal the 67-60 win.
Central Valley met Des Lacs-Burlington in the title game and trailed by seven at halftime thanks to 25 points from DLB's Steve Holen on 80 percent shooting.
At halftime, Central Valley switched from zone to man-to-man defense and put Wigestrand on Holen.
That move sparked a 24-8 third-quarter advantage en route to a 71-62 victory.
"We're sitting at half against Des Lacs and feeling like we didn't play as well as we could have," Borowicz said. "I told the kids I'm not going to disregard how hard they worked to get here and how they've respected their parents and teachers. But are you finishing what you started? You're never going to get this opportunity again. No one is going to remember if Central Valley finishes second. You win this and you live in the lores of history."
Hong finished the title game with 27 points and 13 rebounds. Vigen added 26 points. Wigestrand had 16 points.
The 1993 Valiants, a group that has remained close through the years, will now have their eyes on the FCS national title game.
"I can be nothing but happy for him and his family," Hong said. "I was ecstatic when they won (in the FCS semifinals). I wish him nothing but the best."
Borowicz agreed.
"I'm so extremely proud of the man he's turned out to be with a great family," he said.