BOZEMAN — Blake Anderson was so prepared to face a motivated Weber State football team, he accidentally gave the Wildcats more motivation.
Anderson is the head coach at Utah State, a Football Bowl Subdivision team that hosted the Football Championship Subdivision's Weber State on Saturday. The Wildcats of the Big Sky Conference reside in Ogden, Utah, which is about an hour-long drive away from Utah State's stadium in Logan. The Aggies, who play in the Mountain West, are Weber State's only FBS opponent this season.
"Weber State is going to come in this week with their hair on fire," Anderson said during his press conference last Monday. "This is the Super Bowl for a lot of players on that roster."
That Super Bowl comparison irked many members of the Wildcats, and they used that bulletin board material to kindle a 35-7 win — their first victory over an FBS team in decades and the most dominant FCS-over-FBS victories in years.
"We studied them like nobody's business, we knew everything about these guys," Weber State wide receiver Ty MacPherson said after the game, via the (Ogden) Standard-Examiner. "We came out and we showed it. And won the Super Bowl."
Weber State players described the Utah State matchup as just another game, but it wasn't just another win. The Wildcats had only beaten the Aggies one other time in their history, back in 1978, according to the Standard-Examiner. It's Weber State's first FBS win since 1993, when it beat Nevada 47-30 (the Wildcats defeated Nevada 23-21 the previous season too).
The last FCS-over-FBS margin of victory as large as Weber State's happened in 2017, when Western Illinois blew out Coastal Carolina 52-10. Portland State's 66-7 win over North Texas in 2015 was the last time a Big Sky team won by at least 28 points against an opponent from the higher subdivision.
The Wildcats are the sixth FCS team to beat an FBS foe so far this season.
"We got out-coached and outplayed. It's that simple," Anderson said Saturday. "They came with a great game plan and executed it. They had us off-balance all night on both sides of the ball. We dropped balls. We had penalties. We made mistakes. We played right into their plan. They did a great job."
Utah State went 11-3 last season and won the Mountain West title. The Aggies also returned several starters this fall, including quarterback Logan Bonner and running back Calvin Tyler Jr., but they lost key players like third-team All-American receiver Deven Thompkins. Utah State (1-2) lost at Alabama 55-0 and beat UConn 31-20.
Coming off an injury-filled 6-5 season, Weber State looks more like the team that earned at least a share of the Big Sky title the previous four years. Future opponents beware: don't make the Wildcats angry.
"If they're going to say it's our Super Bowl for Weber State, then we were going to make it a Super Bowl," Weber State coach Jay Hill said after Saturday's game, adding, "We've got tough suckers who can play this game."
Other Big Sky results
Weber State is the only Big Sky team that has earned an FBS win so far this season. But the conference had some other strong showings against tough opponents last week.
Northern Arizona improved to 1-1 with a 10-3 win Saturday over Sam Houston, the 2021 spring FCS champion that lost to Montana State in last season's quarterfinals. Sam Houston will move up to the FBS and join Conference USA next year.
UC Davis nearly erased a 14-point deficit in the final minutes of Saturday's game at No. 2-ranked South Dakota State, the 2021 spring FCS runner-up that lost to MSU in last season's semifinals. Davis scored a touchdown to cut its deficit to 24-16 with 3:21 remaining, and SDSU blocked the point-after attempt. The Aggies recovered the ensuing onside kick and scored another TD, but they couldn't convert the two-point try, and SDSU prevailed 24-22.
Idaho competed with a Power 5 school for the second straight week. The Vandals, who fell at the Pac-12's Washington State 24-17 on Sept. 3, took a 10-0 lead into halftime of their rainy game at the Big Ten's Indiana on Saturday. Indiana scored 29 straight points to open the second half and won 35-22.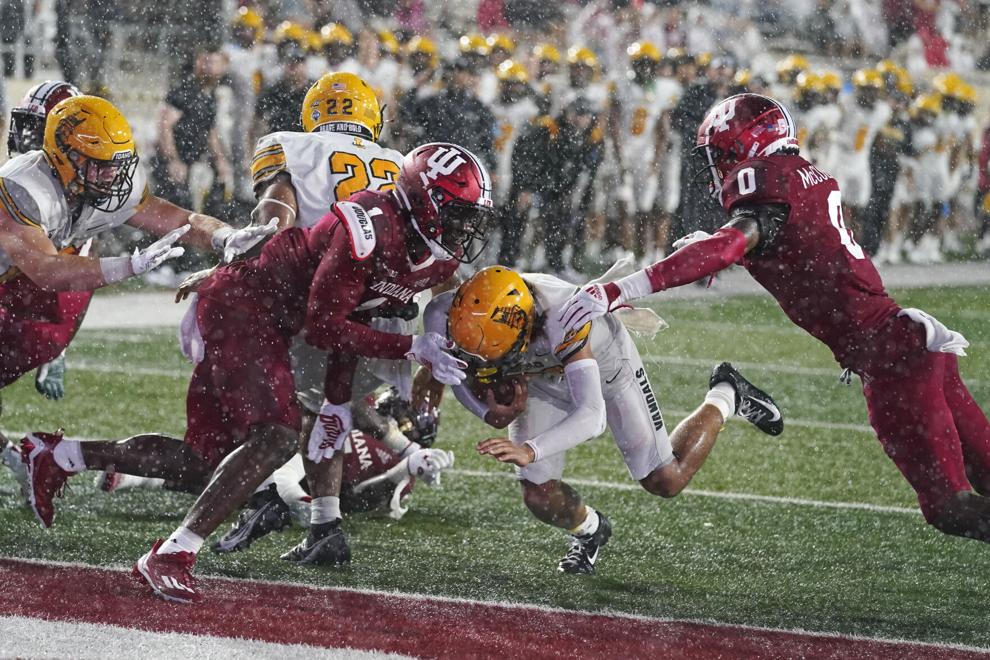 Here's how the Big Sky fared in its other FBS matchups:
• Oregon 70, Eastern Washington 14
• San Diego State 38, Idaho State 7
• Washington 52, Portland State 6
• Wyoming 33, Northern Colorado 10
Here's how the rest of the Big Sky teams did (all against FCS teams):
• Cal Poly 28, San Diego 27
• Montana 24, South Dakota 7
• Montana State 63, Morehead State 13
Sacramento State had a bye.
NFL season opener showcases Big Sky players
The NFL season began on Thursday, when the Los Angeles Rams hosted the Buffalo Bills. Of the 22 players on the field during the Rams' first possession, two competed for Big Sky programs: Rams star receiver Cooper Kupp (Eastern Washington) and Bills defensive back Taron Johnson (Weber State).
Kupp and Johnson aren't the only Big Sky alumni on their respective 53-man rosters. Former Montana State standouts Lance McCutcheon (a receiver) and Daniel Hardy (a linebacker/edge rusher) also play for the Rams, as does ex-Weber State defensive lineman Jonah Williams. McCutcheon didn't make the 48-man active roster for Thursday's game, Hardy is on designated injured reserve and Williams is a backup nose tackle.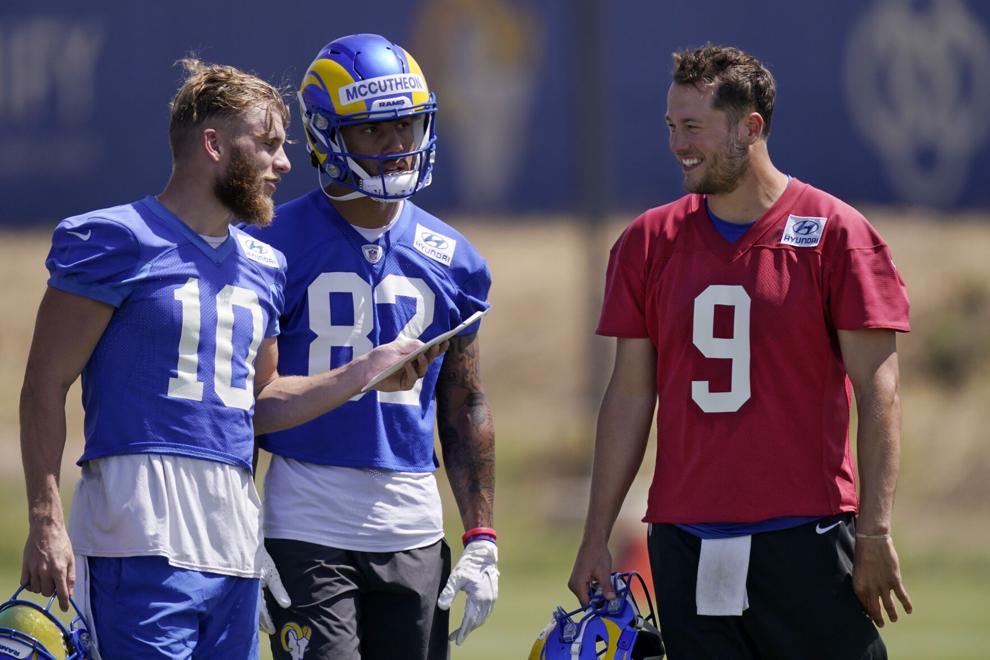 The Bills have former Eastern Washington running back Taiwan Jones, who's listed as a fourth stringer.
Here's the full list of 53-man NFL players who came from current Big Sky programs, per the NCAA:
Cal Poly
• None
Eastern Washington
• WR Kendrick Bourne (Patriots)
• DE Samson Ebukam (49ers)
• RB Taiwan Jones (Bills)
• WR Cooper Kupp (Rams)
Idaho
• None
Idaho State
• TE Tanner Conner (Dolphins)
Montana
• WR Samori Toure (Packers)
Montana State
• ILB Troy Andersen (Falcons)
• OLB Daniel Hardy (Rams)
• OL Lewis Kidd (Saints)
• WR Lance McCutcheon (Rams)
• ILB Alex Singleton (Broncos)
Northern Arizona
• None
Northern Colorado
• LS Jacob Bobenmoyer (Broncos)
Portland State
• None
Sacramento State
• WR DeAndre Carter (Chargers)
UC Davis
• None
Weber State
• DB Taron Johnson (Bills)
• OL Sua Opeta (Eagles)
• DL Jonah Williams (Rams)
FCS Top 25
Montana (2-0) and Montana State (2-0) remain No. 3 and No. 4, respectively, behind South Dakota State and top-ranked North Dakota State in the Stats Perform FCS Top 25, the latest of which was unveiled Monday.
Sacramento State (1-0) dropped one spot to No. 8, while Weber State (2-0) moved up from No. 16 to No. 12.
The previous No. 12, Eastern Washington (1-1), fell two spots following its lopsided loss at Oregon.
UC Davis (97 poll points), Northern Arizona (29) and Idaho (six) all received votes.
Players of the week
Taco Dowler became the first Montana State player to earn a Big Sky player of the week honor this season. The true freshman from Billings took the special teams award on Monday thanks to his 67-yard punt return for a touchdown against Morehead State on Saturday — the Bobcats' first punt return score since 2013.
The offensive player of the week was Cal Poly quarterback Jaden Jones, who threw for 393 yards and four TDs in the Mustangs' 28-27 win over San Diego.
UC Davis' Rex Connors and Weber State's Desmond Williams shared defensive player of the week honors. Connors tallied 17 tackles and two interceptions in a 24-22 loss to South Dakota State, while Williams returned an interception for a TD and finished with six tackles in a 35-7 win over Utah State.