BOZEMAN — The Big Sky is sending five teams to the Football Subdivision Playoffs for the first time.
The conference's five representatives in the 24-team playoff bracket are fourth-seeded Sacramento State (9-2, 8-0 Big Sky), sixth-seeded Montana (9-2, 6-2), eighth-seeded Montana State (9-2, 7-1), Eastern Washington (9-2, 6-2) and UC Davis (8-3, 5-3).
"We play in a tough conference, and for our conference to get five teams for the first time ever, I believe, speaks to the quality of our league," MSU coach Brent Vigen said Sunday.
The seeds diverged somewhat from the latest Stats Perform FCS Top 25, released Monday. Big Sky champion Sac State is the conference's top seed but the fourth-highest team in the rankings at No. 8. EWU is ranked No. 4, UM is No. 5, MSU is No. 7 and Davis is No. 14.
"The league's good," UM coach Bobby Hauck told ESPNU during Sunday's FCS selection show. "We have good offense, good defense. Depending on the team, maybe both on some of these squads. ... I think it's a strong conference and probably deserved five spots."
Those five teams account for 20.8% of the playoff field, so the Big Sky has a solid chance to boast a national champion for the first time since EWU in 2010.
Here's what the championship path looks like for each team:
Sacramento State
Sac State might have an easy scouting assignment for its first playoff game.
The Hornets received a first-round bye and will play a home game in the second round at 7 p.m. Mountain time Saturday, Dec. 4. They will face the winner of the first-round game between UC Davis and No. 11-ranked South Dakota State (8-3). Sac State beat Davis 27-7 on Saturday to clinch the Big Sky title.
A win over Davis/SDSU would give Sac State a quarterfinal home game on Dec. 10 or 11 against No. 6-ranked and fifth-seeded Villanova (9-2), No. 24 Holy Cross (9-2) or unranked Sacred Heart (8-3). Holy Cross will host Sacred Heart on Saturday, and the winner will play at Villanova.
If the Hornets win their quarterfinal game, they'll either travel to top-ranked and top-seeded Sam Houston (10-0) or host one of the other five teams, including Montana State, in that quadrant of the bracket on Dec. 17 or 18. So Sac State might play at home until the FCS title game in Frisco, Texas, on Jan. 8 if Sam Houston, the defending FCS champion, loses in the second round or the quarters.
Montana
The Griz are on the opposite side of the bracket from all of the Big Sky teams except Eastern Washington, a familiar foe that UM could face in its first playoff game.
The Griz, who also received a bye, will either host EWU or Northern Iowa (6-5) at 7 p.m. Friday, Dec. 3. EWU beat UM 34-28 on Oct. 6. That game was in Cheney, Washington, and required a 24-7 fourth quarter from the Eagles.
If the Griz win the rematch/beat UNI, odds are they will travel to No. 2-ranked and third-seeded James Madison (10-1) on Dec. 10 or 11. JMU won the 2016 FCS title and was runner-up in 2017 and 2019. The Dukes will face No. 18 Southeastern Louisiana (8-3) or No. 22 Florida A&M (9-2) in the second round.
A semifinal matchup for UM would probably be against No. 3-ranked and second-seeded North Dakota State, which has won eight of the last 10 FCS championships. If NDSU gets upset, the other possible semifinal foes for the Griz would be No. 9-ranked and seventh-seeded East Tennessee State (10-1), No. 10 Kennesaw State (10-1), No. 17 South Dakota (7-4), No. 21 Southern Illinois (7-4) or Davidson (8-2).
Montana State
Despite the lower seed, MSU got a better draw than UM, at least on paper.
After a bye, the Bobcats will host either No. 12-ranked Missouri State (8-3) or No. 16 UT Martin (9-2) at 2 p.m. Dec. 4.
Missouri State is coached by the famous Bobby Petrino, a Montana native. The Bears suffered close losses to NDSU and to Oklahoma State, a top-10 FBS team.
UT Martin's losses were 59-21 to FBS Western Kentucky and 31-14 to unranked Southeast Missouri.
A win on Dec. 4 for the Cats would probably lead to a quarterfinal road game at Sam Houston on Dec. 10 or 11, unless the Bearkats fall to No. 13 Incarnate Word (9-2) or No. 20 Stephen F. Austin (8-3).
A win over Sam Houston, which has a poor strength of schedule, would vault MSU into the semis for the second straight season. Barring multiple upsets, the Cats would then play at Sac State or Villanova on Dec. 17 or 18.
A rematch with the Griz, who beat MSU 29-10 on Saturday, is only possible in the FCS title game.
Eastern Washington
It might look easy for EWU to beat a five-loss team at home, but UNI's resume is better than its record.
The Panthers lost to FBS Iowa State 16-10 to open the season and beat Sac State 34-16 one week later. They lost 34-20 at NDSU, 34-21 to South Dakota and 34-27 at Missouri State. UNI's biggest blemish was a 17-10 defeat at unranked Illinois State, which finished the season with a 4-7 record.
The UNI game, scheduled for 2 p.m. Saturday, will probably be EWU's only playoff game on its famous Roos Field red turf.
UC Davis
A rematch with Sac State will be tough for the Aggies to set up. They will travel to Brookings, South Dakota, this weekend to face South Dakota State at 1 p.m. Saturday.
The Jackrabbits opened the season with a 42-23 win at FBS Colorado State, and they handed rival NDSU its only loss of the season with a 27-19 win on Nov. 6 in Brookings.
SDSU's three losses: 42-41 in overtime on Oct. 9 to Southern Illinois, 26-17 on Oct. 23 to Northern Iowa and 23-20 on Nov. 13 to South Dakota. All three teams are on the other side of the playoff bracket from SDSU.
Davis will travel to Sac State next week if it wins Saturday.
Idaho coaches lose jobs
Both of the Big Sky schools in Idaho got rid of their head coaches after Saturday's regular season finale, a game they coached against each other.
Bobby's brother Paul Petrino parted ways with Idaho, while Idaho State fired Rob Phenicie. The Vandals beat ISU 14-0 on Saturday in Pocatello, Idaho.
Both of the coaches' contracts will be bought out, although Petrino's contract only went through June 2022. Phenicie had one more season under contract with the Bengals.
The Butte-born Petrino, who was raised in Helena, went 33-66 in his nine seasons at Idaho, including 14-25 (10-19 in Big Sky play) since the Vandals dropped down from the Football Bowl Subdivision in 2018.
Phenicie, who was Montana's offensive coordinator from 2003-09, went 16-35 overall in his five seasons at ISU.
Player of year finalists include several Big Sky players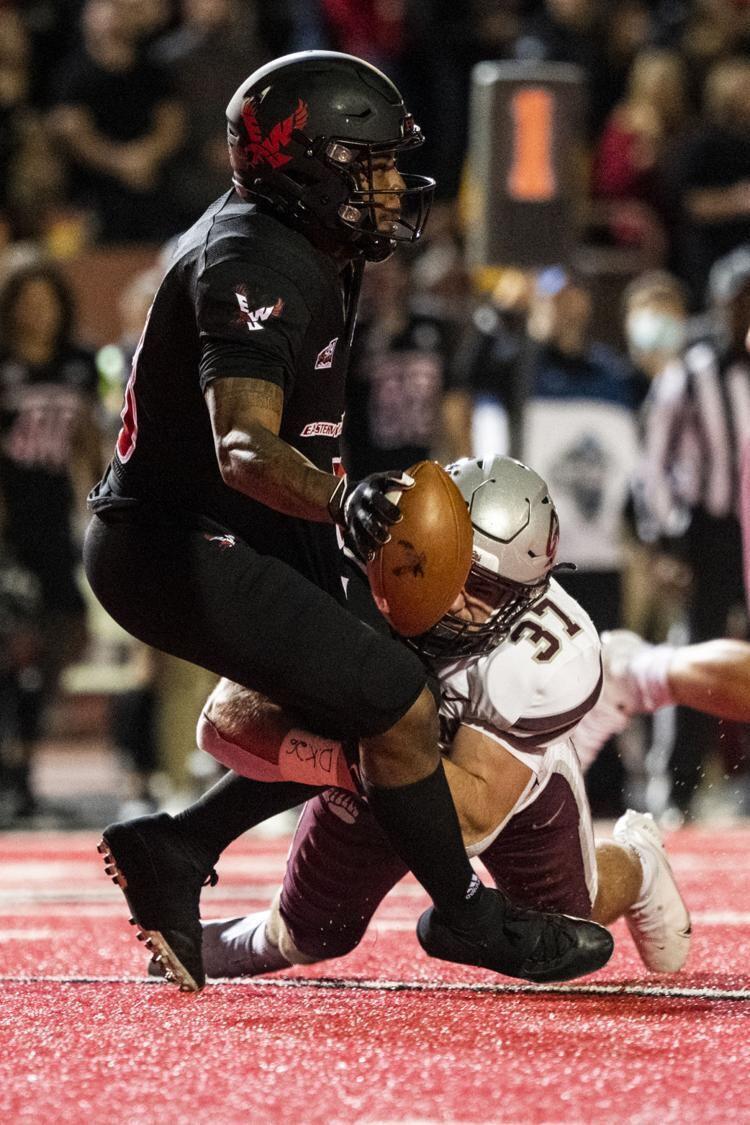 Stats Perform announced its finalists for the FCS' most prestigious postseason awards on Monday, and several Big Sky players made the cut.
The 2021 Walter Payton Award, given to the FCS' national offensive player of the year, has 25 finalists, including Eastern Washington quarterback Eric Barriere and Montana State running back Isaiah Ifanse.
MSU linebacker Troy Andersen, Montana defensive back Justin Ford and Montana linebacker Patrick O'Connell are among the 25 finalists for the Buck Buchanan Award, which honors the best defensive player in the FCS.
The Jerry Rice Award goes to the FCS' top freshman, and Stats Perform announced 23 finalists, two of whom are Big Sky players: Portland State wide receiver Nate Bennett and Northern Arizona quarterback RJ Martinez.
In 11 games so far this season, Barriere has completed 67.1% of his passes for 4,257 yards, 40 touchdowns and 6 INTs, with 224 rush yards and three TDs. The redshirt senior became the Big Sky's career passing touchdown leader during Saturday's game against Portland State.
Ifanse has 210 carries for 1,258 yards and eight TDs. The junior has also made 11 receptions for 100 yards and a score.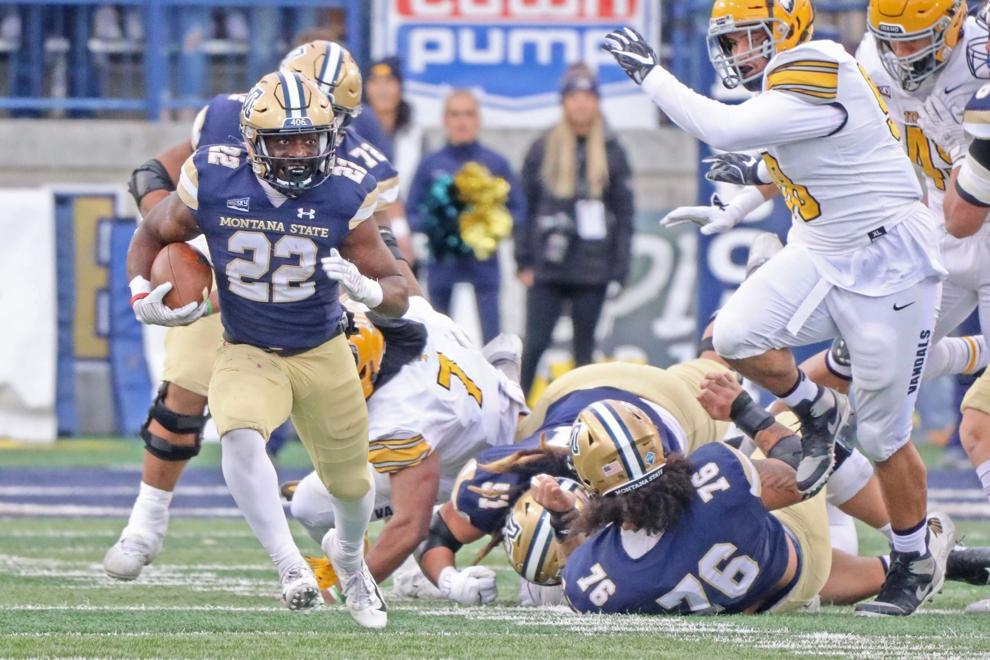 Andersen has 111 tackles (57 solo), 9 ½ tackles for loss, two sacks, two INTs, seven pass breakups and a fumble recovery.
Ford has 33 tackles (22 solo), two TFLs, one sack, eight INTs, eight PBUs, a forced fumble and two fumble recoveries, including one Saturday against MSU that he returned 56 yards for a touchdown.
O'Connell had a scoop-and-score a week earlier at NAU, and he's recorded 91 tackles (40 solo), 19 ½ TFLs, 13 sacks and three forced fumbles.
Bennett has caught 50 passes for 616 yards and four scores.
Martinez has completed 61.8% of his passes for 1,713 yards, 14 TDs and two INTs, and he rushed for 187 yards and five scores.
Coach of year finalists include Vigen, Taylor
Stats Perform also unveiled the 17 finalists for the 2021 Eddie Robinson Award, given to the FCS' coach of the year. Montana State's Brent Vigen and Sacramento State's Troy Taylor made the list.
Vigen became the first head coach to lead the Cats to the playoffs in his first year at the helm.
Taylor won the Eddie Robinson Award in 2019 after leading the Hornets to their first Big Sky title in program history. It was Taylor's first season in Sacramento. On Saturday, Sac State won its first outright Big Sky championship.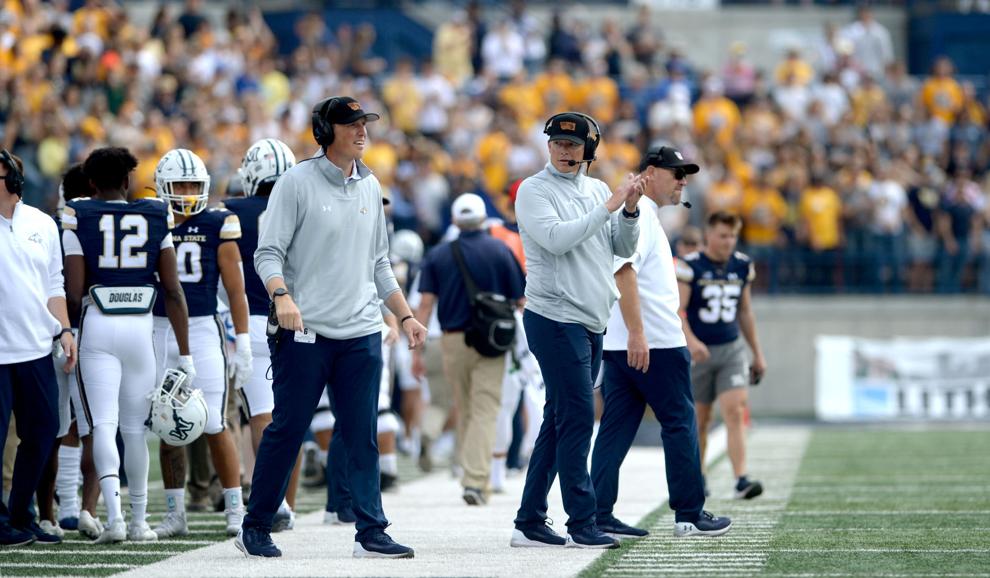 Grizzlies, Lumberjack named players of week
Montana's Patrick O'Connell and Kevin Macias were named the Big Sky's defensive and special teams players of the week, respectively, while Northern Arizona's Kevin Daniels won the offensive honor.
O'Connell had a season-high 11 tackles (four solo) and 1 1/2 sacks in the Griz's 29-10 Brawl of the Wild win on Saturday in Missoula.
Macias made all five of his field goal attempts against MSU, including a career-best 50-yarder.
Daniels rushed for 280 yards and five touchdowns in the Lumberjacks' 45-21 win at Cal Poly on Saturday. The 280 yards are the most by an FCS player in a game this season, and Daniels broke the NAU record for longest run with a 90-yard TD in that season-ending game.