BOZEMAN — A Big Sky football player of the week honor is nothing new for Eric Barriere. The level of success his team has reached very much is.
Barriere led Eastern Washington to a 63-17 conference win at Northern Colorado on Saturday. The Eagles are now No. 2 in the Stats Perform FCS Top 25 and have a 6-0 overall record. It's their best start since 1967 and first time they've begun a season 6-0 at the FCS level, according to the (Spokane) Spokesman-Review.
Barriere rightfully gets most of the attention on the Eagles. Against UNC, the redshirt senior quarterback completed 32 of 41 passes (78%) for 347 yards, three touchdowns and one interception. On the season, he's passed for 2,467 total yards (411.2 per game), 21 TDs (3.5 per game) and five interceptions.
"It always feels good having Eric back there. You can score in one play, no matter what they bring up front," EWU offensive lineman Tristen Taylor said after the UNC game, via the Spokesman-Review.
Saturday's performance resulted in Barriere's fourth Big Sky offensive player of the week award this season. He shared it in Week 1 with UC Davis QB Hunter Rodrigues, who is one of three non-Barriere players to earn the conference's weekly offensive honor (the first, awarded to Southern Utah QB Justin Miller, happened before EWU's first game).
EWU has the most points (307), points per game (51.2), touchdowns (40), total yards (3,545) and yards per game (590.8) in the FCS.
On the other side of the ball, EWU is 62nd out of 123 FCS teams in points allowed per game (28.17) and 51st in yards allowed per game (356.8). But EWU ranks 40th in yards allowed per play (5.25), which points to a better defense than those other two numbers indicate.
In their 61-56 win at Western Illinois on Sept. 18, the Eagles scored 34 straight points to turn a 21-21 first quarter tie into a 55-21 halftime lead. They went up 62-28 in the third quarter and surrendered 28 straight points to end the game.
The poor fourth quarter against the then-winless Leathernecks happened with EWU's starters still on the field, and EWU coach Aaron Best was critical of his team after the game. The Eagles' quick-strike offense also gave the Leathernecks many chances to score (Barriere finished with a career-high 542 yards and six TDs), and the Eagles proved they could slow WIU down when the game was close.
That game is also an outlier. The most points EWU has given up in its other five games is 28, scored by then-No. 4 Montana in EWU's six-point home win on Oct. 2. The second-most points the Eagles have allowed in one game came in their season opener, which they won 35-33 in double overtime at UNLV, an FBS team.
More cracks might show up in the Eagles' final four games, when they face three ranked teams (Weber State and Montana State at home, UC Davis on the road) and finish at unranked but competitive Portland State. But right now, EWU looks like a legitimate national title contender.
"We're a different team than we were a month ago," EWU coach Aaron Best said after the UNC win, via the Spokesman-Review. "And we will continue to be different, because the greatest teams get better at or near the end of the season."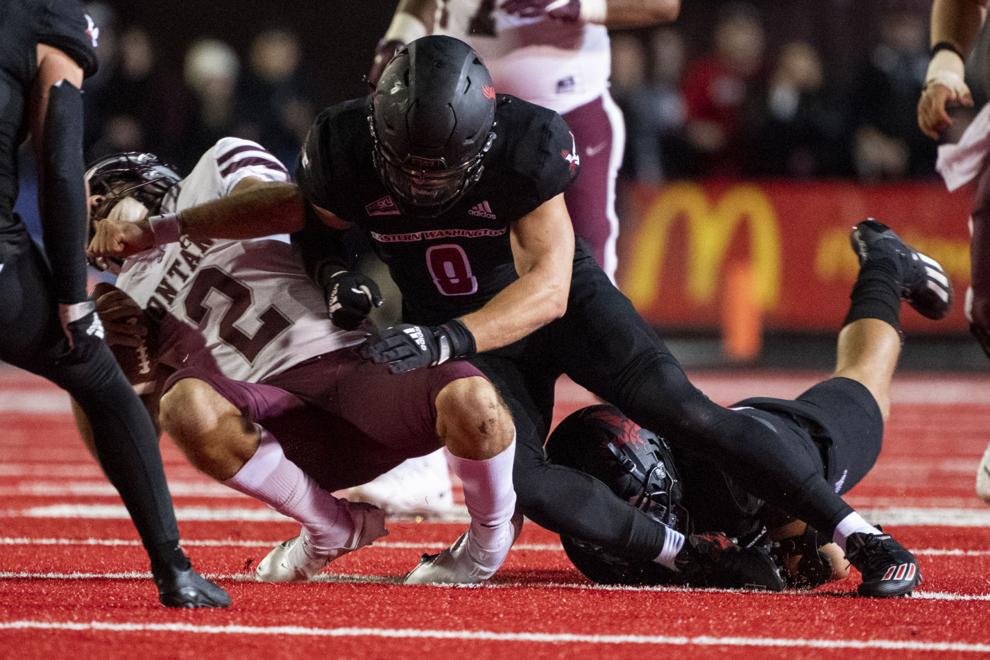 Three Big Sky teams rise in rankings
Eastern Washington's jump from No. 4 to No. 2 was one of several moves from Big Sky teams in the latest Stats Perform FCS poll.
Montana and Montana State each rose one spot, to No. 5 and No. 9, respectively. UC Davis fell from No. 7 to No. 13 following its first loss of the season, 27-17 at previously winless Idaho State. Weber State, which had a bye last week, remained at No. 19.
UM jumped South Dakota State and James Madison. SDSU fell from No. 2 to No. 7 following its 42-41 overtime loss to Southern Illinois, which jumped from No. 8 to No. 4. Then-No. 3 (now-No. 8) JMU lost to then-No. 11 (now-No. 6) Villanova 28-27 on Saturday.
Villanova was the lone team to leapfrog MSU, while Davis and Delaware fell behind the Bobcats. Delaware dropped from No. 9 to No. 14 following its 22-15 loss to Rhode Island, which rose six spots to No. 12.
Sam Houston remained No. 1 after narrowly beating Stephen F. Austin two games ago.
Barriere, Bengals named players of week
Joining Eric Barriere as this week's Big Sky players of the week are two Idaho State players: defensive back Jayden Dawson and punter Kevin Ryan.
Dawson earned the defensive honor for recording with eight tackles (one for loss), one forced fumble, two pass breakups and his first career interception in the Bengals' upset of UC Davis.
Three of Ryan's five punts were downed inside the 10-yard line, at the 8, 3 and 1. He averaged 41.4 yards per punt with a long of 51 yards.
Montana's Kris Brown (offense), Justin Ford (defense) and Brian Buschini (special teams) were nominated for this week's Big Sky honors, as was Montana State's Jeffrey Manning Jr. (defense).
Weber State regains one QB after losing another
Weber State has gone through a see-saw of injuries at quarterback this season.
Season-opening starter Bronson Barron suffered an MCL injury in the WSU's second game and didn't play in the next three. The freshman looks likely to return on Friday night at home against Montana State, according to the (Ogden, Utah) Standard-Examiner.
The Wildcats, however, will be without Kylan Weisser for at least several weeks. The sophomore, who started in place of Barron, broke his fibula on Oct. 2 at Cal Poly, per the Standard-Examiner.
If Barron starts against MSU, his backups will be junior Randall Johnson and freshman Creyton Cooper.
The Big Sky game between top-20 teams will kick off at 8 p.m. Friday and will be televised on ESPNU.
Montana's Xu named player of week again
Eric Barriere isn't the only Big Sky athlete to receive four player of the week accolades this fall.
Montana goalkeeper Camellia Xu now has four women's soccer defensive player of the week honors after winning her third straight last week.
Xu led the Grizzlies to seven straight shutouts. That streak, which tied a program record, ended on Sunday with a 1-0 loss at Northern Colorado.
Xu has eight shutouts this season, the most ever by a Griz freshman. The UM record for shutouts in a season by any keeper is 10.