BOZEMAN — Before last week, the Eastern Washington football team hadn't lost on its famous red turf since Nov. 4, 2017. The victorious opponent that day was Weber State.
Almost four years later, WSU went back into Roos Field and earned a 35-34 Big Sky win Saturday over the Eagles, who were 7-0 (4-0 in conference) and ranked No. 2 in the Stats Perform FCS Top 25 before the loss. EWU had won 20 straight games on "The Inferno" dating back to 2017.
The Wildcats (3-4, 2-2) kept their FCS playoff hopes alive with the homecoming-spoiling victory in Cheney, Washington.
"Fired up about this one," WSU coach Jay Hill said after the game, via the (Ogden, Utah) Standard-Examiner. "I love playing on this field."
A game that featured EWU all-American quarterback Eric Barriere against WSU's standout defense was highlighted by special teams.
The Wildcats tried, and converted, three fake punts in the game. The first two were runs in the second quarter that led to field goals from Kyle Thompson, including a 45-yarder as the first half clock expired to cut WSU's deficit to 14-13.
EWU opened the second half with a touchdown, and WSU answered with 22 straight points (on three touchdown runs) to take a 35-21 lead with 8:42 left in the game. The Wildcats went up 27-21 six plays after the third fake punt, a 20-yard pass from punter Mackenzie Morgan to Jared Schiess.
Barriere and his teammates proved that no lead is safe against EWU. The redshirt senior threw a touchdown pass with 6:12 remaining and drove them down the field a few minutes later. Barriere broke the Big Sky record for most career yards of total offense in the game.
A one-yard TD run by EWU's Dennis Merritt with 2:51 on the clock would have been the game-tying play in the vast majority of situations. But Seth Harrison missed the extra point wide left to keep the score at 35-34.
The Eagles still had three timeouts and a touchback on the following kickoff. They never got the ball back.
A 14-yard run from Randall Johnson forced EWU to take all three of its timeouts. On third down and 8, Dave Jones rushed 32 yards, allowing WSU to kneel and run the clock out.
In that Nov. 4, 2017 game at Roos Field, Jones rushed for a 24-yard touchdown with 2:26 left to put the Wildcats ahead 28-20. That was the final score.
"I said 'Guys, trust Dave Jones. He'll make a play. In this kind of game, he'll make a play,'" Hill said, via the Standard-Examiner. "I was so excited for that kid."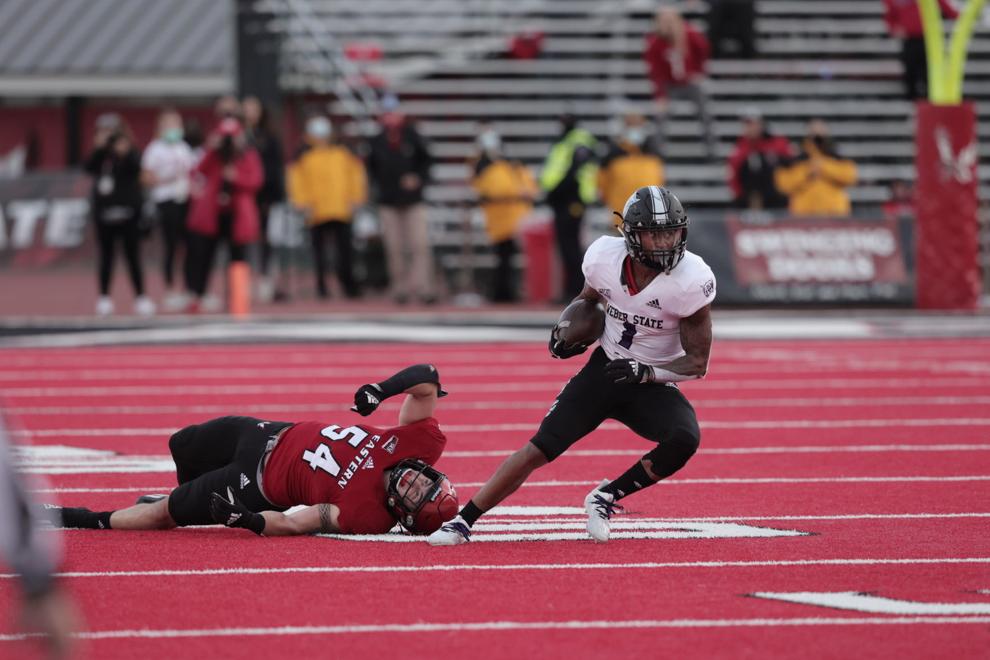 WSU's chances of winning its fifth straight conference title were effectively ended when they lost 13-7 to Montana State at home on Oct. 15. One day later, Barriere threw for 600 yards and accounted for eight TDs in a blowout of Idaho.
Fakes and breaks obviously played big roles in the Wildcats' playoff-salvaging victory, but so did their defense. They held Barriere to 245 passing yards and two touchdowns, with an interception and a completion rate of 48.7% (19 of 39). The Eagles did rush for 189 yards on 37 carries (5.1 ypc), but they fumbled six times and lost two of them.
WSU, which made the playoffs in each of the previous five seasons, will play unranked teams in its final four games of the regular season.
Rankings reward Montana State
The loss dropped Eastern Washington to No. 7 in the latest Stats Perform FCS poll.
Montana State, meanwhile, moved up two spots to No. 6 following its 27-9 home win over Idaho State. It's the first time MSU has been the top-ranked Big Sky team all season.
The Bobcats (7-1, 5-0) will play at EWU on Nov. 6. Both teams are on byes this week.
"Whatever," MSU coach Brent Vigen said Monday after learning about the new rankings. "We get to play them on the field, and that'll ultimately determine how the two of us are."
UC Davis (7-1, 4-1) rose one spot to No. 9 after winning 24-13 at Cal Poly. Davis' only loss this season was 27-17 at Idaho State.
Montana (5-2, 2-2) remained No. 11. The Grizzlies beat Idaho 34-14 Saturday in the Little Brown Stein game.
Sacramento State (5-2, 4-0) handled Northern Arizona 44-0 Saturday night and moved up four spots to No. 15. Sac State won at Montana a week earlier.
Weber State was rewarded for its win, going from unranked to No. 23.
Sam Houston remained No. 1, North Dakota State jumped one spot to No. 2, Southern Illinois jumped one spot to No. 3, Villanova jumped one spot to No. 4 and James Madison jumped two spots to No. 5.
South Dakota State fell from No. 6 to No. 10 due to its 26-17 loss to now-No. 16 Northern Iowa.
New names get Big Sky weekly honors
All three of the latest Big Sky football players of the week received the honor for the first time this season, and all three are from different teams.
Offensive player of the week went to Sacramento State quarterback Jake Dunniway, defensive player of the week went to Weber State defensive back Eddie Heckard and special teams player of the week went to UC Davis punter Daniel Whelan.
Dunniway became one of the few players not named Eric Barriere to earn the weekly offensive honor. Barriere had won it the previous two weeks, four of the last five weeks and five times this season.
Dunniway completed 21 of 25 passes (84%) for 328 yards, two touchdowns and an interception in the 44-0 win over Northern Arizona. It was Sac State's most lopsided Big Sky victory in program history.
Heckard had seven tackles, one interception, one forced fumble and one pass breakup in the win over Barriere and Eastern Washington.
Whelan averaged 48 yards per punt on six kicks, three of which went at least 50 yards, in the 11-point win over Cal Poly. The longest punt for Whelan, a first-team all-American last season, traveled 65 yards.
Montana's Mitch Roberts (offense), Patrick O'Connell (defense) and Kevin Macias (special teams) were nominated for Big Sky player of the week, as were Montana State's Isaiah Ifanse (offense) and Troy Andersen (defense).
Northern Colorado's McCaffrey makes Colorado HOF
Northern Colorado coach Ed McCaffrey is one of six new members of the Colorado Sports Hall of Fame, the CSHOF announced two weeks ago.
McCaffrey was an NFL wide receiver who won three Super Bowls, two with the Denver Broncos. He is in his first season as the coach for UNC, which beat Southern Utah on Saturday to improve to 3-5 (2-3 in Big Sky play) this fall.