FRISCO, Texas — Lance McCutcheon hauled in a 30-yard pass in the second quarter of Saturday's FCS championship.
At the time, it gave the Montana State wide receiver and Bozeman native 1,166 receiving yards this season, setting a school record for a single year.
That the pass came from Tucker Rovig — the Bobcats' third different quarterback in a span of five games — is a microcosm of McCutcheon's career: productive, no matter the passer.
When the Bobcats named Tommy Mellott the starting signal caller before the playoffs, it was the seventh quarterback change McCutcheon had experienced in his four seasons.
Mellott was injured early in the 38-10 loss to North Dakota State, pushing Rovig into action. Without Mellott, the Bobcats' offense lost much of its steam and shine from three postseason victories.
As he seemingly always has this season, though, McCutcheon remained his steady self, finishing with game highs of five catches for 106 yards.
The Bison (14-1) had little trouble keeping the Bobcats' (12-3) offense contained, but McCutcheon still managed to find his spots.
"He's a long kid," NDSU head coach Matt Entz said. "He creates separation with his size."
McCutcheon finished the season with 63 catches. His receiving total from Saturday gives him 1,219 yards for the season, a total that surpasses tight end Joe Bignell's 1,149 yards during MSU's last national championship run in 1984.
McCutcheon ends his career with 94 receptions for 1,741 yards.
The 6-foot-3 receiver, who helped Bozeman High win the 2015 Class AA championship, picked up 18 yards over the middle on the first play of the game Saturday. Mellott faked a QB dive and pulled back to deliver the pass. Mellott later had a 5-yard completion to McCutcheon in the first quarter.
Rovig targeted McCutcheon five times in the second quarter but only managed to complete the 30-yarder that pushed the receiver past Bignell's record.
In the third quarter, Rovig found McCutcheon for 25 yards down to the NDSU 6-yard line, a play that set up a Blake Glessner field goal a short time later to get MSU on the board.
"A couple of 50-50 balls he was able to go up and get," Entz said. "We knew that was one of their things. Especially if they saw press coverage, they were going to try to check to the fade. And they got a couple of them on us."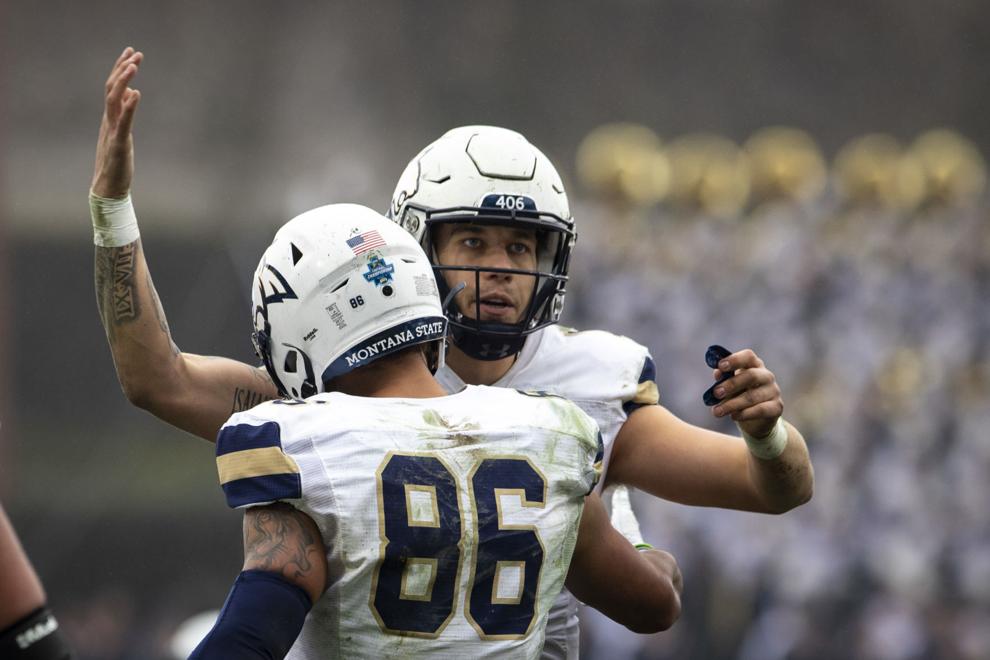 Mellott had success throwing deep downfield to McCutcheon throughout MSU's playoff run. A 68-yard touchdown against Sam Houston in the quarterfinals and a 17-yarder against South Dakota State in the semifinals stand out. More often than not, McCutcheon won the battle for position with the opposing defensive backs.
McCutcheon capped his season with a 28-yard score in the fourth quarter against North Dakota State. With Glessner's ensuing kick, it gave Montana State 10 points and represented the final points of the game.
In each of his first three seasons, McCutcheon never had more than 197 yards or two touchdowns for the year. His score against the Bison was his ninth touchdown and helped him go over 100 yards in a game for the fifth time this season. He ends his career with 13 scores. 
"Really, we empowered Lance to become great," Bobcats coach Brent Vigen said, recalling meeting the receiver for the first time in February and trying to determine his role. "We gave him opportunities, and he did that."
McCutcheon undoubtedly came on strong as a senior, proving to be the team's most reliable receiver. Catching passes from Matthew McKay, Mellott and finally Rovig, he dutifully showed his ability to adapt and produce regardless of circumstances.
As a Montana State receiver, his time is over. But as a pass catcher, Vigen believes McCutcheon has an opportunity to blossom even more as a professional.
"Those are big shoes to fill, and I don't think Lance McCutcheon is done playing football," Vigen said. "And I don't think anybody might have said that at this time last year. I'm really proud of Lance and what he's become and certainly what he's aspiring to be."