MISSOULA — The 120th Brawl of the Wild is almost a mirror image of the 119th.
In 2019, No. 3-ranked Montana faced No. 8 Montana State at Bobcat Stadium in Bozeman. On Saturday, No. 3 MSU will take on No. 7 UM at Washington-Grizzly Stadium in Missoula.
Both the Bobcats (9-1, 7-0 Big Sky) and the Grizzlies (8-2, 5-2) are Football Championship Subdivision playoff locks. On the line Saturday is playoff seeding and, for MSU, a Big Sky championship. The Cats are tied with Sacramento State for the conference lead, so they'll need to win Saturday's regular season finale to guarantee at least a share of the Big Sky title for the first time since 2012.
There is, of course, much more on the line than that.
"It's not just this one Saturday in November. It's an every-day-of-the-year affair when you talk about recruiting and all that goes into trying to gain the edge across the state, in every corner, in every small town, in every big town," MSU head coach Brent Vigen said Monday. "It ultimately plays out on a Saturday, but it is something that occurs in our minds every day."
Vigen is in his first year with the Cats, who have won four straight Brawls, including a 48-14 rout in 2019. MSU also hasn't lost in November since 2017, when it fell to No. 25 Kennesaw State 16-14 and No. 24 Northern Arizona 37-36. A week after the NAU loss, the Cats earned a 31-23 home win over the Griz.
The arch rivals didn't play in 2020 because of the coronavirus pandemic. Both teams opted out of the Big Sky's spring season, but UM played two non-conference games to get a jump on this fall season.
The Griz opened the season with a 13-7 win over FBS Washington and got off to a 3-0 start before injuries and illness struck them hard. They're now on a season-high four-game winning streak.
"I think that the competitiveness piece is probably what's carried us," Montana coach Bobby Hauck said. "They love to play, they're competitive, and I'm sure we'll be excited to go out there this weekend."
3 keys to a Cats win
Find balance on offense
The Cats would love for soon-to-be all-Big Sky (perhaps all-American) running back Isaiah Ifanse to be full strength. That's unlikely, considering he missed the second half of last week's game against Idaho with an injury and was considered day to day as of Monday, per Vigen.
Ifanse and backup running back Elijah Elliott, who is also day to day, have led MSU to the eighth-best yards per carry mark (5.48) in the FCS. Ifanse rushed for 171 yards and three touchdowns on 21 carries against the Griz in 2019.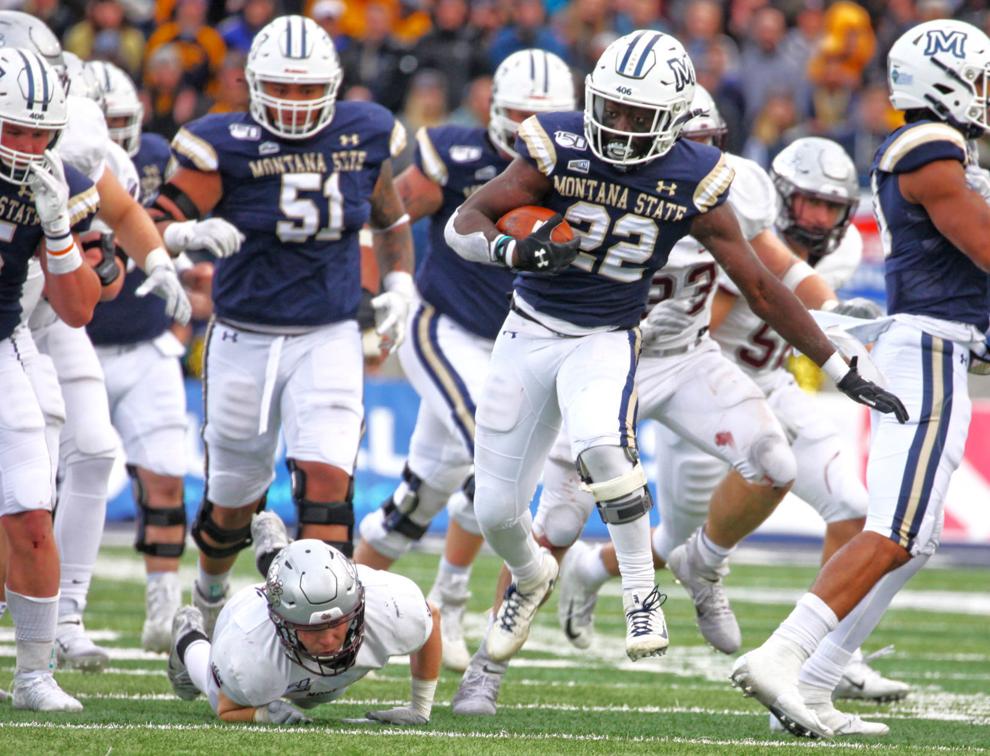 The Cats could use a heavy dose of Tommy Mellott and Lane Sumner on Saturday, like they did against Idaho, but that strategy would likely lead to more punts than points against UM, which is allowing the second-fewest yards per carry (2.13) in the FCS.
The Griz are 72nd in passing yards allowed per game (227), so the Cats might be wise to air it out even if their top two running backs are healthy.
MSU starting quarterback Matthew McKay looked shaky against Idaho (9 of 14, 104 yards, no touchdowns, one interception), as well as two of the previous three games: at Weber State (12 of 19, 76 yards, 0 TDs, 0 INTs) and against Idaho State (10 of 21, 136 yards, 2 TDs, 0 INTs, lost fumble).
McKay has been good in his other seven games, including a 23-20 win on Nov. 6 at No. 5 Eastern Washington, one of the two teams that has defeated UM (Sac State being the other). The North Carolina State transfer went 17 of 30 for 253 yards, a TD and an INT with a 56-yard rushing score against EWU. The Cats lost the turnover battle 0-2 and squandered many good opportunities in that game, yet they still won. 
The second-most passes McKay has attempted in a game this season was 28, in a 19-16 season-opening loss at Wyoming. He finished with 19 completions for 200 yards, two TDs and no turnovers. 
The absence of right tackle TJ Session, who got hurt against Idaho, lessens the margin of error for McKay and the rest of MSU's offense on Saturday. As Weber State showed in its 13-7 loss, a strong defense can grind the Cats to a halt. 
Keep preventing tide-turning plays
Like MSU's rushing offense versus UM's rushing defense, Saturday's Brawl will be a strength-versus-strength matchup when it comes to turnovers.
MSU's plus-nine turnover margin is tied for fifth in the FCS, and the Cats have only allowed six turnovers all season, tied for the fewest in the FCS with Columbia and No. 2 James Madison.
The Griz have turned it over 17 times but are tied for ninth in turnover margin thanks to an FCS-best 25 turnovers gained. 
MSU's combined turnover margin in its previous two games was minus-three. That didn't sink the Cats, even against No. 5 EWU. 
The Eagles' longest run against MSU was 25 yards, and the longest pass from all-American QB Eric Barriere was 37. He finished with a season-low 214 passing yards in that game. 
The Cats have allowed the 13th-fewest yards per pass attempt in the FCS (6.18) and the 18th-fewest yards per rush (3.12). 
If MSU continues to take care of the ball and prevent big plays, UM will struggle to score. The Cats have the FCS' second-stingiest scoring defense and 11th-best total defense.
Gain special teams edge
In the 2018 Brawl, MSU punter Jered Padmos pinned the Griz within their 5-yard line twice in the second half. Without those punts, perhaps the Cats don't pull off the "Miracle in Missoula."
Perhaps the Cats wouldn't have needed a forced fumble at the goal line in the final seconds to earn that 29-25 win if they didn't allow Malik Flowers to return a kick to the 50-yard line with 2:07 left. 
Flowers is still a Grizzly and is as dangerous as ever, with two kick returns for touchdowns this season. He's led UM to the second-best kickoff return mark (29.33 yards per return) in the FCS.
The Cats haven't been nearly as potent in the return game, especially since Coy Steel got hurt on a 45-yard punt return at Portland State on Sept. 25 (that remains MSU's longest punt or kickoff return of the season).
But MSU's kick and punt coverage teams have performed well. For example, the longest return from Weber State record-setter Rashid Shaheed against the Cats was 30 yards. They have allowed the FCS' 10th-fewest yards per kickoff return (15.67) and 12th-fewest per punt return (3.29). MSU has tallied 30 kickoff touchbacks, all from kicker Blake Glessner. That's tied for third-most in the FCS.
Glessner and punter Bryce Leighton both earned Big Sky special teams player of the week honors this season, and they've been consistently good. An off game from either of them and/or a big special teams performance from the Griz could hand MSU a loss. 
3 keys to a Griz win
Impose defensive will
It'll be strength against strength when UM's rush defense faces off against MSU's ground game. The Griz are third in the FCS by limiting teams to 73 rushing yards per game, they're fifth by allowing just 13.3 points per game and their defense has scored four touchdowns.
The Griz have allowed only 26 rushes of 10 or more yards on 342 carries (2.6 such rushes per game) and just four rushes of 20 or more yards. They've given up only 35 total plays of 20 or more yards on 725 plays (3.5 such plays per game).
When the teams squared off in 2019, the Cats had 15 plays of 10 or more yards on 76 plays, about one out of every five plays. They had 11 runs of 10 or more yards on 62 carries, including runs of 29, 30 and 38 yards, as they amassed 382 rushing yards, including 171 by Isaiah Ifanse.
With the status of Ifanse and backup Elijah Elliott unknown, the Griz could see Tommy Mellott and maybe even Troy Andersen. Ifanse is third in the FCS with 120.3 rush yards per game.
MSU's O-line will be shuffled due to the absence of TJ Session and will face a Griz team that's third in the FCS with 8.4 tackles for loss per game and fifth with 3.5 sacks per game. The Cats come in fourth in the FCS with 3.6 TFLs allowed per game and 26th with 1.4 sacks allowed.
The Cats may need to throw the ball to have success, but UM has revamped its secondary with corners who are better in coverage and tackling. The Griz lead the FCS with 17 passes picked off, and while they're 72nd by allowing 227 passing yards per game, MSU is 71st with 197.8 passing yards per game.
Find balanced offensive attack
Montana's offense has moved the ball efficiently with the return of senior quarterback Cam Humphrey two games ago. The Griz put up 389 yards and 427 yards the past two weeks, their third- and fourth-best outings of the season.
Humphrey is coming off a 280-yard passing performance, his second-best career outing with the Griz. UM is 36th in the FCS with 236.2 passing yards per game, while MSU is fifth in the country with just 160.8 passing yards allowed per game.
Last week, the Griz again had trouble converting their red zone trips into touchdowns and had to settle for field goals. They're 73rd in the FCS in red zone offense at 73%, while MSU's red zone defense is 27th at 73.9%. The Cats are second in the nation with 11.6 points per game allowed.
UM could get a boost if senior right tackle Dylan Cook returns after missing the past two games, which thrust freshman Brandon Casey may into a starting role. The Griz will be facing an MSU defense that's 18th in the FCS with 2.9 sacks per game and 26th with 6.7 tackles for loss per game. UM is allowing 2.3 sacks and 5.9 TFLS per game.
The Griz may need to establish the run game to control the game, but it all depends on who they have available at running back after being beat up at that position all year. Xavier Harris and Isiah Childs returned two weeks ago, allowing Junior Bergen to move back to receiver.
Make game-changing play on special teams
With such a low-scoring game anticipated, whoever can control the field position battle may have the best chance to win. Flipping the field even once on special teams could be the breakthrough a team needs if it ends up being hard to move the ball on offense.
With Brian Buschini, UM leads the FCS in net punting at 44.1 yards per punt. MSU isn't far behind at 16th with a net punting average of 39.4 yards.
With points possibly at a premium, hitting field goals and extra points will also be key. MSU's Blake Glessner is 24th in the FCS by making by converting on 78.9% of his attempts. UM's Kevin Macias is 29th by making 76.5% of his field goal attempts and has made nine in a row.
UM's Malik Flowers can potentially provide a spark, running back two kickoffs for TDs this year and a school-record five in his career. Flowers has just one kick return in the past five games as teams have kicked away from him, but he still leads the FCS with 36.2 yards per kick return. UM scored a third special teams touchdown when Levi Janacaro ran back a blocked punt.
The game could also flip on punt return. The Griz have struggled to find a steady replacement for injured starter Gabe Sulser and have fumbled a punt in three consecutive games.