BOZEMAN — As the bell rang signaling the final lap in the men's steeplechase final, Montana State's Duncan Hamilton took a quick peek at the Hayward Field video board.
He noticed Eastern Kentucky's Ahmed Jaziri and Georgetown's Parker Stokes coming up on his heels. After leading the entire race, that's when he knew he needed to crank it up a notch to secure the national title.
Through the first 200 meters of the final lap, it was working. Even over the last water barrier and turning the corner for the home stretch, Hamilton was still out front Friday evening on the track at Hayward Field in Eugene, Oregon, site of the NCAA Division I Outdoor Track and Field Championships.
"I was really giving it everything I have to get a bit of distance between us," Hamilton said. "But coming off that last turn, I was just thinking, 'Oh my God, I'm still in first. I can do this.' Just giving it everything I could down that home stretch."
But as Hamilton took a stutter step to clear the final barrier, Jaziri made his final move to take the lead and, eventually, win the race. Stokes initially passed Hamilton, too. As that happened, Hamilton made one last surge because "I wasn't willing to let that be the story."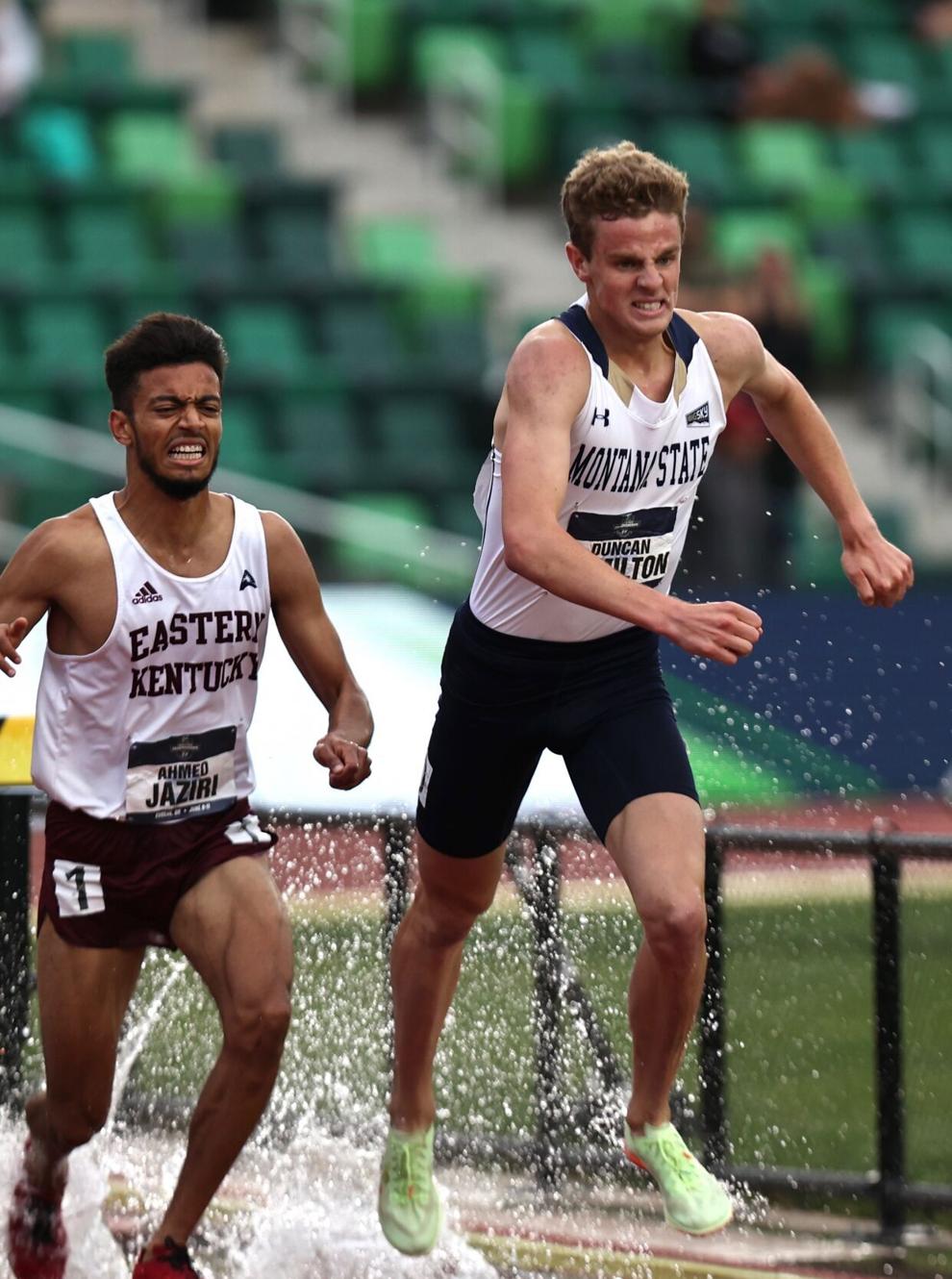 "I saw Stokes there and he was still kind of attainable in my mind," Hamilton said. "So I increased the turnover a little bit there and leaned for everything I could and thankfully I got him by two hundredths to get the silver spot."
Hamilton's lean was good enough for second place in a personal-best time of 8 minutes, 18.878 seconds. Jaziri took first in 8:18.70 and Stokes took third in 8:18.880. It came down to two one-hundredths of a second at the line.
With his new PR, Hamilton also broke a few barriers: it's the fastest time in Big Sky history, the fastest time in MSU history, the third-fastest collegiate time ever and gives him the world championships standard, which is 8:22.00. He's also a first team All-American for the second year in a row.
But this year, he didn't do it alone. His teammate, Levi Taylor, finished ninth in the steeplechase (8:33.37) to earn second team All-American.
"I feel a lot better going into next season," Taylor said. "I'll be a lot more confident and definitely be expecting a lot higher goals."
Added Hamilton: "That's really all I want with this program is to build it and see it grow. Throughout the years, more and more of my teammates will be All-Americans and join us."
By missing out on the world championships standard by one second with his race in the semifinals (8:23.13), Hamilton said it was definitely one of his goals to clear that barrier in the final. But it took a backseat to winning a national title.
"I knew that if I'm racing to win it and I'm trying to maybe put some distance between me and second place, then that time would come because I know my competitors are super fit," Hamilton said. "I'm super thankful to have so many guys with me in a historically fast year."
He also usually likes to run out front and set the pace. In the semifinals, he pulled away for an easy victory in the final lap. But in the final, he had Oklahoma State's Ryan Smeeton, Princeton's Ed Trippas, Stokes and Jaziri hanging with him the entire way.
He said that oftentimes in qualifying rounds, athletes are more looking to move to the next round, not necessarily race for the win.
"So finally when we're actually racing for a title, and I know there's going to be lots more people with me giving it every ounce of effort maybe they haven't been (giving) the past month," Hamilton said. "I'm in that same boat, too."
Meanwhile, Taylor was coming off a new personal best in the semifinals. He said he felt "really good" on Wednesday and almost wishes he went harder to secure an automatic qualifying time for the upcoming U.S. Championships.
Still though, Taylor said he was proud of how he raced in the final.
"I was pretty comfortable at the start and then I think Wednesday's race might have caught up to me a little bit," Taylor said. "I just couldn't pull through with the lead pack."
Up front Hamilton pushed the pace, ultimately helping pace five runners to a world championships standard in what amounted to one of the fastest men's steeplechase races in NCAA history.
"I hate when this happens where I lead the whole race and get (chased down) on the last little bit," Hamilton said. "But that's part of racing. I feel like I've got the aerobic fitness to kind of push everybody throughout the race. And that's kind of how I like to race — make it an honest, fast effort."
Despite taking second, Hamilton said it's "definitely a relief" to have secured a world championships standard heading into the U.S. Championships, which start on June 23 back at Hayward Field. He said this allows him to simply focus on racing instead of trying to run a fast time.
"Although, likely it's going to be faster anyways with people who don't have the standard and are trying to get it," Hamilton said. "But I can just kind of keep that out of my head and just race to win."
Both Hamilton and Taylor said racing in the final at nationals and being named All-Americans was a big confidence boost, whether that's heading into next season or to USAs. But they were both quick to realize what this means for the profile and national prestige of this MSU program.
"We're definitely building a reputation here," Hamilton said. "If we can keep seeing Montana State at national meets year after year, people are going to know who we are. We're going to get better recruits. I like hearing people talk about Montana State at a national level and building more respect for the program."
Schneider named first team All-American in 400 hurdles
Before he left for Eugene, Schneider said his main goal was to make the men's 400-meter hurdles final and then "swing for the fences" when he got there.
After running the second-fastest overall time in the semifinals on Wednesday (49.08 seconds), he was in prime position to follow through. When he stepped into the blocks for the final on Friday, he said he was focused and didn't want to "leave anything out there."
"But I was just soaking it in, honestly," Schneider said. "This is a moment I've been dreaming about for a long time, to be in that exact race at Hayward Field. So I wasn't overly nervous, I was just ready to go. This was what I've been working for for the last five years."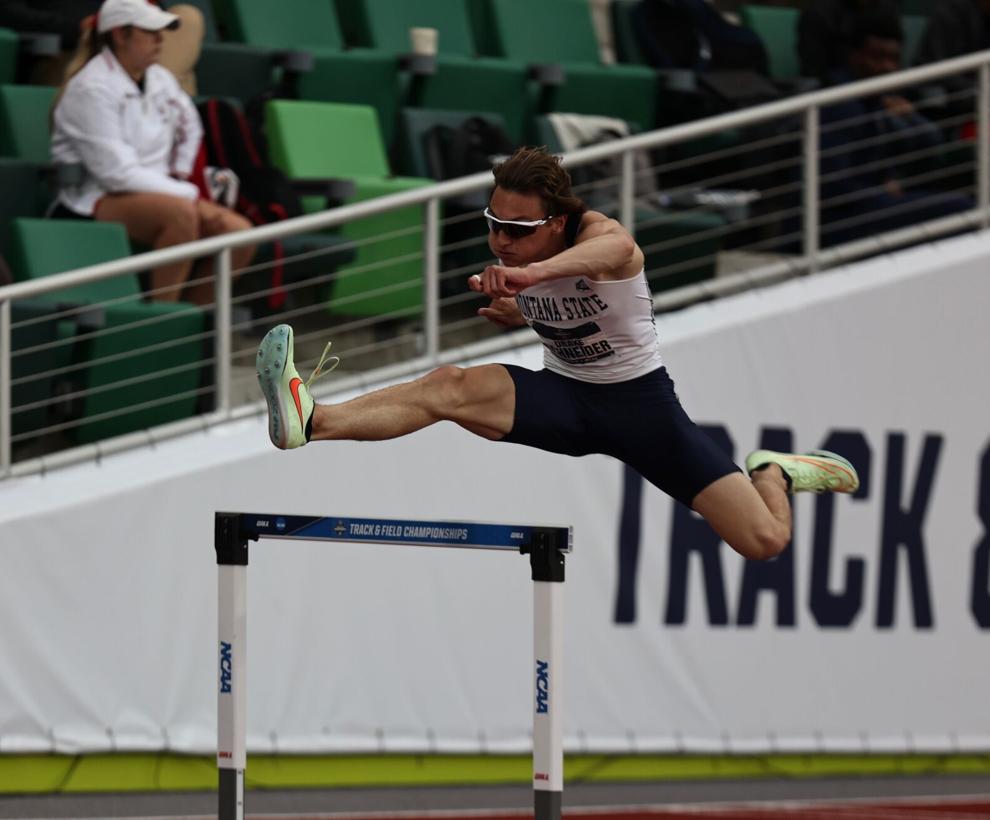 In turn, Schneider exploded out of the blocks into the lead through the first few hurdles.
"I didn't want to be out of the race just because I wasn't in the race to begin with," Schneider said. "I wanted to be aggressive for the first half. And I think I was there."
He still maintained position through hurdle seven. But as he made the final turn, the rest of the pack got on his shoulder, led by LSU's Sean Burrell, the eventual winner.
With that in mind, he knew a good ninth hurdle was going to keep him in the race. That meant he would be leading with his "bad leg" — his left, instead of his usually leading right leg.
"My technique on my bad leg has come a long ways, but it's got so much further to go," Schneider said. "Personally, I think that's kind of limited how fast I could run this year."
This time, he clipped the ninth hurdle and the lead pack flew by. His next immediate thought was to clear hurdle 10 and keep himself in podium contention, which is top eight.
"I had to get over the fact that I knew I kind of threw it on the ninth hurdle and I had to keep it together on the 10th hurdle just to make sure I finished the race," Schneider said, "because there's no race after this for college so you've got to run it through no matter what."
Schneider did secure sixth place (49.75 seconds), and while it wasn't his best time of the season, he said it's probably his "hardest race" of the year.
"There's not much more I could've done," Schneider said. "Swing and sometimes you hit it out of the park, sometimes you miss. We put this one in play and got sixth place is kind of how I'm looking at it."
Next up for Schneider will be the U.S. Championships, where he'll look to make the final and swing for the fences once again. He said he'll then probably start training out on the East Coast next fall for the 2023 world championships.
"I'm going to live in this moment a little bit longer because it was probably the biggest moment so far for me (in my track career)," Schneider said. "But after that you've got to reset. I've got more races. I don't want to look bad at Eugene in two weeks from now."
But before he looks toward a professional track and field career, Schneider reflected on this being his final race as a Bobcat after a five-year career. He recalled his journey from not being recruited out of high school to becoming a first team All-American hurdler — the first in MSU history.
"And the fact that you can go from being a walk-on at a really small Division I school with a smaller track program to being sixth in the nation, it doesn't get much better than that other than getting it first, second, third, fourth or fifth, I guess," Schneider said. "But there's hundreds of other athletes I did beat."
Schneider added that the finality of the moment hasn't quite hit him yet. But he said that leaving the friends he's made at MSU — especially over the past year — will be the toughest part.
"It's a bit odd knowing I'm still going to run but I'm not going to be around the people that made it so much fun for me," Schneider said. "The emotional part for me is knowing that (I have to say goodbye to) the friends that I probably won't see as much in my lifetime after this as I have over this past season."
Schneider's points and those earned by Hamilton and Taylor gave MSU 11 team points, the most ever by the program at the outdoor national meet. The Bobcats finished tied for 25th overall in the team standings.