BOZEMAN — Fresh off its biggest win of the season, 13-7 at then-No. 19 Weber State, the Montana State football team is back home, preparing for an opponent it has been successful against.
The No. 8 Bobcats (6-1, 4-0 Big Sky) are 23 ½-point favorites over Idaho State (1-5, 1-3) heading into their conference game, which will kick off 1 p.m. Saturday at Bobcat Stadium. MSU has a 48-31-3 record against ISU in their series history, with a 30-10-1 record (and six straight wins) in Bozeman. Those 48 wins are the most versus any team MSU has faced.
ISU did, however, win its most recent matchup with the Bobcats, 24-17 in 2018 in Pocatello, Idaho. The Bengals' one win this season came against then-No. 7 (now-No. 10) UC Davis, and they lost 23-21 to now-No. 19 Sacramento State, which won at then-No. 5 (now-No. 11) Montana last week.
Here are five things to watch in Saturday's Big Sky game, which will be televised on ABC stations across Montana and SWX in Billings, streamed on ESPN+ and broadcast on the Bobcat Radio Network and msubobcats.com.
Tanner Conner
Before this season, The Athletic's Bruce Feldman listed Conner at No. 12 on his annual "Freaks" list. At 6-foot-3 and 235 pounds, the ISU wide receiver is built more like a tight end, but few tight ends at any level can match his speed.
Conner also stars for ISU's track and field team, and he set a Big Sky Championship indoor record in 2020 with a time of 7.73 seconds in the 60-meter hurdles. His personal-best time of 14.03 in the 110 hurdles placed him fourth at the 2021 Big Sky Outdoor Track and Field Championships, and his best 100-meter dash time is 10.51.
The redshirt senior boasts a 40-yard dash time around 4.5 seconds, a vertical jump of 40 ¼ inches and 16 reps of 225 pounds on the bench press.
Conner earned a first-team all-Big Sky selection in the pandemic-shortened football season this past spring. He caught 34 passes for 685 yards and three touchdowns in six games, nearly matching his 2019 production (47 catches, 792 yards and eight TDs in 11 games)
Multiple NFL Draft websites list Conner as a top-50 receiving prospect for the 2022 class.
Washington and Washington State offered scholarships to Conner out of high school, but only for track and field, according to the Idaho State Journal. He played for a struggling football program at Kentridge High School in Kent, Washington. The team also ran the run-heavy Wing-T offense (just like the high school that MSU receiver Jaden Smith played at), so Conner put up meager numbers and didn't get many opportunities to impress college scouts.
Earlier this month, Conner expressed frustration with an ISU offense that has been playing with Hunter Hays in place of injured starting quarterback Tyler Vander Waal. Days after Conner's comments to the Journal, he caught five passes for 150 yards and a TD in the Bengals' 27-17 win over UC Davis.
Conner has caught 19 passes for 363 yards and three scores through six games this fall.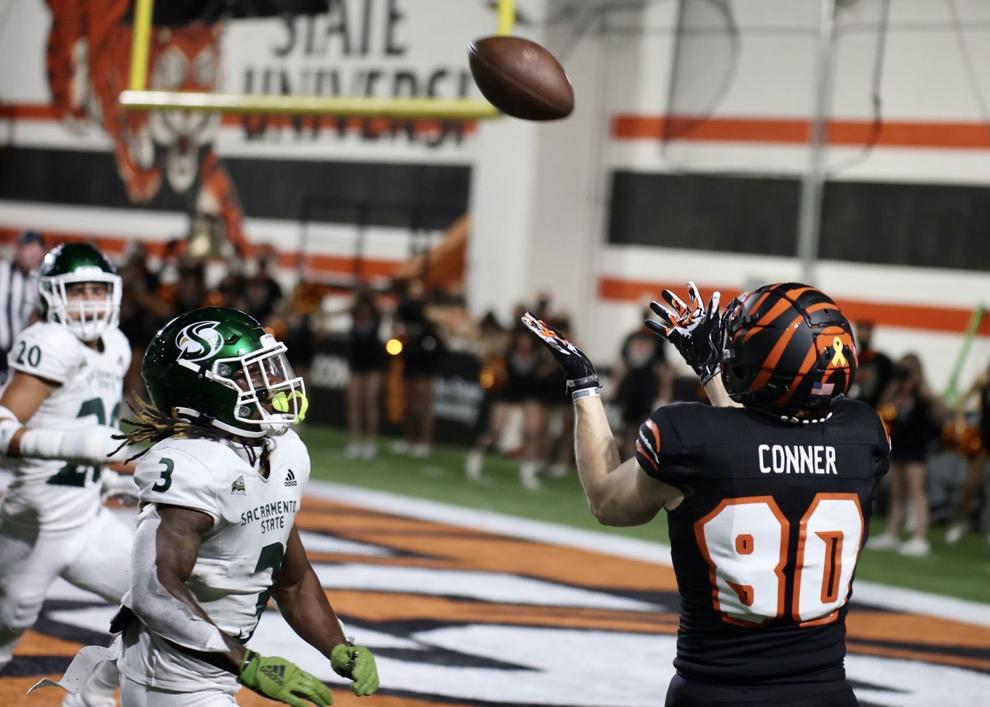 MSU's cornerbacks
Conner will challenge a secondary that is facing several other issues.
Both of MSU's starting cornerbacks have gotten hurt in the past month. James Campbell suffered a lower-body injury at Portland State on Sept. 25, according to MSU head coach Brent Vigen, and has not played since. Eric Zambrano left last week's game, battling what Vigen called "lower-leg issues."
Campbell is "making really good progress" but will not play against ISU, Vigen said. Zambrano is still listed as first string on the latest depth chart and was practicing on Monday, and Vigen said, "He'll be fine." Vigen didn't say if/how much Zambrano will play on Saturday.
"Ideally, a couple weeks down the road we'll be back to full strength" at corner, Vigen said. "We'll see how that goes."
Tyrel Thomas, who returned from fall camp knee surgery two weeks ago, replaced Zambrano against Weber State. Thomas, a senior, made some mistakes but prevented the Bobcats from playing two freshmen — Miles Jackson and Simeon Woodard — at corner against the Wildcats.
While young, Woodard has been solid and steady since filling in for Campbell. The true freshman got significant playing time even before Campbell got hurt.
MSU's play calling
MSU's offense didn't just perform poorly last Friday at WSU, it looked monotonous. Of the Bobcats' 62 plays, 43 were rushes, and 37 of those rushes went up the middle.
The lack of variety wasn't solely due to the play calling from offensive coordinator Taylor Housewright, but both he and Vigen took blame for the offense's struggles.
That doesn't mean the offense will look wildly different on Saturday. Big changes to the play calling would be surprising given everything MSU's coaches have said and done so far this season. ISU's defense has also been much worse than WSU's, so the same game script as last week could result in much more offensive success on Saturday for the Bobcats.
But Housewright and Vigen called last week's game as a learning opportunity. That points to at least some changes in their offensive strategy against ISU, whether that's more passes, more outside runs and/or other different calls.
Sebastian Valdez
There's one change on MSU's latest depth chart: Valdez leapfrogged Blake Hehl for first-string defensive tackle. The Bobcats didn't explain why Valdez traded places with Hehl, so Valdez might have moved up the depth chart simply because Hehl is banged up or has played below his coaches' standards.
Either way, Valdez has played well this season. The 6-foot-3, 251-pound redshirt freshman from Spring Valley, California, has tallied 12 tackles (1 ½ for loss) and 1 ½ sacks. The half sack came last week at WSU.
MSU's coaches have used a heavy rotation for all four D-line spots throughout the season, and the other three starters (Chase Benson, Daniel Hardy and Amandre Williams) are older and more proven than the players at D-tackle.
Kyle Rygg was MSU's season-opening starter at D-tackle but hasn't played since suffering an injury at Wyoming in Week 1. Hehl and Valdez are two of multiple players who have replaced Rygg on a defense that ranks eighth in the FCS in total defense.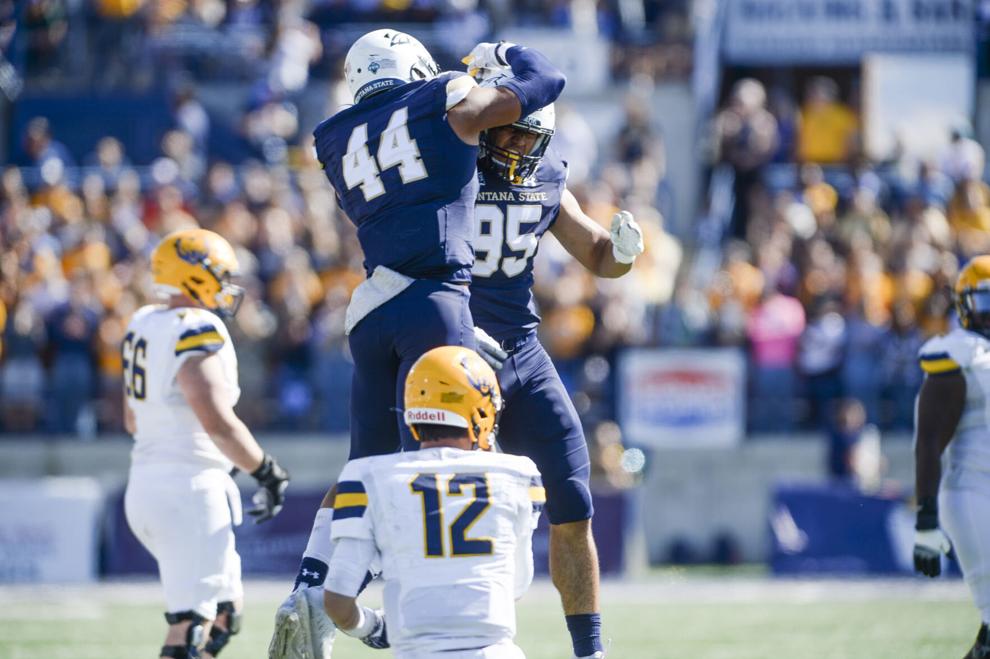 ISU's familiarity
ISU defensive coordinator Roger Cooper was an all-Big Sky linebacker at MSU, was the DC on Bozeman High's 2010 Class AA state title-winning team and was a graduate assistant for the Bobcats in 2011.
Bengals defensive line coach Byron Hout served the same position at MSU for five seasons, and he left for Pocatello earlier this year.
The ISU football team's athletic trainer, Dustin Enslinger, once held the same role for MSU's men's basketball program.
ISU freshman wide receiver Christian Fredericksen is the older brother of recent MSU commit Logan Fredericksen.
These MSU ties will have little, if any, effect on the outcome of Saturday's game, but they might help the Bengals in some ways. Hout, especially, has insight into the Bobcats since he's coached so many of their current players.