BOZEMAN — The Montana State football team has played San Diego three times, winning each game by at least 14 points. Their previous three meetings happened in 1957, '58 and '59.
Much about these programs has obviously changed since then, but MSU hopes the results remain consistent. Considering the Toreros have lost their first two games (to Big Sky schools Cal Poly and UC Davis) by a combined 57 points, the No. 13-ranked Bobcats (1-1) would be disappointed with even a two-touchdown victory, much less a close win or a loss.
Here are five things to watch in Saturday's game, which is scheduled to kick off at 1 p.m. It will be broadcast on ABC stations across Montana, SWX in Billings and ESPN+, as well as the Bobcat Radio Network and msubobcats.com.
MSU's offensive line
The Bobcats ran for 149 yards on 37 carries (4.0 ypc) in last Saturday's 45-7 win over Drake, a fine rushing performance but well below their standards.
So much of that subpar output can be chalked up to Drake's run-stopping defensive game plan, which MSU punctured with a strong passing performance. Bobcat coaches could also poke holes in the showing from their offensive line, especially the first-year starters: redshirt freshmen Justus Perkins (center) and TJ Session (right tackle).
"They're going to just keep growing as far as their ability to recognize different looks, and that was good experience for them," MSU head coach Brent Vigen said Monday. "We worked through some things as the game went along."
Session earned the right tackle job after the previous starter, Connor Wood, transferred to Missouri. Perkins dethroned Cole Sain for the starting center job after fall camp, largely because of Perkins' performance but also because of a camp injury to Sain.
Sain missed the Drake game with an injury he suffered at Wyoming, but he's listed as the backup center on the two-deep depth chart for the USD game. He and Perkins might battle for the starting job all season, or they might play next to each other. Sain was playing left guard when he got hurt against the Cowboys.
The O-line was expected to be one of MSU's greatest strengths, and there's no reason to believe it still isn't. But pressure will start to build if that group and, by extension, the run game struggle against San Diego.
MSU's cornerbacks
MSU starting cornerbacks James Campbell and Eric Zambrano played the vast majority of snaps against Wyoming, but both were replaced by Simeon Woodard at various points of the Drake game. Woodard, an all-state player during his high school career in San Antonio, is a true freshman who can play two more games and still be redshirted, but the Bobcats are "looking for him to continue getting those opportunities on the field and play throughout the season," Vigen said Monday.
Tyrel Thomas is also likely to get significant playing time at corner this fall. The senior from California was listed as MSU's starting nickelback before fall camp, but he suffered a knee injury that caused him to miss the first two games. He's not listed on the USD two-deep, although Vigen said "we'll just have to see" about Thomas' status a week after saying he could see the field against Drake.
MSU's pre-fall depth chart, which listed current starting nickel Ty Okada as the first-string strong safety, was bound to change even before Thomas' injury. That's because now-starting strong safety Tre Webb had recently transferred from San Jose State.
"Now that we have Tre, we were kind of making that transition with Ty at nickel anyway and Tyrel moving back outside during camp," MSU defensive coordinator Freddie Banks said on Aug. 30.
The cornerback position promises to be in flux against USD regardless of Thomas' availability. Perhaps corners such as Miles Jackson, Campbell's backup, will get some non-garbage time reps.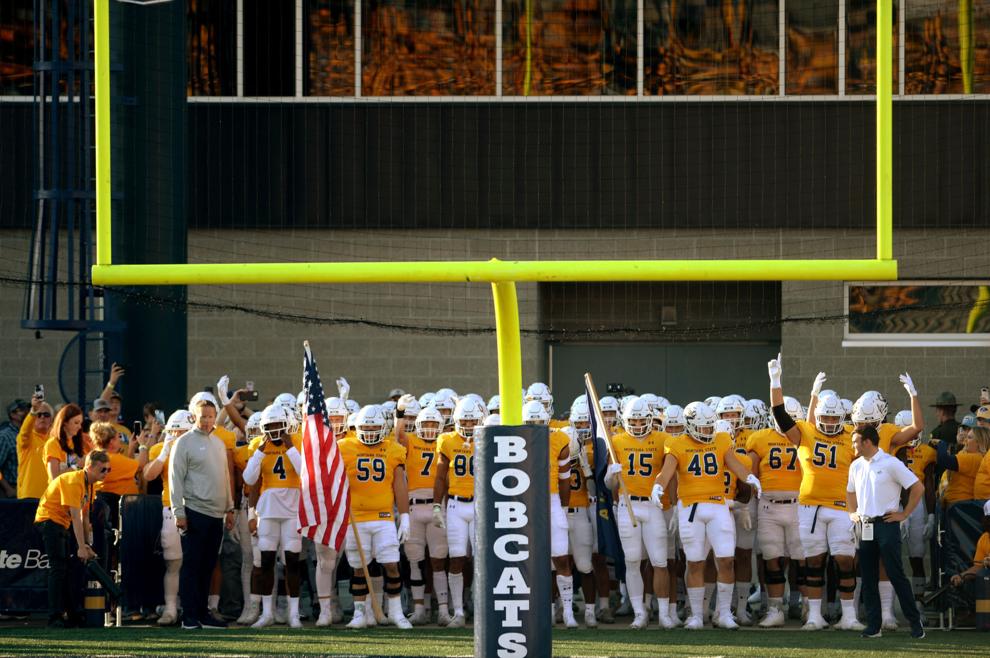 Chase Benson
On Sept. 6, MSU senior linebacker Nolan Askelson was asked how important the defensive linemen were to the linebackers' strong performance two days earlier against Wyoming. Without hesitation, Askelson brought up redshirt senior nose tackle Chase Benson.
"Chase Benson is a freak, man," said Askelson, a Billings Senior graduate. "When he takes up two blockers, it makes our life a whole lot easier, for sure. And then sometimes he takes up three. Sometimes he just slips them all and makes a play."
Defensive linemen not named Aaron Donald struggle to stand out. A big part of their job is occupying offensive linemen, serving as sacrificial lambs for other defensive players to make tackles. 
Benson has tallied 11 tackles (tied for third on the team with Askelson), 1½ tackles for loss (fourth) and a half sack (fourth) so far this season. But the Helena grad's biggest contributions come from plugging up running lanes and opening up tackling lanes, contributions that are easy to miss but crucial to the success of the entire defense.
The 6-foot-4, 290-pound Benson earned an all-Big Sky third-team honor in 2019. Through two games this fall, he's put himself in good position to earn more postseason accolades.
Jaden Smith
Smith is a redshirt freshman who is MSU's first-string "X" wide receiver. He's 6-foot-5, 206 pounds and has been praised for his talent — a scary combination for opposing defenses.
But Smith has been almost a non-factor in the passing game so far, with two catches for 16 yards (all against Drake) and no touchdowns. It's hard to tell how much of that modest output is due to his struggles, opposing defenses, the reads/preferences of MSU quarterback Matthew McKay or other factors.
The two-game sample is too small to make a big deal out of Smith's lackluster stats. Defenses will likely dedicate more attention to MSU starting "Z" receiver Lance McCutcheon (12 catches, 192 yards, two TDs this season) going forward, which could unlock Smith.
But if Smith is quiet again against USD, it could be cause for some concern.
The energy
It didn't matter who MSU played last week, players and fans were going to be pumped up. That's what happens when the first home game in 638 days is also a Gold Rush game.
It's hard to imagine Saturday's game against USD being equally enthusiastic. There will be less to celebrate, not just because the hiatus ended a week earlier but also because the reason for last season's cancellation — the coronavirus pandemic — is as bad as it's ever been. A couple miles away from Bobcat Stadium is Bozeman Health Deaconess Hospital, which is dealing with a COVID-19 crisis.
Maybe the current state of the pandemic and the winless nonconference opponent will lead to a more solemn crowd than usual for a beautiful September game day in Bozeman. Maybe the fans will be as loud as ever, using the game as a distraction from the hidden suffering nearby.