BOZEMAN — Brent Vigen said Montana State will avoid revolving conversations and game plans around anything more than its next opponent.
The Bobcats football coach noted even the highest-ranked Big Sky teams can falter to those with losing records. Idaho (3-6, 2-4 Big Sky) is a respectable team, Vigen said, and the No. 3-ranked Bobcats (8-1, 6-0) need to treat it as such when they play at 1 p.m. Saturday at Bobcat Stadium in MSU's last regular season home game and senior day.
"There's no reason for that mindset to change or think our guys should not be capable of living within the moment," Vigen said. "Let's pore into our preparation for Idaho and give them our best effort."
MSU accomplishes landmark feat
Before Vigen's weekly press conference Monday, MSU athletic director Leon Costello announced the Bobcats have sold out their game Saturday, which means they've sold out every home game during the regular season. This marks the first time MSU has ever done so.
Costello said that is financially "huge" for MSU's athletic department, which faced challenges during the coronavirus pandemic. Over the course of five home games thus far in 2021, average attendance is 19,635. Costello said that support boosts the athletic department in its quest to support Bobcats athletes in every sport.
"Thank you to all of our fans, to everybody that supported us," Costello said. "Our fans are simply the best, and they keep showing it time and time and time again."
Vigen, in his first year at MSU, has been impressed with the support of the program. That includes for games at places like Ogden, Utah, and last week at Cheney, Washington.
"Everywhere we've been, our crowd has made a difference," Vigen said. "What that means for us and ultimately the obstacle it creates for our opponents, it's hard to quantify."
Costello said this was possible because of a "perfect storm." That included the Bobcats playing at a "championship caliber" level as well as fans being eager to be together and attend games after not being able to do so in 2020.
"It's been a long road," Costello said. "It's been a long time coming, but this is why we do what we do is to have moments like (MSU's win at Eastern Washington last week) and have moments like we're going to have here down the road."
Costello said standing-room only tickets are still available. He encouraged people to arrive to Saturday's game 30 minutes before kickoff to watch MSU's seniors be honored.
Vandals pose threat
Vigen doesn't believe Idaho's record reflects what it's capable of.
Mike Beaudry, a transfer from UConn, paces the Idaho offense at quarterback. He has 1,299 yards, four touchdowns and a 64.3 completion rate with six interceptions.
Idaho's Terez Traynor has caught 46 passes for 640 yards and two touchdowns. Roshaun Johnson leads the Vandals on the ground with 375 yards on 69 carries with 10 touchdowns, six of which he scored in Idaho's 42-24 win over Southern Utah on Saturday, resulting in a Big Sky player of the week honor. Vigen noted Idaho has players at its skill positions with a variety of skill sets, which can be difficult to prepare for.
Vigen said Idaho defensive coordinator Mike Breske, who worked with Vigen at North Dakota State, has a "very good defensive mind." On that side of the ball, Tre Walker leads the Vandals with 89 tackles. The 6-foot-1, 240-pound junior linebacker has been named an all-American in his career.
"I think talent always scares you. I think talent always puts you on alert. I hope our players, I think they're mature enough to recognize talent too," Vigen said. "We understand fully that no one is going to lay down for us and we're not so talented that we can just win on talent alone. We need to be prepared."
Tuiasosopo expected to return Saturday
Vigen said Monday the Bobcats are expecting senior offensive lineman Taylor Tuiasosopo to play against Idaho this week. Vigen said Saturday Tuiasosopo didn't play last week because he violated team rules but didn't elaborate further.
Vigen added true freshman wide receiver Andrew Patterson is gradually healing from an injury and he hopes he can play this week. The Bobcats have no new players they'll miss due to injuries, Vigen said.
Vigen lauded Dylan Porter and Joe McElroy for their contributions as they both played at guard with Tuiasosopo on the sideline.
"Through the course of the season, they've been waiting in the wings and preparing for their opportunity," Vigen said. "They didn't have to be any more than the best version of themselves, and I thought they both did that and I think it was very meaningful for both of them, but it is important for the team that they just went out there and did their job."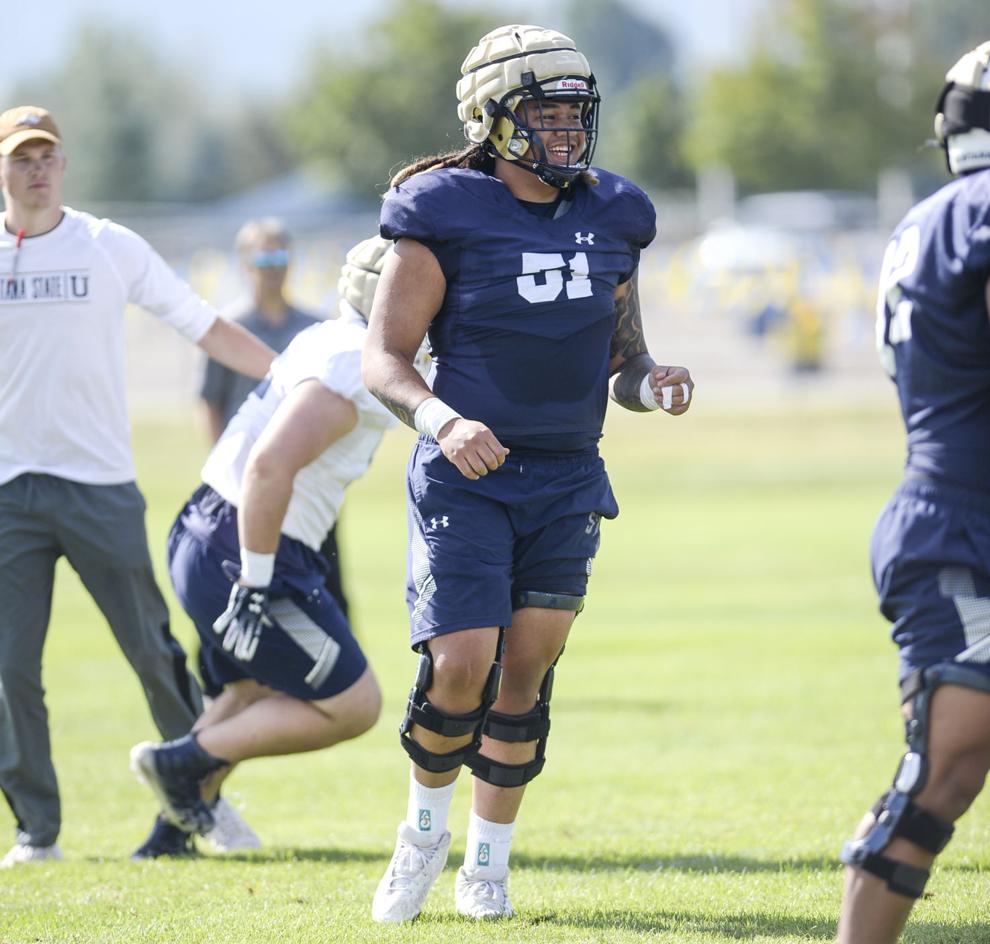 'College GameDay' atmosphere?
Social media accounts for Montana, Montana State and the Big Sky, as well as other entities, have been heavily pushing for ESPN's "College GameDay" show to go to Missoula for next week's Cat-Griz game.
MSU's coach knows about the impact the show can have on a program. Vigen was North Dakota State's offensive coordinator when the Bison hosted the show in Fargo, North Dakota, in 2013.
Vigen said he was in disbelief when he first found out about it eight years ago. The Bison were in the midst of a run to their third consecutive national title. Vigen went to Wyoming before NDSU hosted it again in 2014.
Vigen said it would be enjoyable if GameDay traveled to the Treasure State.
"It's a credit to ESPN identifying that there's big games and big venues and great programs beyond the FBS," Vigen said. "It's good for college football. It's good for the FCS to have the light shine on it because everybody's eyes that are college football fans are probably on 'College GameDay' so we'll see how it goes, but it would be a neat experience."