BOZEMAN — A prized in-state recruit plans to play at Montana State.
Great Falls CMR senior quarterback Cole Taylor announced his commitment to MSU on social media Sunday, becoming the eighth current high school senior to verbally choose the Bobcats. They won a tight recruiting battle against rival Montana.
"It was one of the toughest decisions of my life," Taylor told 406mtsports.com Sunday. "The Cats coaching staff just made me feel at home, and that's what ultimately led me there."
247Sports gave Taylor two stars and ranked him eighth on the list of Treasure State prospects in the 2023 recruiting cycle. The 6-foot-3, 205-pound right-hander committed to MSU as an athlete and has talked with Cats coaches about playing tight end, defensive end and linebacker in addition to QB (UM recruited him to play the same positions, he said).
MSU has a sophomore starting QB in Tommy Mellott, a junior backup in Sean Chambers and three freshmen behind them: true freshman preferred walk-on Luke Abshire, redshirt Sean Austin and grayshirt Jordan Reed (who's out for the season with a knee injury). The Cats got a commitment from another QB in this year's recruiting cycle: Chance Wilson of Owasso, Oklahoma.
Taylor recognizes that a non-QB position might be his best chance to see the field with the Cats. MSU's coaches want to wait until at least the end of his senior season before deciding which position he'll play in college, he added.
"They told me that they see a lot of athletic ability in me and using my strength all over the field," Taylor said, adding, "I'm open to playing other positions. Wherever I can help the team out to get wins."
For now, Taylor will focus on finishing his career as CMR's signal caller.
In a second-team Class AA all-state 2021 season, he completed 52.4% of his passes for 1,998 yards, 15 touchdowns and 11 interceptions while rushing for 377 yards and seven TDs on 121 carries (3.1 yards per carry), according to MaxPreps. 
Through two games this fall, he has a 66.7% completion rate, 679 yards, three TDs and two INTs, and he's rushed for 175 yards on 27 attempts (6.5 ypc).
The Rustlers went 5-4 last year and are 1-1 so far this fall.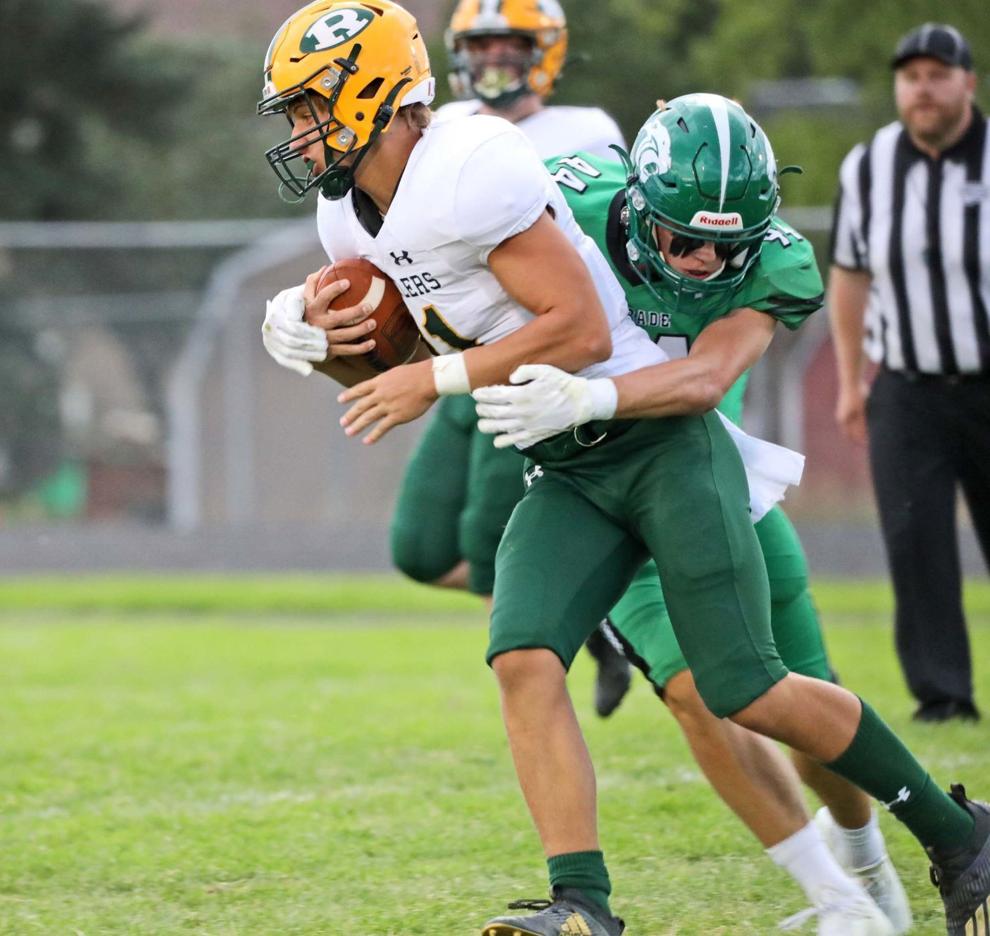 "Another big reason why I wanted to (commit now) was to get that weight off my shoulders and have fun and play my senior year with all my boys," Taylor said.
Taylor has maximums of 315 pounds in the bench press, 425 in the squat and 295 in the clean, he said.
His other offers came from Montana's Frontier Conference (NAIA) programs: Carroll, Montana State-Northern, Montana Tech and Rocky Mountain College.
Taylor's fandom growing up was mostly "split in the middle between" MSU and UM, he said, so landing him required the Cats to be extra smart and diligent in their recruitment. He said he received texts and calls every day from his main MSU recruiters: head coach Brent Vigen, offensive coordinator/QBs coach Taylor Housewright and linebackers coach Bobby Daly (each MSU position coach has specific states they focus on when recruiting, and Montana is the main part of Daly's area). Those coaches first began talking with Taylor about a year ago, he said.
"I've just built a good relationship with them, and ultimately they started to make me feel like family," he added. "I've felt really comfortable around them. Ready to get to work with them."
The Cats' run to last season's Football Championship Subdivision title game was "eye-opening," Taylor said, and contributed to his decision Sunday. So did MSU's season-opening Gold Rush win over McNeese State on Saturday night. He was one of 21,000-plus fans in attendance.
"The atmosphere for Gold Rush was crazy. Unmatched in college football," he said. "It was super fun."