BOZEMAN — Wednesday was Tom Eitel's last day as the jumps coach for the Montana State track and field program, MSU announced.
Eitel is retiring after spending almost 30 years coaching for the Bobcats. He began his tenure as jumps coach in 1996, and his first stint at MSU lasted from 1989 to 1991.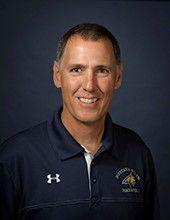 "I've enjoyed being able to have the opportunity to coach at Montana State," Eitel said in a press release. "It's been great to be a part of this program and be able to be a part of the lives of the student-athletes that have come through here. It's always been all about them and that has been the best thing about what I've been able to do."
Under Eitel, 21 MSU track athletes have qualified for NCAA national championships and 13 have received All-America selections. One of those Bobcats was Ellie Rudy, who earned indoor pole vault national titles in 2007 and 2008 (she remains the only individual NCAA track champion in MSU women's history). Last month, MSU high jumper Lucy Corbett competed in the NCAA Outdoor Championships and the U.S. Olympic Team Trials.
Eitel has also helped 22 Bobcats earn a combined 53 individual Big Sky titles and 157 all-conference honors. All 20 of MSU's jumps records, including Corbett's high jump mark of 6 feet, have been recorded during Eitel's coaching tenure.
"Tom had an incredible coaching career with amazing accomplishments," MSU head track coach Lyle Weese said in the press release. "Tom will be missed by the athletic department staff and student-athletes, but his contributions to the track and field program will be felt for years to come."
After beginning his college athletic career at Iowa State, Eitel competed for MSU, where he won the 1982 Big Sky Conference men's pole vault with a then-program record of 16 feet, 9 inches. He graduated from Montana in 1983, two years after Dale Kennedy began his storied career as a track and cross country coach for the Bobcats (Kennedy retired in 2018).
Eitel's wife is MSU associate athletic director Camie Bechtold. His son, Morgan, competed for Montana's men's track team, and his daughter, Pipi, runs at Northern Arizona. Both of Eitel's children graduated from Belgrade, where Pipi won Class A state titles in cross country and track.
"Tom has been an outstanding teacher, mentor and ambassador for MSU Track and Field," MSU athletic director Leon Costello said in the press release. "I want to thank him for all of his years of service to the Bobcat athletic department and wish him well in his retirement adventures."