BOZEMAN — As Oregon State head football coach Jonathan Smith talked about his team's injuries during his press conference on Monday, he uttered a phrase Montana State fans know well.
"Getting into Week 2, 3, it's college football," Smith said. "Next man up."
MSU head coach Brent Vigen and his players have preached "next man up" throughout his time in Bozeman. It's a common rallying cry in the collision sport that often leaves teams with major injuries.
Both MSU and OSU will be without key players when they meet Saturday in Portland, Oregon, but neither side is taking relief. The Bobcats (2-0) understand they're the underdog against their Pac-12 opponent, and the Beavers (2-0) know a Football Championship Subdivision team can beat a Power 5 foe.
"They're going to have our full attention," Smith said. "They know how to win. They've got good players. They've got good schemes.
"I do think our guys all understand that this is going to be a challenge."
MSU is missing its top-four running backs: All-American Isaiah Ifanse (knee), Kaegun Williams (neck), Lane Sumner (elbow) and Jared White (lower leg). Williams is out for the year and White might be as well — he'll at least miss two months, Vigen said. Ifanse looks unlikely to return before October as he recovers from knee surgery, while Sumner will at least miss this Saturday's game. Portland native Elijah Elliott is the starter, and Garrett Coon will be available after an undisclosed absence.
Vigen said his offense will have to get creative against the Beavers.
"We're going to have to utilize a lot of weapons," the second-year coach said Monday. "Whether that means we've got to throw it more, we'll just have to see how it presents itself."
The Cats will be without a pair of pre-fall camp first-string defenders too. Cornerback Devin Davis underwent season-ending shoulder surgery, and safety Rylan Ortt is halfway through a six-game suspension for failing a drug test.
MSU entered this week with all of its other starters available, including corner Simeon Woodard, who missed Saturday's 63-13 win over Morehead State with an injury.
Smith announced Monday that first-string tight end Luke Musgrave won't play Saturday because of a lower-body injury he suffered late in Saturday's 35-32 win at Fresno State. Musgrave led the Beavers in receiving yards both last week (80 yards on five catches) and in their season-opening 34-17 win over Boise State (89 on six). Musgrave has the size (6-foot-6, 250 pounds), speed (4.51-second 40-yard dash) and overall athleticism to play in the NFL, according to The Athletic's Bruce Feldman, who ranked Musgrave No. 27 on his annual college football "Freaks" list.
Another OSU player who will miss Saturday's game due to injury is co-first-string running back Trey Lowe. He tallied 46 yards receiving and 32 rushing against Boise State.
"We've got weapons out there in the backfield and to throw it to, and we've got some good tight ends in that room," Smith said. "We're just going to have to adjust."
Vigen praised OSU for its "complementary" offense that has shown both balance and creativity. The Beavers rushed 37 times in each of the first two games while passing 24 times against Boise State and 27 times at Fresno State.
"They have a plan to run it and they have a plan to be able to spread people out and everything in between," Vigen said.
OSU quarterback Chance Nolan has completed 56% of his passes for 470 yards, three touchdowns and two interceptions so far this season. Deshaun Fenwick leads the Beavers with 143 rushing yards on 29 carries (4.9 yards per carry).
They also have a "Swiss Army knife," as Vigen called him, in Jack Colletto. The redshirt senior plays both inside linebacker and running back/wildcat quarterback in a backup role and mainly appears on offense in short-yardage situations, often near the goal line, as he showed memorably last week. The 6-3, 240-pounder punched in a 2-yard TD run (his second score of the game) as time expired against Fresno State to give OSU a walk-off win.
"You hopefully keep them out of those situations where he's out there a lot because it is those situations where either scoring or converting on third down are generally on the line," Vigen said. "They're being very creative in how they're using him, and I imagine they've only shown part of what they're capable of doing."
OSU ran a 3-4 defense at the beginning of Smith's tenure but now are more "multiple on their fronts," as Vigen put it. The Beavers occasionally line up in a traditional 3-4. Sometimes they play with two down linemen, four linebackers and a nickelback. Other times they have four linemen and three off-ball backers.
"We're facing a front, a group of defensive linemen and linebackers, that might be the best group we see all season," Vigen said.
OSU's talented secondary includes safety Kitan Oladapo, who won Pac-12 defensive player of the week for his 15-tackle, one-sack performance against Fresno State. Beavers cornerback Jaydon Grant earned the same honor the previous week.
The Beavers have been without starting defensive back Alton Julian, who's been recovering from a torn ACL, but Smith is hopeful Julian will return soon.
OSU plays "a fair amount" of man-to-man coverage, Vigen said.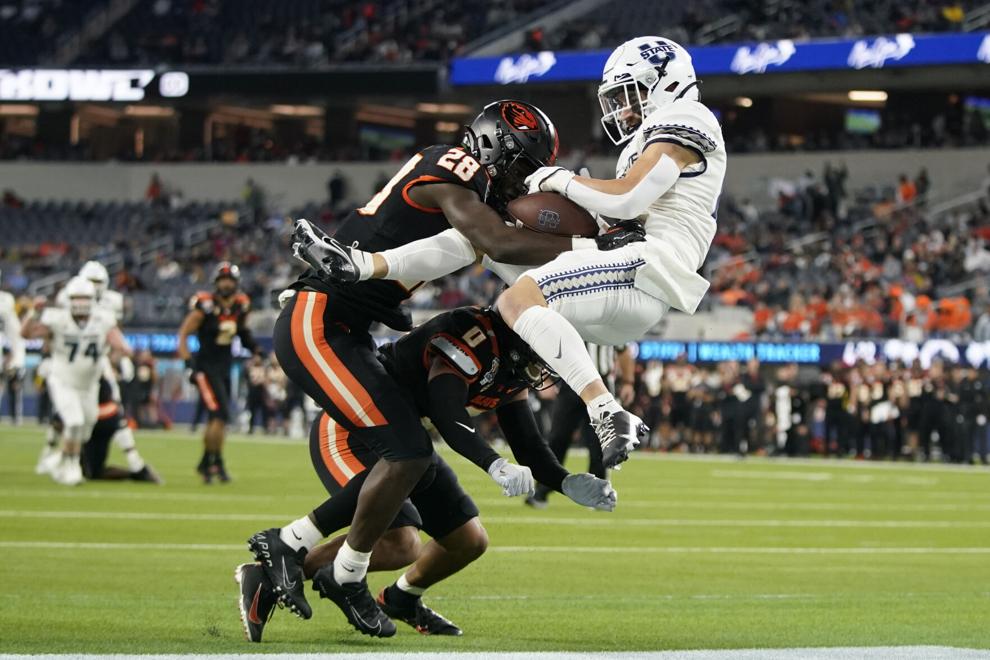 MSU's depleted running back corps and young offensive line might make the 14 ½-point spread look difficult to cover, but Vigen has been largely pleased with his offense so far this season.
Starting QB Tommy Mellott has been effective throwing the ball to "X" receiver Ravi Alston, "Z" receiver Willie Patterson, "H" wideout Clevan Thomas Jr., tight ends Derryk Snell and Treyton Pickering and others. Thomas and Patterson have also gotten involved on sweep plays, as have Taco Dowler and Marqui Johnson. Mellott and his backup, Sean Chambers, are excellent runners.
On defense, the Cats have All-Big Sky honorees in linebacker Callahan O'Reilly, nickelback Ty Okada and safety Jeffrey Manning Jr. (who transferred to MSU from Oregon State), as well as preseason all-conference defensive end Brody Grebe and defensive tackle Sebastian Valdez, who is second in the FCS with 4 ½ sacks.
"They've got our complete attention on both sides of the ball," Smith said. "Our guys are going to have to play really well to give us a chance to win the game."
MSU will receive $675,000 from Oregon State for Saturday's game, according to a contract obtained by the Bozeman Daily Chronicle. Such "money games" usually result in easy wins for the paying teams, but there have been many exceptions. Appalachian State and Marshall just got paid more than $1 million apiece to beat Texas A&M and Notre Dame, respectively, last week. Last year, a Montana FCS team got paid $675,000 for a road game against a Pac-12 team. The Montana Grizzlies beat then-No. 20 Washington 13-7.
The Cats believe they're the next underdog up.
"They've got a lot of good players, a lot of experienced players, on both sides of football," Vigen said. "We do too."