BOZEMAN — One final run held off Carroll College for good.
The Montana State women's basketball team couldn't quite put away the Saints through the first three quarters. Six points in just over a minute during Tuesday's fourth effectively did the trick.
Behind 16 points each from Katelynn Limardo and Lindsey Hein, the Bobcats overcame some early butterflies and opened the season with a 69-60 victory in front of 2,802 fans at Worthington Arena.
"Down the stretch, I was proud of our kids to bounce back," MSU head coach Tricia Binford said. "I thought we lost a little bit of composure. I thought we were a little bit impatient at times, but down the stretch we found ways."
A pair of free throws from Carroll's Sienna Swannack cut Montana State's lead to four points, at 59-55, with four minutes, 54 seconds to play. The Bobcats responded with a 6-0 run consisting of an Ashley Van Sickle layup, two Limardo free throws and a layup from Darian White over their next three possessions. That pushed the lead back to 10, and the Saints never threatened again.
It was the third scoring streak of the game that MSU needed to keep the Saints at bay.
Carroll led early following a 7-0 start to the game, but Hein provided an infusion of energy to narrow the gap.
Hein, a 6-foot-6 freshman from Forsyth, went on a six-point individual scoring streak capped by a fast-break layup and foul shot. Later, she grabbed two offensive rebounds on one possession, which ended with her short jumper in the lane.
And with time winding down in the opening quarter, she blocked a post shot by Carroll leading scorer Danielle Wagner, kept the ball in play and passed ahead to White, who stepped into a fast-break 3-pointer. The final sequence gave MSU a 23-14 lead after the first 10 minutes.
In addition to her 16 points, Hein finished with seven rebounds, three assists and two blocks in 27 minutes. Hein said she wasn't too nervous in the first game of her career. She mostly focused on fulfilling her role, and she grew more comfortable as the game wore on.
"If my teammates are giving me the ball, that means they have confidence in me," she said. "At the beginning of the summer when I first got here, I wasn't confident (calling for the ball), but as we keep going on and on I'm getting more and more confident in that situation."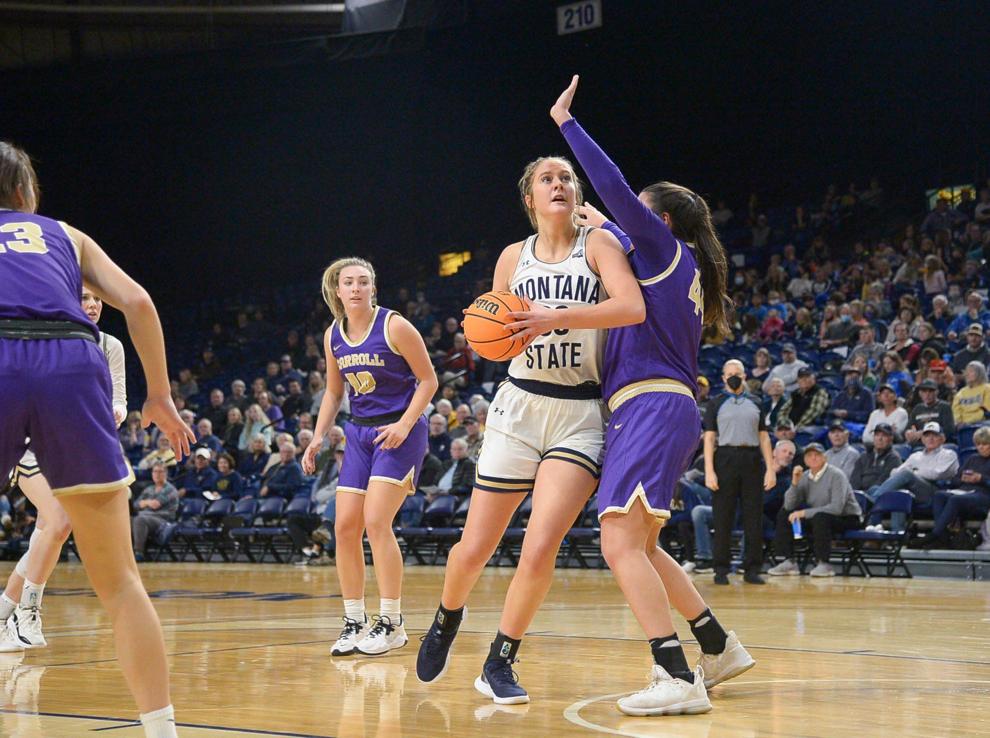 The Saints outscored MSU 16-10 in the second quarter, trimming the host's lead to 33-30 at the break.
The Bobcats and Saints nearly matched each other shot-for-shot in the third quarter, with a trio of 3-pointers from Kamden Hilborn, Christine Denny and Wagner keeping the game within reach.
Wagner's shot brought Carroll within five points, at 46-41, but MSU went on an 11-2 run over the next four-plus minutes to close the quarter. Over that stretch, Lexi Deden made a layup and Hein hit a couple buckets in the paint. Hein also assisted on a Limardo 3-pointer, and Mia Hughes hit two free throws.
MSU led by 14 through three quarters but didn't score in the fourth until 5:05 remained. Even if belated, though, the Bobcats always had an answer for the Saints.
"The sequences are important," Binford said, "but my head is still wrapped on the open shots we gave up. We've got to solve those. We had a lot of breakdowns, but a lot of that was due to Carroll."
Binford said it was good to be challenged by a team that has many of the same movements and sets as opponents the Bobcats will face in the Big Sky.
"This kind of tight contest going into the fourth, early on to see some of those things is going to really pay off for us," Binford said.
White finished with 11 points, five rebounds and three steals. Deden and Van Sickle scored eight points apiece, and Leia Beattie hit a pair of 3-pointers to finish with six points.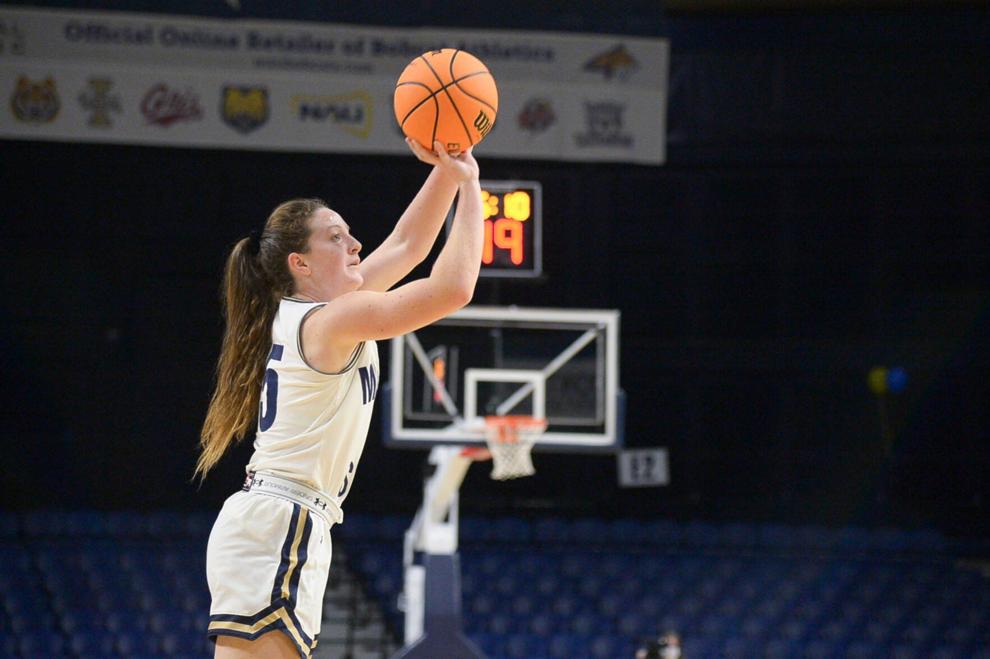 Swannack led the Saints with 16 points. She was backed up by 14 from Denny, 10 from Hilborn, a former MSU player, and nine from Wagner.
Former Bozeman High standout Addi Ekstrom played 12 minutes, hit a 3-pointer and grabbed two rebounds for Carroll. Collectively, the Saints hit 11 3-pointers, which Limardo called "unacceptable."
"We just need to lock down and focus on every single possession," Limardo said. "I think a lot of the times we were feeling rushed today, so locking down and paying attention and executing our offense and defensive principles, I think we'll be able to bounce back."
It only gets tougher from here as MSU hits the road to play Gonzaga on Thursday and UNLV on Saturday. Now that the butterflies are presumably behind them, Binford said the Bobcats' point of emphasis needs to be the ball pressure and defense they consider a hallmark.
"We definitely did not disrupt like we're known to do," she said. "I thought they dictated us on the offensive end all night. We just didn't get after them and dictate tonight like we need to do."