BOZEMAN — Leia Beattie crept across the lane, anticipating she might have a chance to give Montana State another boost.
The Bobcats freshman picked off a Northern Arizona pass underneath the hoop. Then she turned that defensive success into an offensive opportunity. She sprinted in transition, avoiding any obstacles in her way. She dropped a pass off to Gabby Mocchi, who pump faked and laid the ball up for an easy transition bucket.
The Bobcats dictated the pace of Thursday's game early and cruised to a victory. They distributed the ball efficiently and defended effectively, leading to a 79-56 triumph over Northern Arizona at Worthington Arena.
The Lumberjacks averaged 73.2 points per game, which is among the best in the conference. Five of their players average double-digit points. But the Bobcats slowed NAU down.
"They came out to do the job on the defensive end," Bobcats head coach Tricia Binford said. "The kids were just really locked in."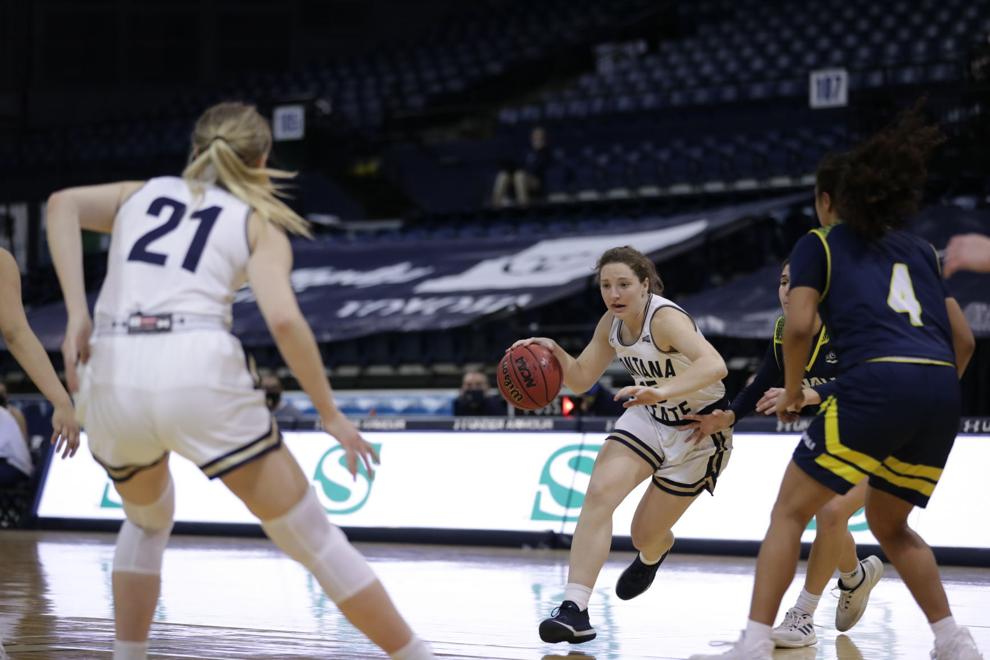 To start their conference schedule, the Bobcats (6-5, 3-2 Big Sky) failed to score consistently. In their second game against Northern Colorado, they lost 57-49, their lowest scoring output since Feb. 14, 2019. But they turned around and averaged 72.5 points in their two games at Portland State.
Binford emphasized patience with her players. They hoped to find opportunities by moving the ball and making sure more people were involved.
Seven Bobcats scored in the first half alone. None had more than nine points. MSU senior Tori Martell finished with a team-high 16 points, while Darian White totaled 15 and Ava Ranson added 12 while making 4 of 5 3-pointers.
The Bobcats concluded the game 31 for 60 (52%) and 8 of 22 (36%) from deep while scoring 38 points in the paint. They racked up 25 points off of NAU's 23 turnovers. MSU's bench contributed 33 points.
"We put it all together, and we just clicked," Ranson said. "So I think this was the first game we showcased both sides of the floor. It's a huge domino effect for sure. I think for us, getting a defensive stop, coming down and getting a bucket, it gets everybody involved. And getting dialed in on the defensive end of the floor gives us even more energy. So we just build off of each other, and it's been working for us."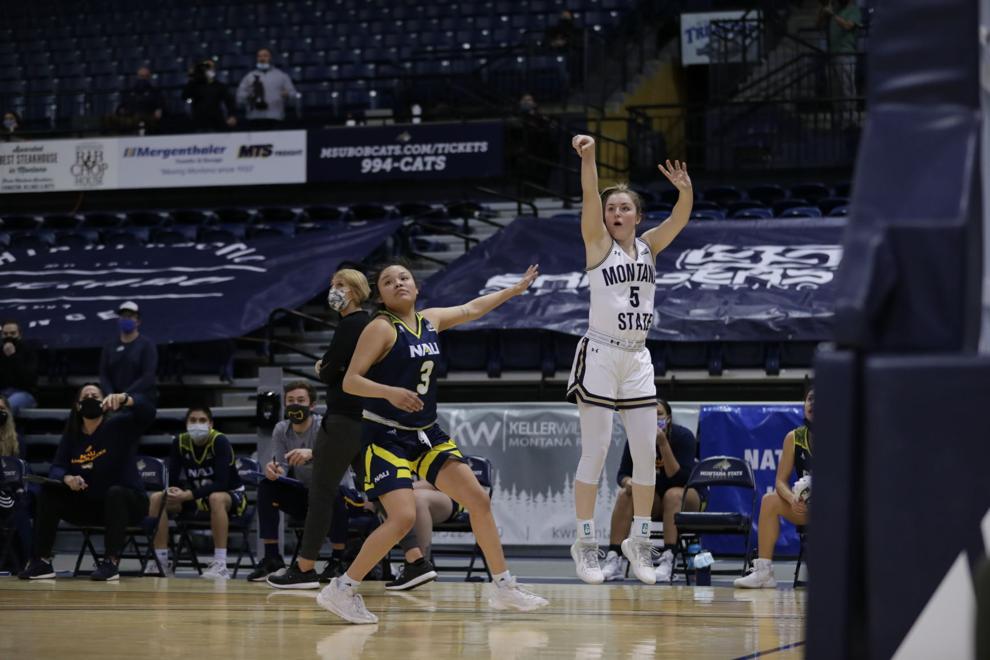 Binford had drawn attention to MSU's tendency to take shots quickly with plenty of time still left on the shot clock. This wasn't an issue Thursday.
The Bobcats passed the ball around the perimeter, providing everyone on the floor more chances to take advantage of their individual matchups. They drove and cut, forcing Northern Arizona (6-7, 4-5) to shift its defensive attention.
Late in the third quarter, Martell dribbled and spun around to advance past a defender. She ran along the baseline and rose up for a layup. She was fouled, but it didn't matter. After her shot fell through the net, her teammates swarmed around Martell as she smiled and walked to the free-throw line.
Martell missed, but the Bobcats rebounded. With another chance to score again in the final seconds of the frame, Martell drove from the top of the key, gaining space with a screen from Kola Bad Bear. As the Lumberjacks scrambled to stop Martell, she tossed the ball into the lane, where Bad Bear had rolled to. She hit an open floater before the quarter expired.
Montana State could score however it needed to.
"Tonight," Martell said, "it felt like we were moving the ball."
Midway through the third quarter, White darted a pass from near midcourt to Ranson in the corner, leading to a wide-open 3. This gave the Bobcats a 14-point lead and further control of the contest.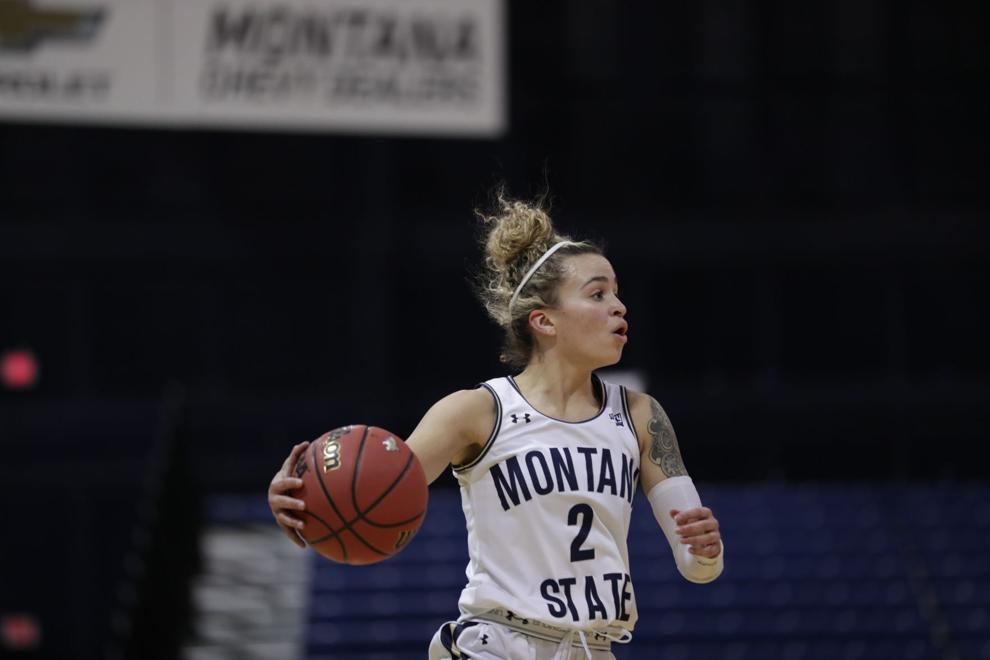 Earlier this season, Binford had said she wanted to alleviate the pressure left on White. The preseason all-conference point guard was left with more offensive duties this season, and she elevated her play in response.
However, Binford thought the Bobcats would be at their best when White doesn't have to carry the team. She only had to set the pace Thursday.
"I think we just let the shots come to us," Ranson said. "And that came down to energy and having confidence in each other. I think that's going to start to click more. I'm excited to see how the next couple games go."
The Bobcats now hope to win consecutive Big Sky games, which they haven't done yet this season. They will take on Northern Arizona at noon Saturday with the intention of making necessary adjustments while continuing to score and defend at the level they have.
"You've got to stay hungry. You've got to stay unsatisfied. You've got to make sure you're ready," Binford said. "We know we have our hands full."