BOZEMAN — Glancing down at his tattoos, Eric Zambrano explained what some of them meant to him.
The Montana State sophomore cornerback pointed out one, a reference to a lesson his uncle taught him.
"Eat or starve," he said before elaborating. "You're going to either lay down or fight."
"I want to fight," he added.
Nearly two years went by during which the Bobcats didn't play leading up to this season. But Zambrano remained eager to prove himself.
He often ran up and down the stairs of Bobcat Stadium and went through positional work on the field to ensure, when MSU did play again, he would be ready. He confessed it wasn't easy, but he stayed in shape that way.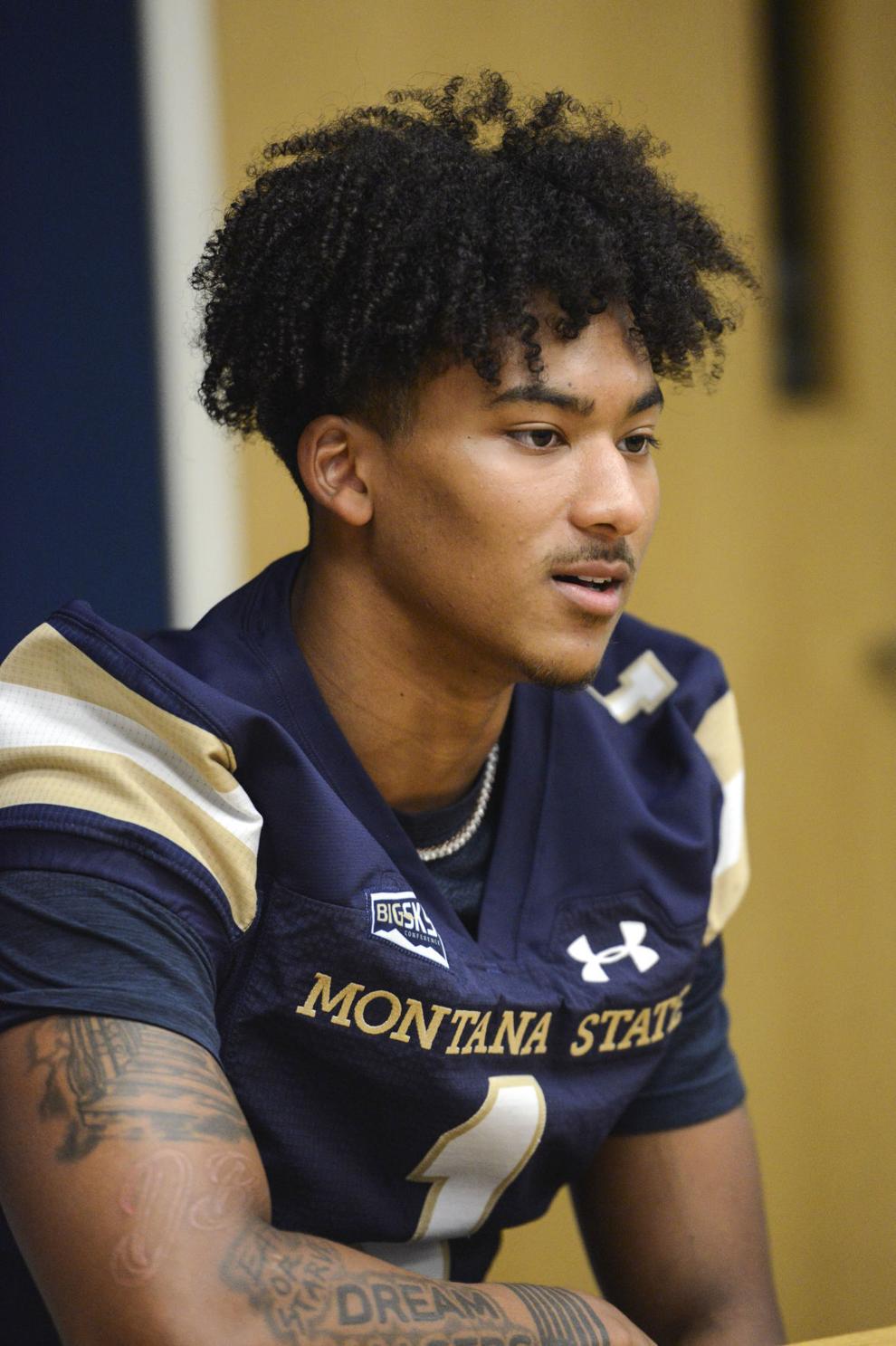 Zambrano fought to become one of MSU's starting cornerbacks, and he's now a source of stability at the position. He'll be a key piece for the No. 9-ranked Bobcats (5-1, 3-0 Big Sky) as they play 8 p.m. Friday at No. 19 Weber State (2-3, 1-1).
MSU head coach Brent Vigen said Zambrano has emerged as a player to count on, especially as multiple cornerbacks on the team have endured injuries.
"He's a competitive guy," Vigen said. "That's certainly been on display on game days, but I think he's become much more consistent in the way he goes about his business."
Both of Zambrano's parents served in the military and spent time overseas. Though he moved often, Zambrano said sports occupied his time while growing up with his brother.
When asked how football helped him develop as a person, he pondered for a moment.
"I think just a strict discipline," he said. "Discipline being on the football field and bringing it out into real life."
Zambrano was drawn to MSU because of the coaching staff and the environment of the program. He called his new teammates his brothers. The transition to Vigen, who is in his first season, was difficult initially, Zambrano said. But he acclimated quickly.
Zambrano needed to make several adjustments early in his career. He played special teams and more on defense as the 2019 season unfolded when he was a true freshman.
The Bobcats didn't play the following year due to COVID-19. So Zambrano's chances to gain experience have been limited.
Through that time, Zambrano was driven by his desire to compete for a starting spot. He accomplished that after the Bobcats' spring practices.
"Since I've gotten here, I really just have that mentality to just show up and work," Zambrano said. "I still do have that."
Kyle Risinger, MSU's assistant defensive backs coach, said Zambrano has made significant strides since the Bobcats opened the season at Wyoming in September. He's become more consistent, which Risinger noted is vital for someone as young as Zambrano.
"We love EZ," MSU defensive coordinator and secondary coach Freddie Banks said. "He's a good dude. He does a good job. He's been locked in. You see him growing up right before your eyes, every week getting better. And his preparation every week has been getting better so it's fun to see."
Zambrano said he's constantly seeking to improve because he's never content with how skilled he is.
Banks said Zambrano has been tackling well, which the Bobcats want to depend on him for when he gets the chance. Zambrano, at 6-foot-1, 208 pounds, can be imposing at his position.
"He's a big body and physical," MSU senior defensive back Tyrel Thomas said. "He has great feet, and he knows his assignment. It's very tough, because the matchup is very different when he's on the field."
Zambrano has been the only cornerback to be a starter on the team's depth chart before each game in 2021. Thomas' knee surgery in August kept him out until last week, and fellow cornerback James Campbell has missed two games after an ailment suffered in MSU's win at Portland State.
Zambrano leads the Bobcats with four pass breakups.
"He might not always get passes thrown his way," Banks said, "but he's been making a huge impact from our standpoint."
Zambrano made his highlight play of the season two weeks ago against Northern Colorado. He intercepted a throw, his first and only of his career, and returned it 39 yards to UNC's 47. Three plays later, the Bobcats scored and were leading by three possessions.
Vigen said Zambrano's performance that day was likely his most well-rounded one of the season. He totaled five tackles as well.
Following the UNC game, Zambrano reflected on his pick.
"It felt unreal. Very shocking," he said. "But I know I can make those plays, and there'll be more to come."