BOZEMAN — Montana State senior linebacker Troy Andersen was named a National Football Foundation Scholar-Athlete and a finalist for the William V. Campbell Trophy, MSU announced Wednesday.
Andersen is one of 13 members of the NFF's 2021 Scholar-Athlete Class. With the honor, Andersen receives an $18,000 post-graduate scholarship.
"It's really cool. Obviously a pretty big honor, and I'm excited," Andersen told reporters Wednesday morning. The coolest part is "the exclusivity of it and what it means. I know there have been a lot of guys who are just really good human beings and obviously students and football players as well. To be grouped in with them means a lot. 
"Obviously you want to surround yourself with good people, and I'm surrounded by good people."
The Campbell Trophy, known as the "Academic Heisman," recognizes a football player for his success athletically and academically, as well as his leadership. The 13 finalists were chosen from a field of 176 semifinalists across all NCAA divisions and the NAIA. Andersen is the lone finalist from the FCS.
"A lot of schools can get players recognized out of 176, but you talk about 13 programs, individuals across the landscape of college football, that's a great honor, and I can't think of anyone more deserving than Troy," said MSU head coach Brent Vigen. "Troy's got a lot of God-given ability, but he's taken all of that — whether that's been on the field, in the classroom or in the community — to another level. It's a credit to where he comes from: Dillon, Montana. His parents, Scott and Nicole, have done an amazing job of raising him.
"I know that he has a bright, bright future in whatever endeavor he chooses to take on."
The NFF will announce the 2021 Campbell Trophy winner at the 63rd NFF Annual Awards Dinner on Dec. 7 at the ARIA Resort and Casino in Las Vegas.
Andersen is the fifth NFF Scholar-Athlete in MSU history. The others were Ryan Johnson (2002), Rich Brady (1990), Derrick Isackson (1989) and Anders Larsson (1988).
"This is a tremendous and most deserved honor for Troy," MSU athletic director Leon Costello said in a press release. "Troy is an outstanding student, gifted athlete and consummate leader on and off the field. He is the model representative for Bobcat Football, the athletic department and Montana State University."
Andersen earned a bachelor's degree in agricultural business in May. He has a 3.91 cumulative GPA.
Andersen was named first-team All-America and first-team all-Big Sky as a linebacker in 10 games in 2019. That season ended early for him because of a knee injury that required surgery.
A year earlier, at quarterback, Andersen received third-team all-America and first-team all-Big Sky honors. He was a running back in 2017 and was named Big Sky Freshman of the Year. 
Andersen is second in MSU history with 33 rushing touchdowns and ninth with 2,263 rushing yards.
Through eight games this season, Andersen leads the No. 6-ranked Bobcats (7-1, 5-0 Big Sky) with 71 total tackles, and he's second on the team with eight tackles for loss. He returned his one interception so far this season 40 yards for a touchdown against San Diego on Sept. 18.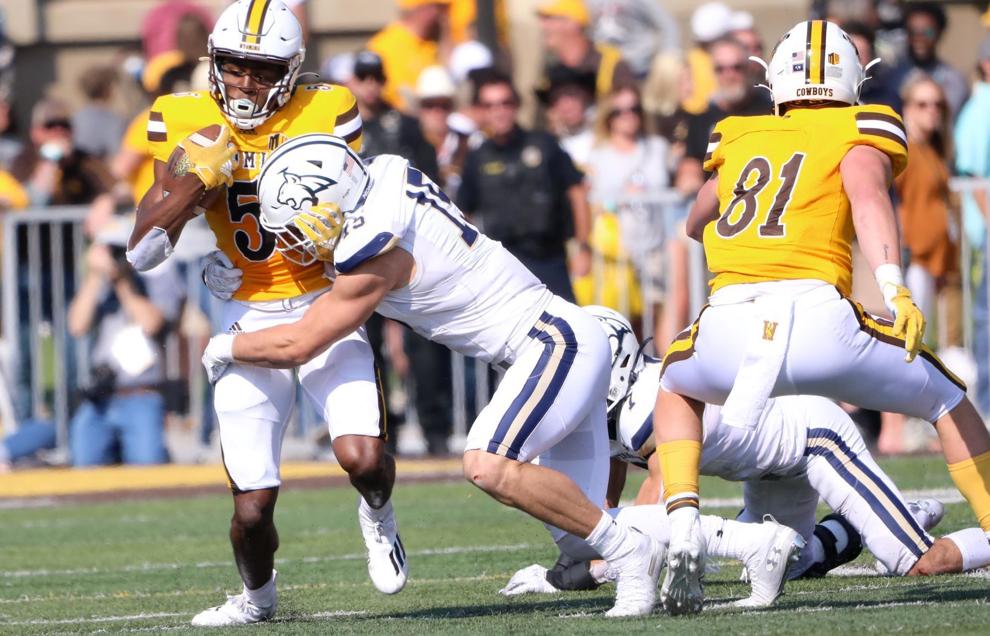 Andersen has volunteered in Bozeman public schools, with Habitat for Humanity and for Team IMPACT. He did Habitat for Humanity projects in Montana and in Poland, and he worked with a Big Timber youth who has battled cancer for Team IMPACT.
The other 2021 NFF Scholar-Athletes and Campbell Trophy finalists: Thomas Booker, DE, Stanford (3.88 GPA); Mike Caliendo, OL, Western Michigan (3.90); Sean Clifford, QB, Penn State (3.45); Cameron Dukes, QB, Lindsey Wilson (3.89); Patrick Fields, DB, Oklahoma (3.82); Matt Henningsen, DE, Wisconsin (4.00); Aidan Hutchinson, DE, Michigan (3.54); Joshua King, LB, U.S. Merchant Marine Academy (3.73); Charlie Kolar, TE, Iowa State (3.99); Henry Litwin, WR, Slippery Rock (3.66); Sean Mahone, S, West Virginia (3.60); Grant Morgan, LB, Arkansas (3.66).