FRISCO, Texas — Ryan Davis pondered the strongest aspect of North Dakota State's defense. Talking in specifics proved challenging. The Bison, the Montana State tight end said, do seemingly everything well.
Still, the Bobcats are tasked with exploiting areas of the game they feel they have an advantage. MSU (12-2) will take on NDSU (13-1) in the Football Championship Subdivision championship game at 10 a.m. Saturday at Toyota Stadium.
"Dominant programs like that usually, it's very hard to find holes where they mess up," Davis said. "We went out and got beat by those guys a couple times in the past few years. And now I think it's our time. I think we're a little bit better matched this year.
"They're always sound. They have tremendous athletes up front on the D-line and linebackers, a lot of those guys do end up getting the chance to play on Sundays and stuff. It's a fun opportunity. It's a great stage."
Their past two seasons, the Bobcats have been overwhelmed by NDSU in the playoffs. An offensive rhythm was never established throughout those games.
MSU quarterback Tommy Mellott, who has yet to face NDSU, said the Bison have replicated their formula this year. The Bobcats have been impressed by how well-coached NDSU has been.
"They're veterans to the game," All-American offensive tackle Lewis Kidd said. "They're still the team to beat, right? So just knowing that and game plan their personnel in different ways is kind of the way it goes, but we know that we're going to have to play our best if we want to win."
The Bison are first in the country with 11.2 points allowed per game and third with 82.7 rushing yards allowed per game. That's in large part because of their defensive front.
Brayden Thomas, a 6-foot-3, 260-pound senior defensive end, is an All-American. He leads the Bison with nine sacks and 14.5 tackles for loss. Kidd said NDSU's is one of the best front sevens the Bobcats will see this season.
"They do really great things. Really physical. They play very fast. They're smart. They know what they're doing. They play their gaps really well," Kidd said. "We're going to need to have the best game we've had up front. We're excited for the challenge."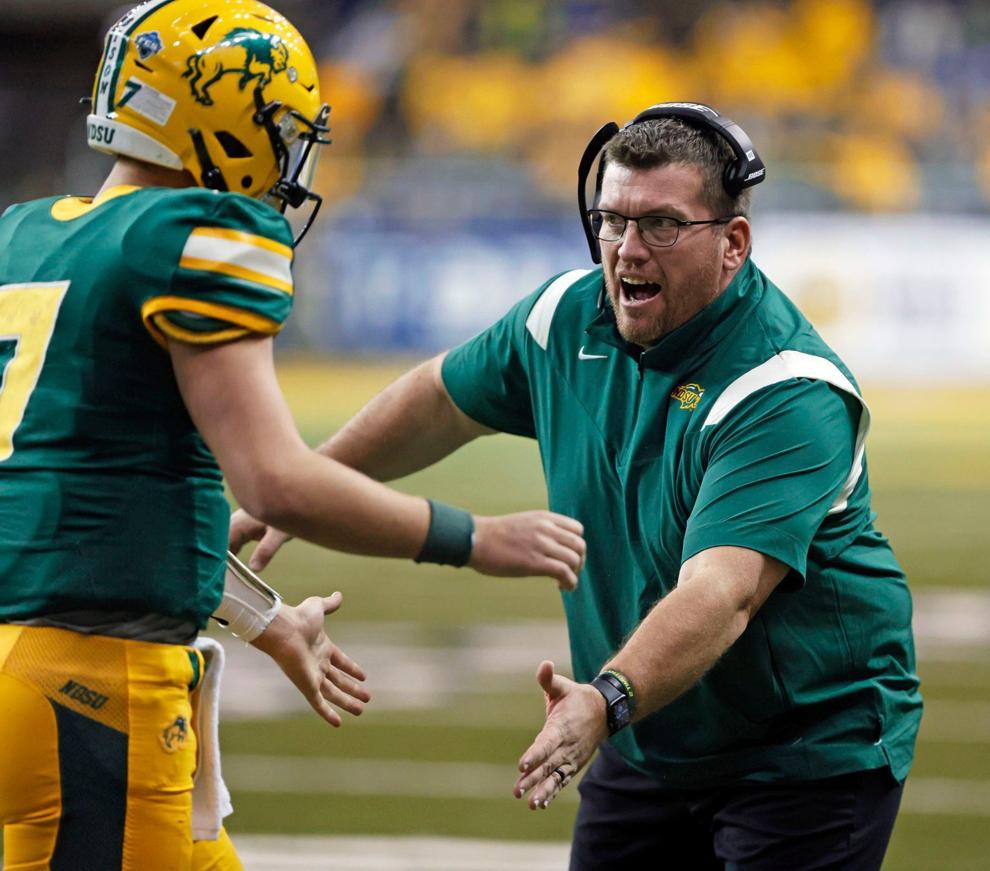 With 49 sacks for the season, the Bison have broken the school's single-season record. Similar to MSU's defensive line, NDSU has relied on several players to contribute up front.
Bobcats head coach Brent Vigen, a former NDSU player and assistant coach, said he's sometimes had to refer back to a roster as he watches film because the number of impactful players was difficult to keep track of.
"It allows all those guys to play 100 miles an hour whenever they're out there," Vigen said. "I think the effort they play with, the attention to detail they play with up there is really what we aim to do at Montana State."
The Bison rank 11th in passing defense (177 yards allowed per game) which has contributed to a third-ranked total defense (259.7). At linebacker, Jackson Hankey paces NDSU with 93 tackles, 2 1/2 for loss. The Bobcats will need to be ready for the 6-2, 219-pound senior.
NDSU's secondary is led by the likes of All-American strong safety Michael Tutsie. The 5-11, 192-pound senior is second on the team with 79 tackles. NDSU's Jasir Cox, Dawson Weber and Destin Talbert, who made a one-handed interception late in NDSU's win over James Madison in the semifinals, are tied with three picks.
Mellott noted the Bison disguise their coverages well.
"I don't think they have a secret recipe down there. They're very detailed," he said. "They do what they're supposed to do. They're well-coached. That's kind of what we've been implementing here, and we're going to go down there and give it our best shot. That's just kind of what it comes down to."
How the Bison match up with standout MSU wide receiver Lance McCutcheon will be a key factor to the game. McCutcheon noted NDSU is physical and technically sound.
"They're a good defense," McCutcheon said. "They've been proving that for a very long time. We played them the last two years and they got the best of us.
"As far as our receiver room, we're going to compete against them and make plays when the ball happens to come our way. Just excited to compete."
Davis, McCutcheon and Kidd said they're looking forward to having another shot to beat the Bison before their careers are over. When asked if the Bobcats could improve in any areas compared to those previous matchups, Davis said MSU's self-confidence is higher. They believe they have "a legitimate shot."
Davis said losing to a team twice is tough to grasp. But defeating a team three times, he believes, is even tougher.
"You don't know you're in a fight until you get hit in the face. And that's this year," Davis said. "It's like, 'Hey, why can't we be the ones who go out there and throw the first punch? Why can't we be the ones to really get after them and show them what we're all about and how much we want this, how much we've been improving ourselves?
"Our goal wasn't just to make it down there. … We have realistic goals to go down there and really win this whole thing."