UPDATE (7:30 p.m. 10/6): This story has been updated to include responses from UNC and Bears head coach Ed McCaffrey.
BOZEMAN — Northern Colorado offensive coordinator Max McCaffrey has been punished for breaking his clipboard and throwing a piece of it at a fan during the Bears' 40-7 loss at Montana State on Saturday.
UNC released a statement Tuesday saying it "reprimanded" McCaffrey for the incident, adding that he "showed a lack of judgment but no malicious intent." The school called the broken piece of McCaffrey's clipboard a "souvenir" that an MSU fan was requesting.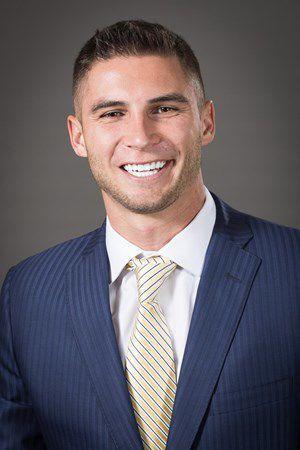 "Through the investigation, it was reported that the fan asked for the clipboard," a UNC spokesperson wrote in an email to 406mtsports.com.
The spokesperson said McCaffrey has not been suspended but declined to comment further about the punishment, writing that "we do not go into further detail about personnel matters."
MSU Police's daily crime log lists the incident, characterizing it as an assault. It says an officer responded and took a report, and the case is still active. MSU Police was not immediately available for comment.
"While Coach Max McCaffrey's tossing of a souvenir into the stands showed poor judgment, it was clear there was not intent to harm nor was the action fueled by anger," UNC athletic director Darren Dunn said in the statement. "Max is embarrassed by the incident and is working privately to apologize to the fan hit by the errant toss."
An MSU fan near McCaffrey's clipboard toss told the 406mtsports.com that McCaffrey was not throwing the clipboard shard because someone wanted a souvenir. McCaffrey was throwing it at a heckler who yelled, "Hey coach, you should worry about how small your pants are before you break another clipboard," according to the fan.
McCaffrey broke his clipboard near the end of the first half of Saturday's Big Sky game, the fan said, right after MSU's Eric Zambrano intercepted a pass from Dylan McCaffrey, Max's younger brother. Someone heckled the OC, who responded by throwing a piece of his clipboard that hit someone (not the heckler) in the head, according to the fan. The man who was hit was not bleeding, but his jaw was hurt, the fan said.
MSU athletic director Leon Costello declined to comment on the incident Wednesday.
Max McCaffrey is a former Duke wide receiver who played in the NFL for three seasons, mainly on practice squads. His father is UNC head coach Ed McCaffrey, and one of his brothers is NFL All-Pro running back Christian McCaffrey.
Ed McCaffrey, a former Pro Bowl and Super Bowl-winning receiver, addressed his son's incident on Wednesday.
"He slammed his clipboard against his leg in frustration at himself and a fan yelled, 'Hey, we'll take your clipboard,'"  Ed McCaffrey said, via the Greeley Tribune. "He didn't do it at first, but like — 'Hey we'll take it; throw us your clipboard.'
"He's like, 'Are you sure you want it?' after that play call, and they're like, 'Yeah, yeah.' He lightly underhand lobs his clipboard to a fan that was in the stands who had his hands up calling for it. And for whatever reason, he put his hands down and it kind of sailed like a Frisbee over his head. It was a very light underhand toss, and it did strike a fan behind him, and it was unfortunate.
"Max feels awful about it. It was a complete accident; kind of like if you threw your keys to someone and they didn't catch it. They hit the person behind them. There was no ill will, no anger or frustration at anybody or the fans or anything. It was just a really bad decision by him to engage with fans, even though it wasn't in anger. It was kind of in jest. It did strike someone, and for that, he is very sorry. I'm sorry that it's taken away from discussion about our football program, and he has admitted it, he has apologized. He certainly has fixed it and will never do it again. So, it was an innocent enough mistake, mistake nonetheless."
UPDATE: There's video.