MISSOULA — Montana's sixth-year seniors were seniors in high school the last time the Griz beat Montana State in football in 2015, and they were juniors in high school when UM last defeated the Cats in Missoula in 2014.
The Griz are trying to get back on the right track in the rivalry after losing four in a row from 2016-19 before the 2020 game was canceled. UM's 2019 senior class finished 0-4 against MSU, while the Cats seniors that year went 4-0, something that hadn't happened since 1977, when MSU won for the sixth time in a row.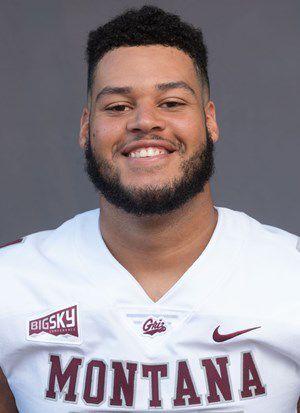 "I know the two (games) that stick in my mind the most, and they're the most recent ones, and we're just trying to right that ship," said Montana senior right tackle Dylan Cook, a Butte grad who's been on the team for only two Cat-Griz games since he transferred to UM.
While Montana has lost four straight games in the series, the first two of those came under former coach Bob Stitt. The past two have come under current coach Bobby Hauck, who's 5-4 in the series while leading UM.
The past four losses in the series were all doled out by then-MSU coach Jeff Choate, who left to be the co-defensive coordinator for the Texas Longhorns. He was replaced by Brent Vigen, who was previously Wyoming's offensive coordinator and spent the majority of his career at North Dakota State.
"We've dropped the last two to these guys, so we need a win," Hauck said. "That's what it is. I think they're good up front on both sides of the ball. That's where it starts. Should be a heck of a game."
Montana State senior linebacker Troy Andersen watched the seniors in 2019 celebrate a 4-0 record against the Griz while he sat out of that game. The Dillon grad would love to go out on top in his final rivalry game and first time playing in one since 2018.
"Being your senior year, you want to go out with a win," he said. "To be able to say that you haven't lost to them is something that the last group of seniors was able to say, and I want to add my name to that list, for sure."
An odd feeling
This is the first time since 1925 that the Cat-Griz game is being played in Missoula on an odd-numbered year.
That's because the pandemic forced the postponement and then cancellation of the game in 2020. The Big Sky moved the 2020 conference schedule to 2021, which means UM will now be hosting in odd years and MSU in even years.
That change will affect UM's scheduling in the future. The Griz look to schedule big payday games, like this year's trip to Washington that brought in $625,000, when the Brawl is on the road because they miss out on the home revenue from a sellout crowd for the rivalry game.
The Griz won that 1925 game, 29-7, and then the games were played at a neutral site in Butte from 1926-51. When they returned to playing on campus, UM got 1952, MSU got 1953 and the rotation of UM on even years and MSU on odd years persisted until the pandemic.
The 2020 season was the first year without Cat-Griz since 1945. The rivalry matchup wasn't played from 1942-45 because of World War II.
Vigen vs. Griz
Montana State coach Brent Vigen will be experiencing the Cat-Griz rivalry for the first time. But he's already been inside raucous Washington-Grizzly Stadium and had success there.
Vigen was North Dakota State's running backs coach in 2003 when the then-Division II Bison stunned Bobby Hauck's third-ranked Grizzlies, 25-24, in Missoula. They scored 23 unanswered points to rally from a 24-2 halftime deficit, taking the lead on a fake field goal 20-yard touchdown pass with 2:13 to play. UM had a chance to win, but All-American senior kicker Chris Snyder missed a 40-yard field goal wide right with three seconds left.
It was Hauck's first home game of his first stint as the UM head coach from 2003-09. That was the last time UM lost its home opener and the only time a Hauck-coached Griz team has dropped its first home game of the year.
In 2014, Vigen was Wyoming's offensive coordinator and quarterbacks coach when the Cowboys scored a 17-12 home over UM.
100 years ago
In 1921, Montana pulled out a 14-7 win over Montana State in Bozeman. It was the 26th all-time meeting between the teams, and the Griz pushed their series run to 11-0-3 since a 1908 loss to MSU.
The Griz handed the Cats their first loss at Gatton Field in five years in that 1921 game. Their trips there in 1916 and 1918 ended in ties.
Butte's Steve Sullivan gave UM a 7-0 lead with a 4-yard touchdown run, and MSU's Ray McCarren tied the game when he ran for a score after the Cats blocked a kick and returned the ball to the 10-yard line. Stevensville's Ted Plummer punched in a 1-yard TD run to give UM a 14-7 lead, creating the final margin.
Ray T. Rocene of the Missoulian wrote that the game was a "thrilling and viciously contested football contest as Bozeman has ever seen."
Series history
UM leads the all-time series, 73-41-5, although that drops to 72-41-5 with the removal of the Grizzlies' 2011 win, which was vacated due to NCAA infraction.
UM's lead is a much slimmer 31-26 (30-26 excluding 2011) since both teams joined the Big Sky in 1963 as inaugural members. The series is tied 9-9 (a 9-8 lead for MSU excluding 2011) since the Grizzlies' 16-game win streak from 1986-2001 was snapped in 2002.
The road team has had quite a bit of success in the rivalry. UM is 31-17-1 at home and 24-21-3 on the road (23-21-3 excluding 2011). The Griz went 18-3-1 in the 22 neutral-site games in Butte from 1926-51.
Victor Flores, who covers Montana State for 406mtsports.com, contributed to this article.