BOZEMAN — This week for Montana State's football team was filled with that thing every coach dreads: distraction.
The Bobcats came off a near-win at Wyoming last Saturday in their first game since 2019. With that 19-16 loss fresh in mind, MSU prepared for its first home game in 638 days. It was the 14th Gold Rush game, one day after moving into the Bobcat Athletic Complex, on the 20th anniversary of the 9/11 attacks.
Those were understandable and meaningful distractions that might have been productive in some ways, but coaches always fret when their players' minds stray from the field.
MSU didn't look distracted on Saturday night, when it handled Drake 45-7 at Bobcat Stadium. The Bobcats (1-1) were electrified by the catharsis surrounding this long-awaited Gold Rush game, but so much of that energy was powered by a lost season caused by a horrible pandemic. They never want to go through any of that again, not even the joy of rekindled football love.
"Sometimes, the hoopla can get a little bit distracting," MSU redshirt junior defensive back Ty Okada said after Saturday's game. "I am excited to just focus on football and not any of the extra stuff."
MSU head coach Vigen could be excused for letting his mind wander from the X's and O's. He's not just coaching a team that didn't play last season, he's in his first year as a head coach. Last week's hiatus-ending game, scheduled long before Vigen even thought about the MSU job, was against the team he spent the previous seven years with as offensive coordinator.
All preseason long, Vigen downplayed his reunion with the Cowboys and their head coach Craig Bohl, who Vigen coached under for 18 seasons.
"It's a great opportunity for our guys. I hope that's the thing that doesn't get lost," Vigen told the Casper (Wyo.) Star-Tribune last month. "Our guys haven't played in a long time, and an opportunity to play against an FBS teams is a big opportunity for the FCS. … I hope more is made about that than coach and I and all that stuff."
It's impossible to measure how much Vigen's public sentiments contributed to the near-upset last week, but MSU certainly didn't look like a team that was simply happy to be playing or preoccupied with Vigen's UW connection.
Vigen saw potential for a trap game against Drake, an unranked FCS team playing the Bobcats in their first home game since 2019 one week after a hard-fought loss to Vigen's former team, a well-regarded FBS squad.
"It's easy to get up for your first game in a long time. It's easy to get up for a game where you're playing an FBS opponent. None of that can creep in," Vigen said Monday. "We need to have the mindset of getting better."
Did that mindset ensure the Bobcats would never trail against Drake and easily cover their 29.5-point spread? Again, it's impossible to measure. And again, MSU looked poised and polished.
"So much going on, but it was about the game," Vigen said after Saturday's win. "None of the outside stuff feels quite as good if you don't come out and perform. I think our guys did a good job of channeling that."
Focusing on the field doesn't mean the Bobcats were joyless robots entering the last two games, and their subdued media appearances likely masked many of their true feelings. They might have enough talent to overcome any focus issues anyway, and the energy surrounding Saturday's game might have eliminated any chance that the Bobcats wouldn't get up for Drake like they did for Wyoming.
"Everybody's screaming right before we kick the ball, and you're just thinking, 'I'm going down there to wreck something. I'm running through a brick wall,'" said MSU senior defensive end Daniel Hardy. "They do an amazing job feeding us with energy. Couldn't ask for a better home crowd."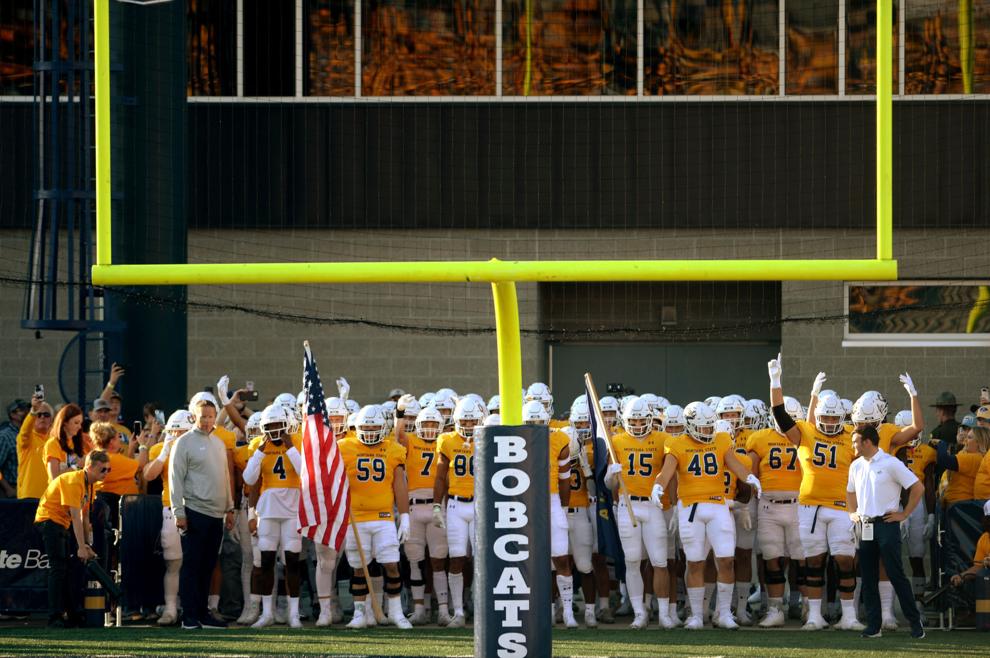 MSU is also an experienced team that knows how it feels to prepare for big games. Regular season matchups with Wyoming and Drake can't compare to a Brawl of the Wild or a playoff run. While last season was the first MSU missed in decades as a team, many individual players have gone a season (sometimes longer) without playing because of injury, redshirt or something else.
The Bobcats aren't going to miss the questions about their first games since 2019. Judging by their first two performances this season, it doesn't seem like those questions made much of a dent.
"We could be playing Alabama or we could be playing whoever it is, but we're going to come out with the same mentality. We want to win," Hardy said. "This is like my fourth year here, so kind of being in a groove, having a routine, helps with that. … It's that muscle memory. You get locked in, and all that outside stuff kind of fades away."