PORTLAND, Ore. — If you wanted positive spin after Saturday's football game, you weren't going to get it from Montana State's players and coaches.
"Frustrated" was the blunt answer MSU starting quarterback Tommy Mellott used to describe how he felt after his team lost to Oregon State 68-28 on Saturday night in front of 25,218 spectators at Providence Park. "Humbled" would be one way to sum up how Mellott, head coach Brent Vigen and defensive back Simeon Woodard looked after the blowout. "Concerned" could creep in there too.
The fourth-ranked Bobcats (2-1) weren't broken by the Beaver beatdown. OSU (3-0) is a Power 5 Football Bowl Subdivision team that looks like it can compete with its Pac-12 peers. But MSU, the 2021 Football Championship Subdivision runner-up, has title-winning expectations. This season. Not down the road. Saturday's loss rattled that confidence.
"We weren't coming in here with the intent to just show up and play in front of a good crowd," Vigen said. "We were coming in here with the intent to compete and win a football game, and we didn't put ourselves in a position to do that."
Despite the 40-point margin, there were some silver linings for the Cats.
MSU marched down the field on the opening drive with creative play calling from offensive coordinator Taylor Housewright and an aggressive decision to leave the offense out on fourth down and 1 from OSU's 7-yard line. Sean Chambers not only converted, he scored.
Chambers is MSU's backup quarterback but took the opening snap, while Mellott lined up at wide receiver and motioned into the backfield. Chambers kept it on that play (for a 9-yard gain) but gave it to Mellott later in the drive. One read-option handoff between the two QBs morphed into an option run between Mellott and receiver Clevan Thomas Jr. (who lost yardage on the play). Another resulted in a 10-yard pass from Mellott to Thomas.
"A great game plan from the coaching staff," Mellott said. "They gave us opportunities, and we made plays."
One play after OSU went ahead 21-7, Sacramento State transfer Marqui Johnson returned the kickoff 98 yards for a touchdown — the first time an MSU player has done that since Jayshawn Gates ran 97 yards on Oct. 24, 2015 against East Tennessee State.
A strong defensive possession at the end of the first half resulted in a missed field goal from OSU, keeping the score at 34-14.
The Cats finished with 168 rushing yards and 5.3 yards per carry, with Mellott running for 135 yards on 7.5 ypc and Chambers tallying 35 yards and three touchdowns on 3.9 ypc.
"I'm sure we're going to pull out some bright spots," Vigen said, "but not nearly as many as we needed to."
Entering Saturday, Mellott hadn't thrown an interception on 94 college pass attempts. The sophomore from Butte threw three picks on 18 tosses against the Beavers. Those turnovers — the only ones of the game — weren't all Mellott's fault, but he took responsibility for the mistakes and lackluster passing performance (he completed nine passes for 101 yards and no TDs).
"It gives us some hope that we were able to run the ball against a Pac-12 school," Mellott said. "But we've certainly got to take care of the stuff in the passing game."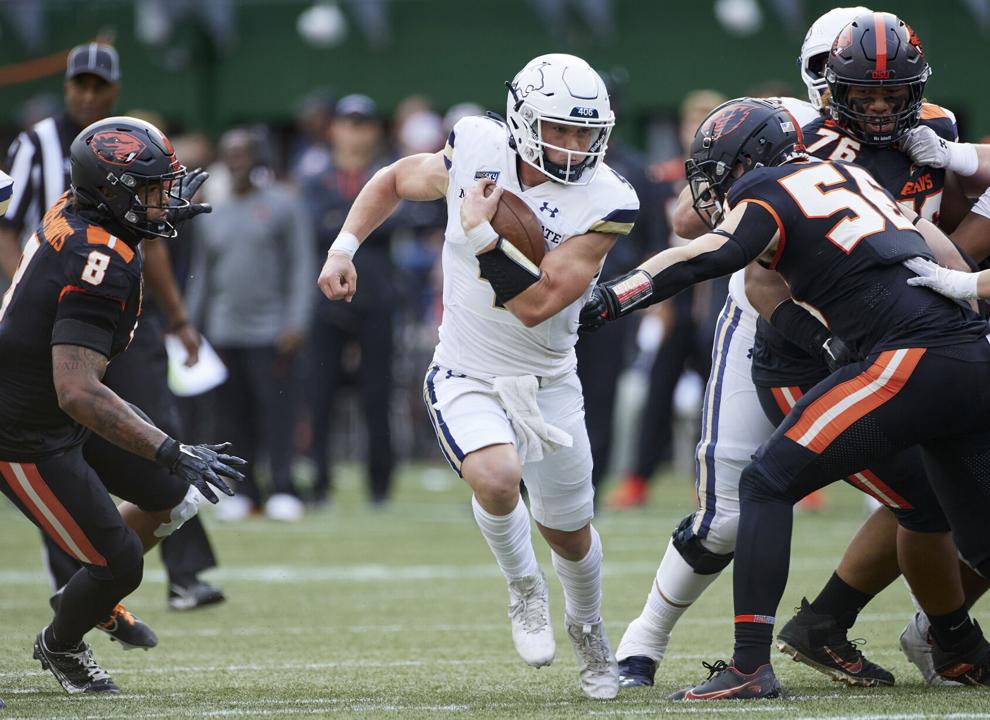 OSU's Anthony Gould returned a punt 80 yards for a touchdown early in the third quarter to make it 40-14. Before that, MSU hadn't allowed a punt return TD since 2003.
Gould returned another punt 33 yards, and Silas Bolden returned a kickoff 80 yards later in the third. MSU kicker Blake Glessner hustled to prevent Bolden from scoring, but that only delayed the salt in the scab. OSU scored another TD three plays later.
"I know (the defense) gave up a bunch of points and a bunch of yards, but boy, the situations they were put in, that's not complementary football," Vigen said. "That's what we pride ourselves on, and it just didn't happen tonight."
The second-year coach was hardly letting his defense off the hook. OSU rushed for 216 yards and five TDs at a 5.1-ypc rate. Chance Nolan completed 19 of 25 passes (76%) for 276 yards and four TDs, and 252 of those yards were produced in the first half. He found wide-open receivers in the middle of the field throughout the night.
"They prepared well," Woodard said. "They attacked our weaknesses."
MSU's talented, experienced secondary had an off game, and the pass rush rarely affected Nolan (neither team recorded a sack).
"The margin in a game like this, from an execution point of view, is really thin. You need a few breaks, and a good team probably isn't going to hand you those breaks. You've got to create them, and we didn't do that tonight," Vigen said. "You can look at the whole football team — offense, defense, special teams — and say, alright, the whole outfit needs to take a step forward."
MSU has lost to many FBS teams, often by lopsided margins. But rarely like this. Before Saturday, the Cats hadn't allowed 60-plus points since 2010 (61 to Sacramento State in a win). They've allowed more than 68 twice since World War II: 69 to Florida in 1988 and to Kansas State in 2008. OSU was a 16 ½-point favorite at kickoff Saturday.
"We've definitely got to recognize we played a good team. We just didn't play our best," Vigen said, adding, "We've got to lick our wounds and figure out what we need to do better."
The Cats leave Oregon with a $675,000 check, a Big Sky schedule in front of them and no apparent major injuries beyond the ones entering the game. All-American Isaiah Ifanse and key backup Lane Sumner will return at some point, while fellow running backs Kaegun Williams and Jared White have been ruled out for the season.
Wins will erase the sting of this loss. How many wins the Cats will earn depends on how well they clean up the problems that appeared in Portland.
"We can't lose to this team more than once," Vigen said. "We can't let this linger. If you let the performance linger and you don't learn from the performance, shame on us."