BOZEMAN — The Montana State football team will open Big Sky Conference play at Portland State on Saturday at 3:05 p.m. Mountain time. Joe Terry, a writer who covers PSU and the Big Sky, answered five questions from 406mtsports.com about the Vikings.
Terry (@joseph_terry on Twitter) writes a Substack newsletter called Big Sky Valhalla. Among the publications he used to work for are the Glasgow Courier and the (Kalispell) Daily Inter Lake. 
406: What is Portland State's biggest strength(s)?
JT: The passing game. The Viks defense has a lot of young pieces, and the running game is coming around, but it's the passing attack that has dazzled in the first three games. Sixth-year quarterback Davis Alexander has complete control of the offense, and the team is deep at receiver, led by slot Beau Kelly, who leads the conference in catches, yards and receiving touchdowns. Freshmen Darien Chase and Nate Bennett are big targets on the outside, and all-Big Sky receiver Emmanuel Daigbe should be returning soon.
406: Who is PSU's best player on each side of the ball?
JT: Quarterback Davis Alexander makes everything go on offense. He's been here forever, so his game should be familiar to Bobcat fans, but for those who aren't aware, he's a tough, physical player who uses his mobility to keep plays alive and stretch the ball downfield.
All-American defensive back Anthony Adams leads the defense. A Buck Buchanan finalist in 2019, he's forced three turnovers already this season, two interceptions and a forced fumble and recovery. He's rangy, athletic and always seems to be in the right place at the right time.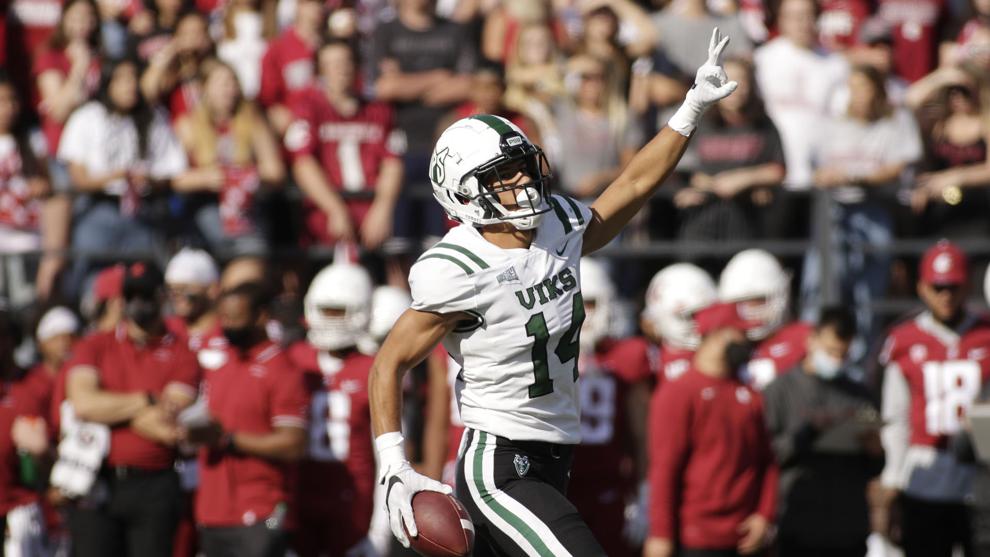 406: How difficult can PSU's Flex defense be for opposing offenses?
JT: Because it's so rarely used in the current game, it's hard to prepare for. By design, the defense causes disruption in the blocking schemes and confusion for quarterbacks, and it's done that at points this season. VJ Malo has been a force and has caused havoc in the backfield. When it's right, the defense is good enough to keep the Viks in a game with any team in the conference.
But as with any defense, it's only as good as its communication. There are still a lot of new players on that side of the ball and the defense was gashed in the hurry-up against Hawaii and Washington State, giving up huge yards in the passing game and allowing their shifty quarterbacks to chart off long runs. They drilled that in practice last week and seemed to have fixed some of the concerns against Western Oregon but still had some issues with missed tackles.
406: PSU coach Bruce Barnum made headlines last week for buying beer for fans who showed up to the Vikings' home opener against Western Oregon. Why has PSU often struggled to get big crowds for games at Hillsboro Stadium?
JT: That type of carnival barking is nothing new for Portland State coaches, and sometimes necessary considering the circumstances. Pokey Allen had the Viks competing for Division II titles in the late 80s and early 90s and sold tickets by riding elephants and allowing fans to call plays.
Unlike MSU, Portland State isn't the biggest fish in this pond. The Pac-12 programs at Oregon and Oregon State have bigger alumni bases, more visibility and are the bigger draw for sports fans in the area. When either program is good, it's hard to draw fans away from Eugene and Corvallis, and there have been a lot of good seasons at Oregon ever since former PSU professor Phil Knight decided to open up his significant checkbook to promote Ducks athletics.
The size and scale of those programs — and how they're covered by big outlets like ESPN — also drowns out a lot of FCS awareness in Portland and other big cities. A lot of people that would label themselves hardcore college football fans, who follow the Pac-12 religiously, just aren't aware of Big Sky teams as anything but early-season cannon fodder. How good Portland State is, or any other FCS program for that matter, is hard to gauge when you view everything through the prism of Oregon at the top of the sport. They're all proverbial flies on an elephant's tail.
Success has also been an issue. Like anything, people want to be around winning programs. While PSU has had some talented teams and a slew of pros since joining the Big Sky, there have been just two playoff runs in the last 25 years. When you're trying to crack a crowded market, that doesn't help.
The stadium's location also doesn't help. For most of its history, Portland State played a few blocks from its downtown campus at Providence Park, a large, centrally-located stadium connected to public transit and surrounded by food and entertainment. The Viks were elbowed out of that venue by the stadium's primary tenant, the Portland Timbers, who get first choice of Saturdays during the MLS playoffs, which made late-season scheduling a mess and forced PSU to find a more reliable venue.
Bring in Hillsboro Stadium, a beautiful field hitched to the city's minor league baseball stadium about a half hour from campus in the western suburbs. That's not a long way away by Montana standards but far enough to deter students who get around by bike or train. It also sits on the wrong side of an interstate traffic bottleneck near downtown, which can make for a headache and a much longer commute for people who live anywhere east of the Willamette River.
Put all that together and it helps to put on a few wild promotions to get people to the stadium and raise visibility. There will always be a couple thousand die-hards, but filling the stadium beyond that sometimes takes some creative measures.
Long answer short, there are a ton of factors that go into it that impact teams like PSU, Weber State or Eastern Washington harder than Montana or MSU.
406: How do you expect Saturday's game to play out? Can the Vikings upset the Bobcats?
JT: Portland State has the talent to hang with the Bobcats, but MSU probably has more depth across the board. The Viks' best bet is to get on top early and keep the pressure on MSU to play mistake-free football. That hinges on the PSU offense being as potent as it's been through the first three weeks against one of the league's top defenses and the PSU defense continuing its progression. We'll see on Saturday if that's the case.