BILLINGS — This wasn't a passing of the torch. That had already happened 10 months earlier when Brent Vigen was hired to succeed Jeff Choate as the head football coach at Montana State.
Instead, the moment when Vigen and Choate embraced on the field at Bobcat Stadium following the MSU's formidable 31-17 victory over South Dakota State on Dec. 18, which clinched the program's first national title game berth in 37 years, was symbolic of one man's foundational goals being augmented and carried toward the finish line by the other.
Caught on camera and circulated across social media, it was a showing of mutual respect.
Choate built it, and Vigen and the Bobcats are paying it forward.
"What I was basically telling him was, 'Great job. I'm really happy for you,'" Choate explained. "And hopefully what he was telling me was, 'Thanks.' And not thanks for the compliment, if you understand what I'm saying."
To summarize:
Choate spent five years at MSU before departing last January for the University of Texas to become the Longhorns' inside linebackers coach and co-defensive coordinator. Each of his four seasons was better than the last, which set the stage for the Bobcats (12-2) to arrive at their biggest game in a generation, an FCS championship matchup with North Dakota State (13-1) on Saturday at Toyota Stadium in Frisco, Texas.
As coach of the Bobcats, Choate proved to be an impassioned culture-builder by unifying the locker room and establishing a player-run program that thrived late in the season. Ultimately, Choate and MSU came to the brink of a title game appearance in 2019 before succumbing to North Dakota State in the semifinals.
The fiery Choate went 28-22 overall at MSU and 18-14 in the Big Sky Conference, but was 19-9 and 11-5 in his final two years. Famously, he went 4-0 against rival Montana, which bestowed upon him a kind of folk hero status in Bobcat circles.
When he departed, Montana State was on much more than just firm footing. Now under Vigen's businesslike guidance, it is one win from glory.
"When I left, this was the team that I knew was going to be built for it," Choate said. "One of the last things I told the players is, 'I love you, I gave you everything you need to be a champion, so go do it.'"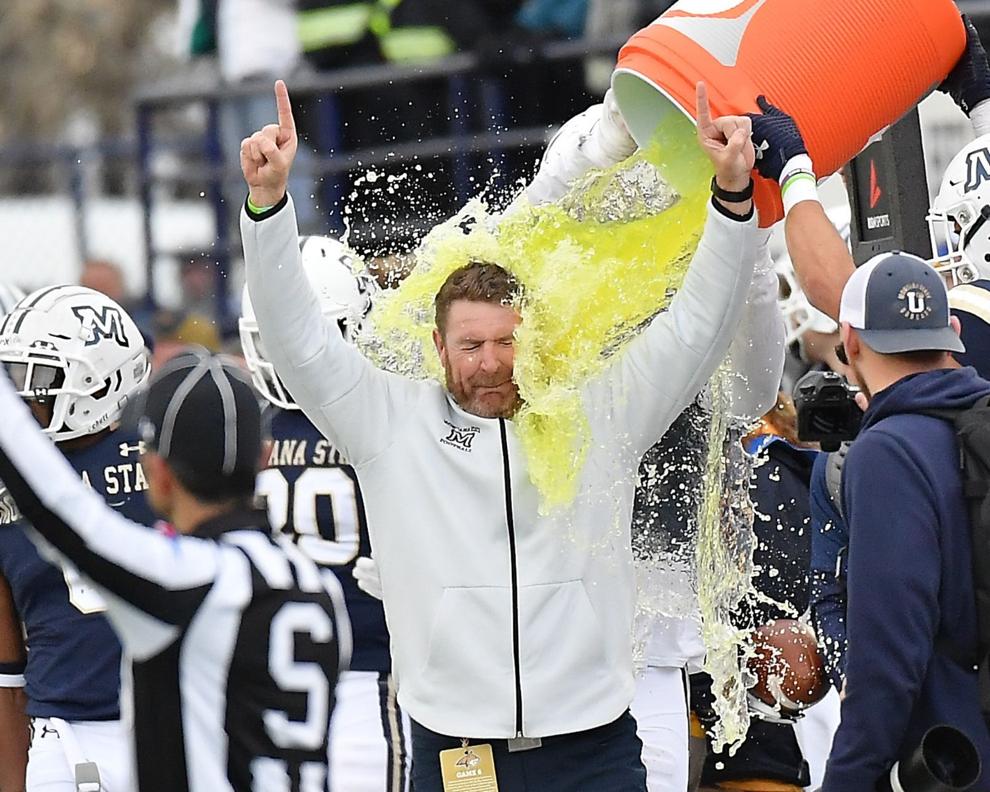 Choate doesn't regret his decision to leave. He was, after all, in pursuit of the head job at Boise State a year ago at this time but was ultimately passed over. With a stated goal of one day taking over a program at the upper echelon of Division I, he understood that those opportunities could be greater with more exposure.
And when blue blood Texas called, he knew he had to make the jump.
But that doesn't mean Choate isn't feeling a bit sentimental now. Part of him, even if only a small part, wishes he was more than just an observer for MSU's run.
"I think I'd be disingenuous if I said I wasn't," Choate said. "I don't think any human being wouldn't have some of that in him. But there's no guarantee that I would have got us here. And so maybe this was part of the process and part of the plan to get to this point.
"I knew we were going to have a great team. If you look at it on paper I think they're right where they should be and they're poised for a championship, and that was the vision all along."
What makes it an especially unique situation for Choate is that his son Jory is a backup linebacker and special teams contributor with the Bobcats. A 6-foot-2, 202-pound sophomore, Jory walked on at MSU to play for his father even though perhaps more playing time beckoned elsewhere.
Jeff Choate admits that his son, and many of the other players for that matter, might not ever truly understand why he left MSU at such an opportune time for the program. At the very least, Jeff can't help but be captivated by the team's performance, and especially by what he's seen from Jory.
"Jory's not playing every snap of every game, but I know he's a super-good teammate and a hard-ass worker and does every single thing those coaches ask him to do," he said. "And he's beloved by his teammates. He's going to cherish this run and this experience for the rest of his life."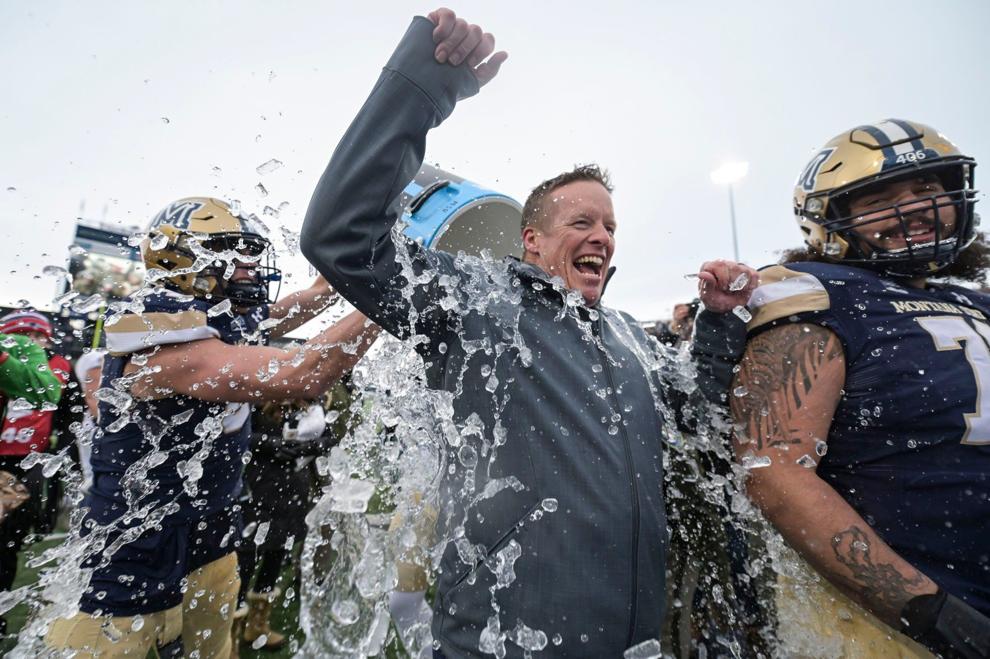 Without a doubt, the transition to Vigen was eased by the veteran leadership that remained in the MSU locker room upon Choate's departure. Guys like linebacker Troy Andersen, receiver Lance McCutcheon, quarterback Tucker Rovig, offensive lineman Lewis Kidd and defensive linemen Chase Benson, Daniel Hardy and Amandre Williams all helped keep the train on the tracks.
Vigen, in turn, relied on those veterans to ease his own burden in winning the hearts and minds of the players. Now Vigen is the winningest first-year coach in program history, having led the Bobcats to 12 victories for the first time since their last championship-winning season of 1984.
"I think that was the best thing — he was just going to be himself, he wasn't going to try to be me. I tip my hat to him," Choate said of Vigen. "The other thing he did that was really smart was he listened to the veteran leadership on that team.
"Our whole goal when we got there was a player-driven program, and you win in the locker room first. When the players are handling discipline in the locker room and the players are setting the standard for work ethic in the locker room, that's when you have a chance to be great. And we had gotten to that point."
MSU athletic director Leon Costello concurs.
"We wouldn't be where we are today without either of them," Costello said. "I just appreciate both of them for what they've done for this program."
From the outside looking in, Choate loves Montana State's chances against North Dakota State. Choate and MSU took some considerable playoff lumps against the Bison in consecutive seasons — a 52-10 defeat in the 2018 quarterfinals and a 42-14 loss in that 2019 semifinal, both at the Fargodome.
NDSU is striving for its ninth national title in the past 11 seasons and a continuation of an almost laughable run of success, but Choate said the Bobcats have what it takes to get over the hump against their postseason nemesis. The 20 years Vigen spent at NDSU (from 1993-2013) as both a player and an offensive assistant is no small reason for that belief.
"I really do think that they're the better team," Choate said. "I've watched a lot of FCS football this year and a lot of Montana State Bobcat football, and I think Montana State is the better, deeper team going into this.
"The style that they play and then the (playoff) draw … everything's fallen into place and it's really cool to see. And now they get a chance to go to a neutral site — and it's always easier to play those guys at a neutral site. And Brent coached against those guys and that defense in practice for a long time when he was at NDSU, and he's got some familiarity with what they do, and he's got a lot of experience being in this game as an assistant coach. So all those things are going to benefit them."
In the aftermath of MSU's semifinal victory over South Dakota State, Choate had several correspondence of congratulations from people who recognized the effort he and his hard-working staff put forth in the four seasons prior.
One text message from someone Choate described as an old friend in the coaching profession stated: "Leadership is about making others better as a result of your presence, and making sure that that impact lasts in your absence."
"And that," Choate said, "is kind of what I took away from the pride that you have of knowing you truly left it better than you found it."
Choate may now be on the outside looking in, but the next time he and Vigen meet face to face on the field, perhaps they'll embrace under even greater circumstances.
To celebrate a national championship.