BOZEMAN — Leon Costello technically started his day by making coffee and watching ESPN's "College GameDay" with his three children. But his Saturday really spurred into action once he found his traditional good luck hot dog.
"I still get nervous before every game," Montana State's athletic director says, recalling he started the habit years ago while working at South Dakota State. "I think it's because no matter where you are, you can always find a hot dog."
Costello's packed itinerary for the day centers around MSU's homecoming game against Cal Poly. He's usually on edge when the Bobcats play. He's looking for all the luck he can get.
It's just past 12:40 p.m. Saturday, and Montana State's football team kicks off in about 80 minutes. Costello makes his way through the airy atrium of the new Bobcat Athletic Complex, which hosted a social gathering of football recruits that morning. He picks up one of the leftover hot dogs — there's no relish available, so ketchup will have to suffice — and hopes for a good day.
Already this morning, he has made an appearance at the school's homecoming parade on Main Street and greeted the Bobcats players with fist bumps as they walked in their white tracksuits into the BAC, the glittering new 40,000-square-foot building that abuts the north end zone of Bobcat Stadium.
He also shakes plenty of hands outside with fans offering their congratulations on the new facility. He runs into a neighbor whose young daughter is eating a donut with sprinkles. He tells her to be on the lookout for Champ and impresses her with his knowledge of the Bobcat mascot's schedule.
"I love telling kids I know where Champ sleeps," he says later.
From there, Costello bounds up four flights of stairs — often two steps at a time — to reach the fifth-floor press box on the west side of the stadium. He meets with Sam Bogan, the director of emergency management, and receives a National Weather Service update for the day.
He learns the gray and overcast morning should eventually give way to a fairly sunny day. There is less than a 10% chance of precipitation, and no thunderstorms are expected.
"All the rain came in yesterday and last night," Bogan tells him.
Satisfied, Costello heads back downstairs. He doesn't like to take the elevator because it sometimes has a lengthy wait.
"I get a lot of steps in," he says.
12:10 p.m.
Gate 15, Bobcat Stadium
Costello keeps his head on a swivel as he's the recipient of countless high-fives and pats on the back throughout the day.
He shakes hands with Dick Harte, an MSU graduate and longtime booster, who is arranging the passes and uniforms for the day's sideline crew. Harte boasts that the same crew has been coming to Bobcats games for years all the way from places like Libby, Forsyth, Helena, Butte and Kalispell.
It's not new information for Costello to hear, but he marvels at the dedication of the group all the same.
12:20 p.m.
Brent Vigen's office
Head football coach Brent Vigen is wrapping up a tour of the BAC with the 15 or so recruits on campus, so Costello heads upstairs to the coach's vacant office.
From the windows looking east toward a tailgating lot, Costello heaps praise on the MSU faithful who have shown up for the game.
"I think like with anybody during the last 18 months, I think when you get something taken away from you, you don't want to take anything for granted," Costello says.
Costello thinks back to his first year as athletic director, in 2016, when the football team was 2-7 heading into Senior Day against UC Davis. He wasn't sure how many fans would show up to watch two losing teams. The attendance was tallied at more than 15,000, though, and MSU won 27-13.
He considers that day his most profound introduction to life at Montana State.
"I looked around and thought, 'This place is different. This place is truly amazing,'" Costello says.
A minute later, offensive coordinator Taylor Housewright appears in the doorway holding a hot dog dressed with ketchup.
"These are the best hot dogs I've ever eaten," Housewright says. "They said they're from somewhere around here. I swear, you gotta ask the chef, it's amazing."
Costello laughs and says he'll have to track one down.
"You have to," Housewright says.
Before he can, it's Costello's turn to meet with the recruits.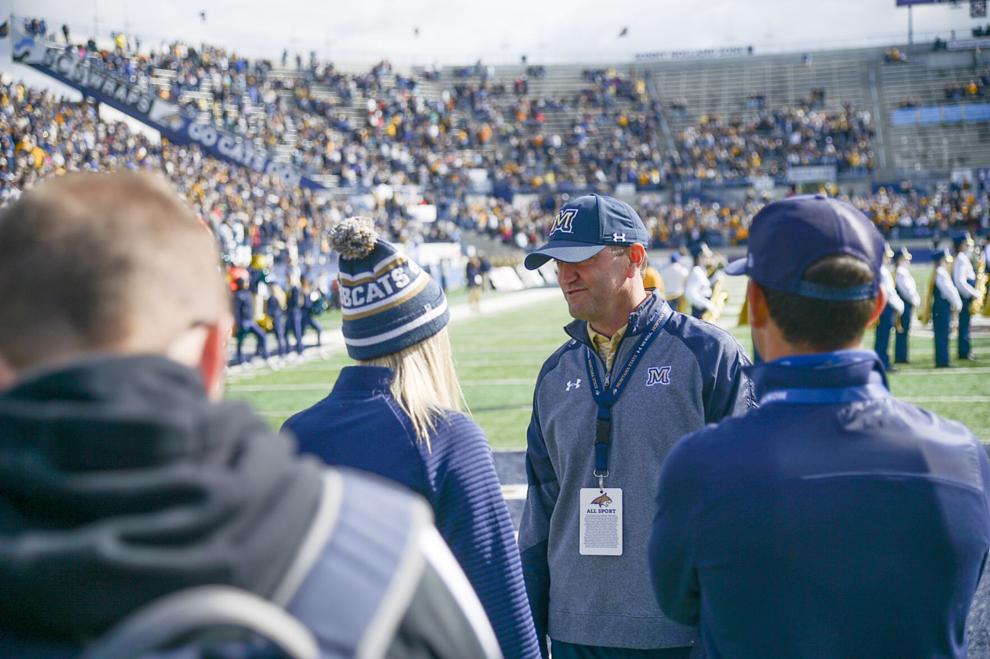 12:33 p.m.
Quarterback Club Team Room
Costello spends less than five minutes with the recruits. He centers his remarks on the program's academic resources and dietitian services, among other things, to show what student-athlete support looks like at MSU.
"To come and be able to fulfill your dream as a Division I student-athlete and graduate with a great degree, my job is to support that," Costello says. "My job is to find the resources to be able to fulfill that. This building is just one example."
1:05 p.m.
Section 101, Bobcat Stadium
Costello is back downstairs to find a hot dog on Housewright's recommendation. It lives up to the hype.
He walks back across the stadium to meet with Cal Poly athletic director Don Oberhelman, who is watching pregame warmups with team doctor Michael Corrigan.
Oberhelman congratulates Costello on the opening of a new athletics building and admires it in a way only a fellow AD truly can.
Oberhelman comments about the cold weather and jokes that the team plane was late taking off because it was a little heavy with all the extra clothing packed to combat the low temperatures.
The Mustangs are 1-4 entering the day and are starting a third-string quarterback following injuries to the first two earlier in the season. One of them was injured two weeks prior in a 39-7 loss to Montana on the Grizzlies' homecoming weekend.
"I'm tired of playing you guys for homecoming," Oberhelman says, laughing.
1:30 p.m.
Suite 502
Back upstairs in his own suite, Costello greets his wife, Heather, and their three kids — daughter Cailin, 11, and sons Michael, 9, and Griffin, 8.
About 45 people are invited to Costello's suite for this game. Some are potential donors, but most of Saturday's guests work for the contractors — Martel Construction, A&E Design, Crawford Architects, Tate Management — that helped make the BAC a reality. MSU head men's basketball coach Danny Sprinkle and some of his assistants also stop by.
Sitting in the front row of the suite is famed former football coach Sonny Holland. Costello says hello and then goes down two floors and meets briefly with MSU President Waded Cruzado.
By 2 p.m., Costello is on the field for the players' entrance.
He usually watches the game from the north end zone during the first half, in part because he helps with a few promotions during media timeouts.
In the first quarter, as former military member Cooper Rochin is honored on the field, Costello presents him with a signed football. Rochin then drops to one knee and proposes to his girlfriend, who was accompanying him for the moment.
She says yes, and Costello congratulates them both. He was told ahead of time by the promotions staff the proposal was coming.
"They kind of want me out of the way (for photos)," Costello jokes.
MSU takes a 7-0 lead late in the first quarter on a 9-yard pass from Matthew McKay to tight end Treyton Pickering. The Bobcats add to it on the first play of the second quarter, when running back Isaiah Ifanse scores on a 7-yard run.
"You're not stopping him," Costello says while clapping.
He takes in the scene of the roaring crowd and a field that is now bathed in sunlight. So far, the good luck hot dog appears to be working.
"This never gets old," Costello says.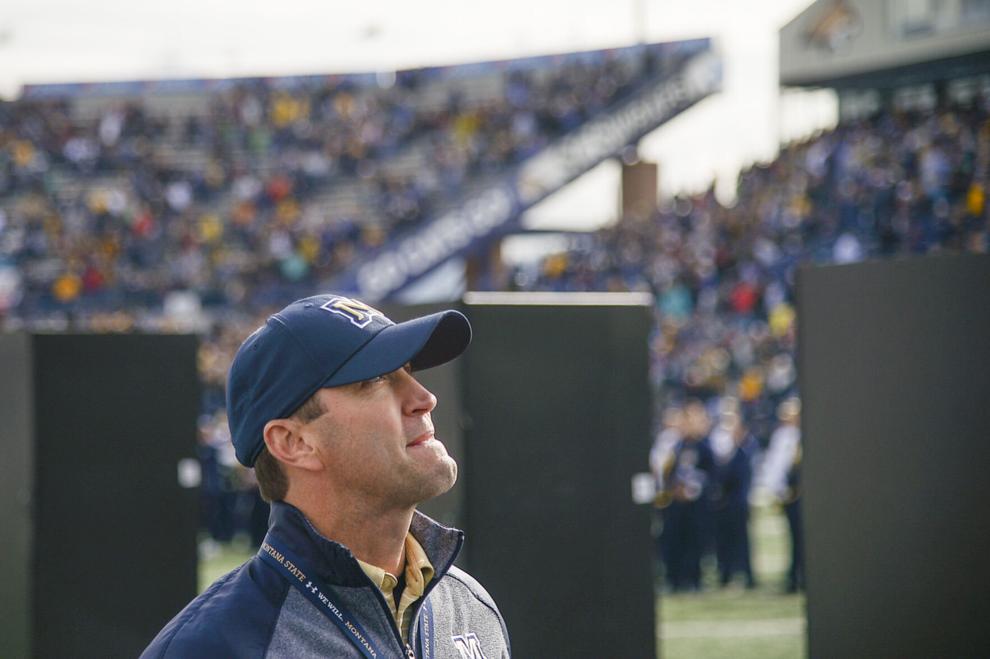 2:56 p.m.
North end zone
Costello welcomes several former MSU players in town for the game. Hanging out nearby are West Wilson (2014-17), Josh Perkins (1995-99), the father of walk-on starting center Justus Perkins, and Mike Person (2006-10), who went on to play in the NFL.
"I told them when we went through the (BAC), 'We're here because of you,'" Costello says later. "They're the foundation, and I want them to be proud when they come back. I want them to be excited to come back, and I also want them to know they're going to be welcome."
3:10-3:30 p.m.
Stadium Club and indoor suites
With MSU holding a two-touchdown lead, Costello heads inside to say hello to friends and boosters on the third and fourth floors of Bobcat Stadium.
Meanwhile, on the field, Ifanse scores twice more in the second quarter. Tommy Mellott also adds a 74-yard rushing touchdown.
While hopping from suite to suite on the fourth floor, Costello wears a wide grin.
"When I come to this level, good things happen," he says.
3:40 p.m.
Radio booth
Costello scrolls through FCS scores on his iPhone, and his eyes pop at each one.
Idaho State leads UC Davis 24-3. Eastern Washington leads Northern Colorado 53-17. Montana only leads Dixie State 10-0 in the second half.
During MSU's halftime, Costello goes on the air with Zach Mackey, the team's radio broadcaster, and discusses the excitement around a 35-0 halftime lead and the opening of the BAC.
"It's energy in the stadium, its energy on campus, its energy in the community, around the state and it's a pretty good time right now," he says. "We've got a lot of things going, but more to do."
Costello returns to his suite and watches the third quarter with his guests from there.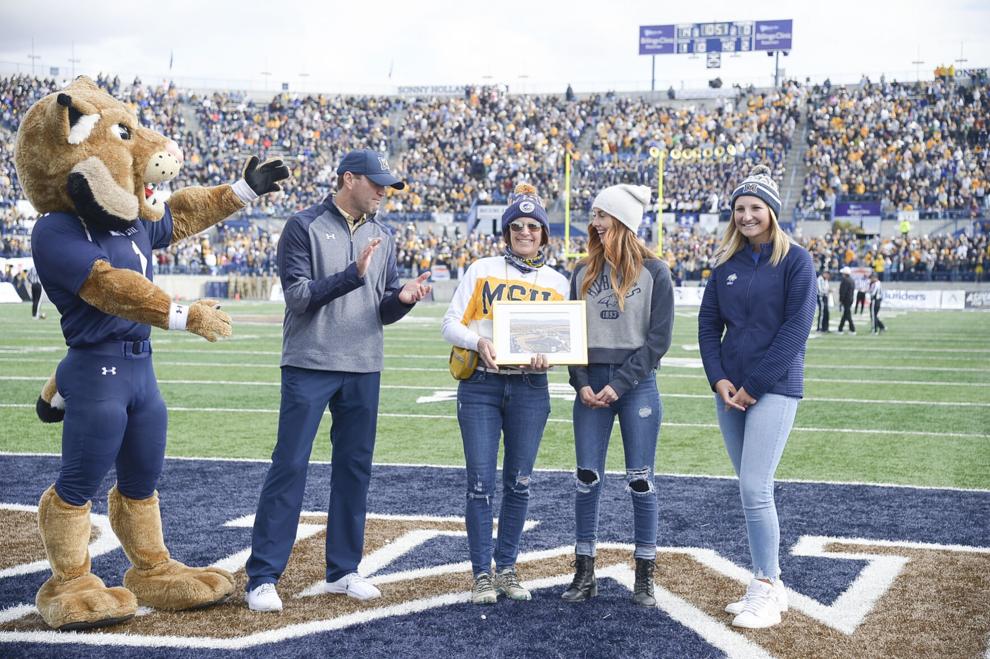 4:46 p.m.
Bobcats sideline
Costello brings his children down to the field for the last half of the fourth quarter. He struggles to convince Michael and Griffin to stay close to him and out of the way of people working.
The final buzzer sounds, and the scoreboard shows a 45-7 win against the Mustangs.
Cailin is excited.
"We beat them by more than the Griz," she yells.
5:10 p.m.
Bobcat Athletic Complex
Costello heads into the team's locker room to hear Vigen address the players, then listens to Vigen's press conference back upstairs in the Quarterback Club Team Room.
Vigen, in his first season, has led the team to a 5-1 record as the Bobcats are undefeated in Big Sky play.
"I think we're a pretty unified team, first off," Vigen tells the media. "A team that believes in one another, and that's so important."
Costello says afterward he's proud of the start Vigen has had and how he brought some new coaches into an established, successful program and kept the winning tradition alive.
"I don't want to say it was seamless, because I'm sure there were some difficult moments that I don't even know about," Costello says, "but from a casual observer it seems like it's gone very, very well."
He returns to his suite to grab a few things and lock up. He's taken 10,114 steps, according to his watch.
Costello looks at final scores on his phone and then takes stock of the day.
Montana ultimately won 31-14. Previously winless Idaho State pulled off a 27-17 upset of No. 7 UC Davis. No. 4 Eastern Washington toppled UNC 63-17.
"I want us to be in contention to win a conference title," he says. "If the conference leader is getting beat, I'm going to be excited. I want things to fall our way so we are in contention to have a shot at the end of the day to win a conference title."