BOZEMAN — After zeroing in on a Cal Poly receiver and sprinting to meet him, Jeffrey Manning Jr. laid a hit the moment a pass arrived.
The Montana State safety couldn't tell what happened after that. He only heard Bobcats fans hollering around him.
He looked up. The ball was in the hands of Tyrel Thomas, an MSU cornerback who was making his season debut. He had made one of the Bobcats' four interceptions for the day.
Considering this was their first time playing together — the two knew each other while growing up in California — Manning described the moment as "crazy."
But interceptions have become commonplace for the No. 9-ranked Bobcats (5-1, 3-0 Big Sky), who play at No. 19 Weber State (2-3, 1-1) at 8 p.m. Friday. MSU is tied for first in the FCS with 11 picks through six games.
"Relentless effort to the ball," MSU cornerback Eric Zambrano, who tallied the first interception of his career two weeks ago, said. "Just playing fast and physical every play."
Since the Bobcats have given the ball up just twice in 2021, one interception and one fumble, they are third in the country with a plus-1.67 turnover margin. They have often converted those picks into points, including three returned for touchdowns, which also ties them for first in the FCS.
The Bobcats have tallied at least one takeaway in 31 straight games.
"It's about pressure we're putting on, it's about our guys being fundamentally sound on the other end," MSU head coach Brent Vigen said, "and for the most part cashing in on those opportunities."
After averaging about one takeaway per game in their first few contests of the season, the Bobcats decided it wasn't enough. They emphasized attacking the ball.
MSU assistant defensive backs coach Kyle Risinger said the Bobcats' ability to steal possessions away will define their defense. They introduced the mantra of "takeaway week," and the players have embraced it.
"We know how to get the ball. We know how to make plays. It's only going to keep on going," Thomas said. "Once you get your first one, you want more. Everybody wants more.
"It's not even takeaway day, but it's takeaway week because it's happening weekly now."
Vigen figured most of MSU's interceptions to have happened when the Bobcats were in zone coverage. The players' eyes, he said, have been disciplined so they know exactly what to look out for.
He believes that's a result of MSU's drills they run through daily.
Risinger credited his position group for maximizing the opportunity it had while not playing in 2020. The Bobcats weren't distracted by the sorrow of the moment.
Instead, they studied the game to further comprehend offensive strategies and how they may approach coverages. Risinger felt they were rebuilding a foundation of knowledge. That's translated to production.
"These guys are wanting more details and coaching," Vigen said. "It's been really fun so far. We just have to keep it up."
Opposing quarterbacks have had little time to decipher MSU's defense. The Bobcats have 14 sacks and 10 QB hurries.
The Bobcats have also switched up their coverages with a mix of zone and man-to-man in an effort to confuse passers.
"We're prepared well, we know what we're going to see and we're finishing plays which is great," Risinger said. "But everything starts up front with those guys. They are what get us rolling."
The Bobcats' defensive backfield has succeeded despite a rotation due to injuries.
Thomas, who was originally slated to be MSU's primary nickelback, played in his first game back following knee surgery in August. However, he first suited up in MSU's win at Portland State in case of emergencies.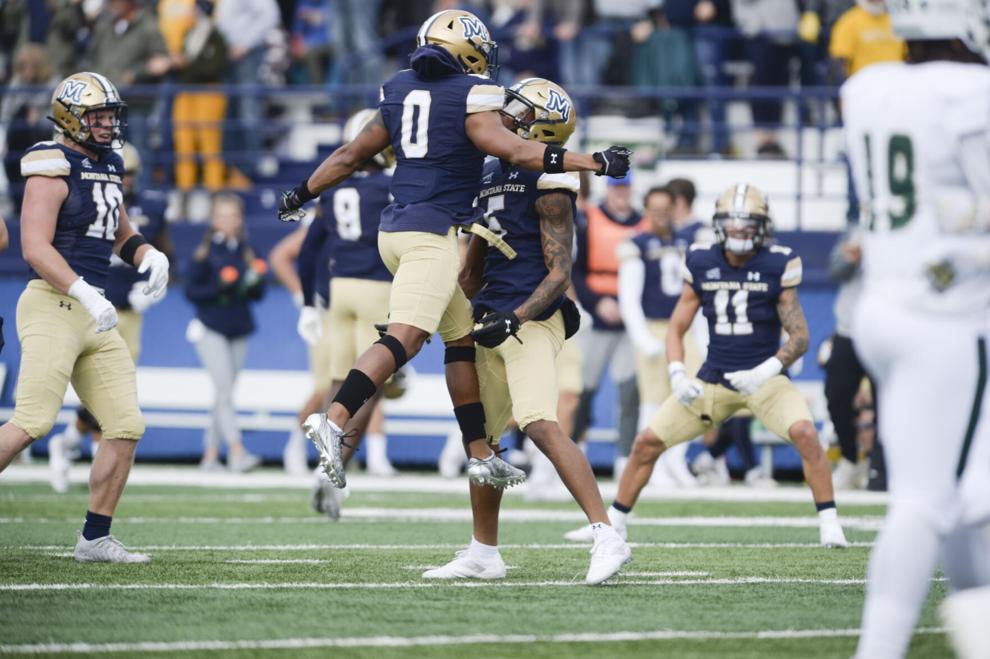 James Campbell, who converted from wide receiver to corner before the season, suffered an injury of his own during that Portland State game. Vigen anticipates Thomas will essentially take Campbell's spot. Other members of MSU's secondary have missed time as well.
But with Thomas out, Ty Okada moved back from safety to nickelback. He's tied with Manning and linebacker Callahan O'Reilly for a team-high two picks. Okada's move allowed for San Jose State transfer Tre Webb to become MSU's strong safety, and he's fourth on the team with 26 tackles.
Risinger said he foremost recruits for physicality. Second, he seeks defensive backs who capitalize on takeaways, not just ones who break up passes. He also prioritizes versatility in case of injuries.
"The more versatile you are, the more valuable you are and we have a lot of talent," Risinger said. "Very valuable and versatile group of guys that we have with a bunch of different skill sets."
The Bobcats have allowed the third-fewest points per game in the country (11.17), the fourth-fewest passing yards per game (152.7) and the ninth-fewest total yards per game (270).
But they're not satisfied, Manning said. They still have improvements to make.
"There's a standard we hold ourselves to," he said. "We play the sport of football, so I don't think it's ever going to be perfect. All we can really do is hone into our preparation and just execute at the highest level that we can."