Everything on the line, Brent Vigen was adamant he had made the right decision.
North Dakota State was hosting Georgia Southern with an FCS championship berth at stake. Vigen, then NDSU's offensive coordinator, was tasked with calling a play on fourth down, about 5 yards from the end zone, as the Bison trailed.
Craig Bohl, then the Bison's head coach who now holds the same position at Wyoming, believes this moment illustrates why Vigen was ready to become Montana State's head coach. Through their experiences together and all that Vigen learned along the way, he feels prepared to lead a program for the first time. That will be put to the test when the Bobcats open the season at 2 p.m. Saturday at Wyoming, his former team where he coached with Bohl for seven years.
On that fourth down in 2012, Bohl said Vigen had complete autonomy to call the play. Three timeouts, two by Georgia Southern, preceded the actual snap. Twice the Bison lined up, and twice their opponent successfully called out a quarterback run play was coming.
NDSU's staff began to wonder if this was the correct decision. Bohl, though, had trusted Vigen with the offense.
Vigen is typically imperturbable. But through his headset, Bohl heard Vigen slam his fist on a table in the press box, his language "fairly animated." Vigen saw how Georgia Southern was going to defend the play and knew the quarterback run would work.
"It's kind of like going to Las Vegas and betting the whole house on everything on this one play," Bohl said.
Bohl was willing to bet on Vigen. He was right. NDSU's Brock Jensen waltzed into the end zone. Nobody touched him. The perfect call.
"He's got ice running through his veins," Bohl said of Vigen. "He's not very emotional very often, but he certainly was there and when a lot of people were questioning him, he stood up with his convictions and held true.
"Don't ever underestimate his competitive nature because he can be sometimes calm, cool and collected. There's a tremendous competitor and a great winner there."
Vigen seemed to always be on a path to coaching. He was a son of a high school coach and grew up in Buxton, North Dakota, around the game. He then played at NDSU from 1993-97 and started at tight end during his junior and senior seasons.
Buffalo Bills linebackers coach Bob Babich was the Bison's head coach during Vigen's playing career. Babich took note of Vigen's intelligence and leadership qualities immediately, calling him "the ideal player to coach."
In fact, even when Vigen was playing, Babich regarded him as a mentor among his peers.
"He's extremely patient and calm," Babich said. "That is a great quality because as a head coach there's always something. Something is always going to come up and you got to keep your wits about you so that you can make rational and proper decisions. That's what he does extremely well."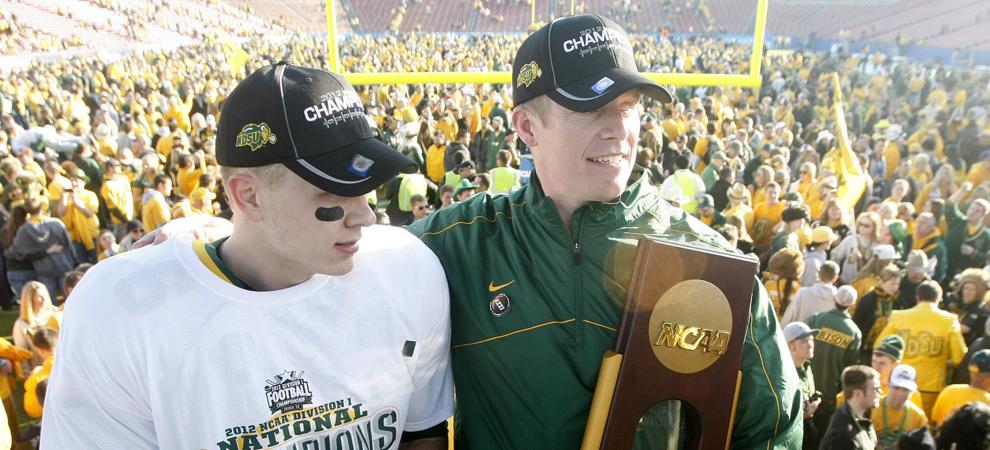 During his senior year, Vigen approached Babich about eventually coaching. Within short time, he was training arguably the most important position in sports: quarterback.
Vigen was surprised by Babich's trust. But he was ready.
"I think he saw something in the way that I saw the game," Vigen said. "As much as anything, getting those opportunities from him early were critical."
Vigen stayed at NDSU when his playing career concluded. He was a graduate assistant for three seasons (1998-2000) before working with tight ends in 2001 and quarterbacks in 2002. Babich leaned on Vigen, though he was inexperienced, for advice about difficult choices.
"There's no doubt his football IQ is outstanding," Babich said. "From the day I met him, I understood that he had a football mind and that football came very easy to him. … That's a big part of being the head coach is you've got to be able to see the big picture."
Babich's departure from NDSU was a pivot point in Vigen's career. He was in his late 20s, was newly married and now had no clear path forward.
When Bohl took over in 2003, those at the university encouraged him to keep Vigen on staff. Vigen, though, considered taking a job at another school.
Bohl scheduled a meeting with Vigen, along with the other coaches from the previous staff, for about a half hour.
"You're trying as a young coach to maybe tell him what you think he wants to hear," Vigen said with a smile. "So I don't know if I knocked that conversation out of the park by any means."
"He blushed and said, 'Well it's pretty hard for me to talk about myself and I'm pretty modest,'" Bohl recalled. "And I said, 'You've got about a half hour to save your job so you better start talking.' And he did."
Bohl already believed Vigen could bring value. Plus, Bohl confessed, NDSU had little wiggle room with its salary budget, so the young coach was a fit.
Vigen didn't have the same standing with a new staff. Sticking around, he said in reflection, was the best decision of his career. He learned more from Bohl and others, like former Bison defensive coordinator Gus Bradley who now holds the same position for the Las Vegas Raiders.
"I learned so much through those first couple years," Vigen said. "(Bohl) gave me a chance to prove myself."
Did it feel risky to stay at NDSU?
"If I went down the other path," Vigen wondered, "who knows?"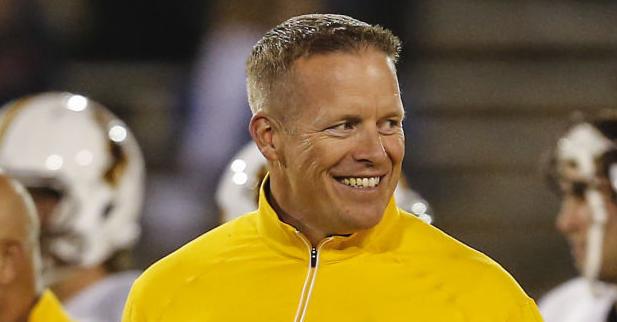 If Bradley had become NDSU's head coach instead of Bohl, which was nearly the case, Vigen's career may have taken a different route entirely. He may have even begun coaching defense. So while he was disappointed at the time Bohl was chosen, it forced Vigen to remain composed and gain knowledge he otherwise wouldn't have.
This episode gave Vigen lessons he still leans on. When he became the Bobcats' head coach, MSU was intent on retaining a majority of its coaching staff. So when he met with the entrenched assistants, he had been through the uncertainty now ahead of them.
"I knew one thing: I didn't want to beat around the bush with anybody," Vigen said. "We had conversations about what I was looking for and what they brought to the table and did not want to make anybody feel like those weren't real. I think sometimes head coaches come in and they have to speak to the assistants but there's really no substance to it because those decisions (whether to keep them on staff) have already been made. So I wanted to be as real as I could from the start and wanted continual feedback from those guys because what's been done here before and what they've been a part of is valued. It hasn't been perfect, but I think they've been willing to share those ideas and thoughts with me and also embrace some of the new things that we're looking to do."
Though it wasn't flawless, Vigen feels his transition at MSU was easy. He wanted to integrate his own style of coaching with a mix of new assistants, but he wished to respect how things were done previously as well. Flourishing relationships with the players, Vigen said, allowed them to become dedicated to his system and fostered a positive culture.
At MSU, Vigen grasped how to blend what a previous coaching staff had done with new ideas. This was just as Bohl did in the early 2000s as NDSU transitioned to Division I.
"It was really important that I jump on board," Vigen said, "and run with it."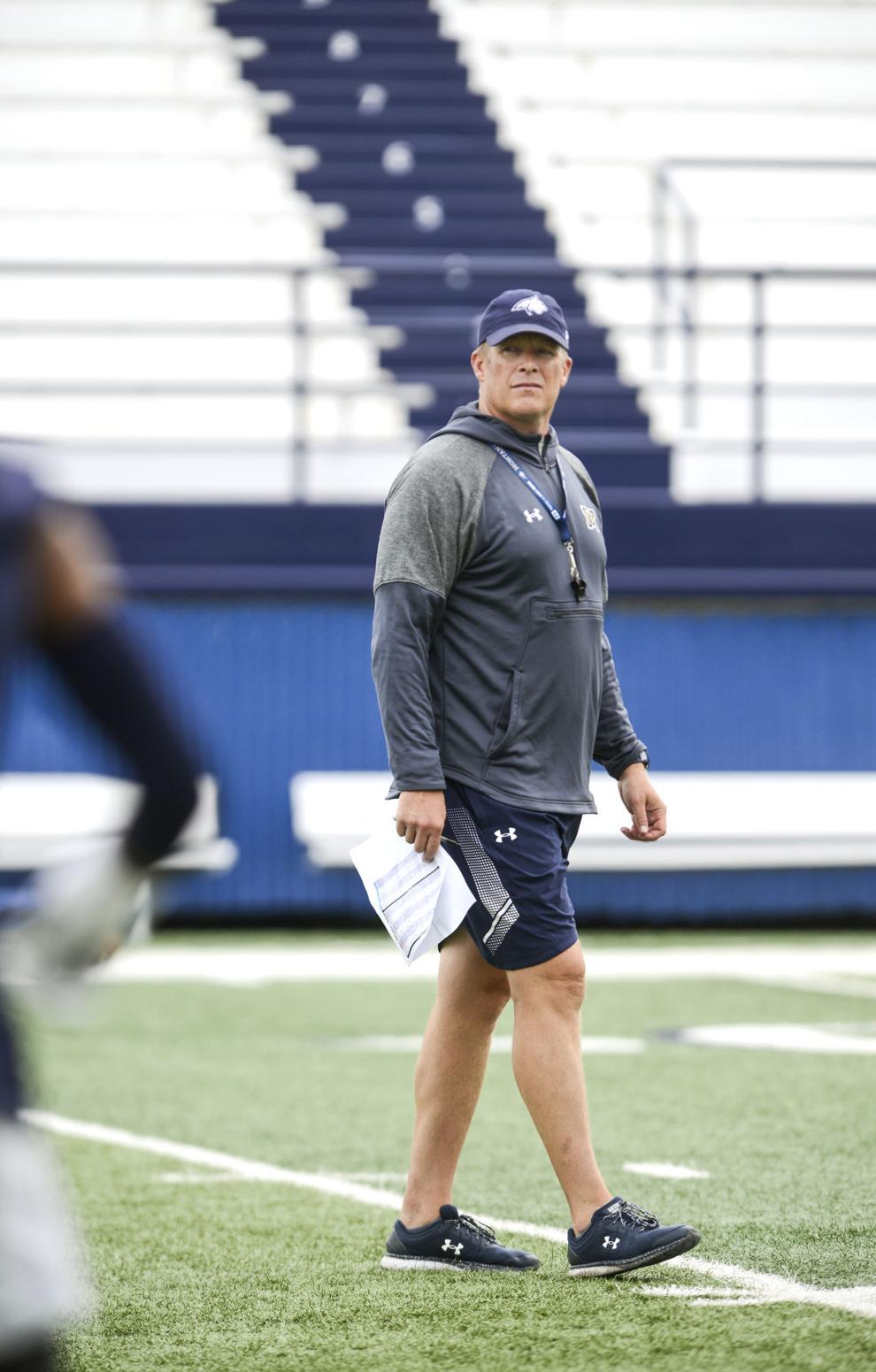 Bohl felt comfortable walking down the hall from his office to speak with Vigen at any time about complex matters, including player discipline, that only a head coach deals with. He didn't necessarily go to all of his staff members about these things. But he seemingly always turned to Vigen.
Vigen watched Bohl handle his job during a tumultuous time for the program.
Bohl successfully built relationships with boosters and people on campus, Vigen said. Bohl was organized and kept his focus on the right places.
Bohl lived up to his values, Vigen added. He refrained from micromanaging his staff, instead hiring people he trusted and then relied on them. Over the past seven months, Vigen hopes he's earned that same trust from the assistants at MSU who now answer to him.
Vigen especially admired how Bohl led his players to believe they could compete against any opponent.
"Just a very principled old school person you can believe in," Vigen said, "and he's going to trust you at the same time."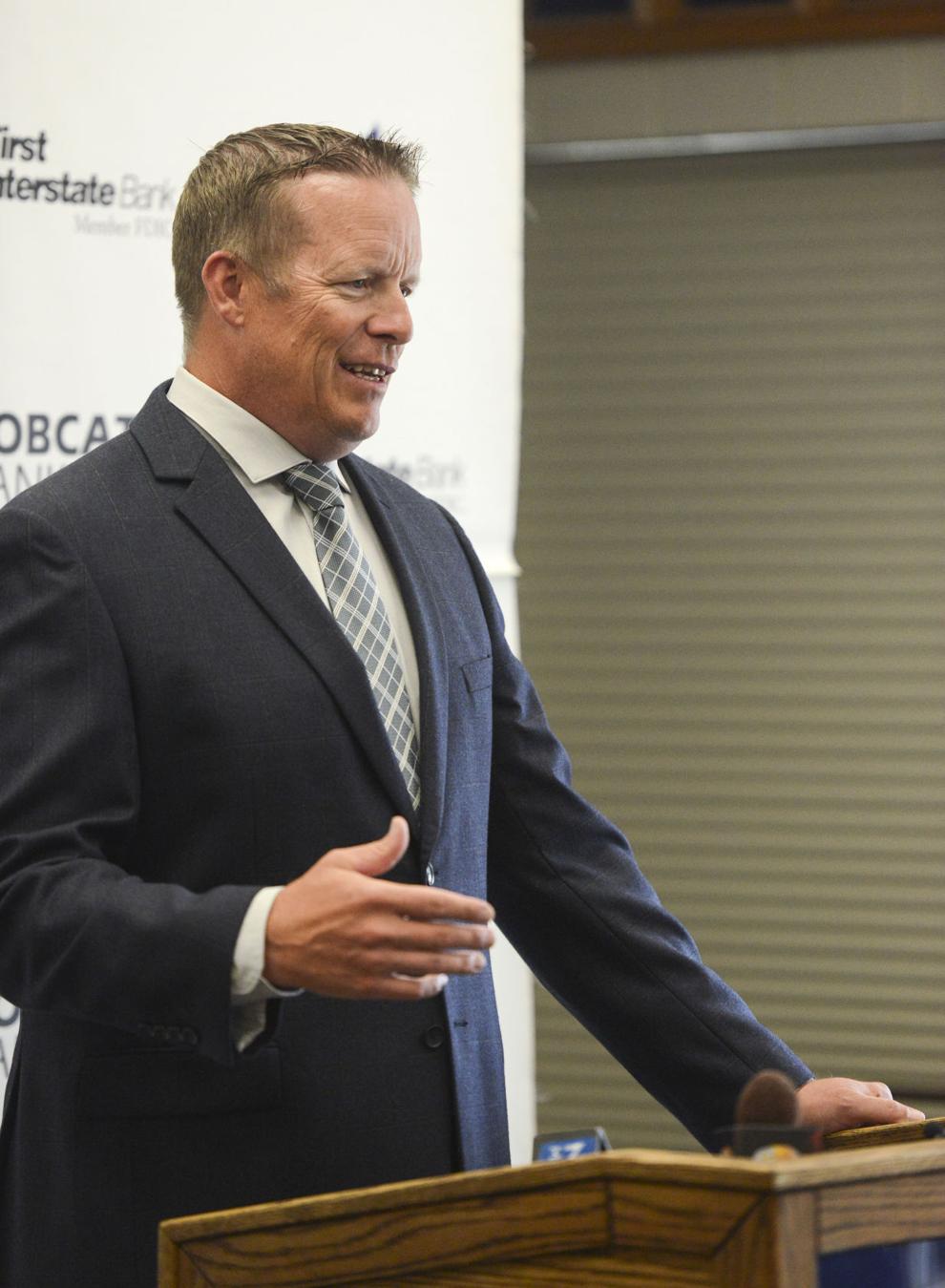 Vigen coached running backs in 2003 when Bohl took over. Gradually, Bohl entrusted Vigen with more responsibilities. From 2004-08, Vigen was NDSU's passing game coordinator and quarterbacks coach and was promoted to offensive coordinator after that.
Whatever position he was in, Vigen constantly sought out better ways to operate. This comforted Bohl as he entrusted Vigen to become "the No. 2 guy" on the staff.
Vigen recruited and developed talent like current Indianapolis Colts quarterback Carson Wentz and then eventually Buffalo Bills quarterback Josh Allen at Wyoming, among other NFL talent. Bohl anticipates these skills already make him well suited for the Bobcats.
"He's very unassuming," Bohl said. "He's not going to come in and try to be a huge car salesman and try to wow everybody with how smart he is. His ability to bring out the best in other people and make sure that they feel like they're the smartest guy in the room and the most talented guy, that's really important and that's why he's going to really thrive and be a great head coach."
Those who have worked with Vigen usually compliment him with common themes: his unflappable yet authentic demeanor and his cerebral approach.
Babich said Vigen is "just a good person." His integrity, Babich added, makes him an appealing choice to lead a program.
"Whoever he's talking to, he puts them at ease with his calmness but at the same time I would guarantee you this: that he will be able to make hard decisions," Babich said. "The program is the No. 1 priority."
As for his intelligence, Vigen routinely processes complex game plans and integrates educational structures with every practice drill. To Bohl, that takes somebody who can process a great deal of information.
"He's wickedly smart," Bohl said. "He's always about two steps ahead."
Vigen followed Bohl from NDSU to Wyoming in 2013 because he wanted to remain an offensive coordinator and call plays. But over the course of the last two years, Bohl said, Vigen began to consider becoming a head coach. He wanted to influence a program in other ways, like hiring his own assistants, engaging a community or working with recruiting as well as strength and development more closely.
Bohl was emotional when Vigen informed him he would be leaving. Vigen and his family, Bohl said, had been "dear to my heart for many years."
"Montana State is a great school in a great location," Bohl said, "and can be poised to really do some great things."
When he left his alma mater, Vigen said staying and becoming the head coach there "was a real conversation." He believed he could have been offered the job if he showed a desire. But he wanted to explore a new opportunity in Wyoming.
Vigen had another shot at the job when former Bison head coach Chris Klieman, who was NDSU's defensive coordinator when Vigen left, became Kansas State's head coach in 2019. Vigen said he had an "interview-ish" over the phone with NDSU athletic director Matt Larsen, but it didn't develop beyond that.
Vigen was adamant this year felt like the right time for him to transition to becoming a head coach.
"I was at peace with it," Vigen said. "It all kind of worked out. (Bozeman) is the right place for my family and I."
A simple principle in Vigen's mind: leave a place better than one finds it. At 46, Vigen may not remain at MSU for the rest of his career. Reminiscent of his predecessor, Jeff Choate, who is now the co-defensive coordinator at Texas, Vigen doesn't believe coaching and contentment mix.
However, he feels if he's thinking about his next job, he won't be the best he can in his current role. With the Bobcats, he finds himself surrounded by a team and fan base with high expectations.
He's alright with that. He embraces it.
Babich is convinced MSU will win plenty of games with Vigen at the helm.
"He's going to do a fantastic job," Babich said. "If I was doing the hiring, I would want to hire him in a heartbeat. I guess that's the best compliment I could give him."
Among the lessons Vigen learned from Bohl: belief is critical to any successful operation. Vigen has been tasked with instilling confidence in his players that not only can they compete on the road against an FBS team, they can win.
When Vigen returns to War Memorial Stadium, this won't be about reminiscing. He's fully aware of the obstacles ahead. His focus is solely on winning.