BOZEMAN — For several minutes, the Montana State volleyball team thought the Main Line Trophy would remain in its grasp. But a replay review overturned MSU's match-winning point, and rival Montana made the most of its second chance.
The Grizzlies (9-12, 4-7 Big Sky) beat the Bobcats (11-11, 7-4) in a five-set thriller Tuesday night at Shroyer gym, fighting off a spirited MSU comeback to earn their first Brawl of the Wild victory since 2019. UM won 25-16, 26-24, 22-25, 23-25, 17-15.
"I honestly don't have any words," UM defensive specialist Sarina Moreno told 406mtsports.com shortly after the win. "I'm so excited. Still shaking."
MSU swept the season's first Brawl of the Wild 25-20, 25-23, 25-17 in Missoula on Sept. 21. Tuesday's match started in a mirror image of the first one, with the Griz leading for almost all of the first set and overcoming several early deficits in the second. UM withstood every Bobcat charge to take a 2-0 lead.
"Our serve-receive broke down at times," said MSU coach Daniel Jones. "Our communication suffered because we were under pressure, because they were putting us under pressure."
A back-and-forth third set went the Bobcats' way, with a 7-3 run to turn a small deficit into a three-point win.
UM went ahead 20-12 in the fourth set, just like it did in the first. But MSU stormed back, tying it up at 22-22 and finishing with three straight points. The Bobcats went on a 13-3 run to cap the set.
"To do that shows what we're capable of. The frustration is that we do that in moments and spurts, and we lack that consistency," Jones said. "But to have that fight and be able to fight into that moment was outstanding. Extremely proud of them."
The Griz answered a 4-0 MSU run with a 5-0 run to take an 11-8 lead in the fifth set, and they went up 13-11. The Bobcats took four of the next five to put themselves one point away from winning the match.
They thought they had the victory on a block from Jordan Radick, a freshman from Bozeman. But UM coach Allison Lawrence challenged the play, not Radick's block but when MSU's Kira Thomsen went up for a kill earlier in the rally. The officials originally ruled Thomsen's spike was blocked. The Griz contended the ball hit the net, not any of their players. That would negate everything that happened after it.
After a long review, the referee overturned the call, changing the 16-14 MSU win to a 15-15 tie. Jones didn't take issue with the call, and the official who did the review told him "she wouldn't overrule it unless she was 100% sure that there was not a touch on the block," he said.
MSU momentarily had the win, but UM is challenged the call and got it overturned. Official ruled that the ball never got over the net. pic.twitter.com/Ftmf0LNG5L

— Victor Flores (@VictorFlores406) October 27, 2021
The Griz earned the next point on an MSU miscue. One play later, sophomore Paige Clark spiked her 16th kill of the night to end the match. No challenge necessary.
"This rivalry always feels fitting when it comes down to a play or two," Lawrence said. "To have it be that tight down the stretch, I think that's really indicative of what this brings out of both teams, everybody's best, which is what makes it so fun."
Clark fell to her knees right after her match winner, then joined her screaming teammates in a celebratory huddle.
"It's honestly the best way to go out," said Moreno, a senior who graduated from Missoula Sentinel. "Last time playing in this gym, obviously a lot of emotions going into it. I just wanted to win so bad. I'm so happy we were able to do it."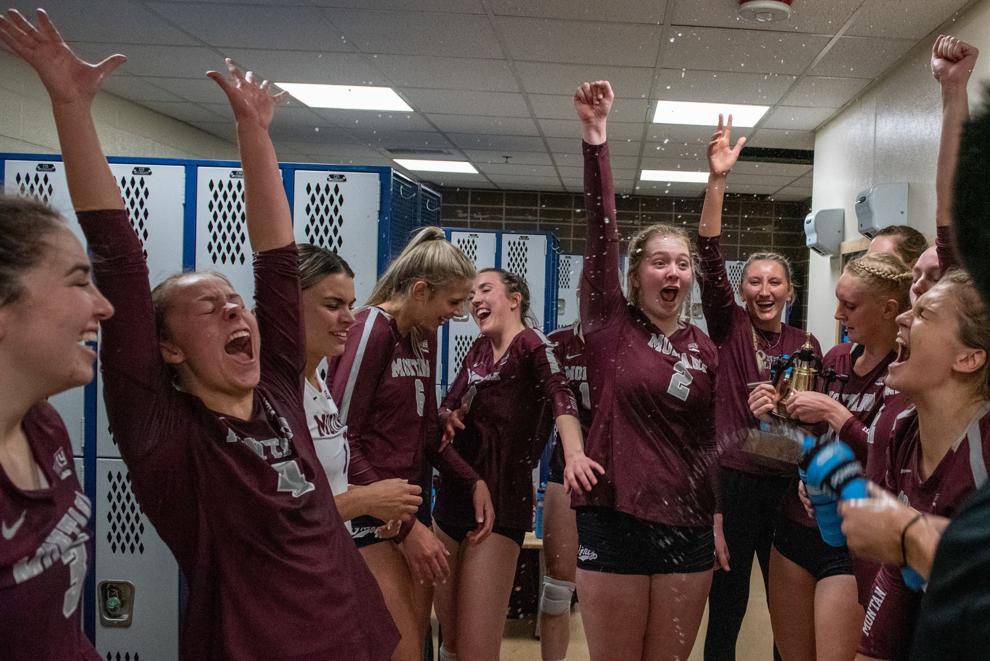 Clark finished one kill behind the team leader, Catie Semadeni. Carly Anderson had a match-high 47 assists as well as 25 digs, Jackie Howell had a match-best 29 digs and Moreno added 14 assists and 13 digs.
MSU's Hannah Scott led all players with 19 kills and chipped in 15 digs, Libby Christensen led the Bobcats with 22 digs and Bozeman graduate Allie Lynch had a team-high 33 assists to go along with 11 digs.
"We went on this emotional high to get set four, and then, again, you get an emotional high to have match point in set five," Jones said. "I think our emotions kind of got the better of us at the end."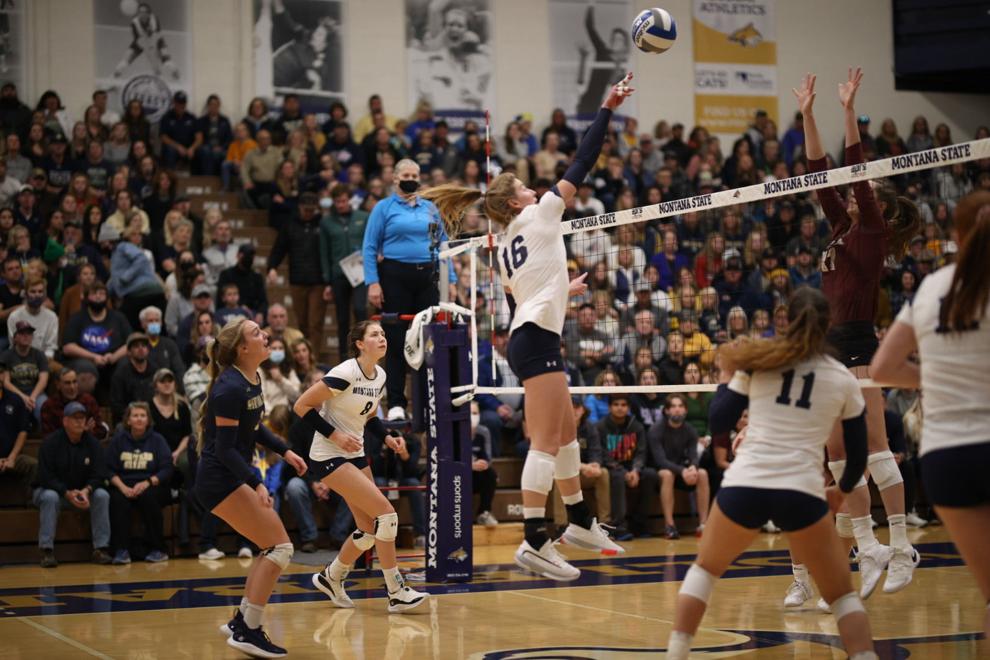 The last time UM beat MSU was Oct. 29, 2019 in four sets at Shroyer Gym. Last season, the Bobcats earned a five-set win in Missoula and swept the Griz in Bozeman.
Neither of those matches, held on Feb. 14 and 15, had spectators because of COVID-19 restrictions. The pandemic is still going — and raging in Montana — but fans were allowed to attend both Brawl of the Wild volleyball matches this fall. MSU, which is not requiring masks or vaccinations for spectators, announced an attendance of 1,500 for Tuesday's match.
UM has six seniors: Moreno, Peyten Boutwell, Elsa Godwin (a Sentinel graduate), Elise Jolly, Holly Manchester and Kelsey Nestegard. MSU has four: Christensen, Lynch, Scott and Emma West.
Barring another meeting in next month's Big Sky tournament, Tuesday's match was the final Brawl of the Wild for those 10 players.
"Sarina and Elsa, especially, have kind of been through it with the program. It makes me emotional," Lawrence said. "To see it in their eyes when they come here and know the way they want to finish every last match in every away gym just says a lot about their character and their gift to the program moving forward.
"You reach that moment with your seniors where you want to extend your time with them infinitely. For them to be fighting for more time, too, as we're fighting for wins and getting to the conference tournament and spending more time together, it's really meaningful."