BILLINGS — At 11:30 p.m. on Dec. 28, Bruce Parker's cellphone chimed and the bright "Mayo" on the screen told his wife, Lisa, that an answer to nearly two years of prayers had finally arrived.
The Mayo Clinic in Scottsdale, Arizona, was calling to inform Lisa that one family's tragedy had become a new lease on life for the Billings couple. A cadaver had arrived with healthy organs, including the one needed by Montana's most decorated collegiate athletic director. 
A kidney.
It should have been a moment for celebration. Instead, and excruciatingly, the previous day Bruce had entered a hospital near their winter home in Gilbert, Arizona, with the latest in a seemingly interminable list of health battles — this time pneumonia — since his diabetes diagnosis 20 years ago at age 42. 
"I was devastated," Bruce says now of news Lisa kept secret for six days, fearing the emotional drain would impair his physical recovery. "I've been waiting over 900 days for this. Now here's my chance and I can't take it."
Now recovered from the pneumonia and a subsequent blood ailment, Bruce is back in Billings — and back to waiting for another call that could come at 3 a.m. or 3 p.m. next week, next month or next year, giving the Parkers one hour to decide if the kidney has a suitable history and eight to reach a clinic 1,220 miles away.
When it happens, and assuming Parker, 62, is healthy enough, the next ring will go to a friend with a jet at the Billings airport. 
"I got my kidney man," he will say to the friend, who has been on committed standby since Parker entered the Mayo's kidney-transplant program in the summer of 2018. "Let's go."
If all goes as scripted, Parker will awaken from surgery a new man. His devolving battle with kidney disease and dialysis — so physically and emotionally crushing he says he's occasionally contemplated suicide — will at last be behind them.
Parker will have to take anti-rejection medications until his last breath, and the diabetes-related erosion of his limbs and eyes will remain, but he'll be finished with dialysis and its relentless drag on the rest of his body and mind.
"If you're a golfer like he is, it's, 'I can do the back nine now rather than the putt-putt range,'" explains Michael Ganz, Parker's Billings nephrologist, describing the upgrade in layman's terms. "Almost to a letter each of the patients says, 'Wow, I didn't realize I felt so poorly. I have much greater energy and I'm able to push through things'. For a transplant guy in his early 60s, it provides a great quality of life. They are truly liberated."
Said Parker: "I'm very excited because, one, it's going to help me, and two, I love my wife and my sons (Ryan and Brett) and my granddaughter, and I want to be around to see them.
"I don't want to go away."
A way of life
Keeping such faith hasn't been easy.
In the past 15 months alone, Parker has been separately hospitalized 22 days for diverticulitis, 17 for a stroke, 15 for pneumonia, 26 for a blood disorder, and a week in intensive care for his latest pneumonia scare. He undergoes dialysis basically every other day for four hours.
Each morning, Lisa guides him to the bathroom, removes his pajamas, bathes and dresses him. She chauffeurs him everywhere, mostly to connect with their prolific network of friends across Montana and to attend athletic events at Rocky Mountain College, MSU Billings and high schools.
Neuropathy has drained feeling and strength from his lower arms and legs, and he now requires a walker. His optic nerves are so compromised he hasn't driven in two years, though he still manages to do TV commentary for sporting events thanks to his broadcast cohorts, a feel for the games and Lisa reading him copious game notes.
Every day is a struggle.
"The greatest thing about this," he says, his eyes welling with mist while gazing at Lisa, "is I have the most wonderful caregiver in the world."
Despite the litany of physical impairments, Parker's baritone voice still fills a room and reflects a passion for people and sports that carried him from his beginnings as a 22-year-old sports information director at Montana State to stints as athletic director at Carroll College and Rocky.
When he was inducted on Valentine's Day into the Hall of Fame at his alma mater, Montana State Billings — forever Eastern Montana College in his heart — it was his fifth such enshrinement, including two national halls. Later this month, MSU will induct him for a second time, with basketball teams from the mid-1980s.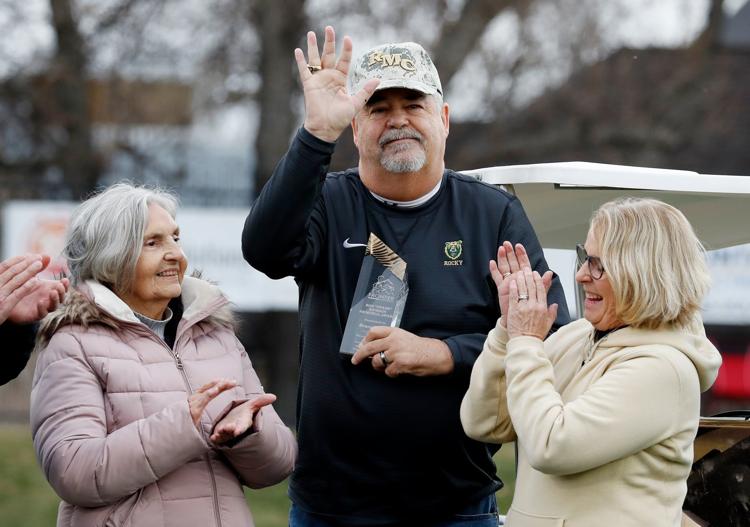 With pep in his speech, Parker recites some of the more memorable accomplishments under his watch and the roles he played in them until his ailment forced a reluctant retirement from Rocky in 2018: Adding eight sports at Carroll, renovating Herb Klindt Field at Rocky, and landing the NAIA national women's basketball tournament for Billings. He was Frontier Conference AD of the Year nine times at Carroll and is a four-time national NAIA winner. Carroll won six national football titles in his tenure.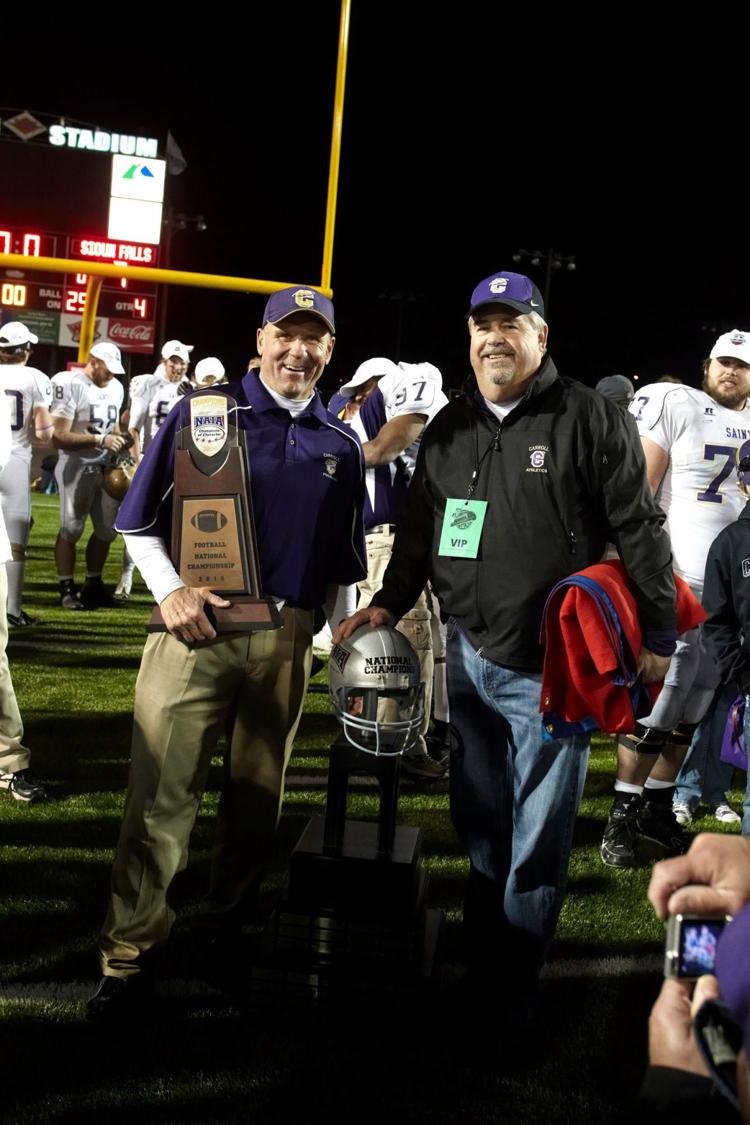 "I'd like to think the three schools I've been at I've made positive changes," he says, adding: "I won awards because I worked with good people, and I believe that."
Parker has been immersed in athletics from his earliest remembrances as a "U.S. Steel brat," his family moving from Chicago to Cleveland to Albuquerque to Milwaukee to Denver and eventually to Billings. He competed in football, basketball and tennis at Senior High, where he met Lisa, who was a year behind him.
He played football for a year at EMC until injuring his back and switching to tennis for four seasons; all the while he'd broadcast EMC, Billings Senior and Red Lodge High events on the radio. Hired at MSU fresh out of college, his career road eventually took an 18-month detour at Eastman-Kodak in Texas before college sports called to him again, first for six months in sports information at Eastern Washington and then back at MSU as an associate AD for marketing, fundraising and corporate sponsorships.
He left MSU for Carroll in 2003 and stayed 11 years before returning home to Rocky.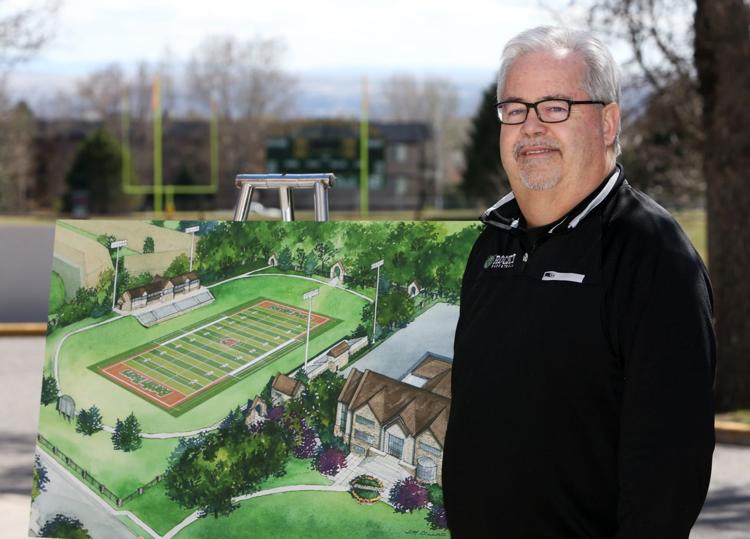 Parker always had a robust physique but remembers himself as healthy until he turned 42. Change came suddenly, on a summer road trip to Lake Tahoe, California, with Ryan's basketball team. He most remembers feeling unquenchably parched.
"I felt like I could drink Lake Tahoe," he said. "So I knew something was wrong. Right then I said, 'I have diabetes.'"
Parker's family medical history already had his attention, most notably a brother who had adult onset diabetes and died of a heart attack and stroke at 45. His father succumbed to a heart attack at 48, and his mother passed from congestive heart failure at 76. A diabetic aunt required kidney dialysis until she surrendered.
Upon his return from California, Parker was put on an insulin regimen, which continued for 15 years until his move from Carroll to Rocky five-plus years ago. There, he said, he began feeling weaker and fatigued, often falling asleep at his desk.
In 2017, he saw a Billings nephrologist, who gave him a jolting assessment: "You need a kidney transplant." 
"It was like he hit me right in the mouth with it," Parker said.
When that doctor left town, Parker met with Ganz and another Billings physician, Neal Sorensen. 
"Unfortunately, we connected when he probably was at what we call late Stage IV or early Stage V kidney disease," Ganz recalled. "It was pretty late in the course. You're somewhere around 20% kidney function. Probably the most difficult thing was sitting down with him and Lisa and talking about all the strategies to try to slow the progression of the disease. When you're that far into kidney disease, it's a matter of time. You're talking about buying months at the very most, not years."
Parker began dialysis, first at home and later at a clinic. All was grudgingly manageable until Thanksgiving Day 2018, when Lisa rushed him to the hospital, where he remained three weeks for an infected colon. A couple weeks later, just after the new year, he suffered a stroke during dialysis.
"Who are you?" Lisa remembers him asking when she walked into his room at St. Vincent's.
"But more important," she added, "he looked at his cellphone and looked at the (TV) remote control and didn't know what those were. I thought, 'We have a problem here.'"
Parker eventually was moved to New Hope Rehab for speech, physical and occupational therapies. He had to learn to speak coherently again.
Among his many low days fighting kidney disease, those were his absolute nadir — even as his speech and other motor functions gradually returned. The futility evoked images of his aunt, who lost the will to fight and, fully knowing the consequences, ceased dialysis; within 10 days, she was gone.
"There's times when you go through this it runs through your mind, 'Do I want to keep going?' " he said. "I'm thinking, 'I can't do it anymore'. But there's so many people who care about me and want me to live. You have to want to live. And there's a lot of reasons for me to live."
Said Ganz: "Lesser people have given up. It doesn't take much to be demoralized with this process."
Waiting for a donor
By then, in the summer of 2018, Ganz and Sorensen had begun serious transplant talk. The operation isn't available in Montana, and the Parkers chose the Mayo Clinic because of its proximity to Gilbert.
Over five days the Parkers met with surgeons, social workers, psychiatrists and others, "to see if I'm OK here," Bruce said. Lisa had to attend a care-givers seminar.
The medical team told them one of three outcomes would ensue: Thumbs down, deferral for more testing, or thumbs up. Ganz said hundreds of thousands of people need transplants and only 10,000-15,000 receive them each year.
Two weeks later, a letter arrived from Scottsdale. The Parkers breathed deep relief upon learning Bruce was added to a donor list.
When the surgery does happen, the new kidney will join the two failing "native kidneys,"
"I never want to make a transplant a routine surgery, but it's gotten hugely better and safer," Ganz said, adding with a laugh about having three kidneys: "He'll be going to a zone defense instead of a man-to-man. That one kidney will do the work of two. With a nice, healthy kidney it will be as if he has 100% kidney function."
Occasionally Parker chastises himself for inattentiveness to his health — "I would encourage people to take care of diabetes because it can lead to things that aren't very fun," he said — but all he can do now is soldier on one day at a time.
Ganz appreciates the message. After all, kidney disease hits 40% of people with diabetes.
"Diabetes is powerful," he said. "It's impact on medical care is enormous. It's critically important to keep sugar under control, to keep blood pressure under control. The message of paying attention to what you are and where you're at is a huge message."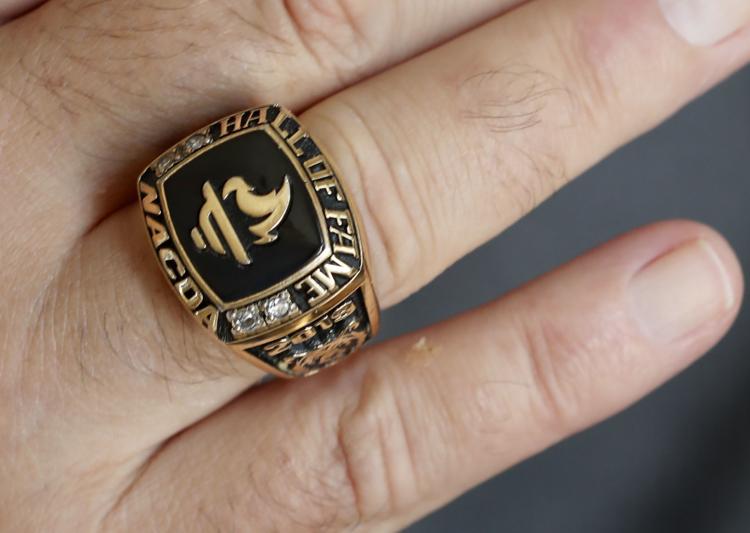 Having to pass on that first kidney was devastating, yes, but Ganz has reassured the Parkers it is a harbinger of hope and that "he's probably not far from having an opportunity for another." 
Which means that now, more than ever, when a cellphone lights up with "Mayo" Montana's most decorated AD will be even more hopeful for the bittersweet possibility that one family's tragedy has become their new lease on life.