MISSOULA — The UC San Diego Tritons were pesky.
The former Division II program that lit up teams in the lower level — now in its second season at the D-I ranks — was a tough team for the Montana Grizzlies to put away in each team's opener of the Zootown Classic at Dahlberg Arena Wednesday night.
It ended as a wire-to-wire win for the Grizzlies, despite that peskiness. The Tritons had things close down 51-45, keeping the host Grizzlies to 1 of 9 shooting over a few minutes. Then, the Tritons left sophomore forward Josh Bannan a little too open from deep and shortly after left marksman Lonnell Martin Jr. wide open in the corner for a triple.
The back-to-back treys ignited an 8-0 run, and Montana kept pace the rest of the way to open their event with a 71-61 win over the Tritons.
"They weren't going to go away," Grizzlies head coach Travis DeCuire said of the Tritons. "That's a team with a plan, a lot of confidence and a lot of shooters."
Montana (3-2) earned its second win in a row, staying perfect at 3-0 at home, while UC San Diego fell for the first time this season and drops to 4-1.
The Tritons kept pulling back in the game to make things interesting late.
Montana took an 11-point lead off that Bannan trey, then increased it to 14 when Martin canned one. It ballooned to 16 when Scott Blakney scored inside for the largest lead of the night. 
The game was close for basically the entire night except for that stretch in the second half between the 7:57 and 1:59 marks when the Grizzlies went up by double digits. But Tritons guard Kaden Rasheed hit a 3-pointer to make it a seven-point game with 1:57 left. However, a pair of free throws by Robby Beasley and a floater from Brandon Whitney that drew a foul with around a minute left put the game away for good.
Photos: Montana Griz basketball downs UC San Diego
Griz vs. UC San Diego 01
Griz vs. UC San Diego 02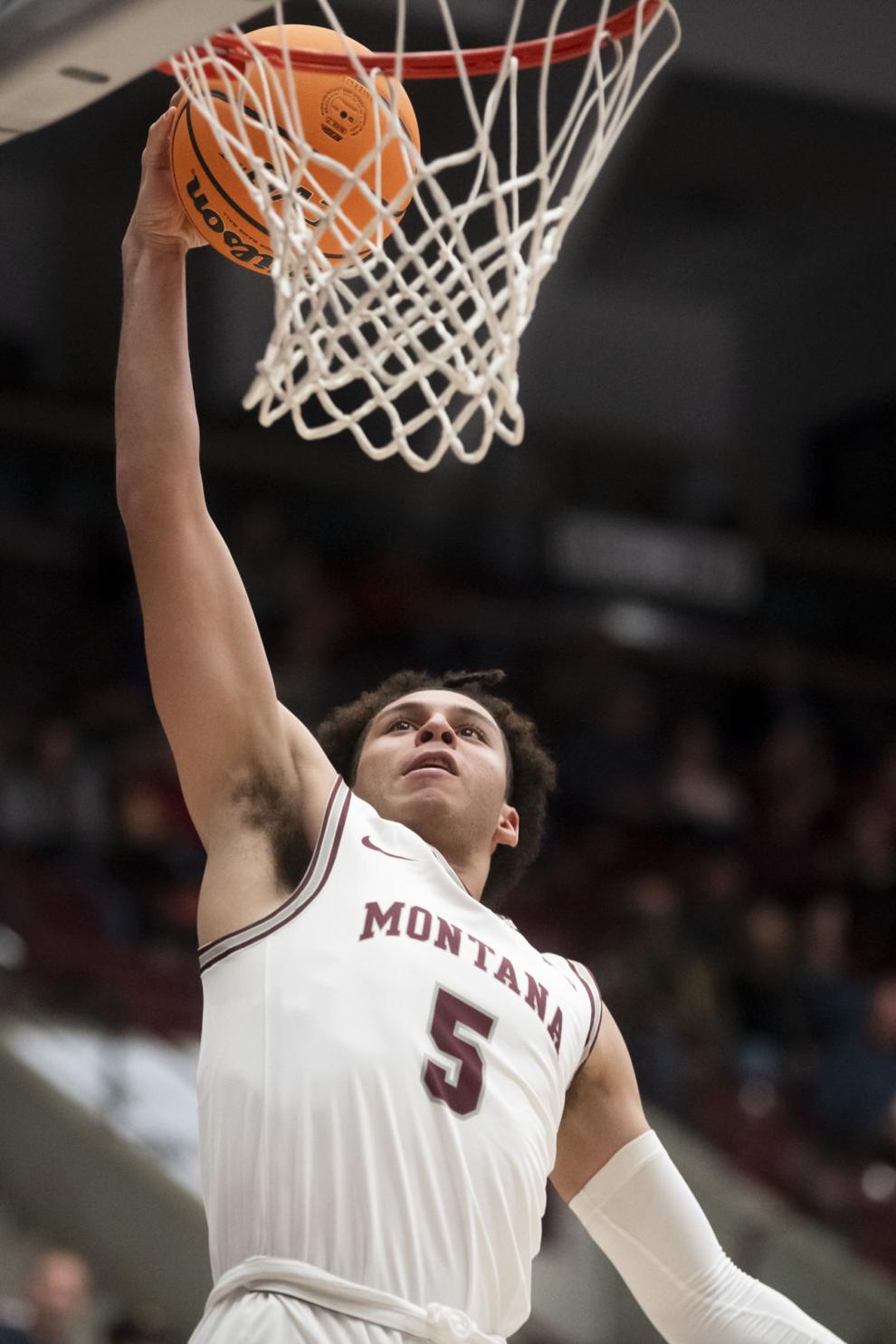 Griz vs. UC San Diego 03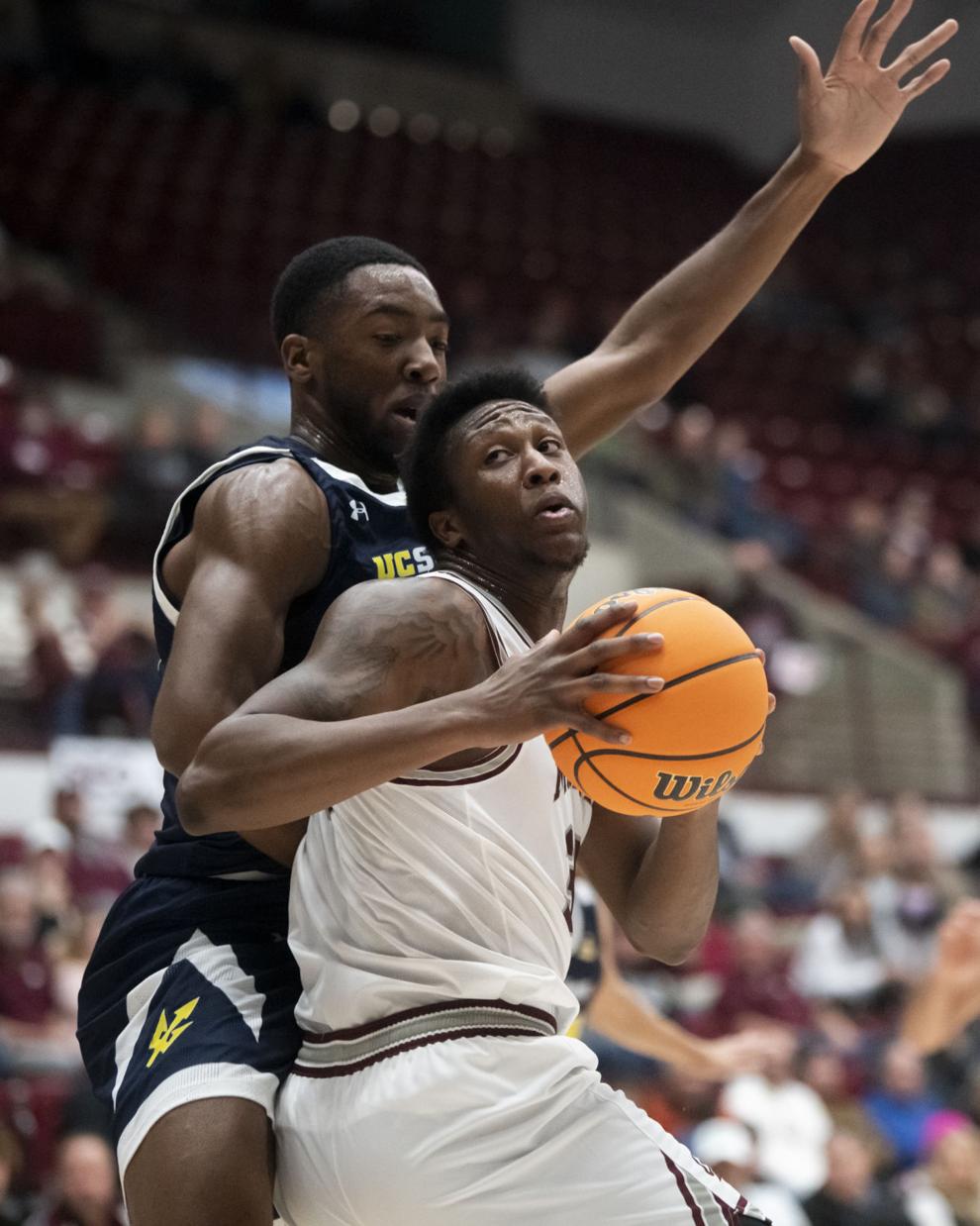 Griz vs. UC San Diego 04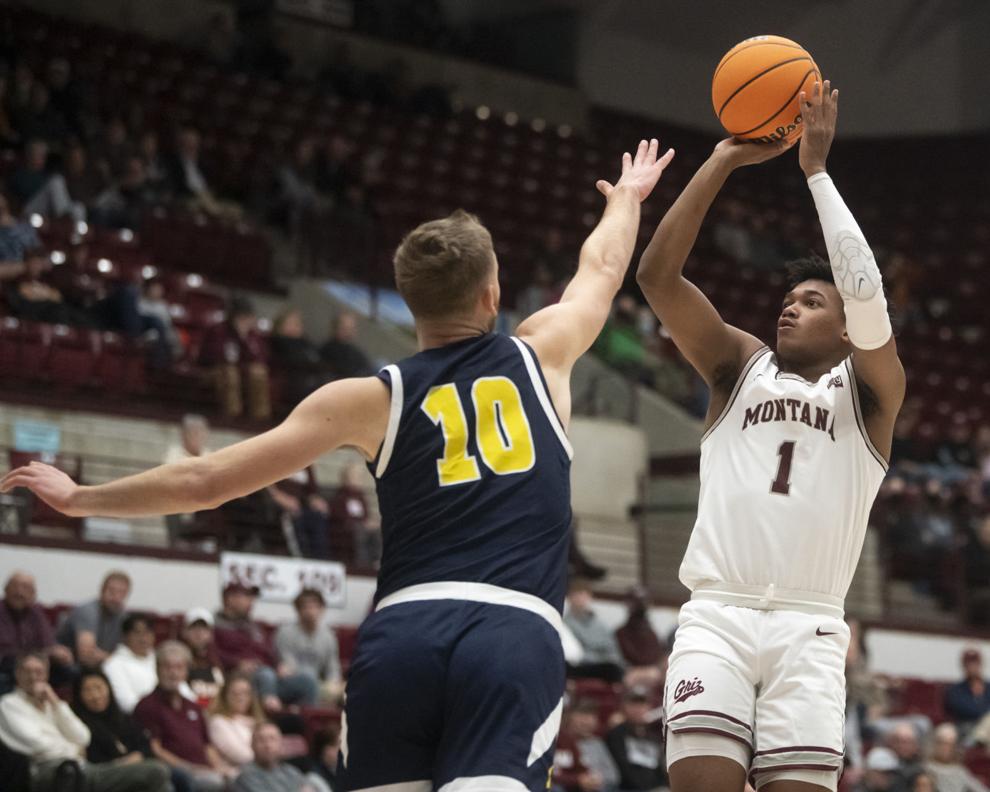 Griz vs. UC San Diego 05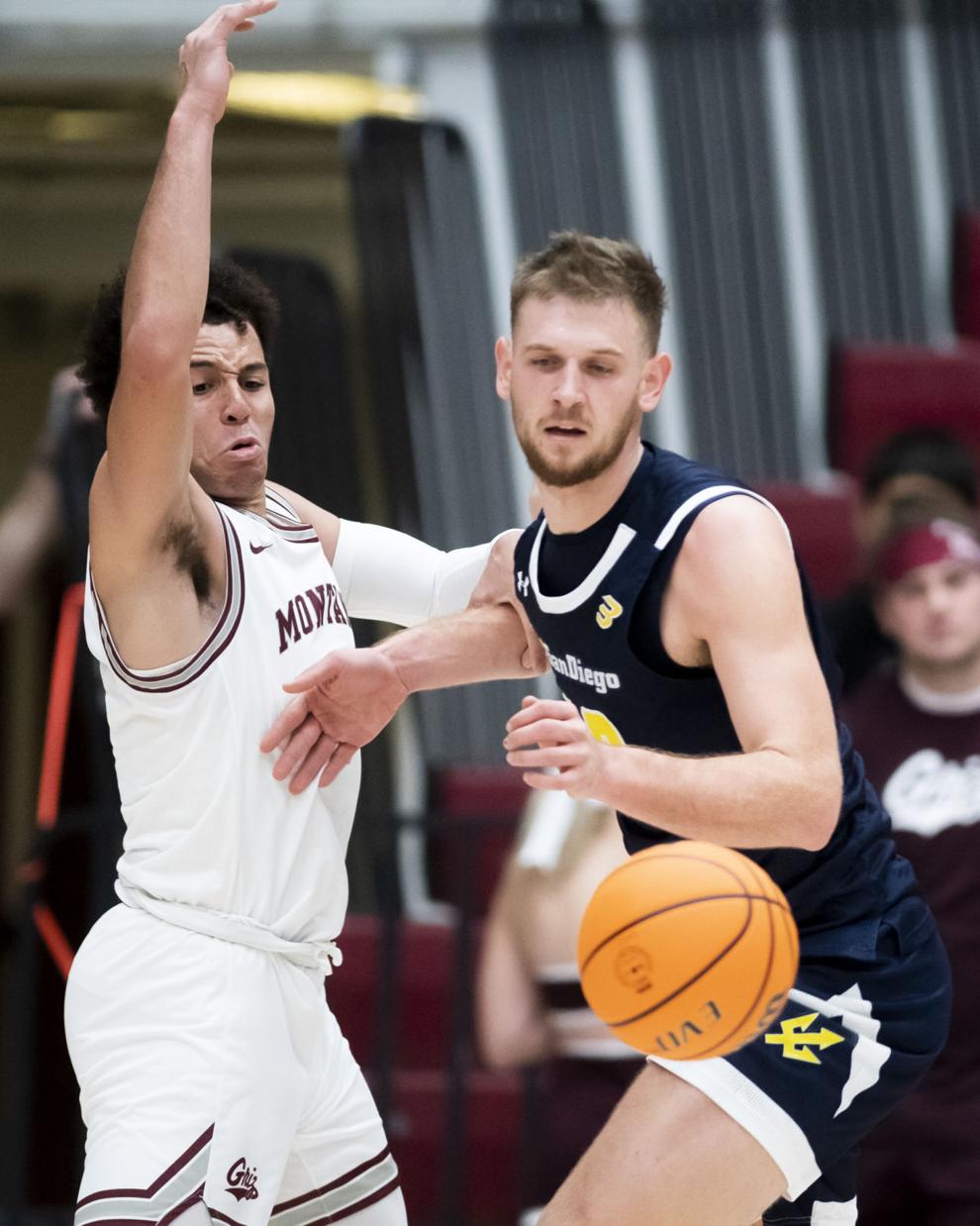 Griz vs. UC San Diego 06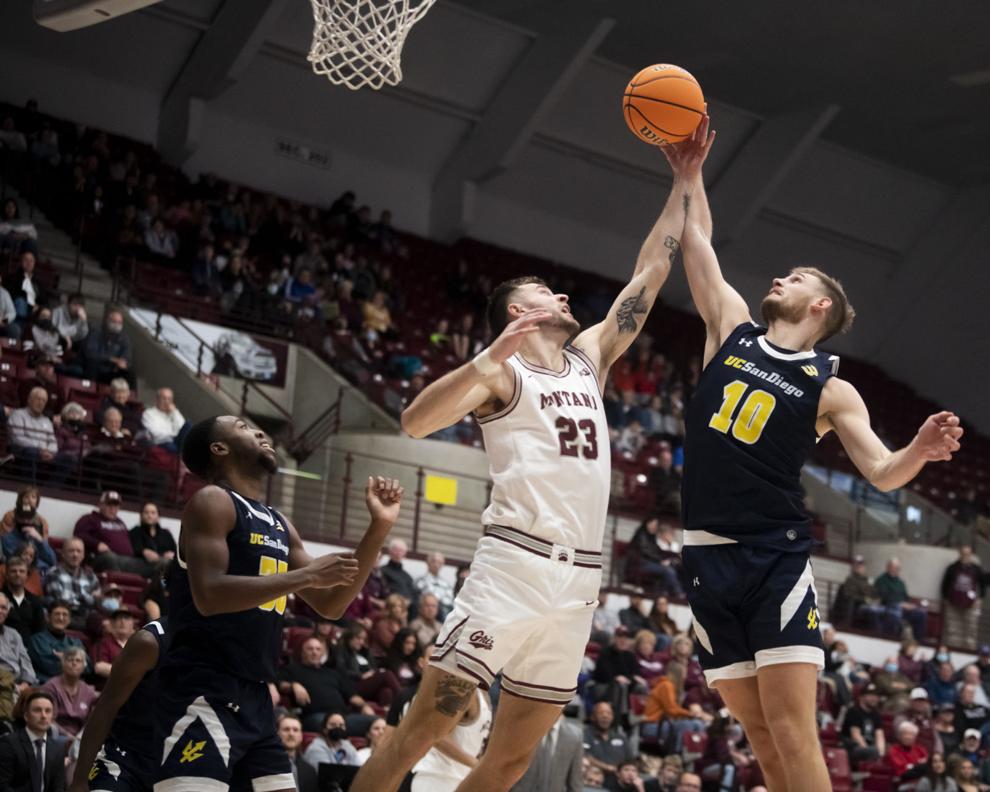 Griz vs. UC San Diego 07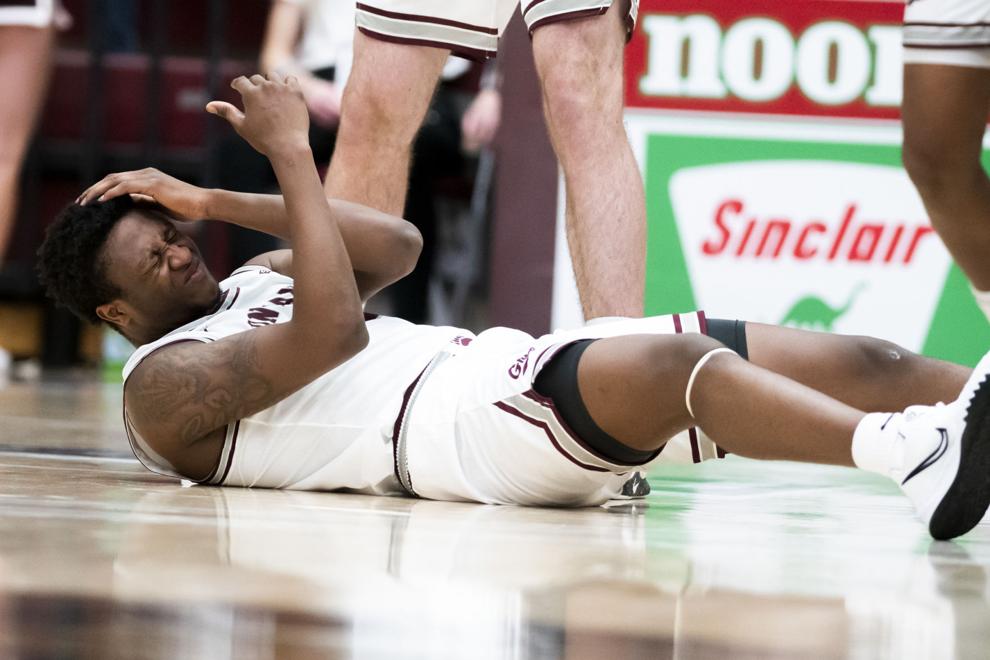 Griz vs. UC San Diego 08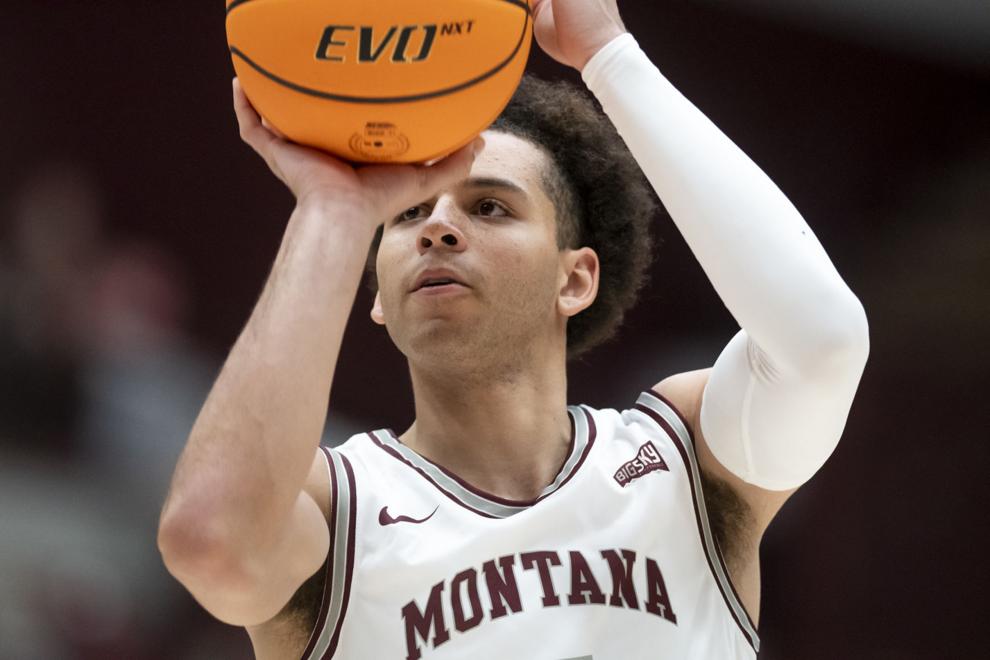 Griz vs. UC San Diego 09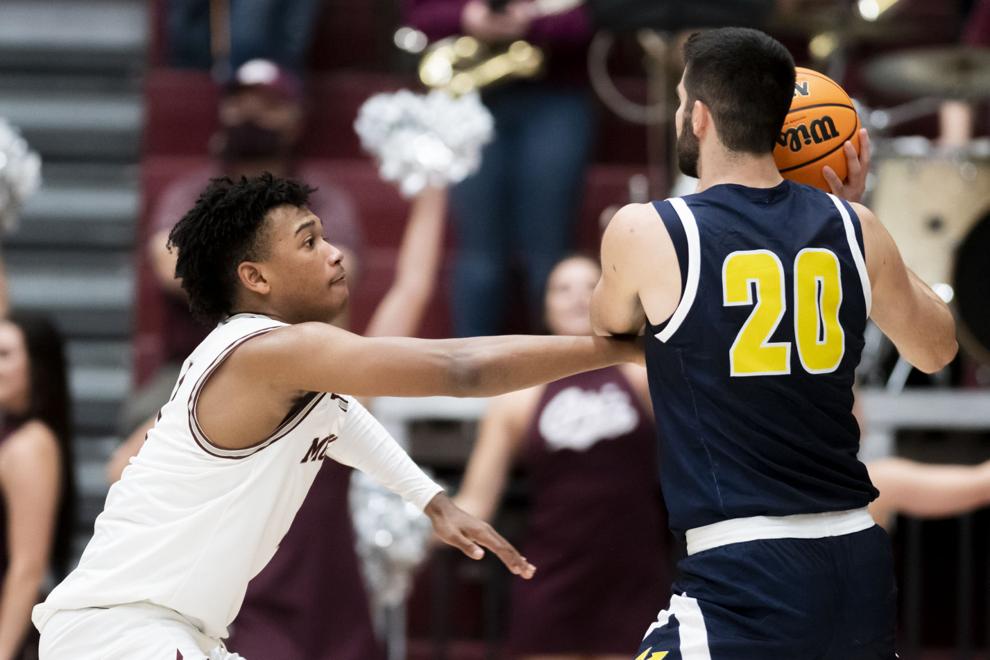 Griz vs. UC San Diego 10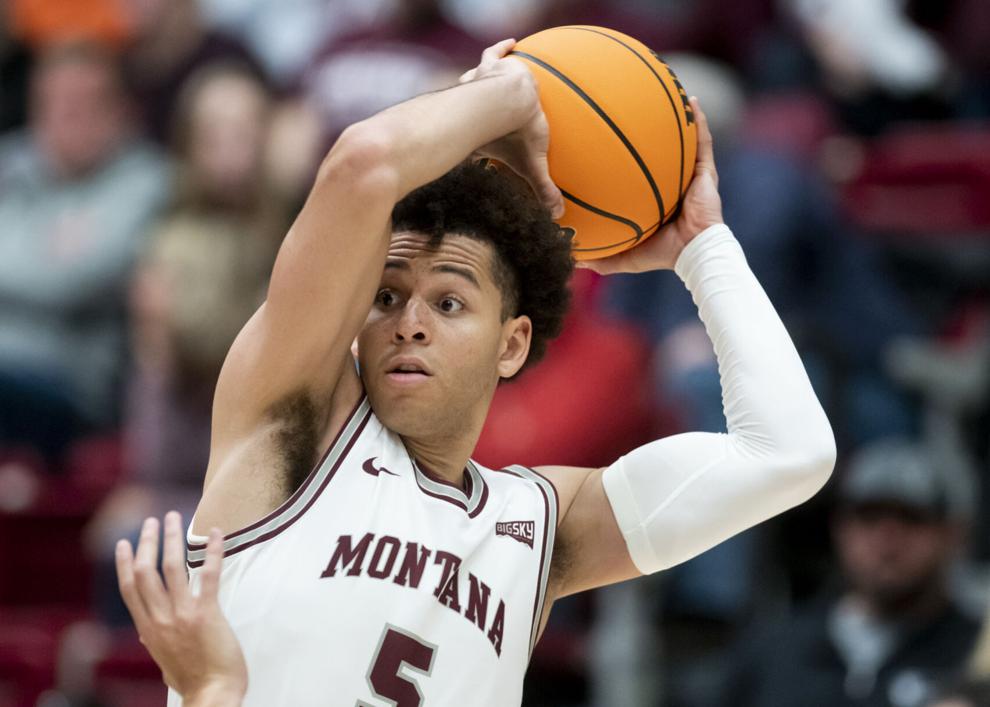 Griz vs. UC San Diego 11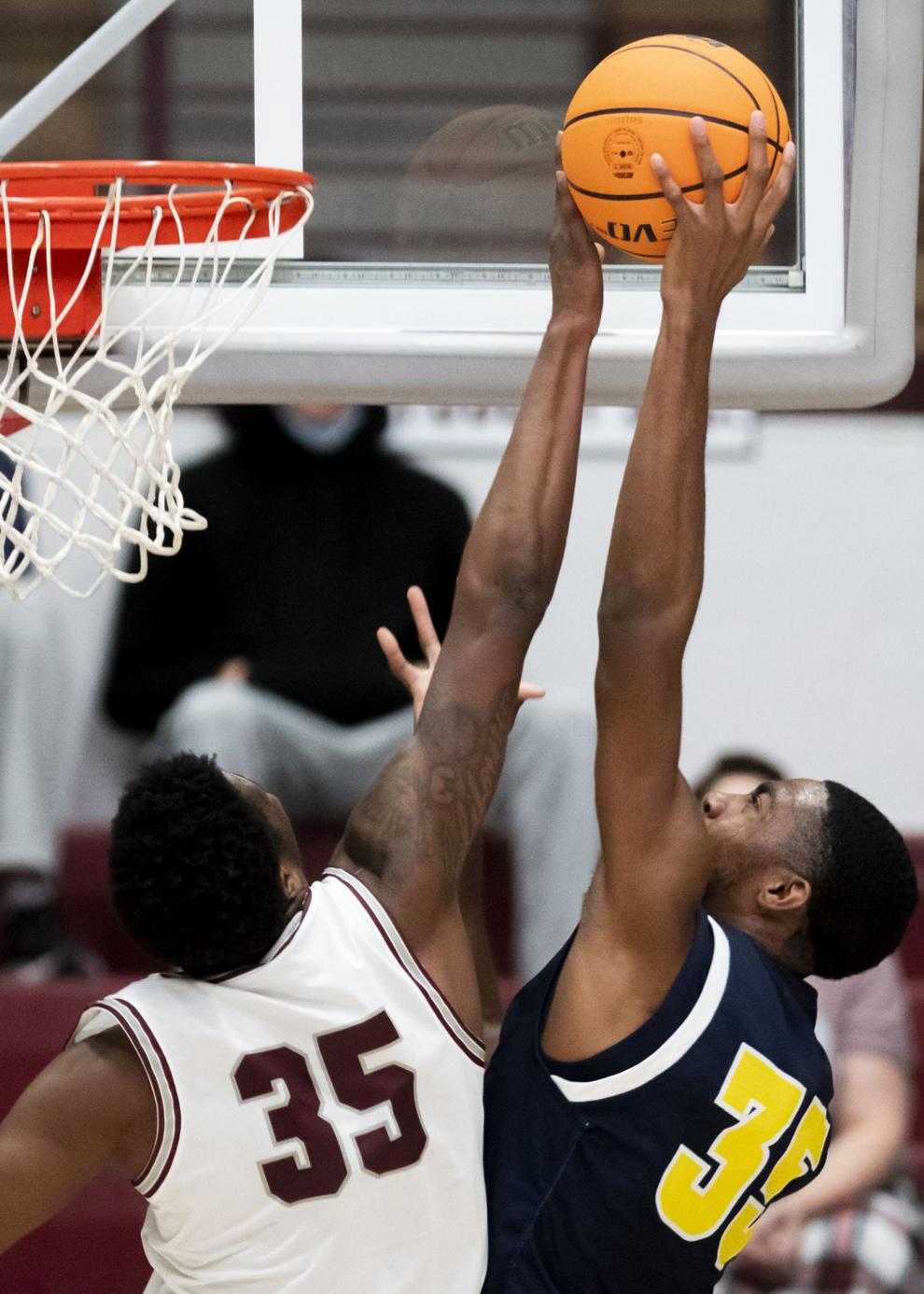 Griz vs. UC San Diego 12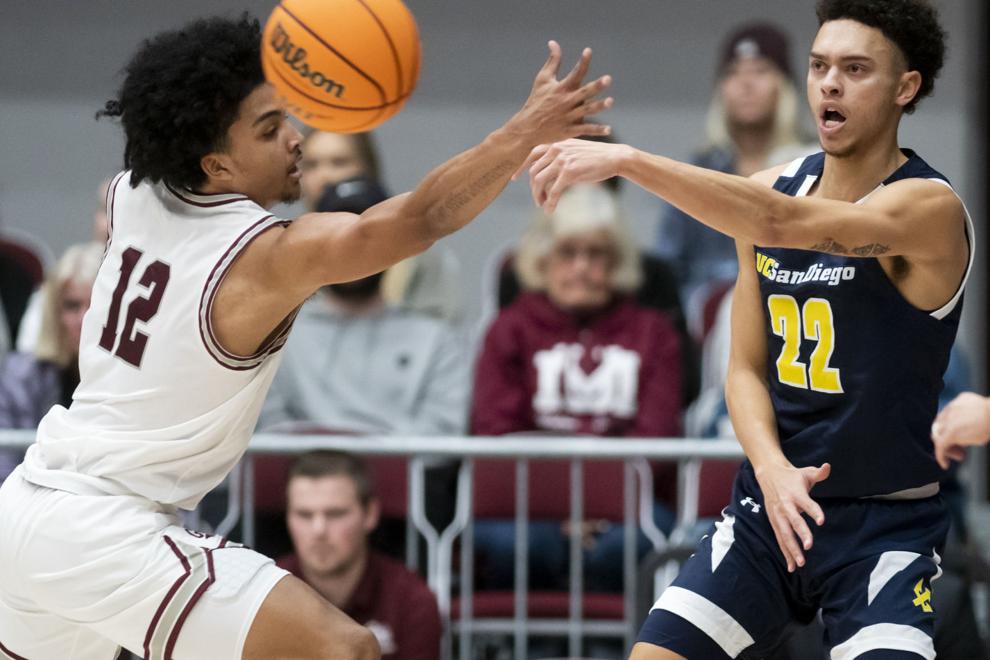 Griz vs. UC San Diego 13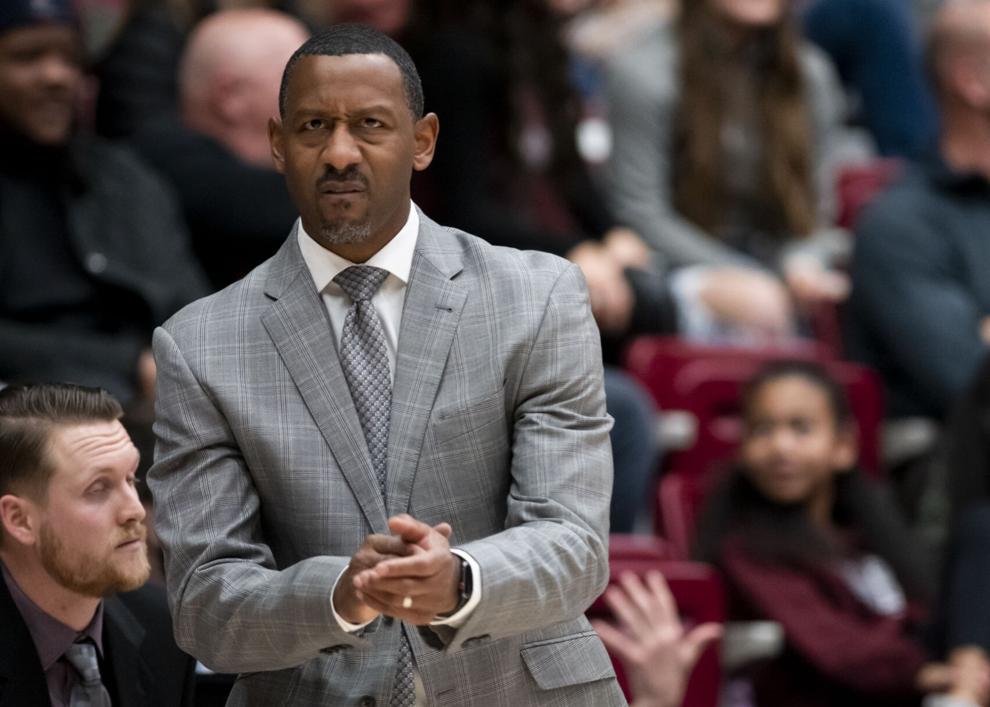 Griz vs. UC San Diego 14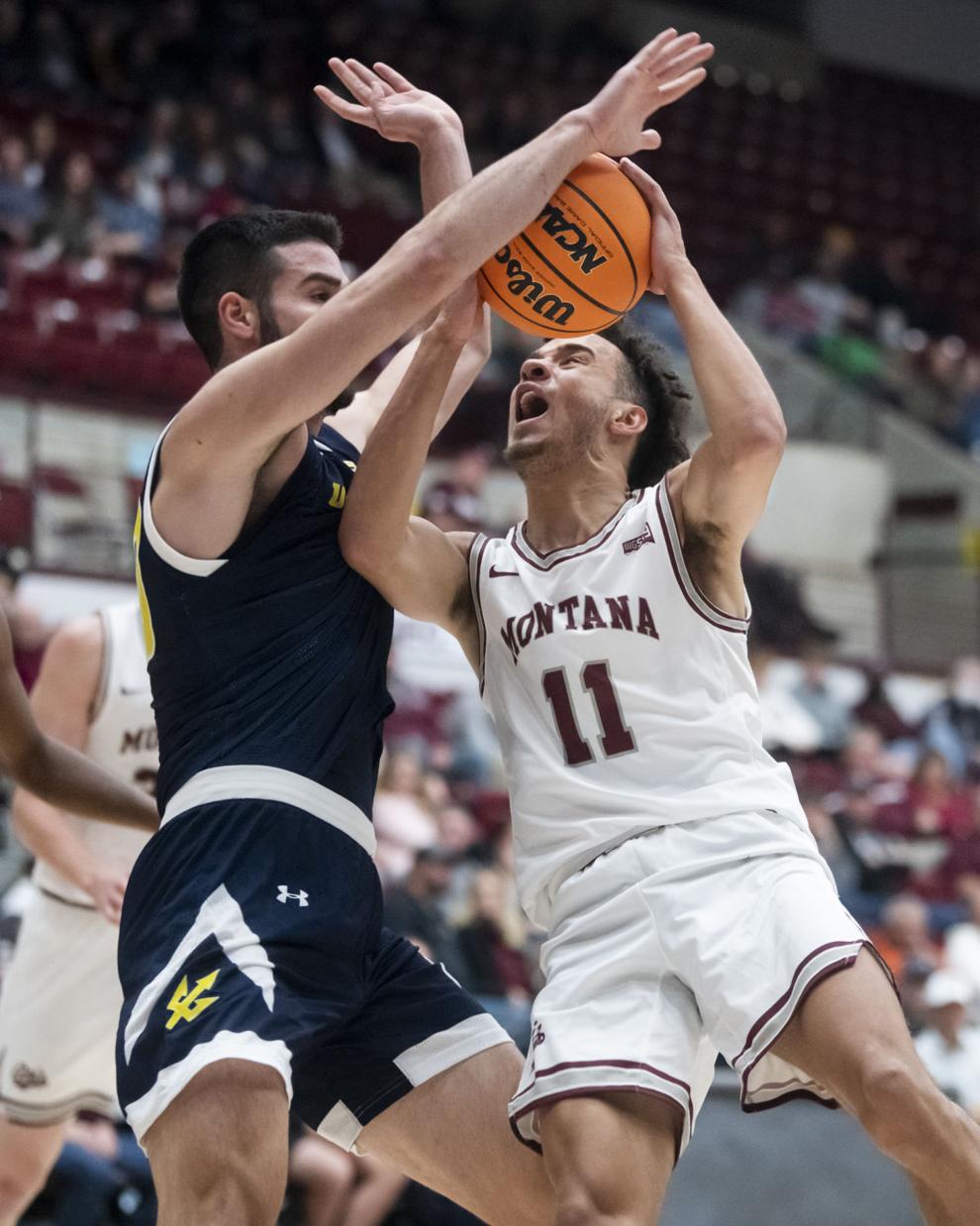 Griz vs. UC San Diego 15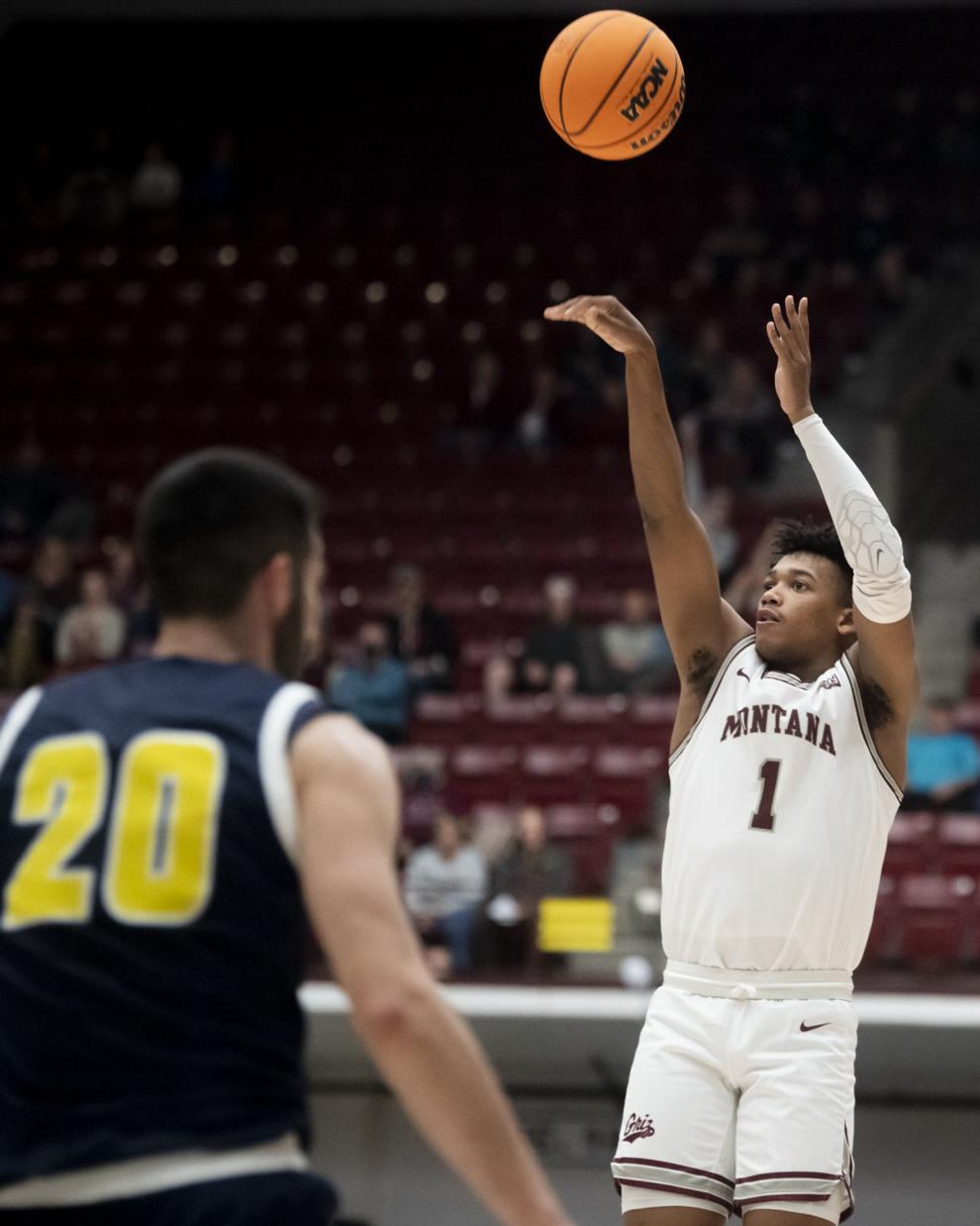 Griz vs. UC San Diego 16
Griz vs. UC San Diego 17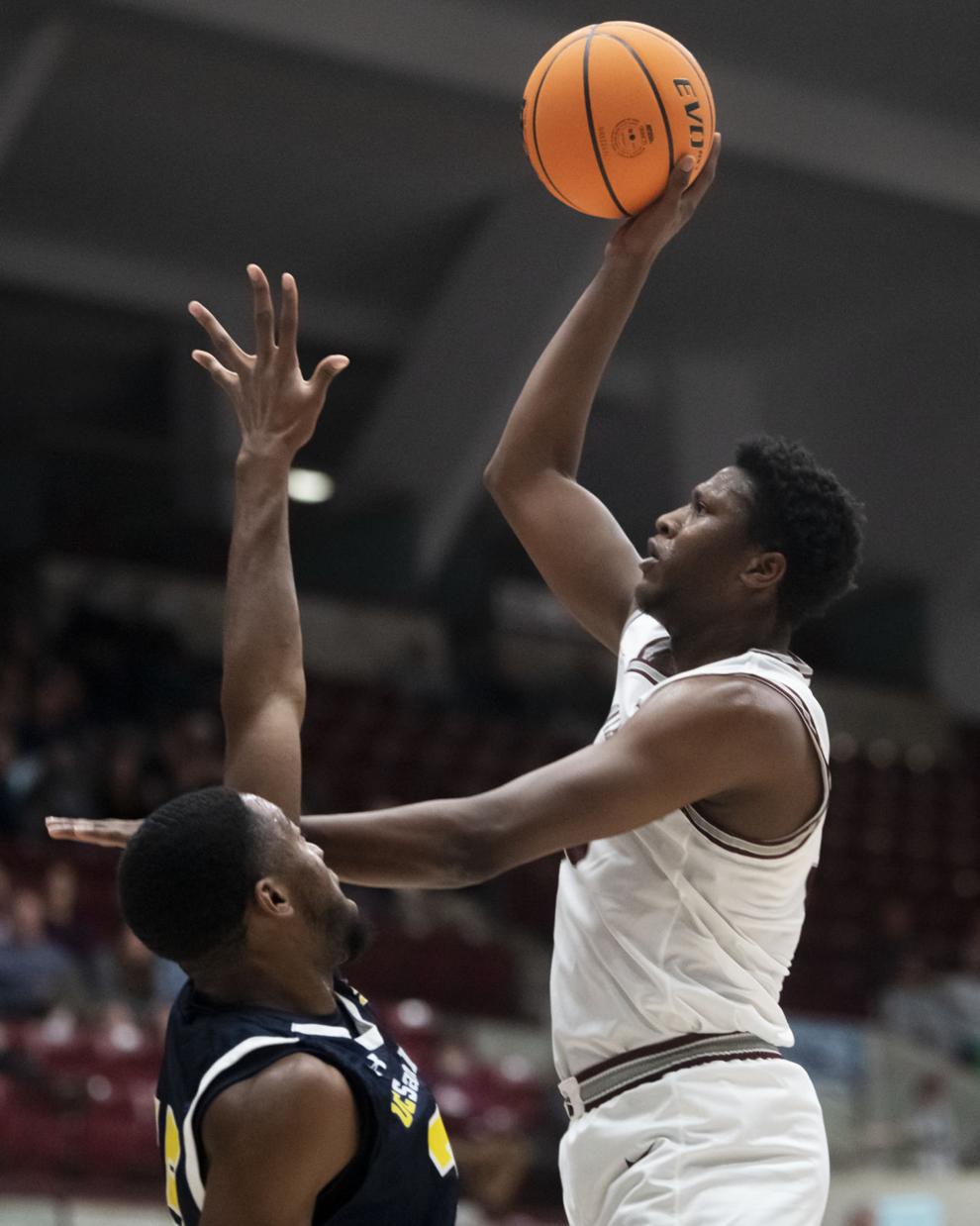 Griz vs. UC San Diego 18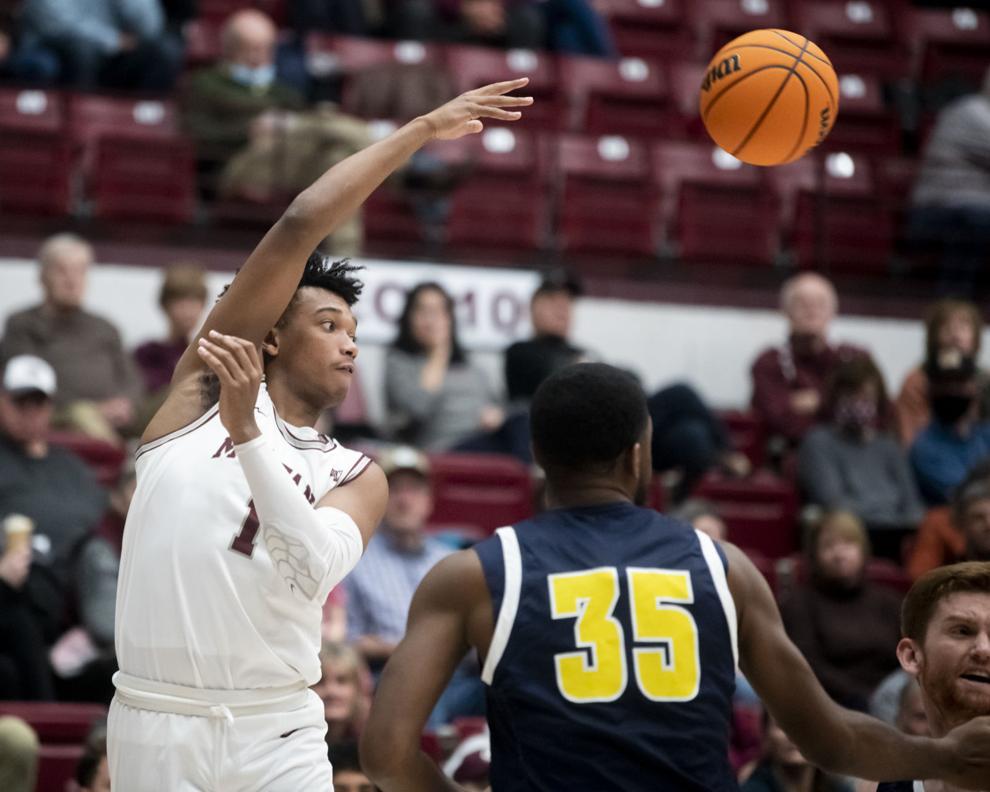 Griz vs. UC San Diego 19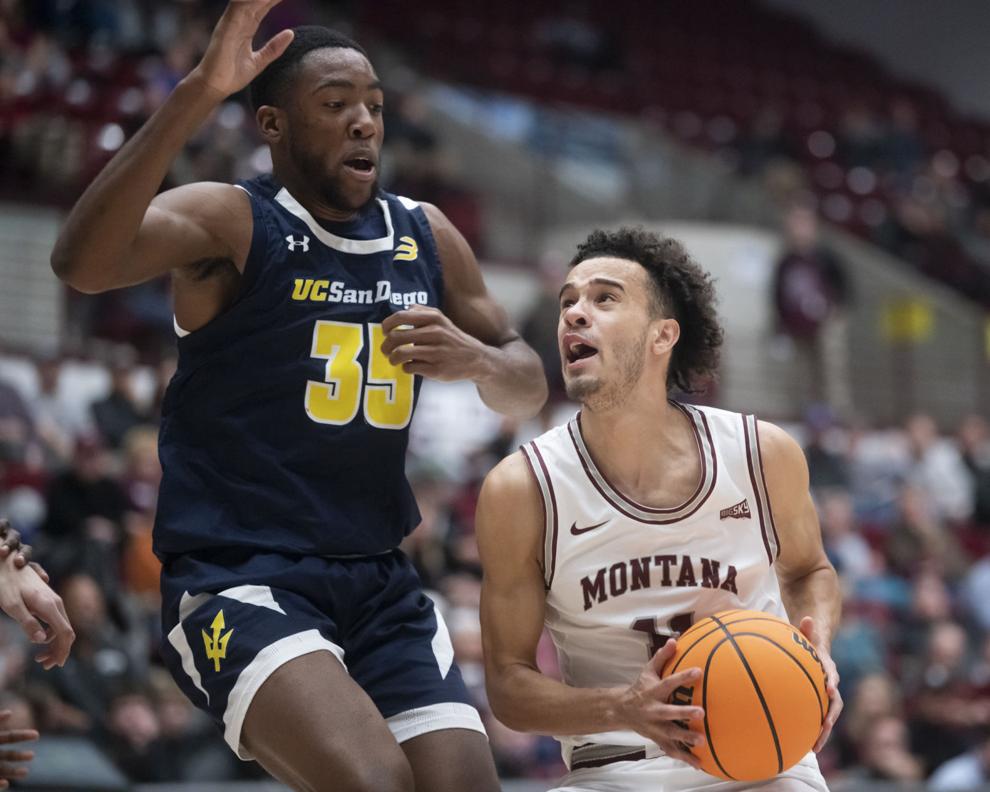 Montana never led by more than seven in the opening 20 minutes and it took 12 minutes into the second half for Montana to really pull away and get the game into double-digit territory in a final stretch that was slowed down by the Tritons fouling and foul drawing.
The mucked up play leads to adversity, a key point that DeCuire has emphasized.
"Those last two and half minutes were long," DeCuire said.  " ... The biggest thing for us is how do we handle adversity and I thought tonight we did as well as we had all year."
Montana shot 45% (25/55) from the field, 40% from deep (8/20) — the third straight game going over 40% from distance — and 76% (13/17) from the charity stripe. The Tritons shot basically the same at 45% (20/44) from the field, 43% (6/14) from deep and 65% (15/23) from the free-throw line.
But, unlike Montana, the Tritons committed 17 turnovers to just seven by the Grizzlies. 
Beasley, who scored a team-high 19, hit double-digit scoring for the first time this season after a start to the year that included some rough shooting nights over his last three outings. He also got to the free-throw line for the first time, going 7 for 8.
Beasley finished 5 of 11 from the field and 2-of-7 from distance. He also had four rebounds and three steals, one of which he immediately turned into a dunk while playing a team-high 37 minutes.
Bannan went for 16 points, nine rebounds and four assists. Despite fouling out, with at least one or two of the fouls getting a large disagreement from the Grizzlies crowd, Derrick Carter-Hollinger finished with seven points, three rebounds, two assists and a steal — his second straight game with at least one in each of those categories.
Montana hounded Tritons' star Toni Rocak, who finished with 14 points and seven turnovers — his second straight game with at least seven. 
So. Mississippi 80, UNC Wilmington 66
Southern Mississippi (3-2) shot 62.5% from the field in an 80-66 decision over UNC Wilmington to get the event started Wednesday afternoon. The Golden Eagles went 30 of 48 from the field behind 29 from freshman Rashad Bolden. 
The young guard didn't miss a shot until the 12:17 mark of the second half — and didn't miss again after that. He went 11 of 12 from the field and 5 of 6 from distance, scoring 14 in the first half on perfect shooting and 15 in the second on near-perfect shooting. His effort was aided by 15 points on 6-of-7 shooting by senior Tyler Stevenson and a 15-point, 11-rebound double-double by senior forward Isiah Moore.
Wilmington went 10 of 40 from 3-point range and was led by Jaylen Sims' 16 points. 
Up next
Montana was scheduled to face UNC Wilmington on Thursday but a flu outbreak on the team forced a cancellation. Instead, Montana has Thursday off and will instead face So. Mississippi on Friday night.