MISSOULA — At the beginning of the year, Montana had just four nonconference games on its preseason schedule.
It ended up playing seven from four different divisions of college basketball. The COVID-19 pandemic made it difficult for low and mid-major conference teams to find games and UM was in the same position as many college basketball programs around the country.
Traveling by plane is expensive, which ruled out a lot of trips or home games against similar opponents for schools in those conferences. UM took a path many men's basketball programs in conferences such as the Big Sky did and played guaranteed money games against high-major opponents along with lower division teams.
Montana's geography and relative distance from many teams made getting games they could bus to — and bus teams in — difficult. So, the Grizzlies turned to Yellowstone Christian, Dickinson State and Whitworth University.
Yellowstone Christian competes in the National Christian College Athletic Association, Dickinson State is an NAIA team and Whitworth is a NCAA Division III program.
"Any opportunity you get to play, you have to take advantage of right now," said UM head coach Travis DeCuire after the win over Whitworth.
Of the 2200 total minutes available this year, freshman and sophomores have played 1412 of them. Cameron Parker (253 minutes) and Michael Steadman (261) have played the bulk of the rest.
Parker, a junior, transferred in over the summer and Steadman, a senior, was ineligible last season due to NCAA transfer rules after a waiver to play was denied. All of those players needed time to gel, both on and off the court. 
The nonconference slate in total helped them achieve that. In particular, the four against high majors also provided several important sparks, including a win over Washington and a near upset of Arizona.
Montana also had four Big Sky games intermixed before the end of its nonconference, going 1-3 in those contests. The Grizzlies four Big Sky games so far have been decided by a combined six points.
"They all provided something different at a different period of time with a different need," DeCuire said. "I think they've all been beneficial, especially when there's a shortage of games and you've just gotta find ways to get enough in. "
Guaranteed games and lower division opponents were pretty much Montana's only option to get any non-league games in at all. It was not the ideal scenario either, as the three games against non-Division I teams do not count towards the NCAA's 13-game minimum needed in order to be eligible for the NCAA tournament.
That measure was put in to account for potential coronavirus-related cancellations. During a non-pandemic year, teams would play around 30 regular-season games. 
The Grizzly men's team is one of very few in the country that has not had any of its games so far canceled due to coronavirus concerns. Montana has played eight games total against Division I opponents, meaning it would need five more contests played if it happened to win the Big Sky tournament and receive the conference's automatic bid to the NCAA tournament.
UM has 16 league games left plus the Big Sky tournament remaining on its schedule.
"There's some luck, because at the end of the day there's two teams that can cancel a game, right?," DeCuire said when asked about UM playing all its scheduled games. "It only takes one to have a game canceled."
Carter-Hollinger looks to get back in rhythm
Out for eight weeks just prior to the season due to an arm injury, it has taken some time for sophomore DJ Carter-Hollinger to find a groove this season.
Making matters more difficult, the reigning Big Sky freshman of the year missed three games earlier this season due to a head injury suffered in the first of two games against Southern Utah.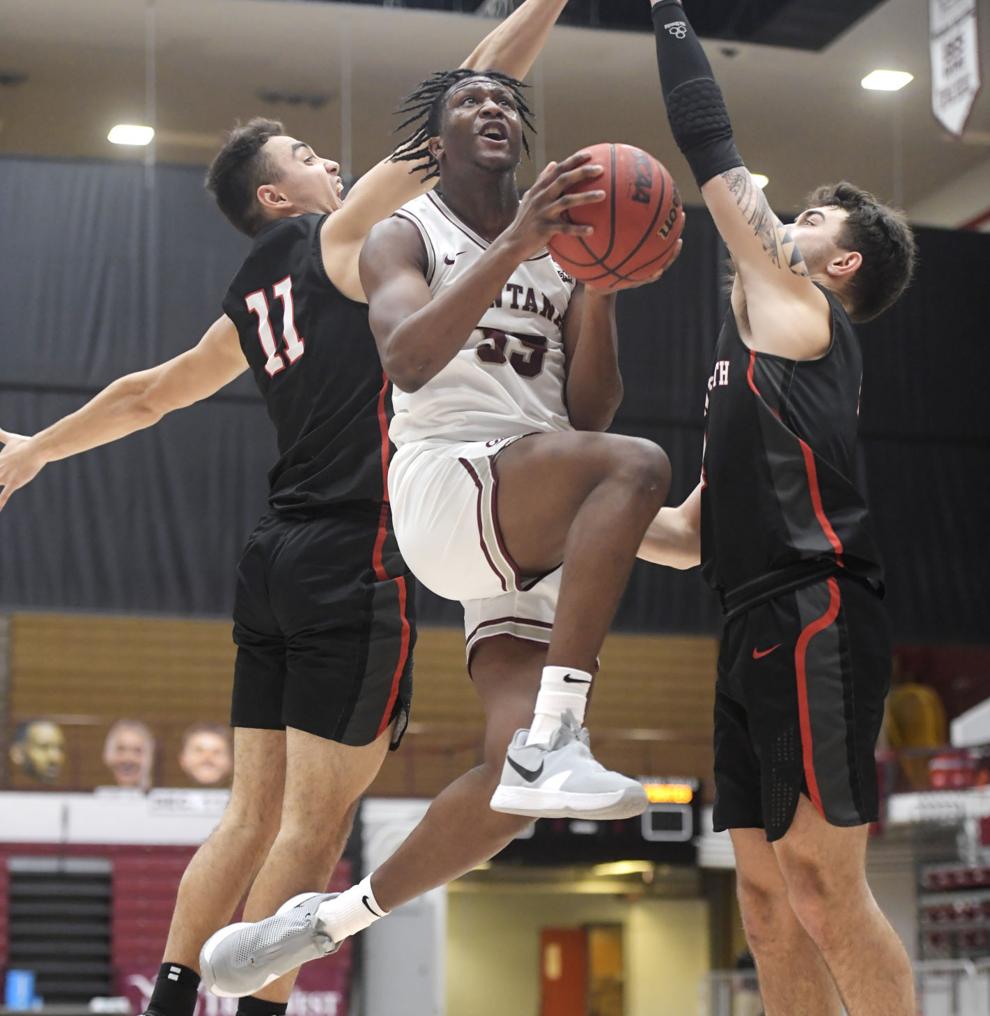 Carter-Hollinger has played in eight games this season, starting the first two. He has played 147 minutes this year, 7th-most on the team. In the contests where he has played, he is averaging 3.1 points, 2.5 rebounds and 1.3 assists in 18.4 minutes per game.
He has hit 7 of 28 field goals (25%) and is 0 of 4 from behind the 3-point arc so far this season. 
"He's just got to play. He's got to get minutes. He's got to get (shots) to go down. He's got to get sweat," DeCuire said. "He's a few practices away from getting some rhythm and a few more games away maybe."
Quiet gyms feel different for players
On Saturday afternoon during Montana's game against Whitworth, the Pirates were assessed a technical foul for something said by a member of the team after a call that was not in their favor.
With quieter gyms, it's easier for officials to hear what is being said. Some foul calls for language, of course, would be called during a normal season but players say they do notice a difference.
Grizzly guard Cameron Parker has seen that firsthand as he was assessed Montana's lone technical foul this season in a win Northern Colorado for something he said.
"My teammates were kinda joking with me, saying if there was a crowd there, you know, they probably wouldn't have heard it," Parker said after the win over Whitworth. "But I kind of said some things and it was louder than what I expected. It was dumb, at the end of the day. We definitely have to watch what we say and stuff."