MISSOULA — In the weeks and months since the season abruptly ended prior to the Big Sky Conference men's basketball tournament's finale, Montana head basketball coach Travis DeCuire has been pretty busy.
There's still plenty of work to be done from 7 a.m. to 7 p.m., but he's found a new role, too.
"One, I'm a third-grade tutor," DeCuire said during a media video conference on Tuesday. "My daughter and I spend our morning, early afternoon on her remote learning."
He's found plenty of work to do as well. Montana's roster has changed significantly over the past month as the Griz added a pair of transfers who will look to make an immediate impact.
There's still players to check up on, recruiting to be done, nonconference games to schedule and a variety of other tasks to do remotely. With that in mind, following are a few notes from DeCuire's first press briefing since March:
Starting with the end
It was 55 days ago that college basketball tournaments around the country were canceled and life started to change dramatically.
DeCuire and his team have had plenty of time to think about the end of the season. It was a strange way for a team that's been a force at the conference tournament under DeCuire to go out.
"You tend to say that you've had a run or a stretch of postseason success like that and you almost don't know what it feels like to end the season the way we ended one," DeCuire said. "It's very difficult. The toughest part is really not having closure for our seniors. That's the toughest part for us. I'm not sure we've gotten over that yet."
Sayeed Pridgett, Kendal Manuel and Jared Samuelson — the latter two played high school basketball in Billings — made up a special and unique senior class.
DeCuire said his younger players have responded well and called the group that will return as sophomores hungry.
Still, it was a bitter pill to swallow.
"I've had conversations with each of the seniors, but I owe them at least one or two more," DeCuire said. "Those end-of-the-year, thank-you, that-a-boys, good-luck, what-else-can-we-do-to-help-you-move-forward conversations … it's hard to describe. I can't really tell you what it felt like or what it was we went through.
"Every time someone asks me the question, I give them a different answer."
Players first
As with many other coaches across the country, DeCuire's first concern is his player's health before anything.
Some players have had opportunities to get a few different things done and Montana's Athletic Performance Center has been pushing out workouts and nutrition tips.
"I think if they sense a push from me, they may do more than they need to be doing in terms of being out and about," DeCuire said. "For me, it's just a check in, you getting anything done, a little ball handling and form shooting never hurt anybody. But the California kids, they've got to be careful. I'd just as soon they don't leave the house at all."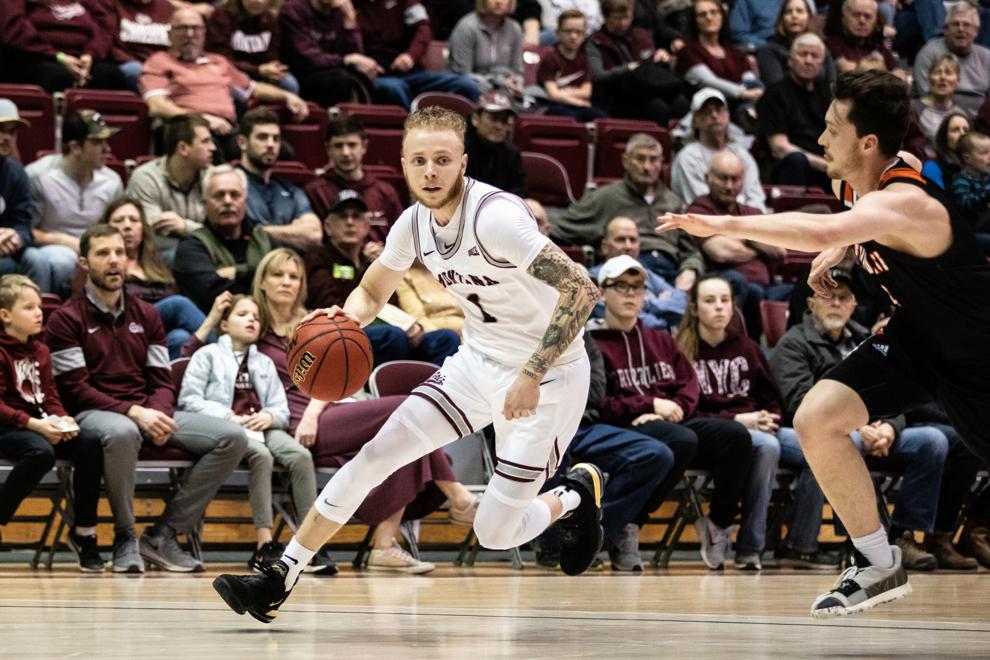 Including two incoming freshmen, there are 10 players who will be on Montana's roster next year who hail from California. The state currently has the fifth-most coronavirus cases in the country.
Still, there are ways to improve during quarantine while staying safe, and DeCuire expects his players to report on June 29. He just wants them to do so with the utmost caution.
"We gotta be careful of the mixed messages they're getting," DeCuire said. "If they're hearing anything from me, it's stay home, and if you can get anything done at home, do it. Stay in shape for when you get back. Read between the lines."
Attendance and cash flow
When asked what he thought the biggest immediate and long-term change to college basketball was going to be, it didn't take DeCuire long to answer.
"I think the biggest hit's going to be attendance. People that haven't quite got their tickets yet. People slip through the cracks in terms of season ticket holders, your walkups are going to go down because there's going to be people that don't want to sit by someone," DeCuire said.
"For us, Montana didn't get hit as hard. I think our fans and our communities will be less hesitant than in some of the places we'll go."
Basketball attendance is a massive boon for the program, and without games, the financials begin to get tricky.
In late March, 406mtsports.com reported Montana was bracing to receive around $225,000 in expected revenue from the NCAA. UM had anticipated to receive about $550,000, but the drop came from the canceled NCAA championships in the winter and spring, although much of the drop was due to the men's basketball tournament being halted, a decrease all schools have had to deal with.
In the 2019 fiscal year, UM received approximately $1.2 million in NCAA distributions, so the loss of about $325,000 is about 27% of that. That drop will hurt, and its finances are being looked at very carefully.
One other area of concern? Guarantee-game payouts. Mid-major schools like Montana also mostly play games against high-major teams, who pay them to come play.
According to a Montana sports report in January, the UM athletic department received a total of $355,000 in guaranteed games payouts. With universities already tightening their financials, guarantee games might be hard to come by or offer far less money.
"The structure of our schedule and how we're going about it right now is a lot different because of the pandemic, just where we're at financially, where the school and the athletic department is financially," DeCuire said. "So, the demand for dollars is a lot different and so we've got to find other ways to make money, especially if attendance goes down."
While DeCuire did admit it would be strange to play without fans, he is willing to make whatever accommodations needed to be able to play.
"We'll play the game however we need to play it wherever we need to play it. I'll play outside. I have no problem with it," DeCuire said. "We just got to be ready to adjust. I hope we have a season, and if we have a season, I'll be excited about it."