HELENA — Following his commitment to the Montana Grizzlies, Helena High quarterback Kaden Huot took an impromptu fishing trip on the Madison river.
It proved successful according to Huot, who said he and a friend caught a slew of fish near Ennis.
It was also fitting as Huot is a big fish in the 2022 recruiting class and by reeling him in, the Griz are getting a 6-foot-4, 205-pound quarterback ranked No. 1 in the state of Montana by 247sports.
Huot made his decision public on Twitter Thursday morning, but informed the coaching staff of his intentions Wednesday night, connecting with head coach Bobby Hauck to inform him of his commitment.
"I called (coach) Timm Rosenbach but he was out fishing," Huot said. "He called me back and I told him I was going to be a Grizzly. He was fired up and told me to call coach Hauck and he was pretty fired up as well, so that was awesome."
Huot is a three-sport athlete at Helena High, taking part in basketball, as well as track and field in addition to playing quarterback. He earned Second-Team All-State honors last year in Class AA after throwing for 1,571 yards and 21 touchdowns compared to just five interceptions.
For his career, Huot has completed 56.7 percent of his passes for a total of 3,403 yards and 33 touchdowns. He also has three rushing touchdowns to his credit and has led the Bengals to the Class AA quarterfinals in each of his two seasons as a starter.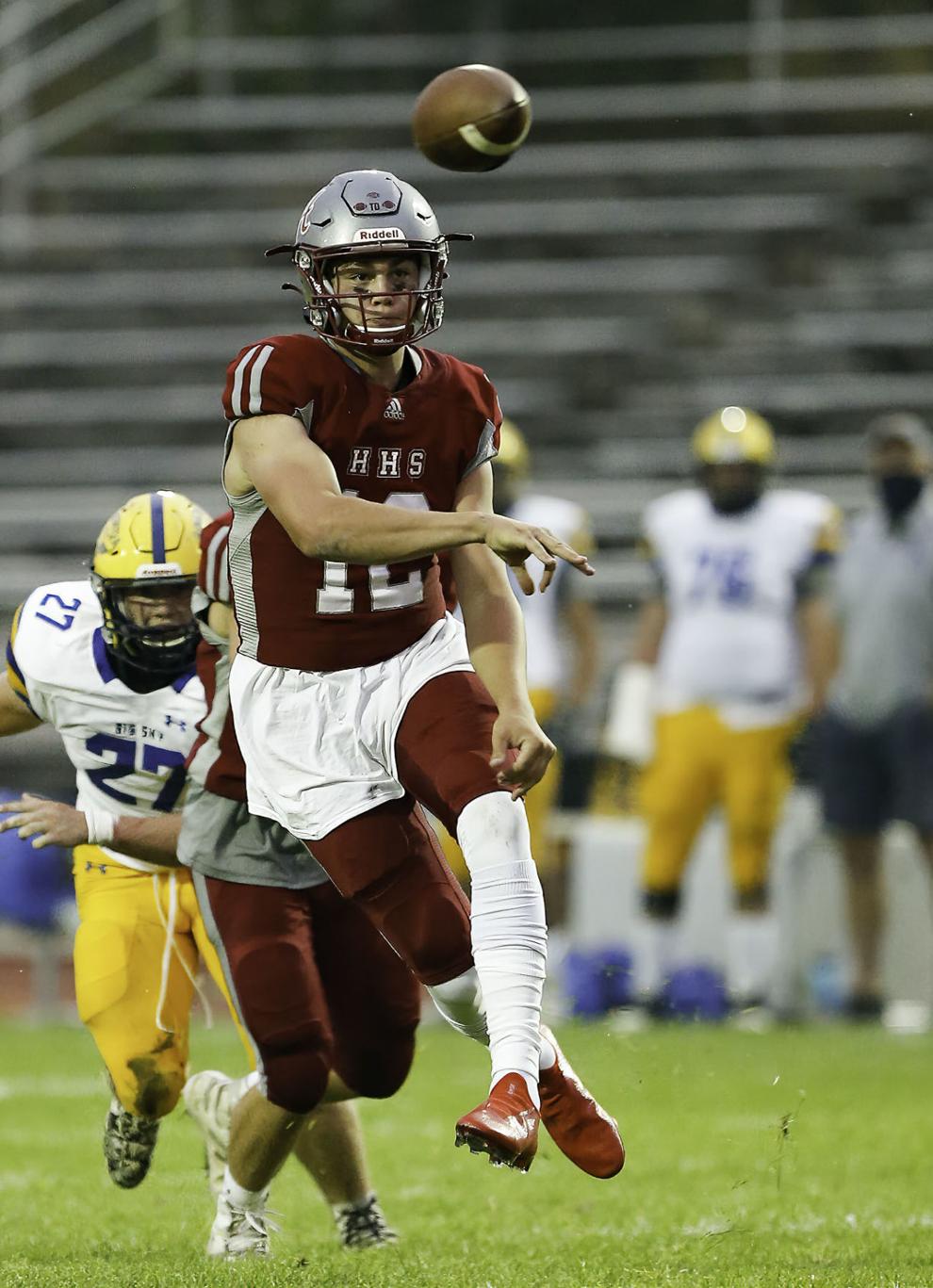 His recruitment has been one of interest for the Cats and Griz since last fall. Both schools offered Huot prior to his junior season and in the month of June, with the recruiting dead period lifted, he was able to visit both campuses.
In the end, Montana proved to be a better fit.
"It just felt like it was the right time," Huot said. "I talked to my mom and dad. We went through the pros and cons of both schools and I felt like (Montana) fit me better, so I made my decision and it feels good."
And even though his recruiting experience was somewhat limited due to the COVID-19 pandemic and a dead period (meaning no on-campus visits) for over a year, it was one he enjoyed.
"The recruiting process is the most fun thing you can ever do as a high school athlete," Huot said. "Learning what all these colleges offer and learning what they run on offense; meeting new coaches, talking to new coaches, it was a lot of fun."
Yet, his inability to take part in a complete offseason last summer, which included a number of national camps, probably hindered his recruitment, although he still received interest from other programs such as Fresno State, Oregon State, and North Dakota State.
"I definitely missed out on stuff," he said. "But things happen for a reason. I didn't end up getting to do all the camps and getting all that exposure, but I'm really happy that I'm committed to Montana."
Huot's visit to Missoula played a huge factor in his final decision.
"It was great being able to sit down and talk with (coach) Hauck," he said. "I walked around campus, went to the stadium, and the locker room and their facilities are top-notch. I could see myself playing there for the next four or five years."
The quarterback is the second Helena High prospect committed to the Griz in 2022 as Marcus Evans also made a verbal commitment over the summer. Montana has three known commitments overall with the third being from Sam Alford, a three-star receiver from Utah.
Huot is just one of four three-star prospects, according to 247sports, in Montana for the class of 2022. Evans is ranked fifth overall in the state. Zachary Evans, another former Helena High football player signed with the Griz in 2021.
"I'm excited to play with Marcus and Zac," he said. "I know a bunch of other guys who committed in the 2021 class. There's a bunch of talent going to the Griz in the next two years. It's going to be a fun time."