MISSOULA — Bobby Hauck unleashed the charm before his introductory press conference even began on Friday morning.
Armed with a charismatic smile and hearty handshake, the University of Montana's next football coach took time to chat with nearly everyone in the packed Canyon Club room atop Washington-Grizzly Stadium.
"Probably 90 percent of my best friends in the world are in town," Hauck, a Big Timber product, said in his opening statement, before rattling off names of a dozen family members who were either present or listening in.
"This place is a special place for the Hauck family," he added. "... Generations have come through this place. I'm a third-generation alum. Some of my progeny are going to be fourth generation and hopefully we go beyond that."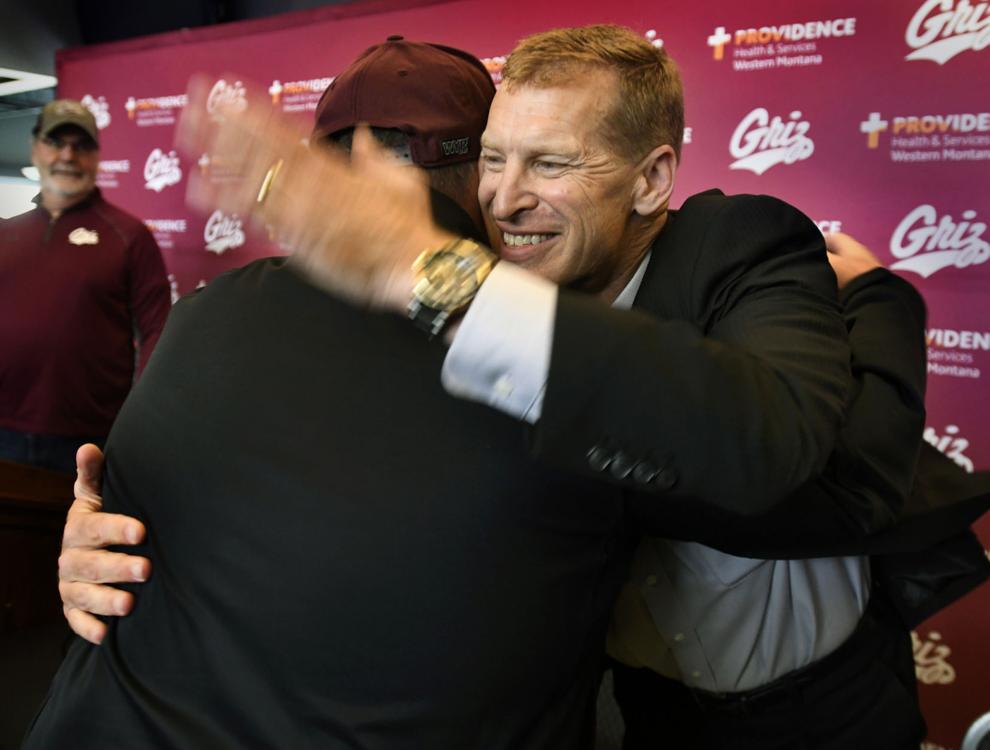 Hauck, 53, interviewed for the vacant head coach position on Monday, where he spent all day in off-campus meetings with President Sheila Stearns, incoming President Seth Bodnar (via Skype), Athletic Director Kent Haslam, and other people inside and outside of the athletic department.
Haslam said he interviewed four candidates for the job and offered Hauck the position on Thursday morning. Hauck returned the signed contract to Haslam on Friday morning.
The contract is a three-year deal with a base salary of $185,000 per year. Incentives and other specifications of the contract are not yet available, but after discussions with Bodnar and interim President Sheila Stearns, greater weight was given to rewarding the coach for his players' academic achievements.
"We came to the conclusion to place more emphasis on the academic performance of our football student athletes," Haslam said. "... We will continue to reward coaches for athletic performance. That's important. But we have re-weighted the reward for academic performance and increased the importance of those goals for the coaches."
Hauck said that academic performance is important to him, as well, mentioning the 104 academic All-Big Sky student athletes he had on his rosters last time he was here.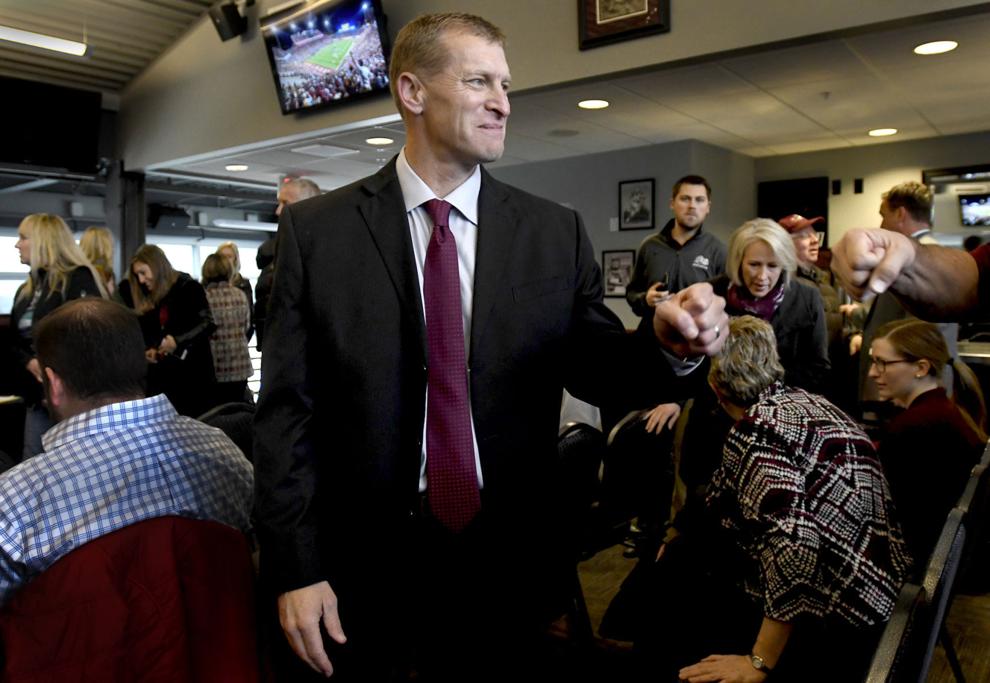 Haslam also said in a one-on-one interview that if Hauck leaves before his contract is up, whoever initiates the departure would pay the remaining base salary to the other party.
Hauck said he will hit the ground running for Montana ahead of the early signing period, which starts Dec. 20. But he will not formally leave San Diego State until he coaches one more game.
The Aztecs are bowl eligible with a 10-2 record. It has not yet been decided in which bowl game they will play.
"I have a commitment to coach an SDSU bowl game, which will not detract me from the recruiting process, I assure you," Hauck said.
Hauck later added in the interview that he's been in this situation before.
"The last time I came here I was at Washington before, coached the Sun Bowl game and recruited for Montana at the same time," Hauck said. "It's absolutely doable. It's going to be a lot of work and we gotta knuckle down and get it done."
***
Hauck previously led Montana's football program from 2003-09. Montana won or shared seven straight Big Sky Conference titles and advanced to the FCS title game three times.
Due to NCAA violations in 2011, the last time UM officially won the Big Sky Conference title was in 2009 — Hauck's last season with the Grizzlies.
Hauck is the second Montana coach to have multiple head coaching stints with the Griz. Doug Fessenden led the Griz from 1935-41 and again from 1946-48. Due to the breaks in their tenures, Hauck is the 38th hire as UM head football coach and the 36th man to hold the position, though, Montana Athletics regards Hauck as the 37th head coach in school history.
"Griz Nation, here we go," Hauck said to end his opening statement. "Together we're going to return to dominance here. Go Griz. Let's get after this thing."
When he was originally hired in 2002, Hauck's contract was a one-year deal with a base salary of $105,000. His last contract in 2009 was also a one-year deal with a base salary of $144,500.
Hauck's Grizzly teams went 80-17 in his seven seasons at UM for a winning percentage of 82.5 percent — the highest winning percentage of all FCS teams during that span. That mark is second to only Joe Glenn in program history.
Hauck went 31-1 in league games from 2006-09. The lone conference loss came in 2008 to Weber State, which Montana avenged in the playoffs two months later.
Hauck won the Big Sky's Coach of the Year honor in 2006, 2007 and 2009, and was a finalist for the Eddie Robinson Coach of the Year award in 2009.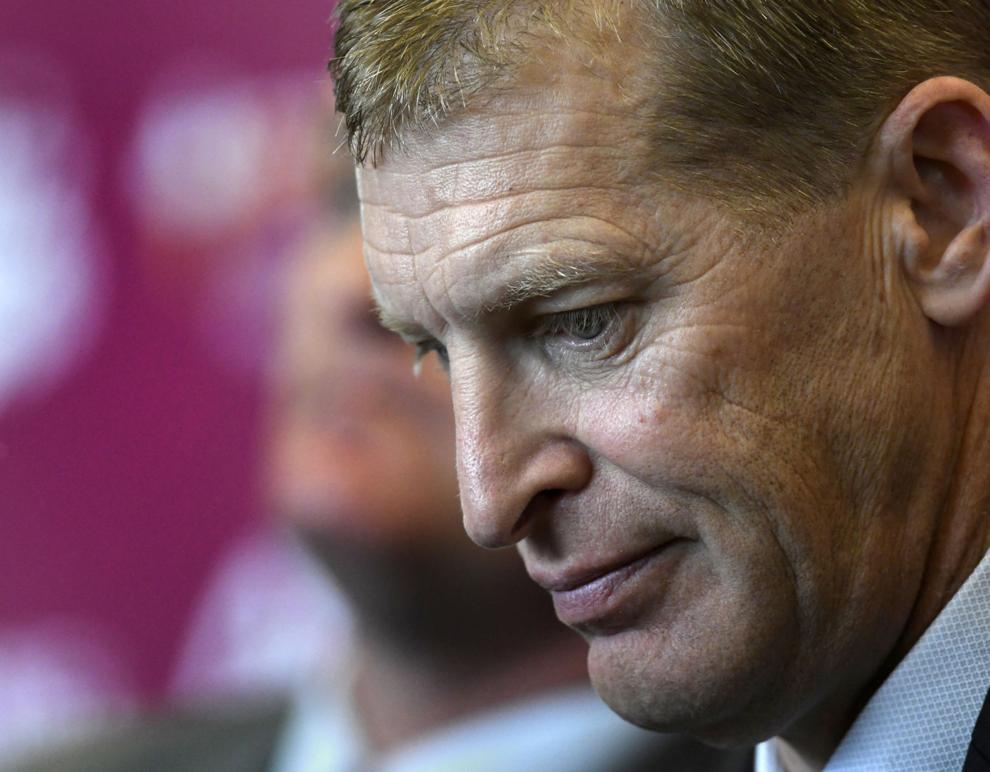 While there was a stellar product on the field, Hauck's previous tenure at Montana was muddied with multiple off-the-field incidents involving players.
Those incidents involved allegations ranging from drunken driving, domestic violence, a drug-related robbery and assault. After Hauck's departure, one of his recruits — Beau Donaldson — was charged with rape. Donaldson pleaded guilty and was sentenced to 30 years in prison with 20 of those suspended.
"We talked about what mistakes were made'' with past player transgressions during Hauck's interview, Haslam said. "How did we get there? We talked about player conduct, the process for evaluations, where were mistakes made? How did those things happen? How are we going to handle those things moving forward?
" ... We talked about, look, if you come back, these are things that will come up. Are you comfortable addressing those things? Are you comfortable talking about those things. I left feeling very confident the answers were yes."
Hauck added: "As a leader of the Griz football team, I'm going to lead as a positive example for this community and hopefully across this country. People pay attention that we're the gold standard for all of that."
***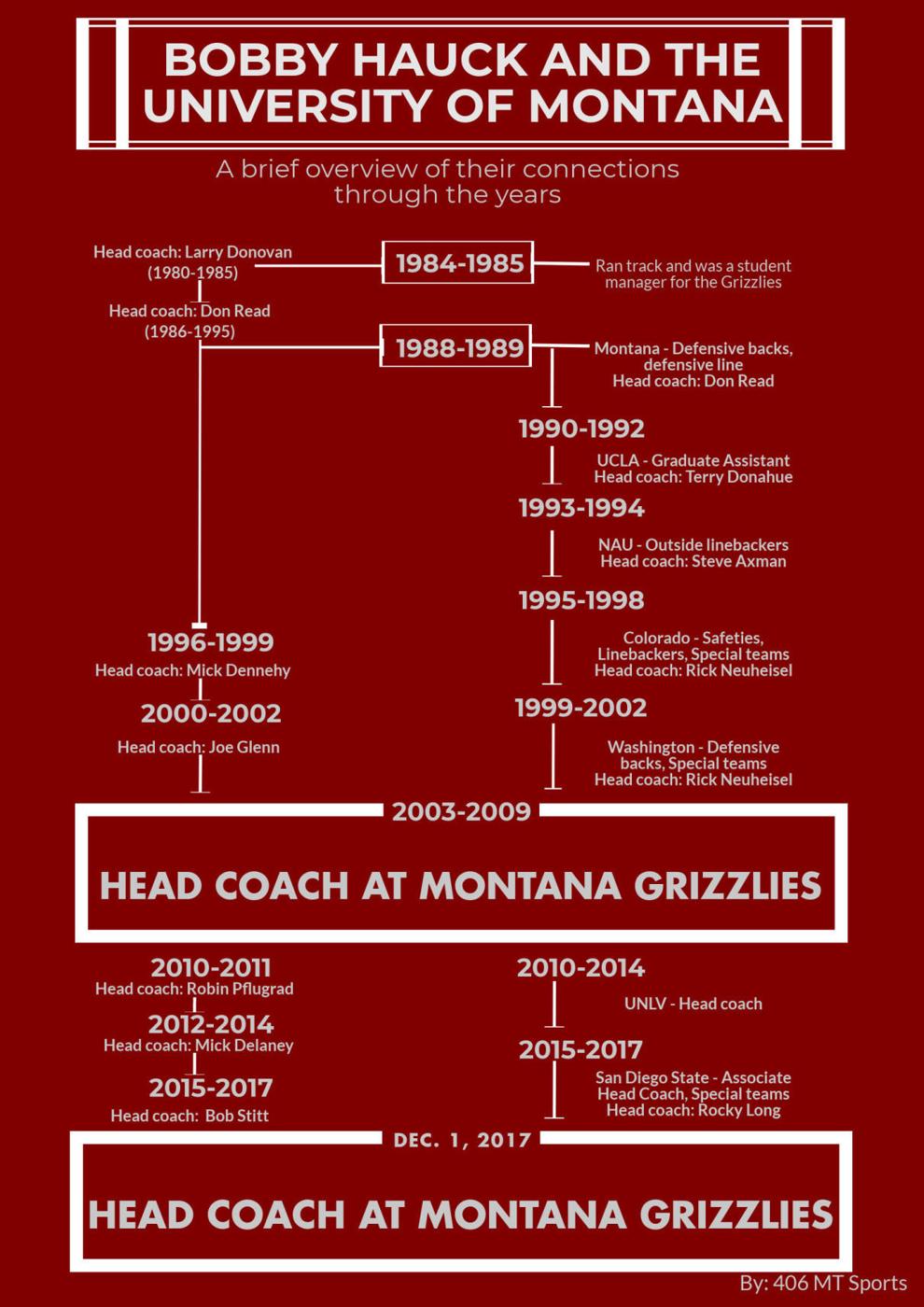 Hauck was born in Missoula, went to high school in Big Timber and graduated from UM in 1988 with degrees in business and physical education. He didn't play football while he was at UM, but participated in track and field.
After leaving Montana, Hauck was the head coach at the University of Nevada-Las Vegas from 2010-14. In 2013, he led the Rebels to their first winning season since 2000 and to their fourth-ever bowl game. He finished his five-year stint there with a 15-49 record before resigning.
He's been at San Diego State since 2015, where he's coached the Aztecs' special teams unit. In 2016, he retained that title and was promoted to Associate Head Coach.
According to USA Today's database of FBS assistant coaches' salaries, Hauck made just over $209,000 in 2016. Hauck said he believes he has one year left on his contract with the Aztecs, but there's no buyout attached.
"I'm just so proud of what we accomplished at both those places, though sometimes it's not always quantified on the scoreboard," Hauck said. "I come back here as a better coach than when I left.
"If I can hold up my end of the bargain, I think we're gonna get the job done. That experience the last seven, eight years, has been invaluable to me in terms of what I can bring back home."
Hauck inherits the program after Bob Stitt led the Grizzlies for three seasons.
Stitt's contract was not renewed after finishing his tenure with a 21-14 record. He was paid a base salary of $175,000 and, with maximum incentives, could have earned just over $300,000.
Under his leadership, Montana failed to make the playoffs in 2016 and 2017, marking the first time the Grizzlies went without postseason appearances in back-to-back seasons since 1991-92.
Hauck's first college coaching position came at Montana in 1988. He coached the defensive backs for two seasons and coached the defensive line in 1989.
He served as a graduate assistant at UCLA from 1990-91 and earned his master's degree in education administration in 1991. He transitioned into the assistant recruiting coordinator role for the 1992 season.
He coached outside linebackers at Northern Arizona and served as recruiting coordinator from 1993-94. At Colorado, Hauck was in charge of the safeties and special teams units from 1995-97, and was in charge of recruiting coordinator duties. In 1998, still at Colorado, Hauck coached outside linebackers and special teams.
Hauck was at Washington before coming to Montana as its head coach the first time. From 1999-01, Hauck coached safeties and special teams at UW. In 2002, he led the defensive backs there.