MISSOULA — The mystery is over.
Senior linebacker Marcus Welnel of Helena will wear the No. 37 legacy jersey for the Montana football team this season. The announcement was made Thursday in a video from the UM athletic department that appears on Twitter.
Welnel received the legacy jersey from Jace Lewis, a former UM linebacker and Townsend native, in July. But Welnel was wearing No. 10 when fall camp started in early August.
When asked about it back on Aug. 8, Montana coach Bobby Hauck said, "That's not a question I'm equipped to handle right now. We've got some more consulting to do."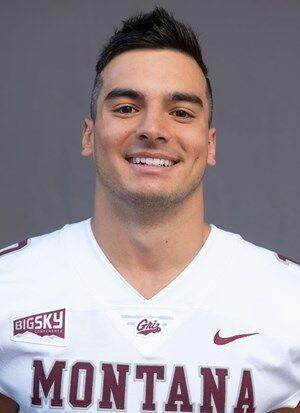 From there the local media jumped on the story and fans wondered what was going on behind the scenes with Welnel. Now it's a case of all's well that ends well.
For nearly 40 years, the revered No. 37 has been passed from one Montana native to another who exemplifies "hard work, dedication to the team and tough play on the gridiron."
"I'd like to take a moment and congratulate my brother Marcus Welnel on being the next to join the #37 legacy jersey brotherhood," Lewis posted on Twitter in July. "I'm excited to see the season you have. To me, Marcus exemplifies everything #37 is about. He is a selfless, team-first player, and all the hard work and time he's put in is paying off, and it shows. He's a great teammate and an even better person. The tradition is in good hands next season. Go Griz!"
Welnel heads into his final season at UM after a breakout campaign in 2021, his first year as a starter. He led the team in quarterback hurries (13), finished second in interceptions (three) and sacks (eight), was third in tackles for loss (12.5) and ranked fourth in total tackles (94).
Welnel had a knack for making clutch plays. He sealed the 13-7 win over FBS Washington by intercepting a pass with 31 seconds left in the game as the Huskies were driving down the field. He later blocked a go-ahead field goal attempt with 3:06 remaining in a 20-19 win over Southern Utah.
"God has blessed me allowing me to live out my dream," Welnel wrote on Twitter in July. "I hope to honor the legacy of this jersey as much as Jace and others before him have. Up with Montana Boys!"
The Grizzlies will open their season with a home game against Northwestern State on Saturday at 1 p.m.
—Frank Gogola contributed