GREELEY, Colo. — Cam Humphrey saw the end zone and his chance to score.
The Montana senior quarterback shook off a sack attempt and took off running Saturday afternoon at Nottingham Field. As he reached the goal line about 20 yards later, he took a hit from a Northern Colorado defender and helicoptered into the end zone.
Humphrey's teammates surrounded him with cheers, and the celebration distracted him from the pain of the hit.
"I saw the window, and there's no way I wasn't going to score," Humphrey said. "I did everything I could."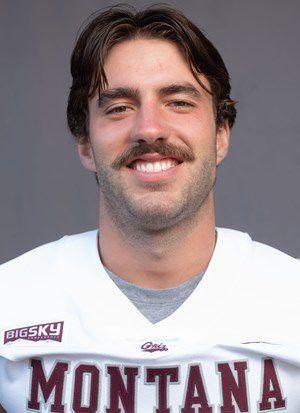 The play was emblematic of Humphrey's day in his first start in over a month. He was itching to do whatever it took to get a win after he had been relegated to taking a large dose of mental reps for three weekends before getting to play just three series last week.
Humphrey's return injected life back into the offense and kickstarted the final month of the season on a high note. He totaled four touchdowns as the 11th-ranked Griz turned in an all-around performance by pitching their first shutout since 2011 in a 35-0 win to improve to 7-2 overall, 4-2 in the Big Sky.
"It's hard sitting there watching the last few weeks, watching my teammates go to battle without me," he said. "Getting out there is a lot of fun. Happy we were able to execute the way we did and happy we got the win."
Humphrey was effective and efficient, completing 19 of 25 passes for 233 yards and three touchdowns. He was dialed in and got into an early rhythm as UM went with tempo to counteract the expected slow pace of play UNC was expected to run with its offense.
The Griz were also aggressive with their passing early on, and Humphrey could feel the right calls and checks being made starting from the first drive. His first seven completions went to six different players, and he ended up connecting with nine players.
Humphrey had runs of 14, 20 and 21 yards but netted just 35 yards on 11 rushes because of five sacks while playing behind an offensive line that had just two players starting at their normal position. Even he was surprised how well he ran despite suffering a right ankle injury on Oct. 2.
"He ran the ball well," Montana coach Bobby Hauck said. "When you're coming off injury, you always hold your breath, but he did a nice job. For the most part, he's a durable guy. I thought he played a nice, well-rounded game, exactly what we needed out of him. He threw it well too."
Humphrey's return helped the Griz rebound in a big way from their one-point win over last-place Southern Utah, which was another sign of their up-and-down offense. They had gone 3-1 without Humphrey starting — the loss to Sacramento State hampered their Big Sky title hopes, but they escaped last week to keep alive their playoff hopes before back-to-back road games.
One week later, the Griz have reached the seven-win playoff qualification threshold with two regular-season games to play. They did so with a convincing win one week after UNC nearly pulled off an upset in a 27-24 loss to Big Sky co-leader Sacramento State, a team which beat UM.
"Coach Hauck preaches on it that the best games you play have got to be in November," Humphrey said. "To start off like this, it was really cool. Starting off just from the first quarter, we were moving the ball, defense was stopping them. We knew we were clicking. We're looking to carry this momentum on as far as we can go."
The Griz finished with a 389-245 edge in total yards of offense after outgaining UNC 269-98 while building a 21-0 halftime lead. They limited quarterback Dylan McCaffrey to 23-of-40 passing for 173 yards and one interception.
UM took a 7-0 lead when Humphrey found tight end Cole Grossman across the middle for a 21-yard catch-and-run touchdown. It was Grossman's third consecutive game with a score, and it came one drive after Justin Ford intercepted a pass for the seventh consecutive game.
Humphrey escaped a pair of sure sacks in the first quarter to pick up big gains, the first one leaving him with a cut on his nose and the second being the 20-yard score for a 14-0 lead as he ran untouched most of the way because of the defense's man coverage. It was his first rushing touchdown since the go-ahead score at Washington on Sept. 4, and it came after David Koppang and Tyler Flink sniffed out a fake punt, setting up UM at the UNC 30-yard line.
Senior wide receiver Sammy Akem turned in his first two-touchdown game of the season, giving him 27 touchdown catches in his career, the second most in school history. His first touchdown grab, a 42-yarder, gave UM a 21-0 lead in the second quarter when he made a contested catch and fought through defenders to score for the first time since Oct. 2.
Akem finished with three catches for 72 yards, his final catch being a 17-yarder early in the second half. That came five plays after a crucial 22-yard pass on third-and-14 to Mitch Roberts, who finished with seven catches for 74 yards, both team highs.
"He's been special his entire career," Humphrey said of Akem. "I'm blessed to have him as a receiver. When you're a quarterback and you have a player like that, it's a true blessing. He's an outstanding talent, and I wish all the best for him. It's good having him."
Freshman running back Isiah Childs punched in a 2-yard touchdown run one play after Humphrey ripped off a 21-yard run and four plays after Alex Gubner forced a fumble, recovered by linebacker Braxton Hill. Childs ran for 24 yards in his first game since Oct. 9, freshman Xavier Harris rushed for 15 yards in his first game since Oct. 16, and freshman Junior Bergen quietly led the team with 64 rushing yards in his third consecutive start.
Northern Colorado got as close as the UM 9-yard line but turned the ball over on downs in the fourth quarter. On the next drive, the Bears missed a 44-yard field goal with 0:29 to play to preserve the shutout for UM.
"It always feels good when you play a pretty complete game," said Griz junior safety Robby Hauck, who led the team with 10 tackles. "There's obviously some things we've got to fix and improve on, but it's important to get rolling and get going at this point in the year, in the season. It's exciting, and it's a lot of fun."