MISSOULA — Montana agreed in principle to a new three-year deal with Travis DeCuire to remain the head coach of the men's basketball team, athletic director Kent Haslam said in a phone interview with the Missoulian.
"We want to keep him at Montana," Haslam said. "At this time of the year, it can be chaotic. When you have a successful coach, there (are) suitors. We understand our salary schedule is not what other schools can offer, but we want to make sure we're committed for the longest possible length."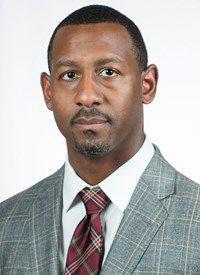 A three-year contract is the maximum length Montana can offer.
The new contract will replace DeCuire's current one, which was set to expire on June 30, 2019. The expiration date for the new contract will be June 30, 2021.
DeCuire's base salary will increase to $175,000 from $155,000, Haslam said, with additional incentives to be included.
Haslam said he brought up renegotiating the contract with DeCuire on the team's trip back to Missoula from Wichita, Kansas, where the Griz lost to Michigan in the first round of the NCAA tournament. They then met for "a couple hours" Wednesday to begin discussing a new contract.
The contract needs to be approved by the Board of Regents to become official.
DeCuire reportedly was "a serious candidate" for the Colorado State head coach position but "removed himself from consideration." Colorado State announced the hiring of former CSU assistant coach Niko Medved as the Rams' head coach Thursday afternoon.
After the 2016-17 season, DeCuire reportedly interviewed for the head coaching vacancy at Cal but pulled his name from consideration for the Pac-12 job.
Under DeCuire in 2017-18, Montana won conference titles in the regular season and tournament, posted an undefeated home record for the first time since 1992 and went to the NCAA tournament for the first time since 2013. He became the fastest coach in Big Sky Conference history to win 50 career league games. 
He was named the Big Sky coach of the year and the National Association of Basketball Coaches 2017-18 District 6 coach of the year.
In his four years coaching Montana, the Grizzlies have won at least 20 games three times.
DeCuire played for Montana in the early 1990s and remains the program's all-time and single-season assists leader.