MISSOULA — For the third time this season, Montana's Julia Ronney has been named the Big Sky Conference Player of the Week in women's tennis after clinching a nail-biter dual win for the Grizzlies over Weber State Saturday.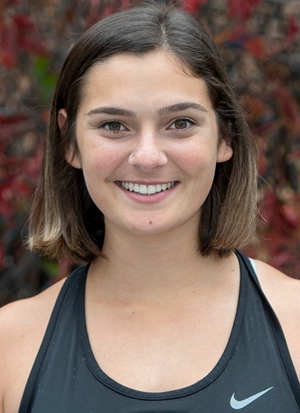 The senior from San Diego has garnered three of the last six weekly awards. She earned her first of 2021 on Feb. 23 after upsetting Gonzaga's No. 1 player and earned a second on March 16 after going undefeated against Portland and Portland State.
To earn her third player of the week award, Ronney won the clinching match in a dramatic 4-3 home dual win over Weber State Saturday. She bounced Wildcat No. 1 Yunna Ukita, going undefeated in doubles and singles to clinch in a nail-biting third-set tiebreaker for the Grizzlies.
In doubles, Ronney and her partner, Olivia Oosterbaan, clinched the crucial opening point for UM at No. 1. They earned a 6-3 win over Weber's Ukita/Salas tandem after the Griz and Wildcats split matches at Nos. 2 and 3.
"This honor is well deserved for a gutsy performance and how she continued to persevere all the way through a challenging three-set (singles) match," Montana coach Steve Ascher said.
Ronney is 2-0 in Big Sky action and 7-2 overall in singles. Her team is sitting in second place in the Big Sky North Division with a record of 1-1 (5-4 overall).
Montana has one of its biggest duals of the season coming up on Sunday, travelling to take on archrival Montana State at 10 a.m. in Bozeman. The Grizzlies whipped the Bobcats in their first meeting back on Feb. 28, 6-1.