MISSOULA — Down five points to NAIA MSU-Northern at the second-half under-16-minute media timeout, Montana needed someone to start making shots.
Sayeed Pridgett obliged. The senior guard went on a personal 12-2 run over the next five minutes of game time as the Grizzles slowly wore down the upset-minded Lights for a 64-50 win on Sunday afternoon at Dahlberg Arena.
"We definitely need him to be that guy," Montana head coach Travis DeCuire said. "For us it's all about getting opportune shots. I thought he settled a little bit early. He got good looks and when they didn't go down he settled on a few. It was important for us to just attack the rim."
Pridgett finished with a career-high 30 points, surpassing a 29-point output at Weber State last season. He added five rebounds, four assists and two steals in an impressive performance as the 1-1 Grizzlies got their first win of the season.
He drove into the paint numerous times, diving deep into his bag of moves to slip past Northern defenders and finished many of those shots cleanly.
"I tried to attack on the side we had the best shooter on, either Kendal (Manuel) or Josh (Vazquez) so that (defenders) wouldn't be able to help," Pridgett said. "Once I get one-on-one by myself I knew I could score so I just went ahead and took shots."
The Lights got off to a blazing start, making their first seven shots and 12 of their opening 16. MSU-Northern led by 13 at the 4:39 mark of the first half, but an 11-0 run by Montana to end the first half made the score 32-30 in favor of the Lights at the break.
The Grizzlies finally took the lead for good on a Pridgett three-point play with 13:17 to go in the second half.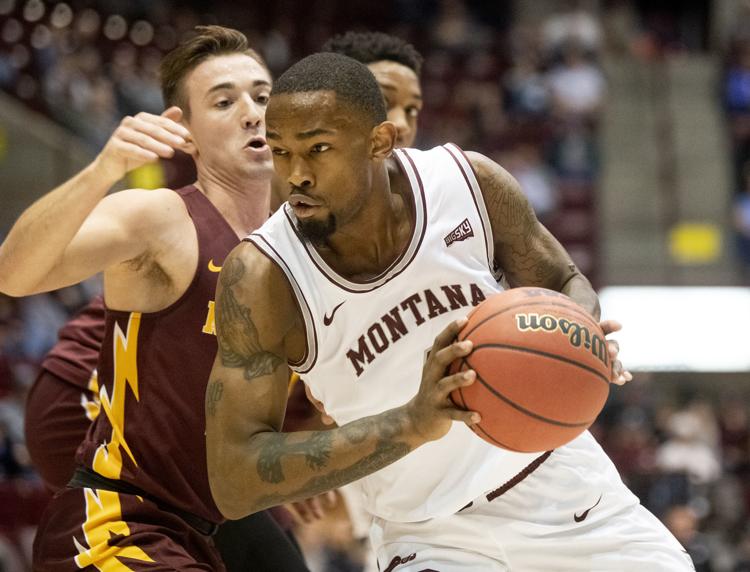 "We played a really good first half. We're competitive and we think we have a great team, so of course we're disappointed walking out of here today," MSU-Northern head coach Shawn Huse said. "Having said that, they certainly get after you. They're young and figuring themselves out a little bit right now with the graduation that they've had.
"We were able to take advantage of some of that inexperience there to start with."
True freshman Kyle Owens was the only other player in double figures for the Grizzles, scoring 11 points on 5 of 8 shooting. Manuel had eight points, but continued to struggle from behind the arc — the career 40.1 percent 3-point shooter is just 3-for-11 from deep to start the season.
MSU-Northern was led by Kavon Bey's 15 points and eight rebounds. Mascio McCadney had 14 points, while Missoula Hellgate grad Devin Bray had six.
Montana was much cleaner with the ball than last Wednesday's game against Stanford, committing just nine turnovers while forcing 18.
The Grizzlies will have a week off before they head to Fayetteville for a Nov. 16 matchup with SEC team Arkansas. MSU-Northern, now 2-1, will next be in action at the University of Providence tournament, where they open with Northwest University.
"We just got to keep working on ourselves to be the best basketball team we can be," DeCuire said. "We'll go hard this week to get better in a lot of areas on both sides of the ball and then Friday we're going to start figuring out what we're going to do with Arkansas and we'll give them the best shot we've got."