MISSOULA — Little did anyone realize when the Montana Lady Griz left the basketball floor in Boise last March that there would be an eight-month pause for all UM athletes.
The scene was CenturyLink Arena and a lot has changed since that dreary day when they lost to Northern Arizona. Shannon Schweyen has been replaced by Mike Petrino as head coach and Montana's 15-player roster includes eight newcomers.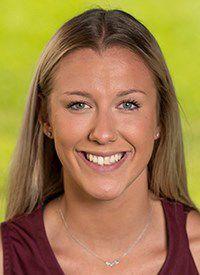 Ironically, the same Lady Griz team that played on that afternoon before COVID-19 shut everything down in the Big Sky Conference Tournament will start everything back up again Wednesday. Montana will usher in the Petrino Era with a 2 p.m. contest at Utah State in Logan.
"Right now we're thankful we get to play," said Petrino, whose team traveled by bus on Tuesday. "I mean, Monday you saw Eastern Washington lost their first game, Southern Utah lost their first game, Idaho State lost their first game to COVID. We're fortunate. Our first victory is we get to play."
It should be an intriguing opener for both the Lady Griz and Aggies. Utah State has a new coach in Kayla Ard and she has an entirely new staff.
Given the fact Utah State finished 8-23 last season and Montana finished 17-13, you'd assume the Lady Griz would be the more polished team coming out of the gate. Montana returns three starters in forward Abby Anderson and guards Sophia Stiles and Madi Schoening while Utah State returns two starters — neither of which did much scoring last winter — in senior guard Emmie Harris and junior forward Taylor Franson.
"I think we're all just super excited to get a game in, a real game, for the first time," said Anderson, Montana's top returning scorer, averaging 9.0 points per contest last season. "It's been tough with not really any preseason. It feels like you're doing the same thing every week, like you're in a simulator."
Petrino is less concerned with what Utah State will do than he is his group finding a formula for success. He will try a lot of different combinations, looking for good ones ahead of Montana's Big Sky home opener next Thursday against Southern Utah.
Petrino has brought with him 13 of 15 team members for Wednesday's game. The list includes all four athletes that saw the floor in official competition last season.
This season is unique in the sense that coaches do not have to make redshirt decisions, since every player has been granted an extra year of eligibility. That opens the door for the five Lady Griz true freshmen to show what they can do off the bench against a run-and-gun Utah State team.
"I expect a very aggressive Utah State team that likes to push the ball," Petrino said. "They like to score it quick. I think our transition defense, guarding the dribble, guarding on-ball screens and rebounding will be key. The pace will be crazy."
Fans of the Lady Griz can watch the game online via the Mountain West Network. The game will also be broadcast locally on the radio on KMPT 99.7 FM and 930 AM.
"There will be some familiar actions that Montana has done in the past," Petrino said when asked about what fans can expect from his first team. "And there will be things that will be new based on our personnel.
"Coach (Robin) Selvig won a lot of games here. Some years his best player was the point guard. Some years it was a post player. Some years a wing player. Some years he won with zone. Some years he won with man. It comes down to your personnel. Systems can work, but players are the key."
Along with the five incoming freshmen, Utah State has four transfer players with immediate eligibility. The list includes junior guard Paris Williams (Daytona State College), junior guard/forward Monique Pruitt (Wabash Valley College) and junior forward Bre Matthews (Ranger College) along with grad transfer Jessica Chatman (Southern Utah).
Chatman, a 6-foot forward, is a player to watch for an Aggie team that is picked to finish 11th in the 11-team Mountain West. She scored nine points on 4-for-5 shooting for Southern Utah last January in an 81-74 loss at Montana.
"We're really excited to welcome Montana here," Ard said. "It's kind of ironic and interesting with Coach Petrino stepping into a new coaching role and me stepping into a new role. Will they run the same stuff as in the past or have a completely new system? He's probably trying to figure out the same thing.
"The first game is always interesting because nobody has played. It's going to be interesting to see how things match up." 
Only family members will be allowed in the cavernous Dee Glen Smith Spectrum Wednesday. The Lady Griz and Aggies will need to bring their own electricity as they shoot for a confidence-building win.