Editor's note: This is the first of a three-part series looking at Montana's 1995 national championship football team for its 25th anniversary. Part two comes out in Saturday's Missoulian newspaper, and part three runs Sunday.
MISSOULA — Members of Montana's 1995 national championship team got together Tuesday night for a Zoom call to reminisce about their title run and catch up on where they are now, nearly 25 years to the date after the first football championship in school history.
The '95 title team coached by Don Read remains in high regard, being inducted into the Grizzly Sports Hall of Fame in 2005. Recently, the group gifted $300,000 for a 2,000 square-foot football team room at the Washington-Grizzly Champions Center.
"We had another group call about two, three months ago," recalled Mick Dennehy, the offensive coordinator in 1995. "We talked and BS'd and a little about this and that and family and kids. 25 years later, there's a group of 20, 30 guys still in close contact and know what's going on in everybody's lives. That's as neat a thing as anything that came out of our championship."
The Missoulian and 406mtsports caught up with former players and coaches from the 1995 team to find out where they're at and what they've been up to since leaving the Grizzly program.
Dave Dickenson
Senior, quarterback, Great Falls CMR
431 of 624 passing for 5,676 yards, 51 TDs, 11 INTs in 1995
Dickenson has had a successful pro football career after passing up a chance to go to medical school on a postgraduate scholarship he received for being named the NFF National Scholar-Athlete. He was part of five championship teams as a CFL player or coach, most recently winning the Grey Cup in 2018 as head coach of the Calgary Stampeders. He played in the CFL for 10 seasons, spent two years in the NFL and has coached in Calgary since 2009.
The Great Falls native who led CMR to two state titles was the 2000 CFL Most Outstanding Player, 2006 Grey Cup MVP, a 2015 inductee into the Canadian Football Hall of Fame and 2017 CFL Coach of the Year. He was inducted into the College Football Hall of Fame in 2018 and the Big Sky Conference Hall of Fame in 2020, adding to his college honors as a three-time All-American and 1995 Walter Payton Award winner.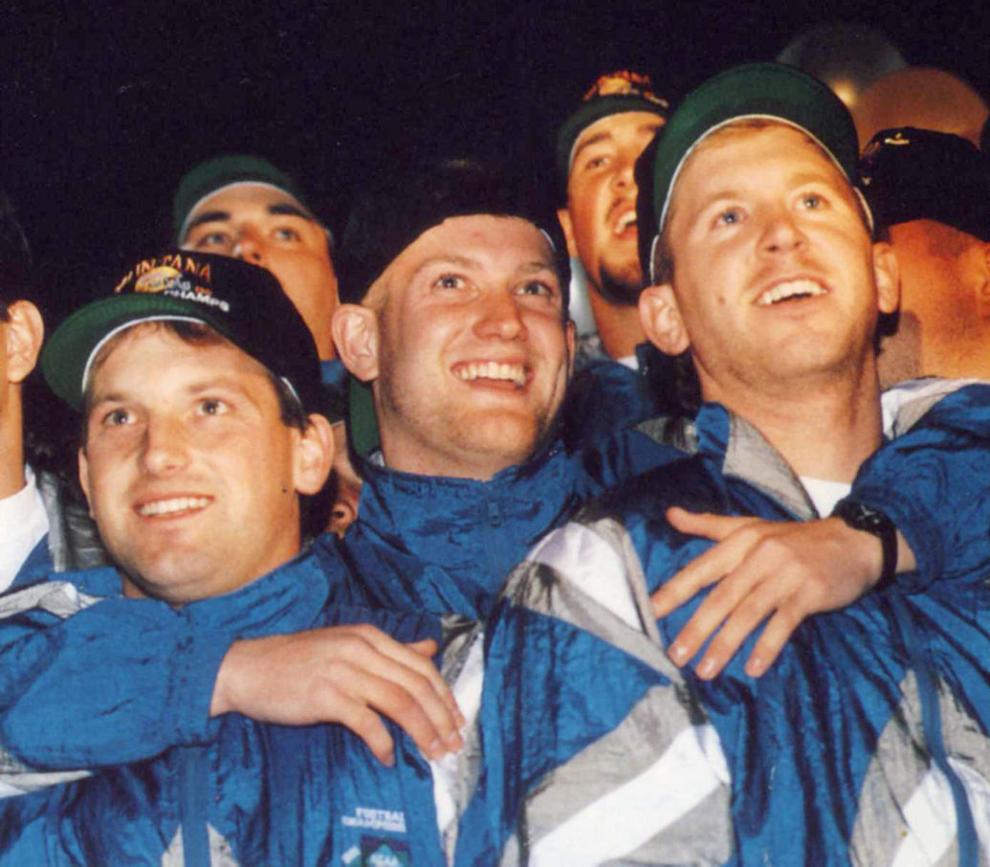 "At some point, you have to grow up and get a real job. I feel like I haven't had to do that," Dickenson said. "It's enjoyable. I hope most people can enjoy whatever job they get because that's what makes life worthwhile. I'm surprised my playing career lasted as long as it did. I wasn't sure I'd coach at the professional level but thought I'd be coaching my whole life. I like to talk and impart what I think is the successful way to do things and see the results."
Andy Larson
Junior, kicker, Helena Capital
10 of 14 on field goals, 58 of 61 on extra points in 1995
Larson has worked at First Security Bank of Missoula as a commercial banker for the past 12 years since he moved back to town after living in Baltimore and Boston. He didn't pursue football after UM because of knee surgery.
The Helena native married his high school sweetheart, who played basketball at Willamette University, and has three daughters, 13, 11 and 9 who are learning about his accomplishments.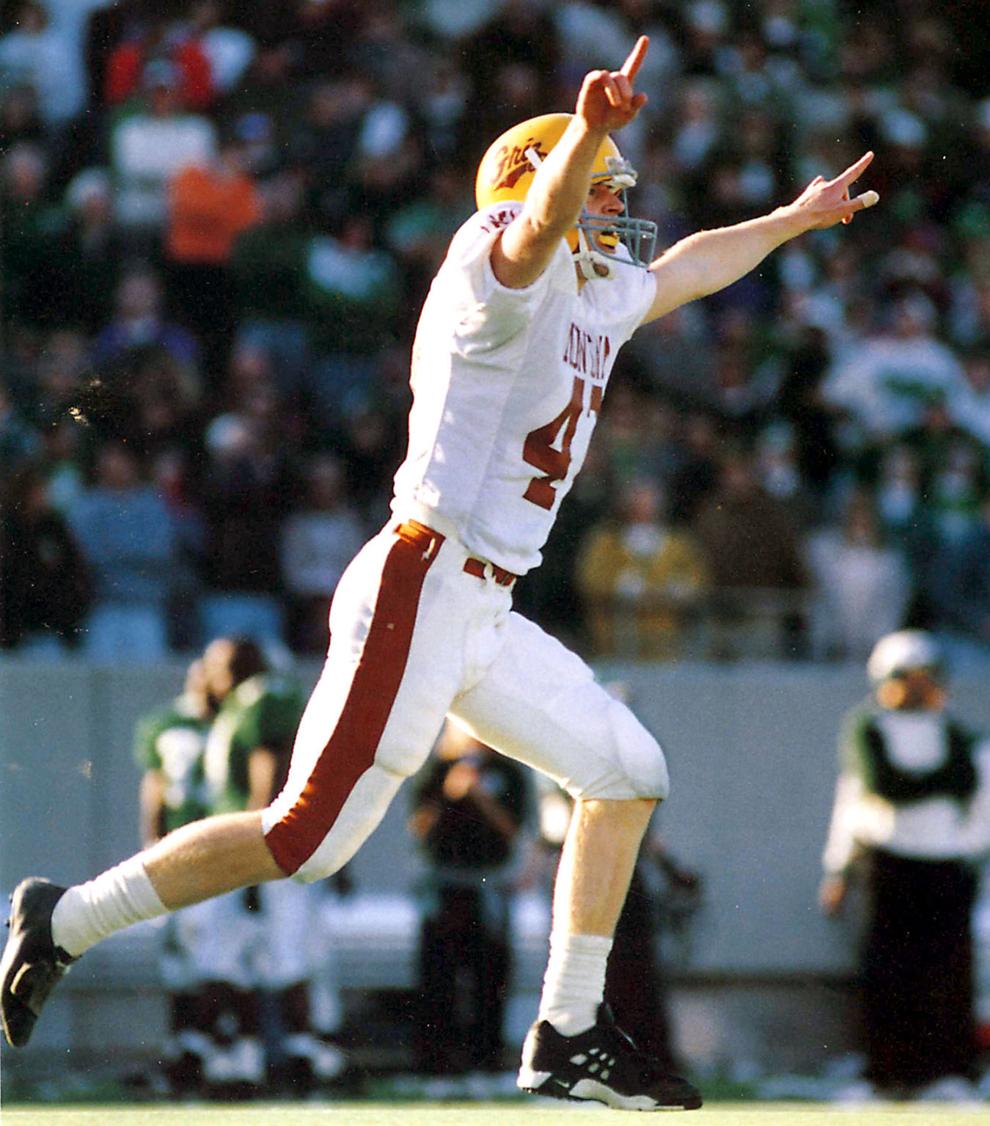 "I'm getting pretty old and a has-been, but it never gets old," Larson said about being asked if he's that Andy Larson. "As we get older, you kind of have a better understanding of what that meant to people. I was in the stands at a Griz game and this guy found out I was Andy Larson, and he's like, 'That was one of the best days of my life.' A lot of people waited a long time for that. That's kind of the golden years."
Matt Wells
Senior, wide receiver, Ashland, Oregon
91 receptions for 1,318 yards, 13 TDs in 1995
Wells is the Divisional Vice President covering the Missouri and Kansas areas for American International Group, a multinational financial and insurance corporation. He had a stint in a CFL camp and an opportunity to play for the Arena Football League's Portland Forest Dragons but decided to stick with being a financial advisor.
A 2018 inductee into the Grizzly Sports Hall of Fame, Wells met his wife on a trip back to Missoula in 1999 after never having known her when they went to UM at the same time. He lives in Kansas City and has a 23-year-old step-daughter and two daughters who are 17 and 14.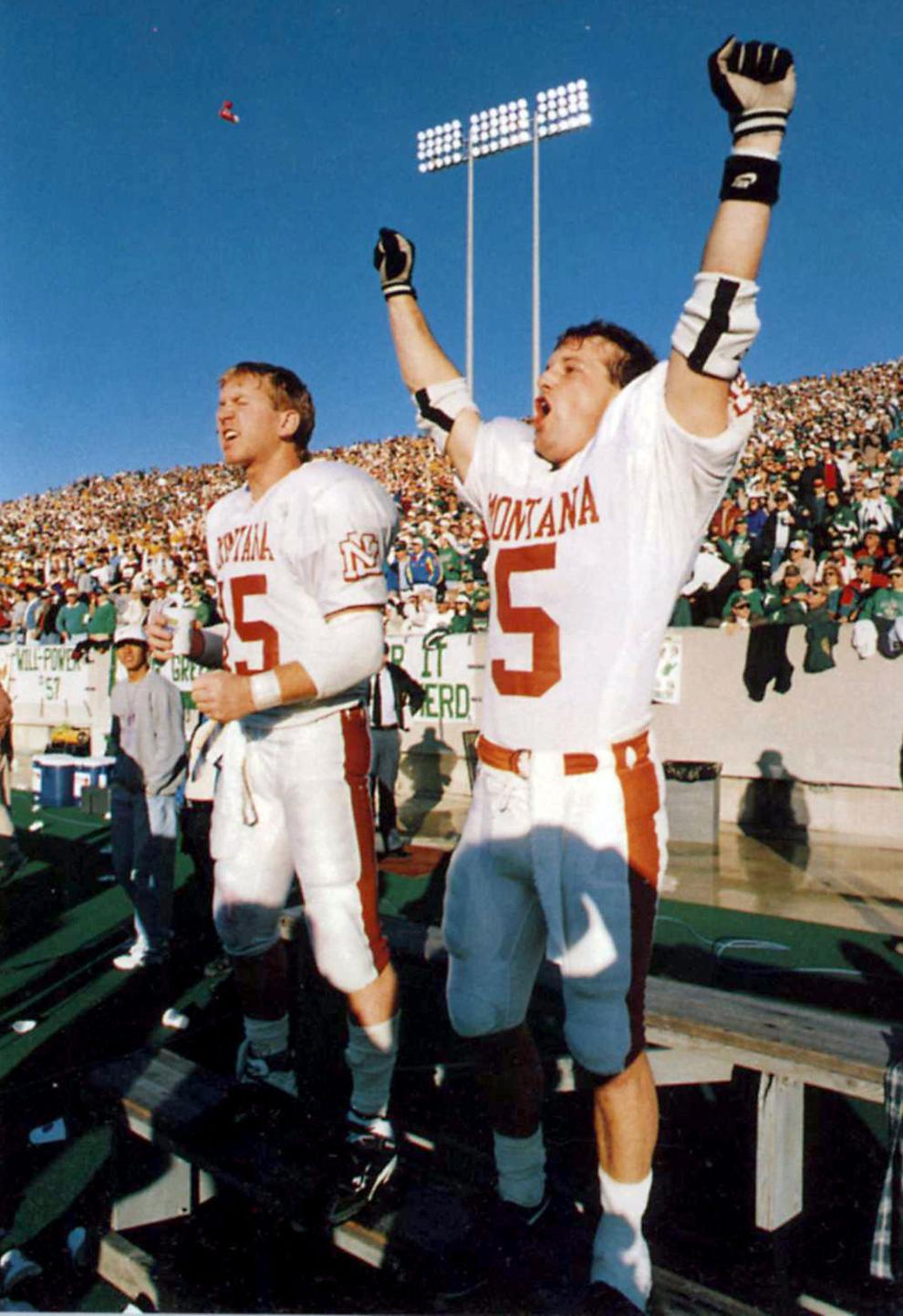 "I think we were all a very competitive group," Wells said. "We all hated to lose. At the end of the day, we were just a great group of teammates and people who got along. We're all still staying in contact and giving each other crap. It's as if it's 25 years ago and nothing's changed."
Blaine McElmurry
Junior, safety, Troy
87 tackles, four INTs, two forced fumbles, two fumble recoveries in 1995
McElmurry has been in Montana for about 20 years, creating and running his own construction company, McElmurry Homes. Coming out of UM, he passed on medical school at Washington to play pro football on and off for five years, spending three years in the NFL with the Green Bay Packers and Jacksonville Jaguars before his career ended due to injuries and surgeries.
McElmurry married the former Kristy Wetterling, a UM track standout, and has gotten to watch his daughters excel in athletics. Ashley is competing in track in the Big Ten at Nebraska, Audrey recently signed with Sacramento State for track and his youngest daughter is a freshman at Missoula Sentinel.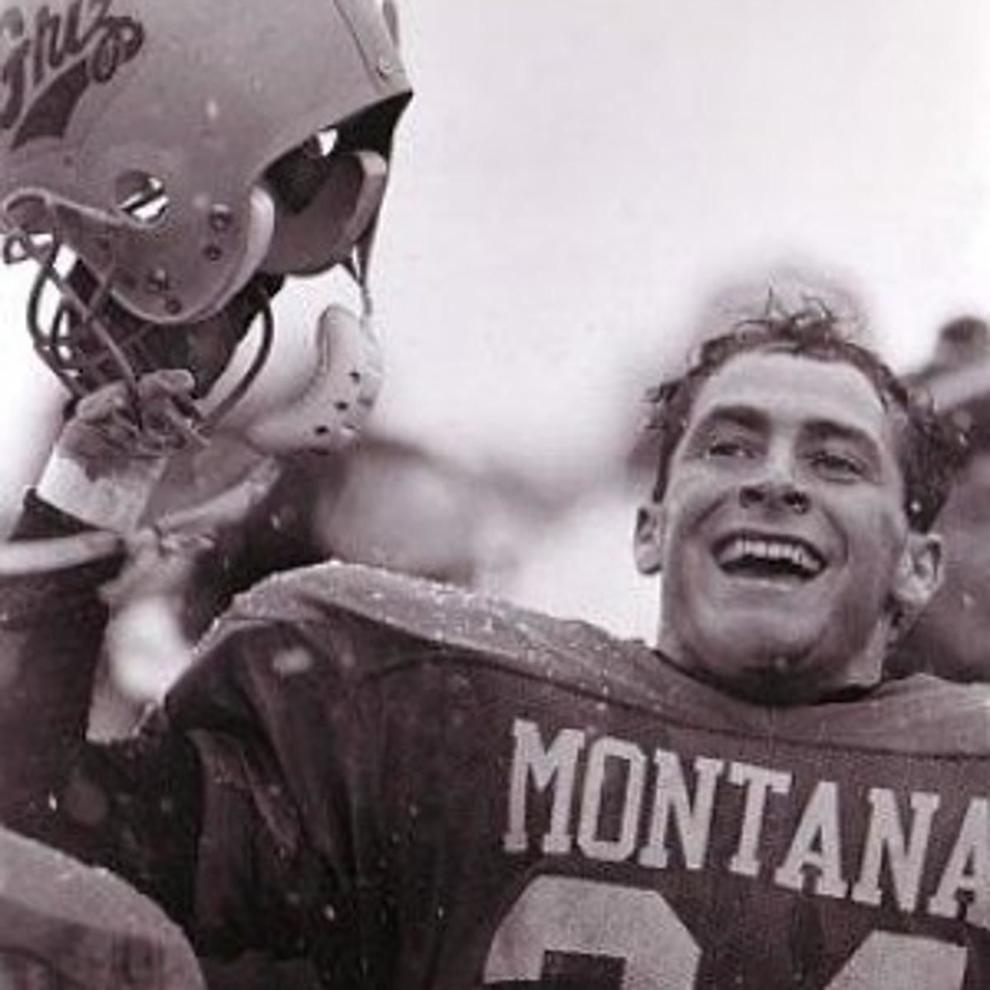 "I've been able to create a livelihood of flexibility with having three daughters that I never miss anything," McElmurry said. "I think they have a little bit of an advantage in having two parents who know the importance of hard work and they can see what they need to do to reach their goals. We never really pushed them. We wanted them to do it because they liked it. They're naturally very competitive and competitive with each other."
Mike Bouchee
Junior, linebacker, Missoula Hellgate
123 tackles, four TFLs, one sack, one forced fumble, one fumble recovery in 1995
Bouchee is the founder of Bouchee Development, a Missoula-based company that focuses on affordable housing by buying, rehabilitating and preserving HUD projects. He uses his law degree, which he got from UC-Berkeley after playing at UM, and his finance background from getting his master's degree in tax law at New York University.
Bouchee married his high school sweetheart from Hellgate High School and has a son, 26, who was born in January 1994 during his playing days. He passed on free agent tryouts, eventually returned to Missoula to work at the Garlington, Lohn & Robinson Law Firm and later became the vice president at Rocky Mountain Development Group.
"I'd give anything to go back and play again, but we were so good on our run that I didn't feel I was missing anything afterward," Bouchee said.
"Having a good locker room where players care for each other was unique. Coach Read really engendered that among the players, and it spread, so during the game, you weren't out there competing as just football players. None of us wanted to let down our teammates or coaches. I don't think another team could play as hard for each other as we did because of the love that coach Read had in the locker room for each of us."
Eric Simonson
Senior, offensive lineman, Plentywood
Simonson has been working on his family farming ranch in Plentywood and the Simonson Cattle Company since 1996, taking over when his free agent contract with the Philadelphia Eagles didn't pan out. He has four kids, one boy and three girls; the boy is the oldest, is named Marshall and was born the year that Montana played Marshall for the 1995 title.
"We raise crops, cattle and kids," Simonson joked. "The perseverance that it takes in a grind day after day, year after year, I took a lot from coach Read. I still use a lot of Read-isms. I'll say to my kids, 'How do you eat an elephant? One bite at a time.' When you're faced with insurmountable odds or large obstacles, your ability to persevere and take it one step at a time, that was a bedrock of the approach our coaches brought to building the team."
Yohanse Manzanarez
Senior, defensive end, Great Falls High
54 tackles, 11.5 TFLs, 5.5 sacks, one fumble recovery in 1995
Manzanarez continued his athletic competition after UM by running triathlons, earning a blue belt in Jiu Jitsu and participating in submission fighting. In 2011, he helped launch Epic Freight Solutions, where he remains the executive vice president of the logistics company.
The Great Falls High grad originally from Mexico moved to Orange County, California, after getting some looks from pro football teams but no opportunities. He met his wife of 17 years in California and now has a 13-year-old daughter and an 11-year-old son.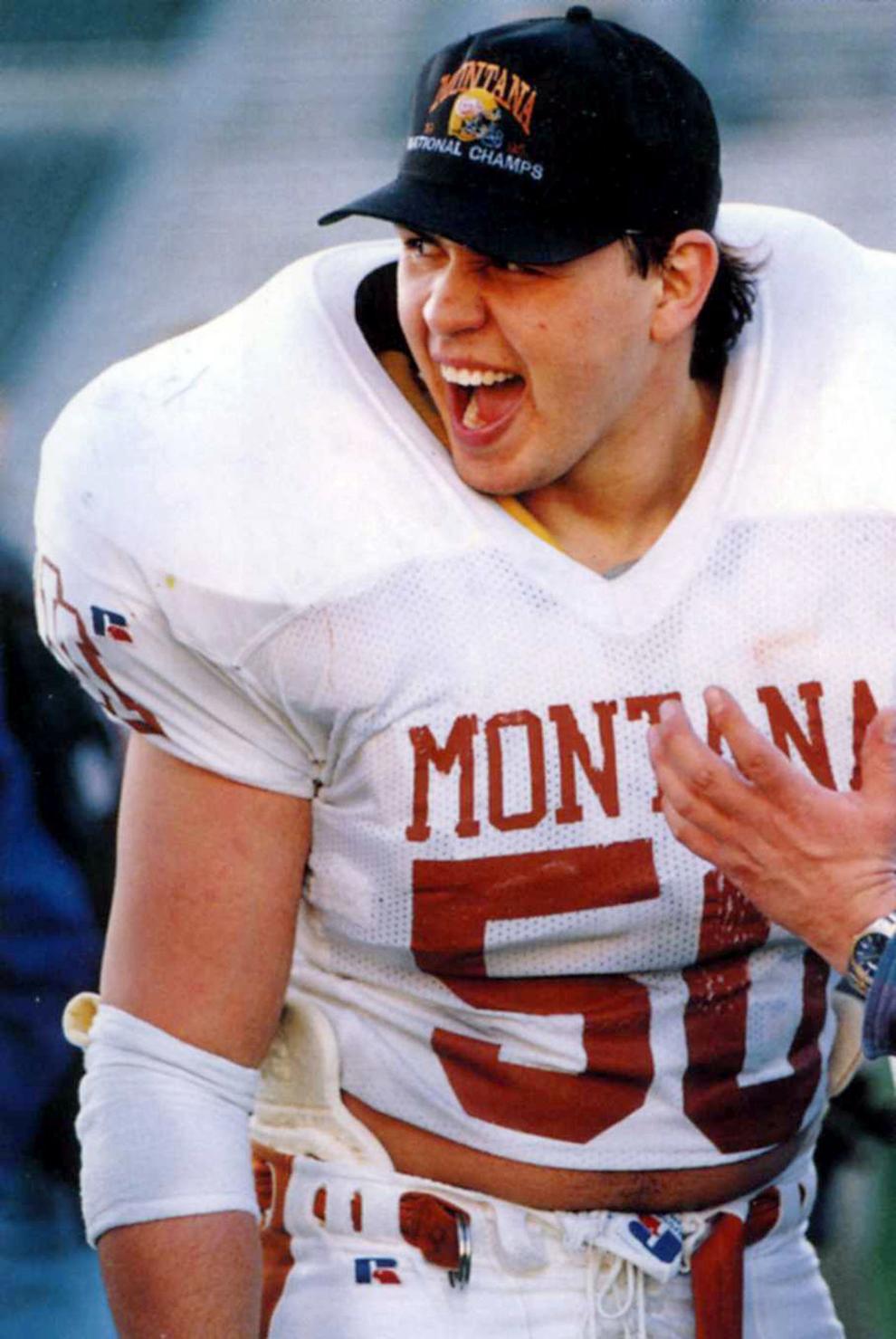 "The interesting parallels of athletics and business is all those fundamentals of the '95 team apply to my life today," Manzanarez said. "That's teamwork, passion, being part of something bigger than yourself. It's all the fundamentals we build our organization on. It's fun to have that template and that experience to draw on."
Brian Toone
Junior, defensive tackle, Butte
31 tackles, five TFLs, five sacks in 1995
Toone is the owner of Jewelry Design Center in Spokane, going straight from UM to working at the shop his father created in 1977. They've added a second location in Kennewick, Washington.
The Butte native has two daughters, the oldest of whom is 18 years old. He recently volunteered as a defensive line coach at a Washington high school for five years, giving him a greater appreciation for the coaches he had and how hard they worked.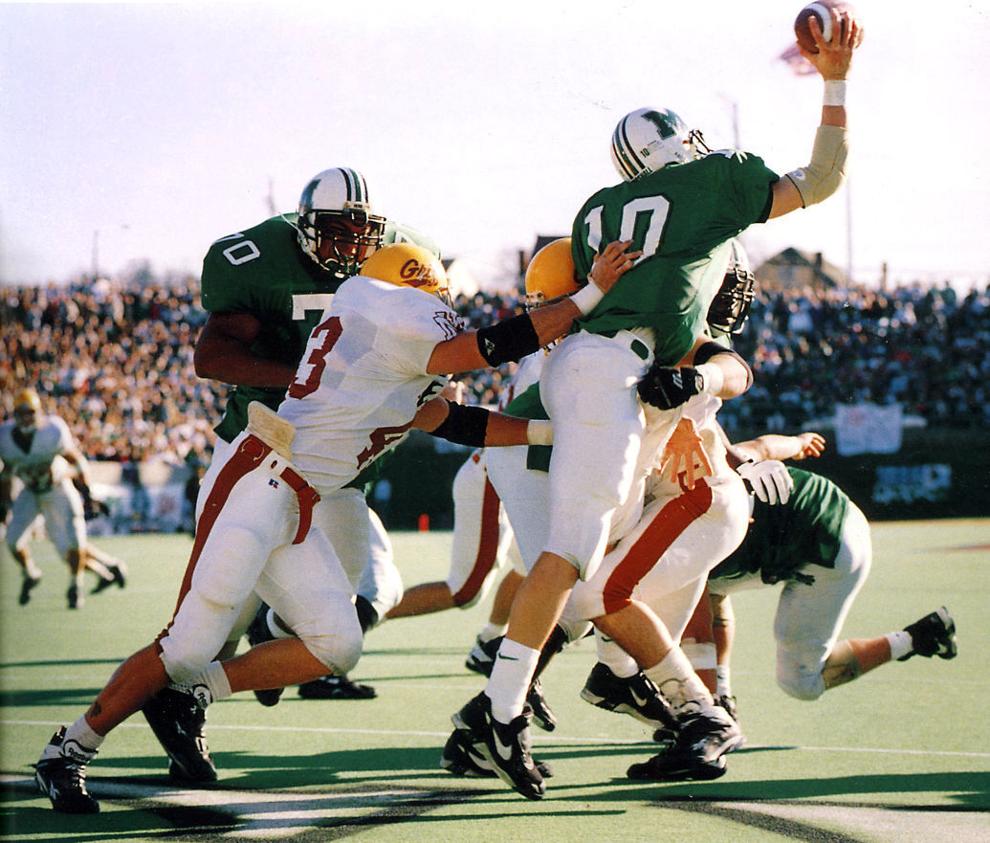 "The championship changes with your years of perspective because I'm a parent now and my oldest is the age I was when I joined the Griz," Toone said. "I think back and thought I was so mature at the time and knew what I was doing. But when you watch your kids go through it, it's like, 'Woah, we were just kids,' and things sink in as more meaningful now."
Jason Crebo
Sophomore, linebacker, Helena Capital
102 tackles, 20.5 TFLs, six sacks, one forced fumble in 1995
Crebo is living in Lacombe, Alberta, Canada, and bought All Season Lawn Care & Snow Removal on Dec. 1 while continuing to work at a ministry on the side. The 1996 Big Sky defensive MVP previously had been a part-time pastor while working at Costco while living in the states.
Crebo, who wore the No. 37 legacy jersey in 1995, was waived by the Buffalo Bills as an undrafted free agent in 1998 and returned to Missoula until 2006, when he moved to Canada, his wife's home country. They have a 6-year-old daughter and 5-year-old son.
"My adopted dad died when I was 16, and I met my biological father the year we won the title, so I was dealing with some heavy stuff in college," Crebo offered. "That '95 year, football was great, but I was in pretty rough shape personally and wasn't in the best frame of mind.
"The thing that came out of college was I became a Christian after the '96 season. My life changed dramatically, so those years are bittersweet. Those were the greatest highs and the lowest lows.
"When I look back, football saved my life because it gave me the opportunity to go to school. In high school, I'd get in trouble, and football was my only outlet. If not for my coaches, I wouldn't have made it through. I don't think I'd be here today if I didn't have the sport."
Mick Dennehy
Offensive coordinator/O-line coach
Dennehy retired in 2007 after serving after the athletic director at Jefferson High School. The Butte native who played at UM in 1971-72 retired to Canyon Ferry Lake but moved to Butte with his wife after a career that included stints at Montana State and Montana Western before he was hired at UM in 1991.
Dennehy took over as Montana's head coach in 1996 when Don Read retired, going 39-12 in four seasons, winning three Big Sky Conference titles, making the playoffs four times and losing in the 1996 national title game. He left after the 1999 season for Utah State, where he went 19-37 in five seasons.
"From a personal perspective, it was a pretty neat experience for me to go back there after playing there and have the opportunity to give back to the place I got my degree," Dennehy said. "It was a humbling experience for me. It was just a great deal of fun with the people and community and parents involved. Our goal was to leave it better than you found it, and I think we got that done."
Brent Pease
Quarterbacks/running backs coach
Pease has been back at Montana as a wide receivers coach since 2018 after his foray into coaching at UM led him to the highest reaches of college football in the SEC. A former Montana quarterback in 1985-86, he spent six years in the pros as a player, was a UM assistant from 1991-95, was elevated to offensive coordinator from 1996-98 and went on to coaching stops at Northern Arizona, Kentucky, Baylor, Boise State, Florida, Washington and UTEP.
Pease married the former Paula Good, a Grizzly Sports Hall of Fame track athlete. His son Karsten Pease ran track for UM, and he also has a daughter, who had just been born prior to the 1995 championship season.
"One of the things that helped me is I coached a lot of different positions before being a coordinator," Pease said. "Probably the biggest thing when I wasn't a coordinator was I still called the plays during the championship game. I think being in a situation of pressure at times kind of helped me later on for dealing with situations in other places.
"Looking back through the years, when I was off in other places and left for 20 years, you forget about the relationships and don't appreciate it as much. 25 years, holy cow, my kids have grown up, and you appreciate it and the people who were a part of it and the administration."
Wayne Hogan
Hogan lives in Florida and is the owner and CEO of Mango Media, a public relations and marketing company. He's also the executive director of the Florida Sports Hall of Fame and the Florida Rising Stars Project.
Hogan came to Montana from Florida State in the middle of the 1995 season and went on to work at Georgia Tech from 2006-13 before getting out of college athletics. After replacing Bill Moos at UM, he hired Mick Dennehy, Joe Glenn and Bobby Hauck, each of whom led the football program to at least one championship game.
"That was a big changing point in my life because it was my first opportunity to have my own program," Hogan said. "Montana was a storybook place. We didn't know places that beautiful existed. Then when you have such a great football program that was starting to take over everything, the city, the region, you could tell it was a giant waiting to awaken.
"I worked in college sports for 35 years, and that was the most satisfying, most fun, most rewarding of all the time I was in the business. We miss Montana every day. You can't get it out of your blood."