HELENA — As a junior last year, McKenzie Johnston made history by becoming the first University of Montana women's basketball player to earn the Theresa Rhoads Award three times. The honor is bestowed on the woman that best exemplifies Lady Griz basketball.
This past March, Johnston, a Helena Capitalalum,  extended her record when she claimed her fourth Theresa Rhoads Award.
"First 4-time recipient says so much about Kenzi Johnston, just make it a lifetime award," wrote Corban University coach Bill Pilgeram, who directed Johnston when she led his Capital Bruins to the 2015 Class AA State championship.
Johnston said that winning the Rhodes award four times was "by far" her biggest accomplishment at the UM.
"Being the person that 'Best Represents Lady Griz basketball' is what I am most proud of," said Johnston, whose parents are Mark and Sheri Johnston. "Being recognized by my teammates and coaches is far more special to me than any other individual award. Plus, I've become close to Jess and Nancy Rhodes over the years and that's even made it more meaningful each year."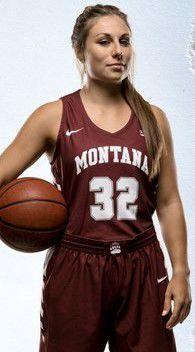 Johnston also garnered her second Mary Louise Pope Zimmerman Award as the team's Most Valuable Player, was selected first-team All-Big Sky Conference, and earned the Grizzly Cup as the UM's Outstanding Female Athlete.
A 5-foot-7 guard, she helped Montana to a 17-win season and its best record since 2016. Johnston finished her career as the program's fourth all-time assist leader with 515, and No. 7 in scoring at 1,398 points. She posted lifetime averages of 11.65 points and 4.3 boards per game.
Johnston led the Lady Griz team in three categories this year, scoring 13.2 points per game, dishing for 5.0 assists per game, and sporting a field goal accuracy at 46.2 percent. She also ranked No. 2 in rebounds (5.3 rpg) and steals (35).
According to Synergy Sports U, McKenzie stood seventh nationally in the NCAA's "Jump Shots Off The Dribble" category, at 41.8 percent.
She scored 20-plus points four times this season, with a high of 26 counters vs. Northern Arizona. Johnston paced the team in scoring 14 times, and in rebounding (at just 5-7, mind you) four times. She was tops in steals five times, as well, with a high of five pilfers against MSU Billings, and led in blocked shots in three games.
Johnston posted double-double games against Southern Utah (14 points, 10 assists) and Eastern Washington (11 points, 10 assists, zero turnovers), and just missed a triple double versus EW (22 points, 9 assists, 8 boards).
Johnston garnered her college scholarship having graduated from Capital with a 4.0 GPA and 11 varsity letters.
She collected five all-state selections (two each in basketball and softball, one in volleyball), and seven all-conference citations, while establishing at least eight CHS records (four hoops, four softball), while leading the Bruins to the state crown her senior year.
During the 2015 state tourney, Johnston averaged 14.7 points, 4.7 rebounds, 5.0 assists and 4.3 steals, and was selected AA Tournament MVP.
At Montana as a redshirt freshman in 2016-17, she led the team with 3.0 assists per game and 33 steals, and was No. 2 in scoring and rebounding, at 8.3 ppg and 5.0 rpg. Johnston earned one Big Sky Conference Player of the Week honor.
Her sophomore year, she paced the club in scoring (12.5 ppg), assists (5.0 apg) and steals (41), and was No. 2 in rebounds (5.5 rpg). She was selected a 2018 honorable mention all-Big Sky, and was named the Lady Griz's Zimmerman MVP.
In 2018-19, Johnston led the UM in scoring (12.6 ppg), assists (4.1 apg) and steals (35), and was fourth under the glass (4.1 rpg). She added the Julie Deming Outstanding Defensive Player award to her resume', as well.
Johnston concluded her career having played in a remarkable 120 games out of 121, missing only one contest in four years due to her sister Jordan's wedding. This spring she earned her fourth successive academic all-Big Sky Academic citation, on the way to earning a masters degree in exercise science.
"I loved my time at UM, and I'm grateful that I had the opportunity to come to Missoula and play for that program," said Johnston, who is in training to play professionally in Europe (COVID-19 permitting). "Besides the basketball side of things, I've created life-long relationships in the community that I know will help lead me to success in my future.
"And I will forever cherish those memories and moments that UM gave to me."
Pilgeram described his former star as "one of those truly rare" players and people.
"Kenzi Johnston would be my first pick every time, whether choosing sides for basketball or badminton," he said. "What an amazing career and legacy."
So what do ya think folks? Are we seeing a possible McKenzie Johnston Award in the future?