MISSOULA — As Sayeed Pridgett surveyed the floor as the Montana men's basketball began to warm up ahead of a Friday afternoon practice, he made an observation about the rapidly filling floor.
Players, coaches and training staff were all in the gym early and the team was buzzing as it began to put shots up. They certainly have a reason to be happy with the way things are currently sitting for the Grizzlies.
At 5-1 in conference play, Montana is at the top of the Big Sky and has a manageable upcoming slate, which starts with a game on Saturday against Idaho that tips at 7 p.m. in Dahlberg Arena.
It will be the 200th game between Idaho and Montana, with the Vandals leading the all-time series 110-89.
"You can tell the difference between then and now in our gym time," Pridgett, a senior, said of the Grizzlies. "Maybe at the beginning of the year, we haven't had as many guys in the gym as of right now. You can tell the winning is helping us stay in the gym a lot more."
Montana is on something of a roll right now, winning four of its last five games and recording just three losses since the beginning of December. During that span, the Grizzlies have won three straight Big Sky player of the week awards by three different players.
The wins are coming and everyone is getting involved. There might not be a better recipe for building team chemistry.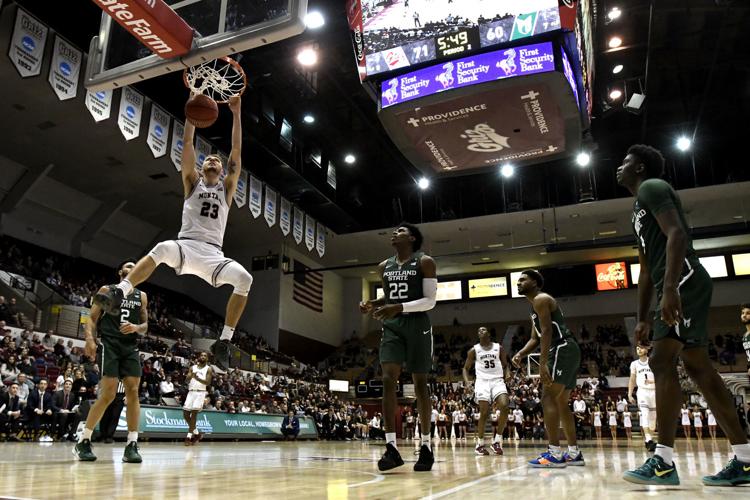 "We've got a lot of guys who love, who absolutely love winning and they don't want to lose anytime soon," Pridgett said. "Our locker room right now is great and our environment is crazy and everyone's getting better and better."
While the losses against top-tier opponents at the beginning of season stacked up — as well as a home loss to NAIA Montana Tech — the reset button was flipped following Montana's final nonconference game, a loss against Nebraska-Omaha.
The players all went home for Christmas following that game. After the holiday there were individual meetings with some of the players and the coaching staff.
Some of the topics? Shot selection and ball movement.
Since the start of Big Sky play, the Grizzlies have been one of the best offensive teams in the conference and are tied for first with Eastern Washington with 72.0 points per game in league play.
Passing has improved — Montana is third with 13.3 assists per game in Big Sky play and first in assist-to-turnover ratio — as has its 3-point percentage, a sizzling 38.5% over its past six games.
Everything just seems to be clicking at the right time as the Grizzlies are in the midst of a two-game home stand sandwiched in between six road games.
A tough stretch, but one they have come through fairly well so far.
"Winning is really fun," true freshman post Kyle Owens said. "I'm just doing whatever I can to help the team win. Whether it's scoring, rebounding, just being a good teammate, trying to help people out on the court and do whatever I can."
The Vandals come to Missoula following a close loss to Eastern Washington and with a 5-11 record they would desperately like to improve. Idaho is 2-8 in its last 10 games and has just one win in Big Sky play, coming on Jan. 2 at home against Portland State.
Idaho has yet to win a road game this season. Trevon Allen leads the Vandals with 19.6 points per game and tacks on 4.5 rebounds per contest.
"They're gonna be eager and angry because they lost that close one, that nailbiter last time, so we kinda need to come in and bring the first punch," Pridgett said. "They're definitely going to be ready."
NOTES: Travis DeCuire on Idaho: "They play basketball the right way. Their intent is to defend you, execute on offense, get a good shot, take away good shots and let the percentages play out. They play with size in the middle and have shooters around them, guys who can make plays. They're a dangerous team. A lot like Portland State, I think they're better than their conference record says." ... Josh Vazquez did not have a shoulder brace on during practice Friday and seems close to 100% ... Newly-minted Grizzly Darius Henderson wore No. 40 as his number and practiced Friday with UM.